Return to the Home Decorating Forum
|
Post a Follow-Up
---
| | | |
| --- | --- | --- |
| SW whole weat or believable buff pics | | |
Posted by
pippi81
(
My Page
) on
Thu, Sep 23, 10 at 23:36
Hi! I posted an earlier message about painting my kitchen with oak cabinets. I have had multiple suggestions to use SW whole wheat or believable buff. Does anyone have a picture to share where they used these colors with oak cabinets? I have the color swatches, but the color looks so similar to the color of the wood I wonder if the color will sort of "blah" out. Then again, I'm not trying to draw attention to the 90s oak. So maybe it'd be a good thing? A picture would sure help!

Thanks to everyone for the kind advice! So far my favorite is BM olive branch. I think I may be going green. (: Thanks sheesharee!
---
Follow-Up Postings:
| | | |
| --- | --- | --- |
| RE: SW whole weat or believable buff pics | | |
I hope this helps a little! As I said in the previous post, I am currently repainting all of my oak. The base boards and windows were in terrible shape. When I painted my kitchen SW Believable Buff (top photo) I felt like I could handle the oak a bit longer. I painted the bottom portion a chocolate brown with a flat and satin stripe. In the second photo, the walls around the door are Whole Wheat and the walls that you can barely see on the sides are Believable Buff. I like the colors a lot but they tend to have a slight green cast in my house and in the kitchen especially. Our house is surrounded by trees and it really affects color.

I have been yearning for a crisp, clean more contemporary look (but NOT cold) so I felt like I wanted to paint my cabinets. There is a TON of oak in house! It's been quite the job. I eat, sleep and breathe (literally) paint.

Your house looks very nice, by the way!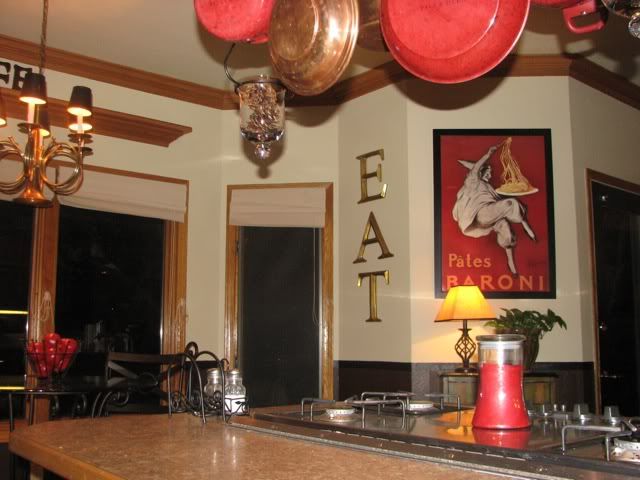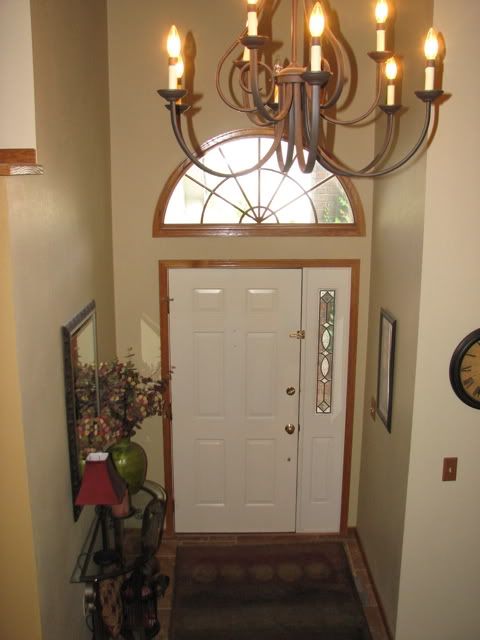 ---
| | | |
| --- | --- | --- |
| RE: SW whole weat or believable buff pics | | |
Thanks! You have a great eye! Our neutral khaki color (called Cincinnati Hotel by Valspar) also casts a green hue. This is making it difficult to find coordinating colors in other rooms. Don't you hate it when a neutral turns out not so neutral after all? (= It looks like Believable Buff is too close to our Cincinnati Hotel, but Whole Wheat is a bit darker and might be a possibility. I'll be sure to post an after picture when we get there. It might be a while yet. (=

Oh, we also had to paint all the trim in our house. Fortunately for us we were having all the floors replaced, so we quickly slopped on a bunch of paint and smeared it all over the floor and walls (knowing new floors were coming and we were planning on painting the walls). It was STILL a huge job, but much much easier this way. So worth it in the end! Good luck!
---
| | | |
| --- | --- | --- |
| RE: SW whole weat or believable buff pics | | |
Here's Whole Wheat in my Living Room. It's so hard to get a true representation of the color when taking a picture. It's definitely a medium/dark gold color with a slight greenish undertone. IRL it looks more like #2 but a tad lighter.

here's with the flash


and here's with no flash

---
| | | |
| --- | --- | --- |
| RE: SW whole weat or believable buff pics | | |
Not sure if this helps since my cabinets are maple that are stained cherry, but I have oak floors so maybe you can get an idea of the SW Whole Wheat with the oak.
---
Post a Follow-Up
Please Note: Only registered members are able to post messages to this forum.
If you are a member, please log in.
If you aren't yet a member, join now!
---
Return to the Home Decorating Forum
Information about Posting
You must be logged in to post a message. Once you are logged in, a posting window will appear at the bottom of the messages. If you are not a member, please register for an account.
Please review our Rules of Play before posting.
Posting is a two-step process. Once you have composed your message, you will be taken to the preview page. You will then have a chance to review your post, make changes and upload photos.
After posting your message, you may need to refresh the forum page in order to see it.
Before posting copyrighted material, please read about Copyright and Fair Use.
We have a strict no-advertising policy!
If you would like to practice posting or uploading photos, please visit our Test forum.
If you need assistance, please Contact Us and we will be happy to help.

Learn more about in-text links on this page here