Return to the Home Decorating Forum
|
Post a Follow-Up
---
| | | |
| --- | --- | --- |
| How would I paint this mirror frame? | | |
Posted by
pensivern
(
My Page
) on
Fri, Sep 30, 11 at 22:59
I'm currently re-decorating my LR and want to use an old mirror I'd purchased from Bombay Company but would like to paint the ornate gold trim in a darker (bronzy/brown) color. I'm not sure if I should use craft paint, or a metallic glaze....do I need to lightly sand the part I'm painting? Should I use a fine paint brush, or dab with a rag? I'm rather 'uncrafty' when it comes to paint jobs. I'm leaving the cream antiqued washed frame as is, I'd just like to take away the gold accented areas so the mirror has more contrast against my 'barbados sand' walls.

Any suggestions/advice would be much appreciated!
Here's a couple pics of the mirror as is now.

[IMG]http://i11.photobucket.com/albums/a165/pensiveRN/giltedmirror003.jpg[/IMG]

[IMG]http://i11.photobucket.com/albums/a165/pensiveRN/giltedmirror002.jpg[/IMG]
---
Follow-Up Postings:
| | | |
| --- | --- | --- |
| RE: How would I paint this mirror frame? | | |
sorry, I haven't posted in so long that I forgot how to post pics....lemme work on this :/
---
| | | |
| --- | --- | --- |
| Pic of mirror | | |
k, trying again: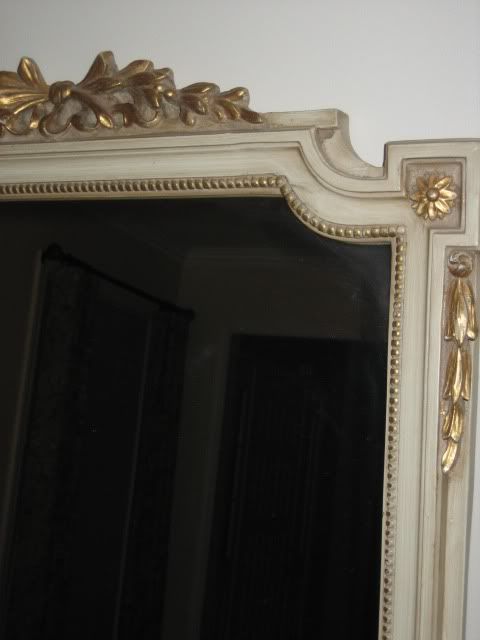 ---
| | | |
| --- | --- | --- |
| RE: How would I paint this mirror frame? | | |
Hmmm. I am kind of crafty but I don't know that I would feel confident about my ability to keep the dark paint where I wanted it and at the same time cover the gold.

I haven't worked with glazes but the point of them is supposed to be that they aren't as opaque as paint, so some of the gold would likely shine through.

I'd probably use craft paint and if you wanted a metallic look Martha Stewart has several colors of metallic. I used some recently for a picture frame I painted and they were easy to work with using a dry brush or a sponge. I did both, but I wasn't trying to keep part of the frame unpainted so I can't attest to how easy that would be.

It's a pretty mirror, too!
---
| | | |
| --- | --- | --- |
| RE: How would I paint this mirror frame? | | |
There are others with more experience with this than me, but I would think that you would kind of "dry" paint it. Load your brush and then dab some of it off before pouncing small amounts onto the frame. I have even used wadded up paper towels with very little amounts of paint on it, almost dry, to dab on paint. I would get one of those small bottles of craft paint at JoAnns or Hobby Lobby and experiment. If you dab some on and don't like it, you could probably wipe it off. I have also used a product called Treasure Gold by Plaid Enterprises that really worked for me and was easy. I actually just remembered this after I had typed all of the above. I used it in kind of a pewter to go over a gold mirror. I used my fingers to put it on sparingly and then wiped over it with a paper towel. It was fast and easy and only cost a few dollars. Hope I am not confusing you, and I also hope others chime in with some suggestions for you.
---
| | | |
| --- | --- | --- |
| RE: How would I paint this mirror frame? | | |
Look for Rub'n'Buff. It is a metallic wax that comes in a tube, in a variety of colors, that you can apply with your finger or a cotton swab or small brush. Most craft stores sell it.
---
| | | |
| --- | --- | --- |
| RE: How would I paint this mirror frame? | | |
Thanks for the suggestions. I googled Treasure Gold but it doesn't come in any color close to bronze/brown. Rub n Buff seems like it may work although I'll have to check out the colors in person. The closest to a bronzy-brown appears to be "spanish copper". Les, do you think these waxes can be mixed (I'm assuming thinned first)to achieve the right color? I see it comes in ebony also so a dab of this mixed with the copper color might work (?).
---
| | | |
| --- | --- | --- |
| RE: How would I paint this mirror frame? | | |
I've used black shoe polish to tone down gold paint. It comes in a tin and I suppose it's more a wax than a polish. Apply with a soft cloth and a light hand.
---
| | | |
| --- | --- | --- |
| RE: How would I paint this mirror frame? | | |
Hmmm...shoe polish. Did the black atop of gold create brown(ish)?
---
| | | |
| --- | --- | --- |
| RE: How would I paint this mirror frame? | | |
Pretty mirror!

I would dry brush craft paint on the gold areas. No priming just make sure it's dust free. You could also even use an old rag to wipe the paint on but I think a small brush would be easier.

I've never had luck finding the Rub N Buff Spanish Copper color in stores so the craft paint would be easier and faster for me than ordering online.
---
| | | |
| --- | --- | --- |
| RE: How would I paint this mirror frame? | | |
Do you have a JoAnn or Hobby Lobby near you? That is where I found Treasure Gold in silver. Looks good rubbed over my gold frame, very lightly. Hope you find the look you are wanting.
---
| | | |
| --- | --- | --- |
| RE: How would I paint this mirror frame? | | |
Nope, it stayed black and gave the pieces an antiquey type patina. When applying you want to hit the high spots of the piece, if that makes sense.
---
| | | |
| --- | --- | --- |
| RE: How would I paint this mirror frame? | | |
I do have a Joanne near me but I went to Michaels yesterday and picked up a bottle of "Sophisticated Finishes" in blackened bronze. The color seems right, now it'll be a matter of correct application. We'll see....
---
Post a Follow-Up
Please Note: Only registered members are able to post messages to this forum.
If you are a member, please log in.
If you aren't yet a member, join now!
---
Return to the Home Decorating Forum
Information about Posting
You must be logged in to post a message. Once you are logged in, a posting window will appear at the bottom of the messages. If you are not a member, please register for an account.
Please review our Rules of Play before posting.
Posting is a two-step process. Once you have composed your message, you will be taken to the preview page. You will then have a chance to review your post, make changes and upload photos.
After posting your message, you may need to refresh the forum page in order to see it.
Before posting copyrighted material, please read about Copyright and Fair Use.
We have a strict no-advertising policy!
If you would like to practice posting or uploading photos, please visit our Test forum.
If you need assistance, please Contact Us and we will be happy to help.

Learn more about in-text links on this page here