Return to the Home Decorating & Design Forum
|
Post a Follow-Up
---
| | | |
| --- | --- | --- |
| Reupholster or Buy New? | | |
Posted by
funkyart
(
My Page
) on
Sat, Sep 22, 12 at 22:17
I have a leather sofa that just isnt working out for me. Originally, I'd upgraded to a custom leather which didnt live up to my design expectations or functional needs. The swap was earthy green/brown-- but in real life, it just looks brown. Also, it was a very soft "butter" leather that doesnt hold shape and worse, it absorbed oils from my (now deceased) rottweiler's coat. Now just 4 years later, the leather is discolored and the cushions are smushed. It doesnt look gently worn and comfy, it looks stained and unsightly. It's frustrating because I invested the money thinking that leather would last much longer and stand up to the dogs. I'd have done better to buy a microfiber sofa for 1/4 the cost.
So my question is... do I just give up and buy a new sofa or do I have this one reupholstered? Will I save money if I reupholster? The original sofa cost over 8K.. I know I'll never get that back but if I can recover it and get an almost new sofa, then it feels like the right direction. I wouldnt do the job myself.. and I wouldnt do leather. If I bought new, I'd like to stay under 2k.
---
Follow-Up Postings:
| | | |
| --- | --- | --- |
| RE: Reupholster or Buy New? | | |
I would get some estimates. I have to think that reupholstering would be cheaper though.
---
| | | |
| --- | --- | --- |
| RE: Reupholster or Buy New? | | |
| | | |
| --- | --- | --- |
| RE: Reupholster or Buy New? | | |
"I have a leather sofa that just isnt working out for me."
I wouldn't invest any more time or money, sell to someone who loves it (I think it looks great! But realize it may look different IRL, lol) and move on. I tend to agonize over things that didn't/don't work out, thinking a do-over will somehow solve "the problem" which is really that you're just not feeling it anymore. Isn't this sofa too big for your new digs? :)
---
| | | |
| --- | --- | --- |
| RE: Reupholster or Buy New? | | |
As the sofa is well made, it's worth it to reupholster. If it were a sofa under two thousand, I would say sell it and buy a new sofa. You may still very well spend two thousand for a good upholstery job but you will have a better finished product than what you could buy for that price. I have a chenille tapestry sofa and it has worn like iron.
But my next one will be leather!
---
| | | |
| --- | --- | --- |
| RE: Reupholster or Buy New? | | |
I would get it reupholstered, you're not going to get the same quality in a $2k sofa. Usually the higher priced furniture has much better construction underneath so a good quality sofa is worth reupholstering, a cheap one isn't. A cheap sofa might look great new, but it won't last.
---
| | | |
| --- | --- | --- |
| RE: Reupholster or Buy New? | | |
You are probably turned off with leather by now. But there are leather restorers which can do wonders. I had this done to a leather item of my DH (he never let go of anything). It turned out new. All you would need are new cushions to fill out whatever sagging is bothering you. Just a thought as I would hate to give up on an expensive item. Upholstery would be the next, you can choose from tons of options without having to look for a new sofa.
---
| | | |
| --- | --- | --- |
| RE: Reupholster or Buy New? | | |
When I talked to the guy who did our chair in asking for someone else I know, he said he can do leather but the hides are pretty expensive, and unless it is a piece you really love or it was originally a high-quality piece, it might not be worth it. It's also only 4 years old.

I forgot how many hides he said he'd need for a sofa.
---
| | | |
| --- | --- | --- |
| RE: Reupholster or Buy New? | | |
I would have it reupholstered if the size/shape fits your space. You didn't love the color from the get go so why have it restored? The frame is probably worth keeping as the others have stated and there are a ton of gorgeous fabrics out there to pick from. Let us know what you decide.
---
| | | |
| --- | --- | --- |
| RE: Reupholster or Buy New? | | |
Why not have the cushions restuffed and then reupholstered in a coordinating cloth? It will cost a whole lot less than doing the entire sofa, but would change the look dramatically. I've recently seen a number of sofas done this way.
---
| | | |
| --- | --- | --- |
| RE: Reupholster or Buy New? | | |
Thanks for all the feedback. The consensus is clearly to reupholster. I think I knew that was the best way to go but I wasnt sure how much it would cost to reupholster. I think that's the clear direction to go. 1/2 the cost of the sofa was the upgraded leather.. but it's still a very solid sofa and more than I'd put into the next one.

Prairiegirlz, you make some good points. I did agonize over the sofa. I was crushed that I'd paid a lot to make the sofa look unique and work in my space-- but that it ended up just looking brown. I also didnt like that the cushions weren't firm. A new cushion with a gusset would solve that problem.

Yeah, my living room set will fill up the new living room--but I should be able to make the sofa work.. if not, I'll use it in the basement which I'll be working on this winter.

So I am pretty committed to reupholstering the sofa. There are too many details for me to feel comfortable doing it myself but I do think I want to purchase the fabric myself. I am thinking of changing up the look of the sofa. Instead of brown, I'd like to do a flax linen.. OR.. I love the idea of a traditional sofa with an unexpected color or fabric. I am always drawn to the fun green sofas or azure blues in the blogs or on Horchow. Too crazy? Typically I get crazy with pillows and throws.. that way I can change them out if I want to without a big expense. Is now the time to have fun with the upholstry?

My new place is pretty much a blank slate but my colors tend to be muted and earthy blues, greens, browns with bright green and orange for some umph. The new place is pretty much a blank slate.. I will have hardwood floors and wall color is TBD but I am looking at a gray/taupe with green undertones or a light gold. The adjacent room (a small dining room connected to the kitchen) will be painted a green (still deciding how gray or how bright it will be) and curtains will be "Chinese Bird" .. I can't find an image online but it's a large print with bright yellow, robins egg blue and green.

So what would you do? traditional neutral linen.. or something fresh and fun?
---
| | | |
| --- | --- | --- |
| RE: Reupholster or Buy New? | | |
Or do I split the difference and stick with one of my muted colors rather than a statement color? I am thinking maybe something like the link below which should still work well with the nailhead detail and all of my colors..

I found a gorgeous gray-blue velvet but there were only 4 yards and I suspect that's not enough.
Here is a link that might be useful: lagoon linen
---
| | | |
| --- | --- | --- |
| RE: Reupholster or Buy New? | | |
Funky, what I see in your link is a backed linen, not velvet, and you're right, 4 yards is less than half of what you'd need to re-do the sofa.

Look up a yardage chart, and you may need 10 - 14 yards. Your upholsterer will be able to tell you how much you need.

This velvet is a somewhat similar color in the link below...
Here is a link that might be useful: ANISSA DUCK EGG Velvet Fabric
---
| | | |
| --- | --- | --- |
| RE: Reupholster or Buy New? | | |
It's a beautiful sofa! Love the style! Sounds like you really want fabric, but if it is primarily the leather discoloration that now bothers you, you might try a leather dye. I have a friend that picked up a tufted high leg leather recliner at a thrift shop for $15 (they sell new for $1500). I passed by it thinking to myself "Oh yuck! Who would want that?" because the leather was badly stained from oils and dirt. She has much more vision than I, saw it's potential, and decided to try to restore it. She cleaned it with leather cleaner, then applied leather dye that she bought at Hobby Lobby, I believe. Now it is an absolutely beautiful chair that looks updated and like new.
---
| | | |
| --- | --- | --- |
| RE: Reupholster or Buy New? | | |
My3dogs.. sorry, I wasn't clear. The velvet was an "also saw". I knew I'd selected and shared a upholstery weight linen. Would you go velvet?

Karoloke.. thanks for the suggestion and optimism. I really dont think this leather can be saved. Rottweilers have a very oily coat and it was worse because she had an adrenal cancer. The seat and the back are very dark--and the leather is stretched. The color change was almost immediate.. it wasnt 4 years of her on it.. it was clearly not the right leather for a house full of big dogs. The ironic thing is, that's how they sold me on it.. "leather will wear better than any fabric you'd choose"."Yes, I believe this is true--IF you choose the right kind of leather. I didnt.. and I didnt receive proper guidance.

Any comments on a color vs. neutral? Will I regret a color like I regret the butter soft leather?
---
| | | |
| --- | --- | --- |
| RE: Reupholster or Buy New? | | |
Ah, I see now! I re-read the description of your new place and what you plan to do for nearby wall colors and the hardwood floor. Since thing seem to be in a planning stage now, as hard as it is, I'd try to wait until you make more decisions.

Will you buy or use existing furniture and then choose a wall color, or do you have an LR wall color in mind? Any pics of furniture that will be used with the sofa? Do you have an area rug you'll be using near it? If there are existing items that you'll be using with the re-done sofa, keep them in mind as you look for fabric. Can you tuck a quilt or large throw over the front of the sofa for now to make it liveable a bit longer?
---
| | | |
| --- | --- | --- |
| RE: Reupholster or Buy New? | | |
Hi My3dogs.. well, I will be starting pretty much from scratch with the living room. As I said, I am leaning towards a gray-taupe with green undertones (tavern taupe) for the walls but I havent tried a light beige-gold yet .. I'd be happy with either but I suspect I'll go with the tavern taupe (or similar). I have photos of it in this house--but it photographs much darker than it is in person.

Most of my current furniture will be going into the basement where we plan to make a large lounge/media room, art studio and office. The weight and footprint of my furniture is really too much for the room. I have a medium tone drum table and wooden bookshelves. The light brick fireplace is probably going to be painted off white with a yet-to-be-purchased rustic wood mantel. I will purchase (new or craigslist) chairs and case pieces. The look is flexible but I want to stay in the "comfy traditional" mix and match range.

I have a few options for rugs.. but I'll probably use this one in the living room. (it is a little more muted IRL with browns, green, blue, pumpkin)
I have a few options for coffee tables and will select one when the room is done but I am leaning towards one that is not very visually heavy.
I do hear what you are saying about waiting for the room to pull together.. and I am living with it now so that is an option.. but since we'll be painting walls and refinishing floors before I move in, I am thinking now is the time to start looking at fabrics and lining up an upholsterer. I am looking at fabrics online but we do have a great fabric outlet in the next town over. I hope to narrow in on a few colors/types of fabric and then go find a bargain there.
I'd love to hear your thoughts.. I love all your projects and respect your ability to see a beautiful swan in the broken ugly duckling pieces on CL. I definitely have an ugly duckling here.
---
| | | |
| --- | --- | --- |
| RE: Reupholster or Buy New? | | |
Hi, again! I'm working now - long days of 12 hours or so, so I'll have to get back this evening, but I LOVE that rug! Because fall colors are my favorites, I might try to pick up that pumpkin color in a woven fabric that has perhaps mainly the gold in it. If the green is more apparent IRL than in this pic I might try to find a gold with a bit of that. You're very lucky that you have a great fabric outlet nearby.

I had this old loveseat re-upholstered as I was doing my first chair. See the subtle leaf and vine design in gold? That's sort of what I mean, but I love pattern, and you may want a solid. That's the cushion of the chair I was doing when the loveseat came back. The rust in the rug looks dark in that photo, but IRL, they are really quite close. And look who's there - Riley! That kid shows up in every photo.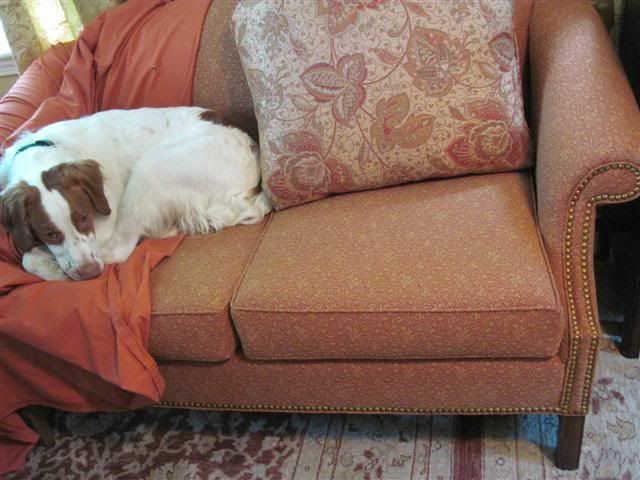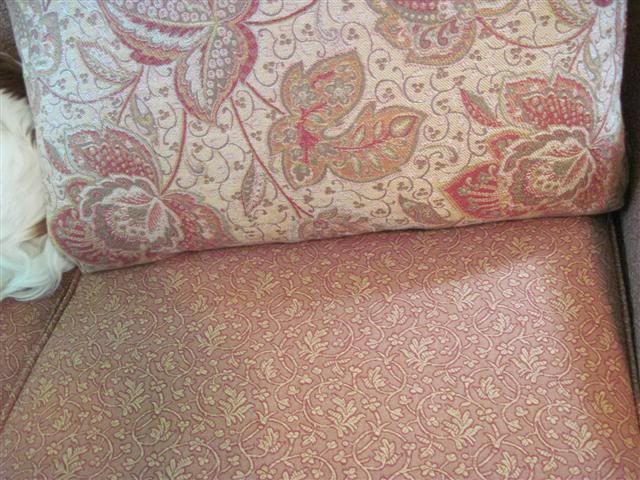 ---
| | | |
| --- | --- | --- |
| RE: Reupholster or Buy New? | | |
Thanks for your thoughts and compliments on my rug. I love it too-- but didn't put it down for the two years I had it (I had an elderly dog and one with cancer--so I opted to keep the old rug down while they were alive). In real life, the green and orange jump out.. the blue is less prominent. The gold is pretty mustardy and I'd prefer not to pull it in directly. I LOVE the orange but expect to draw it out in artwork and a throw (much like yours).

I love your combination but I think I'd prefer a solid color. I'd like the furniture to have traditional lines but not your typical traditional fabric patterns. For a brief, crazy moment, I did consider some pretty modern fabric patterns. While they were fun for a change, I know I'd tire of them quickly. I'd love to bring pattern into the room in stripes/florals on chairs and pillows. I also plan to find a buffet or server to paint (dark orange? turquoise?)

I am also tied up much of the day (send good vibes for my interview this afternoon) but I am going to look at some inspiration rooms again tonight. The look I am going for is comfortable, interesting and inviting... colorful but not screaming color.

Thanks for your time!
---
| | | |
| --- | --- | --- |
| RE: Reupholster or Buy New? | | |
I have an old leather sofa that needs frame repair (hopefully minor-the long sofa should have had a center support and has a little sag in the middle...hope it can be fixed) and some upholstered wing back chairs thaat need reupholstery. Honestly, I started looking at new leather (my sofas are from 1994) and decided that what is out there is nowhere near as good as what I bought back then.....--- I was talked into fabric on the wingbacks but hope to go with leather.

Glad to see it working well for others. We have a chair from 1950 that my father (an engineer) reupholstered as his one and only sewing project. Turned out great.
---
| | | |
| --- | --- | --- |
| RE: Reupholster or Buy New? | | |
Have you considered calling in Leather Medic. You might be surprised at what they can do for your sofa. Here is a before and after picture
Here is a link that might be useful: Leather Medic
---
| | | |
| --- | --- | --- |
| RE: Reupholster or Buy New? | | |
So sorry to read about your rotten girl, we lost one to brain cancer and she was the sweetest girl I ever had.
The estimate of 10-14 yrds is correct, I have a camel back sofa with a single cushion and was told i needed 10yds for doing that one.
---
Post a Follow-Up
Please Note: Only registered members are able to post messages to this forum.
If you are a member, please log in.
If you aren't yet a member, join now!
---
Return to the Home Decorating & Design Forum
Information about Posting
You must be logged in to post a message. Once you are logged in, a posting window will appear at the bottom of the messages. If you are not a member, please register for an account.
Please review our Rules of Play before posting.
Posting is a two-step process. Once you have composed your message, you will be taken to the preview page. You will then have a chance to review your post, make changes and upload photos.
After posting your message, you may need to refresh the forum page in order to see it.
Before posting copyrighted material, please read about Copyright and Fair Use.
We have a strict no-advertising policy!
If you would like to practice posting or uploading photos, please visit our Test forum.
If you need assistance, please Contact Us and we will be happy to help.

Learn more about in-text links on this page here