Return to the Home Decorating & Design Forum
|
Post a Follow-Up
---
| | | |
| --- | --- | --- |
| Is "Fleshy Bandaid" ever the right color? | | |
Posted by
franksmom_2010
(
My Page
) on
Fri, Sep 7, 12 at 22:10
I'm planning a makeover of our entryway this winter. There's one wall with some old peeling wallpaper that's coming down, and I'm pretty sure that paint is going up in it's place (?painted wallpaper?)

Anyway, this is the rug and wainscoting.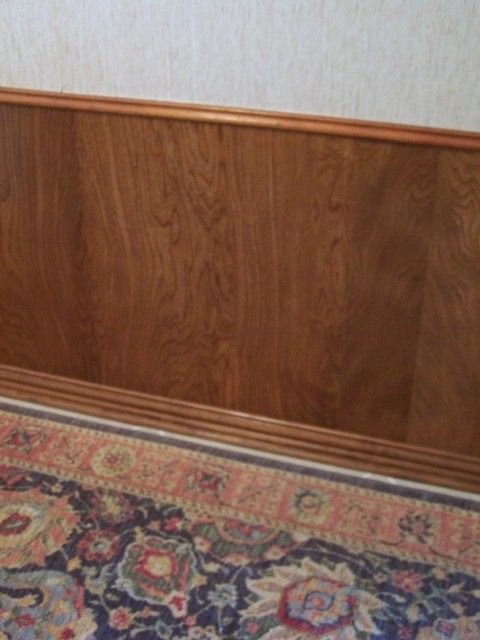 I was wanting to use a pink for the wall, but the wainscoting has an orange tint. Of all of the dozens of paint chips in the pink/mauve/rose/peach family, the colors that actually look the best with the wood are really sort of that Bandaid pink. Is this going to look hideous? The faintest tints just don't look right, so I'm looking at the second or so chips on a strip.
I could certainly use another color from the rug, but the fleshy pinks just keep calling me.
This is the rest of the space:








Here's the plans for the rest of it.
-the wall to be painted is the one with the mirror on the right
-all door hardware will be replaced
-the plain booby light will be replaced with a vintage fixture
-the trim around the front door will be painted the wall color
-the doors and trim to the closet and furnace will be replaced (long story) and I'm wondering if those should be painted the wall color as well (to make them disappear); any thoughts?
---
Follow-Up Postings:
| | | |
| --- | --- | --- |
| RE: Is "Fleshy Bandaid" ever the right color? | | |
Frankly, yes, it would be awful. Why not look toward the blue tones? Some might work with the orangey color. There appears to be a nice light blue...maybe something with a greeny blue?
---
| | | |
| --- | --- | --- |
| RE: Is "Fleshy Bandaid" ever the right color? | | |
Hi franksmom, the color I'm seeing around the border of the rugs looks to be salmon~at first I was thinking coral, but coral is a pinky orange. I know you mentioned getting rid of the rug, but you wouldn't have to if you found a color that works with the rug.

As for the 'band aid color' I can't help thinking you would find it too pale. Is there any blue in the rug? Blue would be an opposite color to the warm color of the wainscoting, and tone it down a bit.

If you decide you want to paint the trim, use at least a semi-gloss paint if not a gloss.
---
| | | |
| --- | --- | --- |
| RE: Is "Fleshy Bandaid" ever the right color? | | |
I agree with pesky1. What about a grayish blue thats not too dark? I do think the blue tones make sense and would coordinate with your rug. Have you considered painting all of the walls rather than just the one wall? I think it would look more cohesive to do them all.

Recently a friend of mine who had wood trim throughout her home pained the walls in Benjamin Moore's Harmony. It turned out very well with the wood. It's a very light neutral color and looks great on the walls.
---
| | | |
| --- | --- | --- |
| RE: Is "Fleshy Bandaid" ever the right color? | | |
Maybe "fleshy Bandaid" was too harsh. Yes, the color from the rug is a salmon/coral color, and that's the range of colors that I've been considering, but I'm not entirely sold on them.

I have a stack of green and blue paint chips, so I'll look at those tomorrow.
---
| | | |
| --- | --- | --- |
| RE: Is "Fleshy Bandaid" ever the right color? | | |
Since you have not yet done it, I will be frank and tell you that the color you are considering is completely disgusting. And over time you will come to hate it!

I know, because we were in a rental house for a year and the kitchen cabinets and counters were that fleshy salmon pink color of Formica. The floor was a white 8" tile with streaks of fleshy pink color. The sliding glass doors had vinyl vertical blinds (let's add insult to injury here) in that same color. AND the lighting was all those big fluorescent things. I felt like I had been swallowed by a giant and was living in a stomach. When it finally occurred to me what the color actually was I could not cook in the kitchen. We barely lasted a year there until our own house was ready. That color is awful anywhere, but especially vile in a kitchen!
---
| | | |
| --- | --- | --- |
| RE: Is "Fleshy Bandaid" ever the right color? | | |
The house we bought was an estate sale and the heirs painted the entire house in that color! There was not one room it did not look awful in. Even though the entire house had been freshly painted, we repainted everything before we moved in. I couldn't bear it.
---
| | | |
| --- | --- | --- |
| RE: Is "Fleshy Bandaid" ever the right color? | | |
Have you tried just white? I was thinking of the color of the trim and front door. At least the walls would tie in with something other than the carpet. You do have a lot of orange tones in that small space, and it will have that color shadow anyway (wood and carpet will tint the light it reflects in orange tones). So, painting the walls white will look crisp, clean and match better. You can add a piece of Art on the wall or a mirror.
---
| | | |
| --- | --- | --- |
| RE: Is "Fleshy Bandaid" ever the right color? | | |
I agree with Mary Ruth. This is a room that I would use white in, and I usually reserve white for just trim. But I think you have a lovely rich color in the wood that is there already, and white would let that be the star.

What kind of lighting fixture are you planning? That might also provide guidance.
---
| | | |
| --- | --- | --- |
| RE: Is "Fleshy Bandaid" ever the right color? | | |
Franksmom, Hello!!! Gosh, I haven't seen you around in ages. Nice to see you!

Do you remember that your rug is very similar to rugs I have? The colors and pattern are very close cousins. Do you remember that you liked the paint color on the walls next to my rugs? The paint is pink, but a very neutral pink that has a peachy-beige undertone. Don't *think* it looks like a band-aid, but that's in the eye of the beholder I guess. Anyhoo, I used Ben Moore's Queen Anne Pink. You may want to check it out! The color is very warm and I do think it would work with your rug. Good luck!
---
| | | |
| --- | --- | --- |
| RE: Is "Fleshy Bandaid" ever the right color? | | |
Hi Stinky! I have a new job, so my schedule and workload has changed a LOT. I'm getting used to the routine (and love the job) so I'm getting back to some projects that were set aside for a while.

I remember that room and your rug! So I'm not crazy...the right pink *could* work on that wall?

I don't have a swatch of that color, but the Ben Moore color strips that I have start with Spring Blossom, Pink Swirl, Gentle Butterfly, Soft White, and Cream Puff. Is the Queen Anne similar to any of those?

I had considered painting the wall the same white that's used in the rest of the house, but wanted to try a bit of color just in this area.

I have no plans to paint the wainscoting. It's throughout the living room, the entry, and wraps down the hall to that whole side of the house. It's grown on me, and I really like it. The rest of the house and the bedrooms has painted trim. I think the stained trim around the front door looks weird. Maybe if it were fabulous wide interesting trim it would look better, but it's not.

This is the fixture that's going up. It's getting new frosted glass and a dark glaze to tone down the golden finish.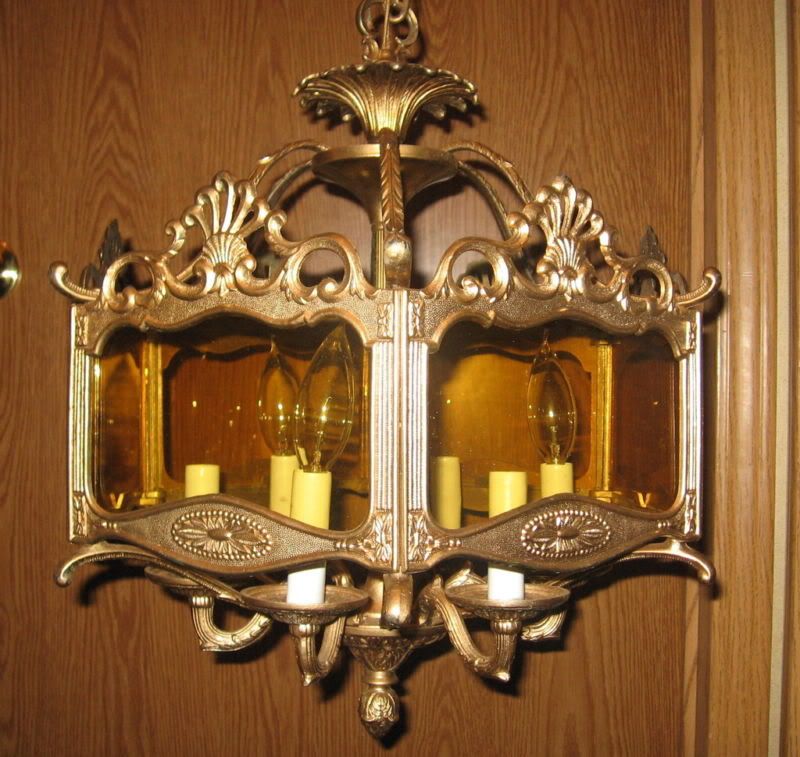 Does anyone have thoughts about painting the closet and furnace doors?
---
| | | |
| --- | --- | --- |
| RE: Is "Fleshy Bandaid" ever the right color? | | |
I don't think the color that the wallpaper conveys in the second picture would be a bad choice. The wallpaper is picking up reflected light from the other colors there.
---
| | | |
| --- | --- | --- |
| RE: Is "Fleshy Bandaid" ever the right color? | | |
Since you put your question so boldly, let me give you my bold answer...with your wainscot and trim, pink will in fact look hideous. And will make the wainscot look its worst.

Tell those pinks that are calling you to hush, unless you are willing to reconsider painting that wainscot and trim white. Paint those doors white in any case, and look for a pretty pale vanilla cream color for your walls and your ceiling. Never mind the colors in the rug. You won't notice the rug if the walls aren't pretty.
---
| | | |
| --- | --- | --- |
| RE: Is "Fleshy Bandaid" ever the right color? | | |
Franksmom, is there a reason you are only painting that one wall in your entrance? Maybe I read your post wrong, but I would paint the entire entrance the same color.
---
| | | |
| --- | --- | --- |
| RE: Is "Fleshy Bandaid" ever the right color? | | |
You guys are always so helpful!

Bronwynsmom, you made me LOL! Thank you for your candor!

Pal, are you saying a beige-y tan of some sort?

Cyn, I don't know. I think I had it in my head that it would only be that one wall because that's the way it's designed now.

I think my main frustration about that space is that it seems dark and busy and claustrophobic. That's a lot going in in that little space, and it all seems too disconnected and too much. I'm having a hard time articulating that, but does anyone else see that?

I think my new plan will be to paint the front door trim and utility doors the current wall color, then install the new light. If I change the stained door color and lighting, it may drastically change how it all looks, so I can deal with that wallpapered wall last.

I don't love the color of the front door. It's sort of a muddy yellow beige, which isn't offensive, but I'm not sure it relates to or enhances anything else.
---
| | | |
| --- | --- | --- |
| RE: Is "Fleshy Bandaid" ever the right color? | | |
Also in agreement re:pink. I can't help but think you would regret it after a few days. Pink isn't a welcoming color for a foyer, it would only add 'shock value'.

Sherwin Williams has many neutrals with a *hint* of peach. A hint is more livable than a scream.
---
| | | |
| --- | --- | --- |
| RE: Is "Fleshy Bandaid" ever the right color? | | |
I think that it would seem less "busy and disconnected" if you used one paint color in the whole area. At the risk of being jumped on, I might even consider painting the wainscotting white and using a light color above to brighten the area. I don't know how that would work with the rest of your house. I would paint the grills and doors, too.

Btw, I love the curved entrance from the foyer.
---
| | | |
| --- | --- | --- |
| RE: Is "Fleshy Bandaid" ever the right color? | | |
I think a potential issue with painting the closet doors is that they don't go all the way to the floor and there would be a pair of white rectangles hovering on the middle of the wall.

If you don't want to paint the wainscot, I would consider gel staining the back of the front door to match the wood.

Any blue toned paint is going to intensify the orange in the wood. That's okay if that's what you want, but anything blue or with a blue undertone will do that. I have an area of bookmatched maple panels in my living room which is a blue-green gray color overall, and particularly in pictures, it comes out pale blue and bright orange. I think anything with too yellow of an undertone will skew the paneling to bright orange also.

Yes I was thinking of a paler color of something like the floor tile. I think you want to lessen contrast, not heighten it. I would paint all the walls inside the entry though, not just one.
---
| | | |
| --- | --- | --- |
| RE: Is "Fleshy Bandaid" ever the right color? | | |
No, sorry, but it is never the right color.

This reminds me of my neighbor across the street. She has a lovely large home that is about 1/2 neutral brick and 1/2 wood siding. When she decided to paint the siding years ago, she took one of her kitchen valances to her painter and asked that they color match one of the small flowers for her exterior. The resulting fleshy bandaid color made me ill to look at and literally had cars slowing down to stare.

It took about 10 years for it to need repainting again...this time, a lovely shade of taupe.
---
| | | |
| --- | --- | --- |
| RE: Is "Fleshy Bandaid" ever the right color? | | |
Here's a wider shot of the space.



Pal, I had thought of that, too. Whether they're stained or painted, the doors are chopped in half by the wainscot. If I went with the option of painting the wainscot/doors/trim on all three of those walls, I know it will unify *that* space, but will it look weird in the context of the rest of the area with the stained wainscot?
What would happen if I removed all of the wainscot just in that entry? I've been thinking that the whole paneling issue is all-or-nothing, but maybe not?
---
| | | |
| --- | --- | --- |
| RE: Is "Fleshy Bandaid" ever the right color? | | |
It might look nice if you could put wood in the entire three walled area of the entry, and then hang mirrors and artwork on that.

I know that people tend to want every room "light and airy" and I think this is way overrated and goes against what a lot of classically trained architects and designers are taught. The psychological experience of compression and release or transition through an area to actual "entry" or "arrival" is important, and it is almost completely quashed by the current trend of wanting EVERYTHING to seem as big and wide open as possible.

The entryway is a transition from outside but it is NOT the point at which you have arrived. You have Arrived into a house when you go into the actual rooms beyond the entry. A darker or small entry actually makes you Want to go into the actual living areas of the house, making you feel even more welcome by contrast. There has been a subversion of the commercial grand foyer, which is meant to impress people, but not necessarily invite them in, which has replaced the smaller entryway in residential houses. Frank Lloyd Wright went as far as lowering the ceilings in entryways, and making them intentionally dark to heighten the feeling of expansiveness in the actual adjacent living areas.
---
| | | |
| --- | --- | --- |
| RE: Is "Fleshy Bandaid" ever the right color? | | |
Pal, I am not sure the comparison to Wright is really applicable here. I think many (most) homes are not architectural treasures and that small, dark entrances are just not appealing. I want people to get a welcoming feeling the moment they come in my door. I do not have a huge house, nor do I want one. I do not have a separate foyer in my 1960 ranch, but if I did, I would make sure it was a pretty place. Often, we need paint to accomplish that.

Franksmom, if you are not happy with your space, try looking for inspiration pictures. That could lead you to an answer you can live with and simple changes that would be pretty easy.
---
| | | |
| --- | --- | --- |
| RE: Is "Fleshy Bandaid" ever the right color? | | |
I am not suggesting she make it hideous so people run out of it. Good design concepts are applicable in any situation.
---
| | | |
| --- | --- | --- |
| RE: Is "Fleshy Bandaid" ever the right color? | | |
A vote to paint the three walls in dark navy blue to match the pretty area rug.

THEN the two darker doors AND all of the wood trim would "disappear" -- and only the white door would show up ....

THEN add a couple of artworks OR Imari-style plates to the focal wall.
---
| | | |
| --- | --- | --- |
| RE: Is "Fleshy Bandaid" ever the right color? | | |
Sorry to just come out of left field with another suggestion, but I think that BM Revere Pewter would look nice in the entry way and against the wood. It's such a great color with orangey wood. I also think a different rug would look nicer there. The rug you have is pretty, but I am not sure I love it with the wood and the tile floor. Maybe sisal? Or a nice indoor/outdoor rug with a subtle pattern? If it were mine, I would love to see the front door matching the other two wood doors... I can see why it's a challenge, but I think it can look great!
---
| | | |
| --- | --- | --- |
| RE: Is "Fleshy Bandaid" ever the right color? | | |
Okay, here's another idea.

Looking at the larger perspective (and agreeing, as I usually do, with Palimpsest that the construct of compression and release is a good idea), and also looking at your new light fixture, I suggest painting the three walls of your entry a rich golden color - good with the rug, good with the light, and good with the paneling.

Try Marblehead Gold or Stuart Gold. Somebody smarter than I can photoshop those in for you??

Also the simplest project. And I'd paint the front door the same gold, in a semi-gloss finish. Then you have something warm and cohesive, and the color of the paneling is enhanced.
---
| | | |
| --- | --- | --- |
| RE: Is "Fleshy Bandaid" ever the right color? | | |
Hi again, Franksmom! Happy to hear you've been busy working at a job you love! I didn't understand that you were not painting the wainscotting, btw. In that case, I agree with B'smom, that the walls wouldn't be pretty in pink! I was imagining white wainscot, trim, and doors and the Queen Anne Pink walls. (I still do think that combo would be pretty.) It would just read "drab" and not be fab with the wood. Sorry I overlooked some key points to your plan!

Btw, whatever color you decide on, I hope you will share a pic of your freshly painted foyer which includes Frank sitting on that pretty rug, admiring the results!
---
| | | |
| --- | --- | --- |
| Back to square one | | |
So, I'm debating all of these great ideas, when DH asks what I'm up to. We walk out to the entry, I rattle off all of the options and the pros and cons.

His usual response to such things is something non-helpful like "if it bothers you, don't look at it" but this time he shrugs and says "When we take down the nasty wallpaper, why don't we just take off all of the wainscoting, since we'll be repairing the sheetrock and doorframes anyway. Paint the whole mess the same color and call it done."

I'll be sleeping on this one, but I think he may be right. What do you think?
---
| | | |
| --- | --- | --- |
| RE: Is "Fleshy Bandaid" ever the right color? | | |
Yes -- thats the best plan of all!

A fresh start is always best! :)
---
| | | |
| --- | --- | --- |
| RE: Is "Fleshy Bandaid" ever the right color? | | |
I think you would be pleased if you took the wainscoating off the entryway. Paint the walls a soft cream color with white doors/woodwork. Later, when you love this lack of wainscoating (?) you can remove it from the rest of the house.
---
| | | |
| --- | --- | --- |
| RE: Is "Fleshy Bandaid" ever the right color? | | |
I think that would work well.

Pal, funny. Of course, I wasn't intending to imply that your suggestion was hideous. Actually, I think the way FM's foyer is constructed gives her exactly the compression and release you like even without the wood.
---
| | | |
| --- | --- | --- |
| RE: Is "Fleshy Bandaid" ever the right color? | | |
Stinky! The job is amazing, but the hours and stress level is something I haven't had in a few years, so it's been a real life adjustment. Love what I do, though, so it's worth it.

Pal and Cyn, that entry opens into a very large, open, empty, light filled living room. I think the size of the space and the 8' ceiling adds to the contracted factor. The idea of making the whole wall surface wood is actually not a bad one, but this house has a lot of wood, and I'm afraid it wouldn't work for us. The master bath is almost entirely floor to ceiling wood! Oy!

I'm still shocked that DH said that. He's usually the one to leave ugly well enough alone. I think removing the paneling on those three walls will solve a number of difficult problems, and we'll be free to paint it whatever color we want.
---
| | | |
| --- | --- | --- |
| RE: Is "Fleshy Bandaid" ever the right color? | | |
Unifying the entry by removing the waiscot will have the same effect as paneling the whole thing. In this case I would consider painting the closet doors since they will now turn into wooden floating rectangles...but with the removal of the paneling in that area, it will open up your options somewhat as far as wallcolor goes.
---
| | | |
| --- | --- | --- |
| RE: Is "Fleshy Bandaid" ever the right color? | | |
Absolutely, Pal. I'm thinking of even painting the closet doors and their trim whatever wall color we chose, rather than a "trim" color, just to minimize them as much as possible, but I think I'll wait and see what it looks like without the wood before I commit to that.

None of this has to be decided right away, but we plan to have an exterior door replaced soon, and since we'll have the "door guy" out anyway, we may as well have them fix that furnace door.
---
| | | |
| --- | --- | --- |
| RE: Is "Fleshy Bandaid" ever the right color? | | |
Do you think SW Rainwashed or Believable Buff would go with the paneling and trim?
---
| | | |
| --- | --- | --- |
| RE: Is "Fleshy Bandaid" ever the right color? | | |
I think your DH is very right. Take off all that wood - it is what's bothering you by making the area look busy. Paint the whole area including all the doors a nice warm white like BM mascarpone, or whatever color makes you happy and goes with the rug!

THe answer to your question - IMO anything resembling fleshy bandaid is NEVER EVER the right color. It is common in 1970's public washrooms...
---
| | | |
| --- | --- | --- |
| RE: Is "Fleshy Bandaid" ever the right color? | | |
I'd like it in navy or gold. Navy front door, gold walls?

(or navy and gold stripe wallpaper).

Love the "new" light fixture!
---
| | | |
| --- | --- | --- |
| RE: Is "Fleshy Bandaid" ever the right color? | | |
"When answering true/false, or multiple choice questions, be wary of absolutes like 'always', or 'never'".
---
| | | |
| --- | --- | --- |
| RE: Is "Fleshy Bandaid" ever the right color? | | |
I like the idea of embracing the coziness. The colors I picked aren't perfect but I like how the deep tones make the paneling look even richer.

I did this on the Sherwin Williams color visualizer, which is super easy to learn.

Fleshy bandaid
Is there any green in the rug?
Blue
---
| | | |
| --- | --- | --- |
| RE: Is "Fleshy Bandaid" ever the right color? | | |
deee's mockups were very helpful. It looks like using a darker color would be a stark contrast to the lighter colors you've used in the surrounding areas. What about pulling the lighter blue out of the rug for the wall color, as a few others have mentioned? Then you could use a soft beige/off white, also from the rug colors, for your front door and furnace doors--and even the trim, too, if you wanted.
---
Post a Follow-Up
Please Note: Only registered members are able to post messages to this forum.
If you are a member, please log in.
If you aren't yet a member, join now!
---
Return to the Home Decorating & Design Forum
Information about Posting
You must be logged in to post a message. Once you are logged in, a posting window will appear at the bottom of the messages. If you are not a member, please register for an account.
Please review our Rules of Play before posting.
Posting is a two-step process. Once you have composed your message, you will be taken to the preview page. You will then have a chance to review your post, make changes and upload photos.
After posting your message, you may need to refresh the forum page in order to see it.
Before posting copyrighted material, please read about Copyright and Fair Use.
We have a strict no-advertising policy!
If you would like to practice posting or uploading photos, please visit our Test forum.
If you need assistance, please Contact Us and we will be happy to help.

Learn more about in-text links on this page here