Return to the Home Decorating & Design Forum
|
Post a Follow-Up
---
| | | |
| --- | --- | --- |
| In a quandry over doors and shutters | | |
Posted by
katrina_ellen
(
My Page
) on
Sun, Sep 30, 12 at 22:09
Here is my quandry - my house has white vinyl siding and a brown roof that has some reddish undertone to it. If I would have chosen the roof color it would have been a gray because I think the white with the earthy brown just doesn't work best. But it is what it is. I am looking for suggestions on the door and shutter color. Its a tiny house, very simple little box shape, no architectural interest. I have been working on the landscaping to make it more attractive and now ready to consider the colors for the door and shutters. I was considering some type of brown color for the shutters to tie in with the roof color. Probably the natural choice for the door would be red with the reddish brown roof, but I am really open to all ideas for door and shutter colors. I have a detached garage in the back yard, with the same white vinyl siding and brown roof with some red undertone. It has a yellowish creme door. Any ideas would be much appreciated!
---
Follow-Up Postings:
| | | |
| --- | --- | --- |
| RE: In a quandry over doors and shutters | | |
| | | |
| --- | --- | --- |
| RE: In a quandry over doors and shutters | | |
There are some houses in my area that have white siding, warm brown roofs, and black doors & shutters. One of them has a glossy black door & velvety black shutters. I think they look fantastic. The color scheme sounds blah but looks so classy. In fact, it's become one of my favorite color schemes. These homes look good no matter the season, but I love them best in the fall.
---
| | | |
| --- | --- | --- |
| RE: In a quandry over doors and shutters | | |
OK, I was afraid you were going to ask that, but I really want help so here it is. So many beautiful homes on this site, I am kind of embarassed, but I want it to look its best. Please ignore the lawn, I am in the process of seeding the lawn and doing some landscaping. I was considering BM silver pine for the shutters, with BM homestead green for the door. I need to replace the screen door and am going to get one with a white frame. Also, I need to get another light fixture as this one is very undersized. But as far as the colors for the door and shutters, I am open to any and all suggestions - and thanks for looking.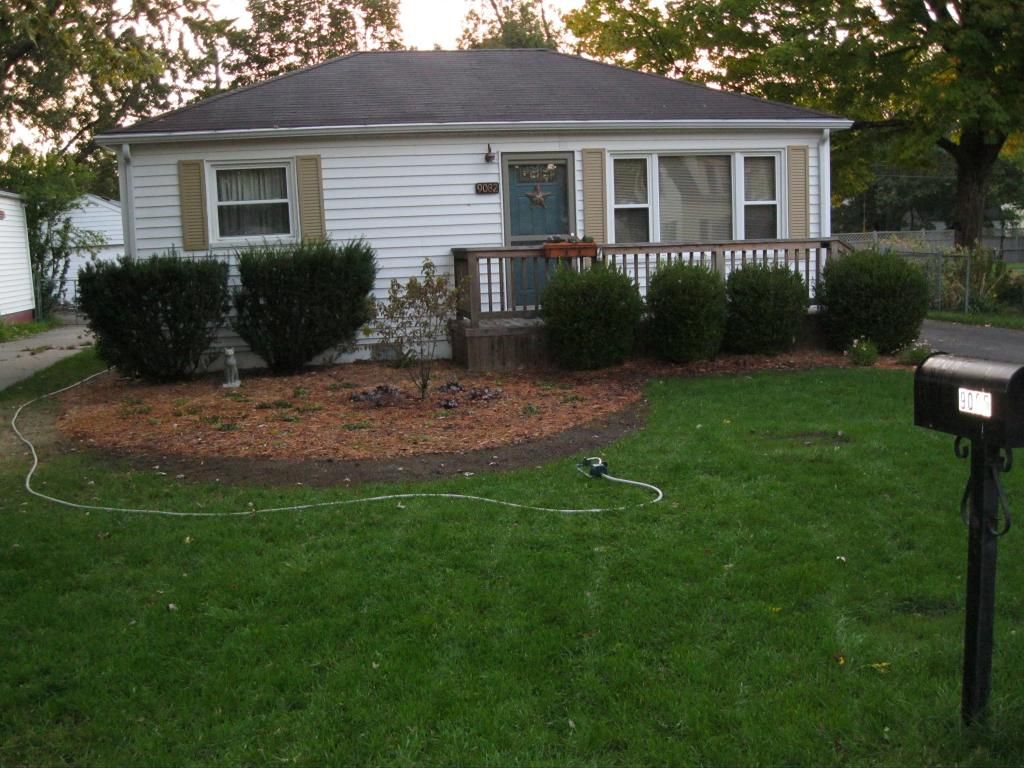 ---
| | | |
| --- | --- | --- |
| RE: In a quandry over doors and shutters | | |
What a cute house! And the green grass is gorgeous! Makes me want to walk around barefoot in it.

Oh, you wanted color advice! I'm not familiar with those BM colors without looking at a color deck, but I'd say you could do pretty much whatever with that roof. Black shutters, as a PP suggested would look classy. Pair that with a deep red or dark green door and it would look fresh and updated. You are on the right track!
---
| | | |
| --- | --- | --- |
| RE: In a quandry over doors and shutters | | |
Thanks awm and angel. I have never thought about black shutters - really something to consider. The ground cover I planted is vinca minor which is dark green and glossy when it fills in. I am wondering how that would look with a dark green door, too much or?
---
| | | |
| --- | --- | --- |
| RE: In a quandry over doors and shutters | | |
I think black might look a bit stark on your house - which is very pretty by the way, you should certainly not be embarrassed! I actually really like the current door color, perhaps if the screen door was painted white it would work well?

For shutters I think charcoal grey would look great, a bit less stark than black on your white, and would go very well with the existing door color.
---
| | | |
| --- | --- | --- |
| RE: In a quandry over doors and shutters | | |
I like Silver Pine

I'm not crazy about pairing it with Homestead Green


I would do both in Silver Pine or maybe paint the door a contrasting color like red.
---
| | | |
| --- | --- | --- |
| RE: In a quandry over doors and shutters | | |
tinan - thanks for the suggestion, charcoal grey is a color I had never thought about either. It's great to get these ideas to think about.
graywings - thanks, I do like the silver pine. I didn't think I wanted any green colors, but I like the blue-greens.
---
| | | |
| --- | --- | --- |
| RE: In a quandry over doors and shutters | | |
What do you think about this door color for my house with charcoal grey shutters? Thanks for looking.
---
| | | |
| --- | --- | --- |
| RE: In a quandry over doors and shutters | | |
What do you think about this door color on my house with charcoal grey shutters? Thanks for looking.
---
| | | |
| --- | --- | --- |
| RE: In a quandry over doors and shutters | | |
I love that combination of cream with gray! It would look great on your house, especially with the gray roof! I would also:

*Paint the front porch / deck the shutter color or same cream as house
*Take the shutters off the picture window
*Put new, wider and beefier shutters on the left window hung from hinges
*Put a nice window box with colorful flowers on the same left window
*Replace light at side of door with larger carriage light in black metal
*Paint door black

The cream color would also look really lovely with a soft black for the shutters and door, and paint the porch/deck the cream color.

Your grass is a fabulous rich green, and I think your house is darling.
---
| | | |
| --- | --- | --- |
| RE: In a quandry over doors and shutters | | |
On my monitor, the door you like looks yellow. It is shown on a cream house, and your house is white. I would not like white, yellow, and black. Unless this is a hive. : )

I think you can really go anywhere youd like with a color scheme. If you have favorite colors, start with those. Where are you? What colors are popular in your area? Sometimes those are good places to start. What color scheme do you have inside? Even, dont laugh, what color is your car? Is it usually parked in front?

Do you need a screen door? I know they add lot of function but they also take away from the drama of a glossy painted front door. And unless you want to use a grey-green in your palette, note that your front porch is currently grey green so you could either pick that note up or paint it.
---
| | | |
| --- | --- | --- |
| RE: In a quandry over doors and shutters | | |
Oops, I thought the OP wanted to paint her house the cream color in the photo w/ yellow door. And although she describes the roof as brown, it looks gray as gray can be on the iPad. I am going to have to stop giving color advice until I learn to read more carefully and/or go back to my laptop...Sorry, katrina_ellen :-(
---
| | | |
| --- | --- | --- |
| RE: In a quandry over doors and shutters | | |
Thanks kswl - thanks for all the suggestions - thats a lot to process. I wish my house looked like that photo! I am planning on doing a color stain over the deck and my plan was for a nice sized wood window box hung over the side of the deck. Thanks for saying my house is darling - I appreciate the positive comment! I will definately think about all those suggestions that I had never considered before.
mtnrdredux - thanks! Thats funny - a bee hive, I never thought about that! I just thought with such a small cottage type house I would use a fun color for the door, I usually use subdued colors - my car is beige! My house is mostly neutrals with a light green bedroom. In my neighborhood its pretty conservative - doors are commonly a dark green, burgundy or white. I am getting a new storm door that is more attractive, and part of my plan for the house is staining the deck a color - I thought grey or light taupe. I am also drastically pruning back the bushs in the dormant season and making them into a hedge to ground the house better. So, all that is in the process. Thanks for stopping me from making my house into a hive - thats why I like this forum!
---
| | | |
| --- | --- | --- |
| RE: In a quandry over doors and shutters | | |
I think the yellow would make your white siding look dingy... but I think you could go with almost any other color as long as not too stark! What is your favorite color, what would you like to see welcoming you home?

If it were mine, I'd probably paint the shutters charcoal grey, stain the deck light grey and then see how I like it with the current teal door color. If I wanted a change, I'd try a berry colored door!
---
| | | |
| --- | --- | --- |
| RE: In a quandry over doors and shutters | | |
You may also want to try the Sherwin Wms and BM websites -- i think on both of them, you will see color suggestions, as well as be able to paint your house with their colors. Failing that, you can choose from a library of houses and paint them.
---
| | | |
| --- | --- | --- |
| RE: In a quandry over doors and shutters | | |
tinan-you must be reading my mind, I decided last night to go with either a purple red, or a reddish purple door, and probably grey for the shutters, and light grey for the deck! Purple is one of my favorite colors. Thanks for the suggestion. I think you are right about the yellow making white dingy. Now on to the color samples.
mtrdredux, thanks for the feedback, I am going to try it out.
---
| | | |
| --- | --- | --- |
| RE: In a quandry over doors and shutters | | |
Very charming house! I see you've made your decision, but can I say this....given the roof line and its gray color, I wonder whether gray shutters might read as too much gray, resulting in too much blahness?

About your landscaping. If you don't mind a few comments & questions. :)

First, if you're planning a hedge, keep in mind the importance of the shape in which you prune. The two shrubs on the left look like they've been pruned into inverted pyramids, when in fact, you should be pruning them into pyramids. Because what's going to happen over time is that the lower branches may start to loose their leaves (lack of light), so you're going to end up with bare branches. And that, of course, would ruin the hedge look you're going for.

Second thing, while hard to tell from the image, it looks to me like all the plants are too close to your house. The ones on the left - are they yews? If they are, they'll be very slow-growing but also, depending on variety, want to get very large over time. Trust me, I am speaking from experience. :( This place has very old ones someone once planted far too close to the house; at this point, they're impossible to move.

Same question & comment on the shrubs in front of your deck. They look much too close to it, so much so that they may even lose all their leaves on the deck side.

And again, the tree. What is it, do you know? It's hard to tell, but it looks a bit like a dogwood. If I were you, I'd consider moving it much farther away from the house. It's small now, but what will its mature height and spread be? You run the risk of having a tree that will be shedding leaves and branches onto your roof, into your gutters, and onto your deck. Not to mention, possibly obscuring your house - which is too charming to be obscured.

Have I overstepped here? I hope not. :)
---
| | | |
| --- | --- | --- |
| RE: In a quandry over doors and shutters | | |
Oops. How did I ever miss the fact that your roof is brown? So much for the "too much gray" comment. Regardless, I'm going to stand by it anyway: I still wonder whether a brown roof combined with gray shutters might read as too blah.
---
| | | |
| --- | --- | --- |
| RE: In a quandry over doors and shutters | | |
lynxe-thanks for your thoughtful comment. I pruned the yews by 1/3 last March, so this dormant season, I am drastically pruning them back to about 12 to 18 inches. That way I can get a different shape to them. I am doing the same for the boxwoods, severely pruning them way back so that I can form them into a hedge shape, and center them better. I guess if this doesn't work out, I will plant better selections for the area. You are right about the tree, it's a cornelian cherry in a shrub form, I moved that tree 3 times - it is actually about about 11' out which should be good - I plan on pruning it into more of a tree shape, but they stay pretty small . I was on the landscape design forum and got a lot of help to re-form these plantings. Thanks for the caution! Thanks for calling my litte house charming - I am trying to make it look its best - its a challenge. For the shutter color, I was thinking that the color should compliment the door but not take over so the door is the focus - but I know very little about exteriors. Can you suggest any color that would work well? No, you have not overstepped at all - I appreciate the honest feedback, and thats why I came on this site. Thanks again!
---
| | | |
| --- | --- | --- |
| RE: In a quandry over doors and shutters | | |
I'm glad I could be of some help. Aren't you considering a purple or dark raspberry door? Combined with white siding, brown roof, and all the green in this part of the country, I like the idea of green shutters - a "natural" green that would complement the evergreens. For one thing, I love the combo of purple and green; for another, IMO your house would then be interesting and colorful in all four seasons of the year. Plus, regardless of what flowering things you plant and what colors deciduous plants turn in the fall, the green shutters should go with them.

Re: the boxwoods. They're still too close to the deck. :) Again, this is from experience; at our former house, the previous owners had planted a line of boxwoods too close to the fence/property line, and we regularly had to prune the shrubs more than we wanted to as a result. In your case, I think what's going to happen is that, with time, the boxwoods are going to lose their leaves on the deck side. If I were you, I'd move them out now such that you have some room to get in there between deck and shrubs, and they have some light and air on that side, too.
---
| | | |
| --- | --- | --- |
| RE: In a quandry over doors and shutters | | |
lynxe-thanks for the shutter color suggestion, I have two threads going because I didn't think I would keep getting responses if I changed the subject. Green sounds like it would be nice, colorful but not over the top. I think because its a cottage type house I can have a little fun with it.
The boxwoods had spirea bushes in front of them when I moved in, I dug those out, but I don't think I could dig the boxwoods out. I think they have a deeper root system. I cut one down on the corner of the deck that wasn't planted in the right space - none of them were! - I think I will have to start new if they don't work out.
---
| | | |
| --- | --- | --- |
| RE: In a quandry over doors and shutters | | |
I've dug up boxwood. It wasn't particularly difficult.
---
| | | |
| --- | --- | --- |
| RE: In a quandry over doors and shutters | | |
graywings - now you have me curious. I cut down one of the boxwoods that was planted way off where it should have been, I am going to try digging up the roots on that.

If anyone else responds to this, I started a new thread because I made up my mind, I am painting my door Purple!
---
| | | |
| --- | --- | --- |
| RE: In a quandry over doors and shutters | | |
Years ago in a Cottage Living magazine, I saw an adorable little white cottage with lime green shutters and a red door. I think it would look great on your adorable home. I wish I could find the picture, I know I don't have the magazine anymore, and I just scoured the internet hoping to find the image to no avail.

Anyway, just my 2 cents.
---
| | | |
| --- | --- | --- |
| RE: In a quandry over doors and shutters | | |
Duh.....just read your last comment with the purple door. Sorry.
---
Post a Follow-Up
Please Note: Only registered members are able to post messages to this forum.
If you are a member, please log in.
If you aren't yet a member, join now!
---
Return to the Home Decorating & Design Forum
Information about Posting
You must be logged in to post a message. Once you are logged in, a posting window will appear at the bottom of the messages. If you are not a member, please register for an account.
Please review our Rules of Play before posting.
Posting is a two-step process. Once you have composed your message, you will be taken to the preview page. You will then have a chance to review your post, make changes and upload photos.
After posting your message, you may need to refresh the forum page in order to see it.
Before posting copyrighted material, please read about Copyright and Fair Use.
We have a strict no-advertising policy!
If you would like to practice posting or uploading photos, please visit our Test forum.
If you need assistance, please Contact Us and we will be happy to help.

Learn more about in-text links on this page here