Return to the Home Decorating & Design Forum
|
Post a Follow-Up
---
| | | |
| --- | --- | --- |
| What made me love my house today... | | |
Posted by
leafy02
(
My Page
) on
Sat, Sep 15, 12 at 21:51
What made me love my house today was... going to someone else's! We stopped by a relative's new house to help with moving some large pieces of furniture.

They moved in a couple of weeks ago and there was still some unpacking to do, but basically they are trying to cram all the stuff accumulated during their decades in large suburban homes into a much smaller townhome-- and a couple of shops' worth of decorative knick-knacks, too.

So as much as I often curse my place for having small windows and a wonky floor plan, I came home with love in my heart for my house today. Hooray for not having to move any time soon, and for wide open spaces, small as they may be.

What made you love your house today?
---
Follow-Up Postings:
| | | |
| --- | --- | --- |
| RE: What made me love my house today... | | |
What made me love it? A new bamboo floor in our bedroom, the last room in the house we need to finish. Someday, maybe soon, we'll have a bed and cabinetry in there too. So far, we've got a ceiling fan and a very cool clock on the wall. That's it for the whole room, but I can see the finish line!

Your relatives' number one error was not thinning down the material goods before they moved. When my sister moved a couple of years ago, they were ruthless on the thinning out process. Their new home is so much better, not only because it's a better house, but also because all the extraneous stuff is gone, gone.
---
| | | |
| --- | --- | --- |
| RE: What made me love my house today... | | |
I loved watching my grandson run circles from kitchen to DR, to living, to den - with my two dogs chasing him. The AC is working (big deal when you live in TX), and when he spilled apple juice on our new wood floors, we just wiped it up. My house is not large (expect to a toddler) nor fancy, but there is plenty of room to play, and no worries when things spill. My 30 year old washing mashine easily handled 5 loads of landry, and the 30 year old oven (thanks to a new heating element)baked our chicken just right. It is just a liveable, happy place. I do look longingly at some of the beautiful homes pictured on this web site, and always have decorating projects in mind, but in the end, my house really meets my needs. I am satisfied.
---
| | | |
| --- | --- | --- |
| RE: What made me love my house today... | | |
This is giving me the warm fuzzies. :)

We are moving this week, so I'll do both:

current house: Thank you for being the place I've brought 3 newborns home to, and a place for the other 2 kids to continue to grow as people. Your location led me to making a life-long friend who is a treasure. You've been good to us.

new house: I look forward to living in you and not having to "wait in line" to get from room to room. I can't wait to decorate you for the holidays and create fun memories.
---
| | | |
| --- | --- | --- |
| RE: What made me love my house today... | | |
What a great thread!

What made me love my house today...... big windows, open wide to sunshine and fresh air, cool breezes. It felt so fresh in the house it was like being outside. Then tonight, friends over for an impromptu pizza dinner and a movie, lots of talking and laughing. The house was not white glove clean but no one cared - not even me.
---
| | | |
| --- | --- | --- |
| RE: What made me love my house today... | | |
Great day for asking this question. Two years ago today we moved back into our house after living elsewhere for 6 months while we did a whole house (down to studs and plywood) renovation. We redid all the wiring, plumbing, insulation and then put it all back together. I love my house.

I was standing in the kitchen, which is now 2 years old, and there is so much dissing about white cabinets and granite countertops and stainless steel appliances and hardwood floors. But, you know what?, I still love my white cabinets and granite counters and stainless steel appliances and hardwood floors. Every morning when I come into the kitchen I feel so lucky to have a functional, bright and cheery kitchen. I love it.
---
| | | |
| --- | --- | --- |
| RE: What made me love my house today... | | |
Great reasons, everyone. I keep thinking I will love it when my house is "done" instead of being such a work in progress, but really, planning things I would like to change is part of the fun.

And what a nice, tolerant house--no matter how many times I change a fixture or repaint the bedroom, she graciously accepts it. If only DH were as easy to tweak. . .
---
| | | |
| --- | --- | --- |
| RE: What made me love my house today... | | |
Well today I'm in my lakeside house in Maine and I woke up at six, pulled up the shade and looked at the beautiful birches and the lake, opened the window and heard the loons when I was making the bed. Then I went to the kitchen to make coffee and prepare breakfast and felt soo content knowing my husband is well and happy and still asleep and my son, who had come up for a visit, is also sleeping. We had a great evening and we LOVE our little home on the lake. It's 125 years old and used to be a small inn. All woodsy and cozy.
---
| | | |
| --- | --- | --- |
| RE: What made me love my house today... | | |
I love that I can say I love my little house in Maine EVERY day. I've been here for 25 years, and this house became a welcoming home for me as soon as I moved in, despite looking very different back then. It's had many updates and changes over the years, all of which have ultimately made it perfect for me and each loving dog who has enjoyed it with me.

What made me know it was meant to be my house was a bit of practiced calligraphy that I had done many years before I came to live here. I was unpacking some long untouched art supplies and came across this, that I had copied onto parchment paper. I had forgotten doing this, and was shocked to realize that it IS where I live now.

"This used to be among my prayers.
--a piece of land not so very large,
which would contain a garden, and
near the house a spring of ever-flowing
water, and beyond these a bit of wood.

-Horace, Satires, 30 BC "

Partial view of back yard from kitchen window

---
| | | |
| --- | --- | --- |
| RE: What made me love my house today... | | |
Yayagal...we need pix, please. :)
Today the family will come to watch football in our FR. Feet up, snacks everywhere, nice view of the trees starting to turn outside ... doesn't get any better than that!
---
| | | |
| --- | --- | --- |
| RE: What made me love my house today... | | |
Lori, I was going to say the same thing! Yesterday we watched college football all day, it was damp, cool, and cloudy outside. The room is perfect for football. All that was lacking was a fire in the FP!

I took this picture 10 min. ago. Love living in the country!
---
| | | |
| --- | --- | --- |
| RE: What made me love my house today... | | |
We were out of town last weekend, so I got in a good cleaning today. I love a clean house!
---
| | | |
| --- | --- | --- |
| RE: What made me love my house today... | | |
Thought this said "what made my love my spouse today"!

Right now I hate my house so it's a good thing we're moving soon. I had to fire our cleaning lady cause she stole stuff so it's messy and we're starting to pack.

However, I still love my spouse :-)
---
| | | |
| --- | --- | --- |
| RE: What made me love my house today... | | |
I just had company for two weeks and although my home is small I was easily able to have fourteen over for a sit down dinner to send off our english company.I love the large scale of my rooms it makes my small house live large. And today I love it for it does not take me all that long to get it back in shape after two weeks of big meals, lots of swimming and towels hanging everywhere, and lots of mess.
This is a nice thread everyones homes sound and look wonderful!
---
| | | |
| --- | --- | --- |
| RE: What made me love my house today... | | |
Despite the current disarray involved in changing three rooms around (of course it started out as tweaking one...), today I loved my house when we came home from an overnight away, got my key back from the darling young couple next door who walked the 20 feet between our old town houses to feed our kitties and take in our mail and papers, spoke to four other neighbors out walking their dogs or heading for church, pulled two weeds from our cobblestoned alley, watered the dozen or so pots that are my garden, and spent the rest of the early morning reading the papers instead of doing a long list of maintenance chores.

I never stop missing the space, the greenery, and the quiet of our previous place, but it doesn't stop me loving the advantages of this warm, close city life.
---
| | | |
| --- | --- | --- |
| RE: What made me love my house today... | | |
I love my old house every day, but esp. with the tall schoolhouse door, front door, and back door open (all with screen doors);and windows on both sides of the house open to the sun and breeze. My bare feet walking over the worn wood floors. The tall ceilings. Looking down the hallway to the other end of the house and out that tall door. The not so new back porch that has no roof so you sit there and watch the broad expanse of blue sky and clouds above you and over the corn field. I cried when I had to cut the old tulip poplar down but gained a fabulous view out the kitchen window.
---
| | | |
| --- | --- | --- |
| RE: What made me love my house today... | | |
I love my house because it is paid for and at this moment everything is working. It's also small enough that I can manage it. I do love my screened in porch on a quiet beautiful day.
---
| | | |
| --- | --- | --- |
| RE: What made me love my house today... | | |
Thank you, Leafy, for such a wonderful thread. It gave me the "warm fuzzies" too.

I am loving the wooden floors, cozy kitchen, and quiet of it all. This is the place we brought that newborn home to 23 years ago, and he had the security of growing up here. This was so important to me, as we moved so much when I was a child. After 25 years here, we have "roots". I think it would be tough to leave them.
---
| | | |
| --- | --- | --- |
| RE: What made me love my house today... | | |
Around this time every year, I'm usually suffering withdrawal from lots of time spent at our beach house over the summer, with water views and a more open/airy space than we have here at our "real" house. However, two distinct experiences made me feel happy about being where I am this weekend.

First, on Friday evening I was returning from the store with two 6-packs of beer (and groceries). My next-door neighbor was sitting on her front steps with a mutual friend, and I jokingly held up one of the 6-packs. Well, long story short, I never even made it into my house. Three hours later, we were still on the front steps along with three other neighbors, my DH, and a few kids scattered around. And the beer was gone. LOL.

And then this morning, I was awake before anyone else, and as I settled on the living room sofa with my coffee and some sections of the Sunday paper, I thought, "Ahhh, I like this room!" Funny, I was sitting at the opposite end of the sofa from where I usually sit (honestly, the reason was because I noticed how that side of the sofa looks so much more lived-in than the other side, and I was thinking I had to even out the two sides!) and the room looked "new" to me from that perspective.
---
| | | |
| --- | --- | --- |
| RE: What made me love my house today... | | |
I woke to "my" cardinal alarm clock :) Every morning this time of year he is outside my bedroom window...with his loud "chirp, chirp , chirp" ! I do mean LOUD !

I can reach out my window and pick gardenias...last of them this year so my room is shady and fragrant...just love this time of year. All of my roses are starting their Fall flush and the sweet olive has begun scenting the air with its lovely fragrance. Need those cool nights and warm days and it just bursts into bloom.

Like schoolhouse I can see front to back in this old house and have the doors and windows open on all the porches. With the high ceilings and wood floors it is the "coolest" place to be .

Wonderful pics and descriptions. c
---
| | | |
| --- | --- | --- |
| RE: What made me love my house today... | | |
I call this house "my Sedona". We were called here, and we do not know why yet. Yesterday we spent a wonderful morning at the farmers market, Harley Davidson dealership where DS works, then to music in the barn at the Shaker village, then went to dinner with the new neighbors.

This morning I found tiny woodland orchids in my woods, and I am listening to the rain through the open windows. At my previous house, I could not open the windows. The bugs would have taken over, even with screens.

Love it here!

Nancy
---
| | | |
| --- | --- | --- |
| RE: What made me love my house today... | | |
We spent the night at our lake house also. It is old and not very nice inside. There is not much hope for fixing it up. It is really a tear down.

But we didn't buy it for the house, we bought it for the water and the views. Watching my boys fishing off the dock today made me love my little lake house today.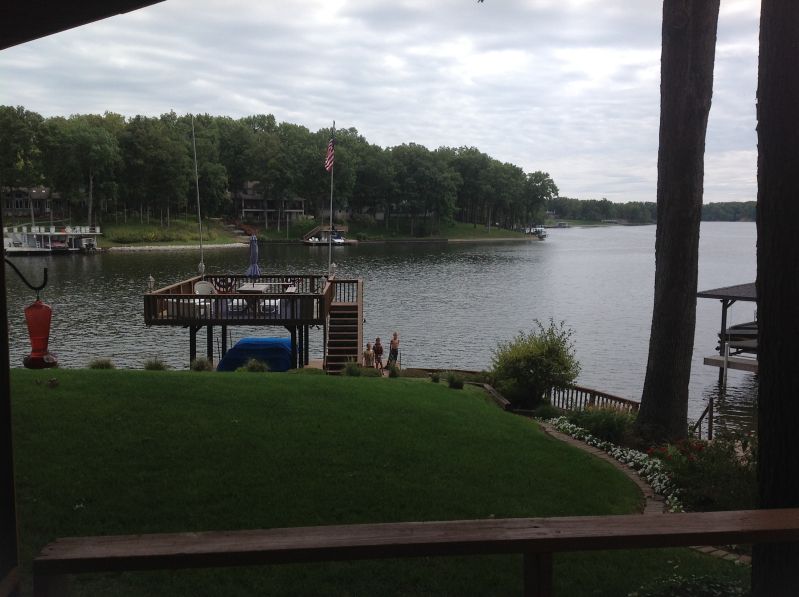 ---
| | | |
| --- | --- | --- |
| RE: What made me love my house today... | | |
This morning when I got up at 6am to take the dog out I found it was 32F outside. Fall has definitely arrived. Even tho my house wasn't cold and I knew it would be at least 70F later in the day I started a fire in the wood stove. After breakfast I moved my laptop to the LR and sat for a couple hours watching the flames while I enjoyed being online - two things I find relaxing and enjoyable.

I'd really miss my wood stove if I moved somewhere they are not allowed.
---
| | | |
| --- | --- | --- |
| RE: What made me love my house today... | | |
i live in a setting similar to yours mythreedogs and listen to the waterfalls all day every day.
this morning the horses were snoozing on the sunny side of the barn, the birds were busy and the leaves are turning.
i had a wonderful ride this morning through the woods and the temperature was perfect. no more bugs means no more nasty bug spray all over me and horsie, that alone is reson to celebrate!
---
| | | |
| --- | --- | --- |
| RE: What made me love my house today... | | |
Wow..wow my3dogs...do you have any more pics?! awesome!!!
---
| | | |
| --- | --- | --- |
| RE: What made me love my house today... | | |
We should ask ourselves this question at least once a week!

Today it was the light. And the windows being open and the beautiful fall weather and my son and fiance stopping by to watch some football.
---
| | | |
| --- | --- | --- |
| RE: What made me love my house today... | | |
I love my house today because I didn't have to evacuate. A nearby fire put us under a voluntary evacuation order, so I packed the suitcases, grabbed the PC back-up drive and loaded the car. It looks like all will be okay, so now I need to unload the car, but I think I'll wait until later tonight, just in case. Unfortunately, the air is full of smoke, so I had to close all of the windows. Thank goodness that today is cooler than yesterday when it was 98 degrees F, but we still need a breeze to clear out the air.
---
| | | |
| --- | --- | --- |
| RE: What made me love my house today... | | |
Fun2bhere-scary! Are you by chance near the 405 fire? That's scary stuff. Glad you are ok.

I found a set of footprints in the concrete from the PO's son. The PO'S grew up in this house-her mom was the original owner-and then raised her family here too. I loved discovering a little part of its history.
---
| | | |
| --- | --- | --- |
| RE: What made me love my house today... | | |
I am loving my house more every year. I love my MB right now. We just got new carpet and the whole room is so clean and just beautiful. I love my galley kitchen that looks out into the living area. Its not huge, but a very workable, nice kitchen. I love that after years of moving this is (hopefully!) our forever home. We've been here 12 yrs. Longest we've been anywhere in 32 yrs. Over the years we have personalized it with our own touches. I love that I feel safe and warm here. I love that DH and I are empty nesters with a bunch of animals that adore us and are excited when we get home. Our house is nothing fancy by a long shot but it's our home. I also love looking out my back windows and seeing our horses. We have acreage and I must say I love not being 12 feet from my neighbors, lol!
---
| | | |
| --- | --- | --- |
| RE: What made me love my house today... | | |
Drybean, No, I'm down in southern Orange County, but I saw the hassle from the 405 fire. That was scary, too, because it's so congested there anyway. I used to live near there during the 1990's. Do you live near that area?
---
| | | |
| --- | --- | --- |
| RE: What made me love my house today... | | |
For me, it was the light and having all the doors and windows open. I wake to birdsong (also have a cardinal who sits in a holly right outside one of the windows) and pups who want to fill the bird feeders with me every morning, although I suspect they are more interested in making sure the squirrels aren't there. What could be better? Well, maybe grandbabies, but not there yet. :(
---
| | | |
| --- | --- | --- |
| RE: What made me love my house today... | | |
Wow, lovely views and lovely stories. I'm glad to hear them all. So glad it's getting to be the season here for sleeping with windows open so I can hear the birds and crickets instead of just the a/c purring.

Today I've spent many hours cleaning (now that I work full time, I have less time for it but find it more therapeutic) and DD's boyfriend spent the day painting my bedroom, so I am loving the idea the prospect of coming home tomorrow to find a clean house and a "new" bedroom waiting for me.
---
| | | |
| --- | --- | --- |
| RE: What made me love my house today... | | |
I love my house today because my DH and I fixed the dryer ourselves yesterday! Took it completely apart and DH fixed it while I cleaned the duct and the inside of the dryer rather than buying a new one(lotso lint...but it's all gorgeous and like-new inside now).

ALSO, I love my new study and our new pantry. We're just installing the cabinets I re-veneered and refinished today, and I'm on the way with the file cabinets that will go on the sides. We also have a great huge salvage bookcase that will fit perfectly.

We also had major finds for our last bathroom to redo -- so great I have to see them as little 'keep going' gifts from the universe : ) At *Goodwill* I found a gorgeous minimalist '71 (marked) beautiful walnut veneer tall display cabinet with doors and a light, in *great* condition, for $50--it will be our linen cabinet in the bathroom (after a coat of tougher varnish). It also gave me the tile and vanity design for the rest of the room, something I'd been puzzling over for weeks. The tile, which I got for .50/sf (Atlas Concorde Fibra) and 2.00/sf (sells for $53/sf--Interstyle Glassplash) at Habitat ReStore, is so incredibly cool and nothing I could have afforded on my own. I just needed the salvage walnut cabinet to tell me how to arrange them : )

The house is just on the verge of making *so much sense* now, iykwim, that I almost want to sell the house now to get the compliments LOL...but a big party when we're done and things back in their places will be even better : )
---
| | | |
| --- | --- | --- |
| RE: What made me love my house today... | | |
After about 10 years of work, we are just about finished fixing up our 60's ranch. I love that it is paid for and helped make it possible for me to retire. I love to watch my granddaughters running gleefully up and down our long hall. I love being able to open the windows and enjoy the fresh air. It is a modest house, but it is comfortable and most of all it is home.
---
| | | |
| --- | --- | --- |
| RE: What made me love my house today... | | |
Love the lake picture and I always enjoy seeing pics from My3dogs! Such a lush, serene setting!!

What I love about my house today and all times is our outdoor spaces. We've got a big yard, very private and spend alot of time outdoors. Spent alot of time on the patio this weekend, just taking it easy. Had friends drop by one evening and we sat in the sunroom with the door open to outside. We have an area with chairs and a firepit out away from the house and the nights are cooling down enough to enjoy it, although we have been known to use it in the summer LOL. I love sitting outdoors in the dusk, even the dark, enjoying the sounds of our surrounds, the twinkling stars, the fire in the pit, so relaxing.

The sunroom is another thing to enjoy. We have it set up more like a den - with comfortable furniture. It's used each and every day of the year. Bright and airy with roman shades that are never fully drawn. Love my sunshine! Love sitting out there even when it's raining cats and dogs LOL. On days I work, once I get home and start dinner, etc. the sunroom is my go to place to sit down and relax. Just enjoying the beauty of our surroundings (lots of trees, flowers, etc.) and the birds and bunnies!

tina
---
| | | |
| --- | --- | --- |
| RE: What made me love my house today... | | |
My front portal (porch). This morning the weather is sunny and mild, but warm enough that I can still sit out here and enjoy my late-Summer flowers, the views, our fresh mountain air and the hummingbirds that are flitting about everywhere at the moment. It's quiet and peaceful and the perfect place for me to start my day. I'm so glad that when we had this place built I insisted on this huge covered portal. It shades us from the sun and has become on of my very favorite spots. Our son will be home here tomorrow after a year in Afghanistan and it makes me really happy to know he'll be able to sit out here, too, letting the peace and beauty of this place sink back into his soul. He needs that so much right now.
Lynn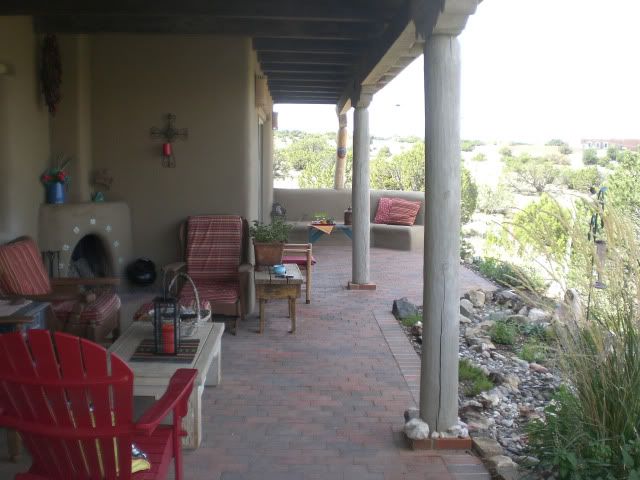 ---
| | | |
| --- | --- | --- |
| RE: What made me love my house today... | | |
We just got back from a wonderful getaway to Shelter Island, NY, where I spent the entire time fantasizing about buying a house out there. We were surrounded by an abundance of maritime and architectural beauty.

So it was a surprise to come home to my 60s tract home and feel glad to be in it again. We've worked hard to make it attractive over the last 16 years, and I guess being away from it made me appreciate the things we've done: the large windows, the materials & colors we've chosen, the garden we've built. It's finally starting to come together. It certainly isn't the Hamptons or even lovely historical coastal Connecticut, but it's pretty darn nice in its own right.

Looking forward to cold weather & fires in the fireplace (also my powder room redo which starts next week).
---
| | | |
| --- | --- | --- |
| RE: What made me love my house today... | | |
I recently finished a kitchen budget update, I love my new kitchen, enjoy drinking a cup of coffee, cooking for the two of us or cooking a large meal. DH loves when we have breakfast or just sitt in the back, he loves the pool and privacy too. I cherish the memories of my daughter's growing up in our old house, unfrotunatly I never liked that house. For 20 yrs I knew DH wanted a summer house, and for 20 yrs he knew I wanted a new winter house, it's so nice that this house made both our "wants" come true. When anyone tells us how our small ranch style house is perfect for 2 people, we look at each other, since this house is larger than the house we raised our children in. I always wanted a formal livingroom, am so glad to have a separate den. I remember when I had to ask my daughter's if I could sneak in and use the bathroom, it's nice to have 2, and one of them is in my bedroom!!! another dream come true. I love everything about my new house. Yes, I enjoy making things the way I want, and hope to update the mud/laundry room next year, but if I don't that will be ok too....(Please don't tell DH I said that).
---
| | | |
| --- | --- | --- |
| RE: What made me love my house today... | | |
WOW...incredible views!!

I live in a 2 bedroom condo and share the master with my daughter. The master is divided by wood portable closets. Son is in the 2nd bedroom. I always wish we had a 3rd bedroom so daughter could have her own room. But when I see people living out of their motorhomes in the wal mart parking lot, I remind myself how lucky I am to have my "too small" condo I can afford.
---
| | | |
| --- | --- | --- |
| RE: What made me love my house today... | | |
We just moved into our new (to us) house over the weekend and I've already had several moments that made me love our home... even though they would be mixed with imperfections like the sound of a leaky toilet or hassling with windows that don't all open and close easily. :)

DD was out of town for the weekend so last night was the first night she got to spend in her new room. This morning I loved that she could reach her own cereal and snacks on the pantry shelves, and that she immediately got cozy in a chair in the sitting room to watch morning cartoons while getting ready for school. It just felt like she was so at home. I loved that I could open the curtains in our master bedroom (that are still just hanging by tacks, ha ha) while I was wandering around in the morning without worrying that someone could see me, since we're surrounded by trees and nearly an acre of private backyard.

Last night I loved that DH invited a friend to stay for dinner and we all sat around the kitchen table for the first time. I envisioned us doing a lot more entertaining now that we finally have the space.
---
| | | |
| --- | --- | --- |
| RE: What made me love my house today... | | |
What wonderful vignettes and what a great thought provoking topic!

I've got a couple of house loving moments to share. One is, as dedtired (I think) mentioned. I am loving my house because this shelter is all ours, no mortgage. Meaning a HUGE lift for retirement plans; what a blessing to know that the roof over my head is secure no matter what happens economically.

My other moment was when my visiting nephew came into one of my rooms of shame-the florida room-and responded to my embarrassed comment about how messy it was with a 'this isn't messy, it's just a nice room with some stuff stacked up'. Wow, what an eye opener to realize that what I fuss and guilt trip myself over isn't even on others' radar screens. It's just part of what they see as a nice place!

Ann
---
| | | |
| --- | --- | --- |
| RE: What made me love my house today... | | |
I purchased something from craigslist recently and went to an apartment complex to pick it up. It was in a super nice area and the outside looked decent but the apartment was claustrophobiclly (sp?) small, the carpet was disgusting (stains, very worn out), the cabinetry was hideous, the counter tops were non existent, the vinyl was curling and ugly and the guy was just moving in. He mentioned what his rent was. OM goodness, it was insane. I guess the zip code made it worth it?

Yup, sometimes we only focus on what we don't have (thanks hgtv and decorating magazines) instead of what we do. :)
---
| | | |
| --- | --- | --- |
| RE: What made me love my house today... | | |
Friday we will have lived in our house 11 years. I can't believe how much has changed and how much a person can love a house. Who knew?

It's hard to pick just one thing but right now I love my hallway. We just installed hardwood floors, repainted the walls and trim. It's so new and fresh feeling.

Tonight, I'll be loving my sunsets. I have a wonderful unobstructed view of the the sunsets. Here's my favorite as of today.
---
| | | |
| --- | --- | --- |
| RE: What made me love my house today... | | |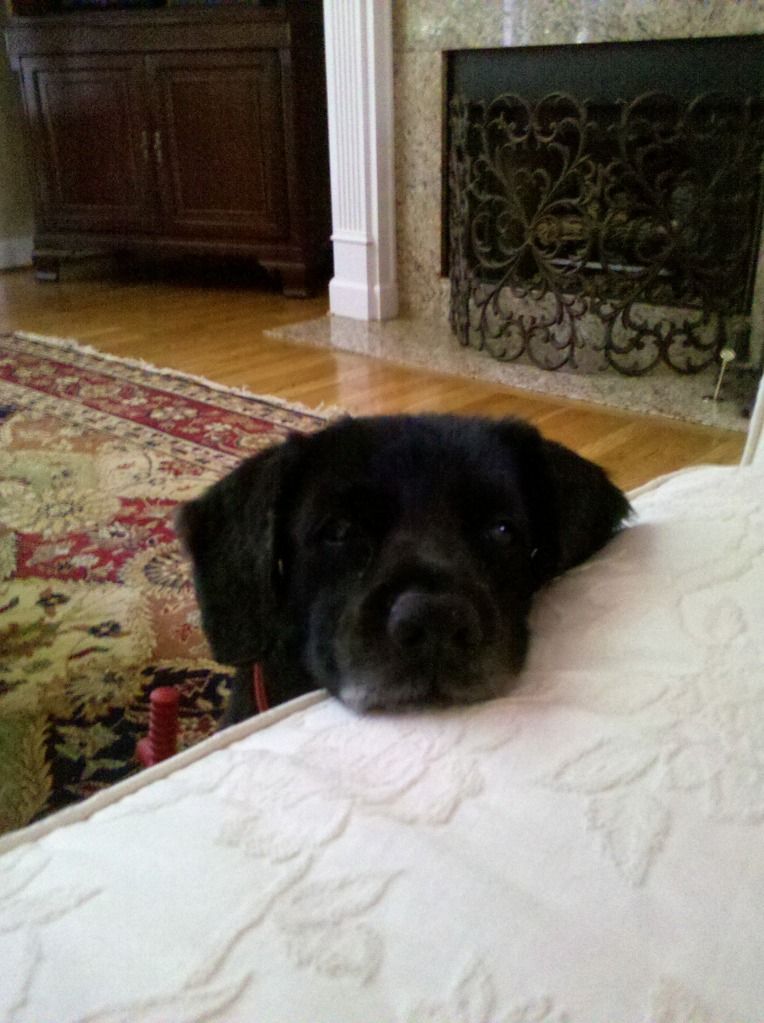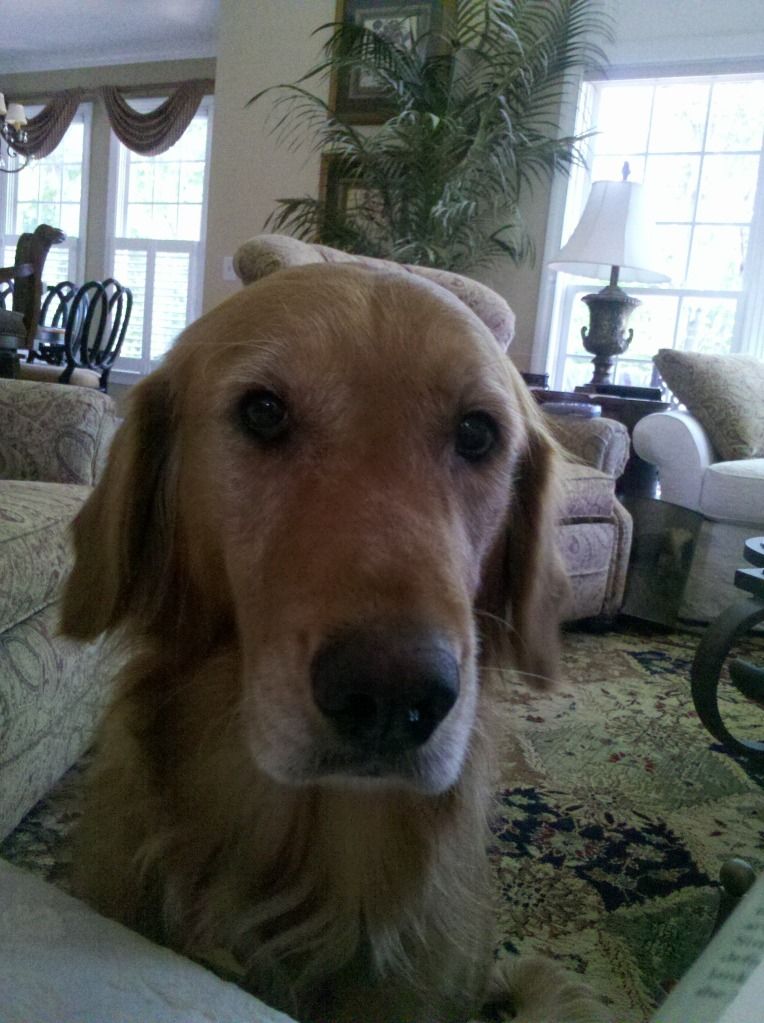 The views, going for a near daily walk/run in the National Battlefields that are right by our house a view of them from our upstairs window above. I love the mountains and yet we are minutes away from a big city. Also, DH and the doggies. The trees are so beautiful, they lift me : )
---
| | | |
| --- | --- | --- |
| RE: What made me love my house today... | | |
We had an appraiser come today because we are refinancing our house. So, yesterday I cleaned and scrubbed the house top to bottom in hopes of getting a few extra $$ out of the appraisal.

Generally, I am so envious of friends' and neighbors' large show kitchens (we have a small, galley-ish kitchen for a family of 5).

Yet, last night as I was cleaning my little kitchen at 9:00pm I realized how nice, organized and efficient it is, and how I truly don't need any more space - and how it would take me twice as long to clean if it were twice as big!
---
| | | |
| --- | --- | --- |
| RE: What made me love my house today... | | |
I feel blessed *every* time I walk in the front door! I feel it truly was a gift from God, and never thought I would have the house of my dreams, but I did have to move from CA to TX to have it, also a good thing. ;o)
---
| | | |
| --- | --- | --- |
| RE: What made me love my house today... | | |
Such a nice thread....sigh. :)
---
Post a Follow-Up
Please Note: Only registered members are able to post messages to this forum.
If you are a member, please log in.
If you aren't yet a member, join now!
---
Return to the Home Decorating & Design Forum
Information about Posting
You must be logged in to post a message. Once you are logged in, a posting window will appear at the bottom of the messages. If you are not a member, please register for an account.
Please review our Rules of Play before posting.
Posting is a two-step process. Once you have composed your message, you will be taken to the preview page. You will then have a chance to review your post, make changes and upload photos.
After posting your message, you may need to refresh the forum page in order to see it.
Before posting copyrighted material, please read about Copyright and Fair Use.
We have a strict no-advertising policy!
If you would like to practice posting or uploading photos, please visit our Test forum.
If you need assistance, please Contact Us and we will be happy to help.

Learn more about in-text links on this page here