Return to the Home Decorating & Design Forum
|
Post a Follow-Up
---
| | | |
| --- | --- | --- |
| sarah house | | |
Posted by
arcy
(
My Page
) on
Sat, Sep 8, 12 at 20:56
Well what did you think of her rooms? I am very frustrated they did not show them in order. They totally skipped the dining room and girls room. Maybe next week? I sure enjoy listening to the way she can justify the price of some of her choices. I wish this series had been how to upgrade STYLE with in your choices given by the builder. Finding some fun furniture pieces to swap for vanities, tile design mix for the same price as blah 4x6 squares etc. Presently my favorite show is The High/Low project. Sarah could learn a lot!!
---
Follow-Up Postings:
| | | |
| --- | --- | --- |
| RE: sarah house | | |
I watched it and thought the house did not look very comfortable. I loved the master bedroom and bathroom but thought it was funny that she didn't want the vanity that Tommy picked out at $3500 but by the time she got finished with her custom vanity it had to be as much since the Tommy one had the top/hardware on it already and maybe the faucets too. I think she said it was 1500 for her vanity and then 1400 for the top of the one she designed plus the faucets, the mirror for the doors, the knobs. I'd say that was a wash.

It was fun to watch. I must have missed the kitchen episode but saw the finished room in the finale. would have liked to have seen that one. The kitchen was gorgeous as well as the foyer. The dining room was horrible and had no relation to the rest of the house. The house was really pretty but the furniture so stiff and formal, Liberace formal in the living room. The upstairs was great and the basement as well. I enjoyed seeing it but wasn't sure if the $100,000 upgrade included the furniture or just the house upgrades.
---
| | | |
| --- | --- | --- |
| RE: sarah house | | |
Hi SaraKat,

I'm glad to hear I wasn't the only one disappointed by the dining room.
I might like the big overside horse head in another room -- but not in the dining room. Although I love blue, the dining room was too blue and lacked warmth. I do like the settee by the window and the drapes.
---
| | | |
| --- | --- | --- |
| RE: sarah house | | |
The other rooms were on last Saturday... I missed them. I wish I'd seen the rationale for the horse photo. I love horses and that would not have been my choice if I wanted a horse in the dining room.

I loved the Master bedroom. It was a tad too ornate for me, but I loved her used of color in there. Very fresh to my eye.

The craft room was inspiring. I have had a dedicated room from time to time for my crafting, but I loved her cohesive look. And using a kitchen island as a work station. EUREKA! Just what I need for my stained glass work. I'm so glad I'm just getting started on my most recent studio area.

I could watch Sarah every week. I'm so disappointed HGTV just dumped her entire season into two Saturdays. I may not have her budget and means, but I learn a LOT from her shows.
---
| | | |
| --- | --- | --- |
| RE: sarah house | | |
I enjoyed it even though she goes into a territory I wouldn't dare to step, I get ideas from her, especially her color choices. I love the explanations of the colors and shapes and how they work together. All in all, I find her better than the rest as she teaches as she goes along. I would LOVE to have the bathroom they created and you really can't find a double vanity like the one she created. The floor was exceptionally beautiful.
---
| | | |
| --- | --- | --- |
| RE: sarah house | | |
In the last episode I think she said the builder upgrades were $112K and she spent another $40+K. I agree there didn't seem to be much in the way of comfortable/cozy spots, but the rooms were wonderful (eh, maybe not the DR) even though the overall look was formal.
---
| | | |
| --- | --- | --- |
| RE: sarah house | | |
I agree with all the comments. I love how she still uses traditional fabrics but with an updated twist. I loved the master bathroom, too. The tile was so pretty and very interesting how she created a rug effect with the two types of tile. The color was just yummy. The kids rooms and bathroom were adorable.

I love horses too but could not understand the choice of picture in the dining room, the grasscloth paper a miss especially with the other blue underneath. The grasscloth might have worked with just a white library paneling under the chair rail. I agree the drapes and arrangement were great.

All in all though the house was great, I really enjoy watching her shows, she is a real interior designer with credentials with a real business and does not have to beat the clock on a shoestring budget as a gimmick for one more stupid HGTV show by self described professionals who won a contest. I don't have her budget either but you can pick and choose ideas and adjust them to fit your own budget. I really loved the country house she did, she is not afraid of color or fabrics with print. Love her : ) Thanks for sharing info about when it was on. I taped it and can now watch it again when I have time. Thanks again!
---
| | | |
| --- | --- | --- |
| RE: sarah house | | |
I missed some of the episodes and just started watching others. She is such a master of mixing color and pattern. I get very frustrated as, unless I match color precisely, it always looks flawed, but when she does it (I'm thinking of the boys room episode which I just saw), the colors aren't even close, yet somehow, once in the room, they all work.
I agree about the giant horse head in the dining room, and I really don't like the colors in there...I usually love what she does, but for me, that room was a real miss.
---
| | | |
| --- | --- | --- |
| RE: sarah house | | |
It's interesting to read your comments because I disliked that dining room, too. Sarah's ability to mix patterns and colors is absolutely wonderful and one of the reasons that I love seeing her designs, but that dining room was horrible. I remember reading that some people who saw it in person thought that it looked much better in real life than it did on television.
---
| | | |
| --- | --- | --- |
| RE: sarah house | | |
The initial "find the house",dining room, and girls room and bath were not on this week or last. I am not sure about the foyer. I hate that they skipped those episodes!! Over all I would say this was my least favorite of her houses. Too many misses. The dining room color was just to taste specific. It would never sell. The master bedroom over all, had great elements but the board behind the headboard took away from it and the foot stool at the end of the bed SCREAMED at you. I also felt the green of the chairs was not quite right. The $100,000 upgrade money was only for the fixed permanent elements that the builder would do. The furnishings are an entirely different story. The bathroom vanity came out $1500 cheaper she claimed so "well worth it". If she ever bought new off the rack I want to know where. She is always saying what a deal such and such is, even after re-finishing and new upholstery she comes out WAY a head on buying new. HOW? None of her finished prices screams DEAL to me. We did not get to see the walk out very well. I do not believe that wall was above grade. She digs holes and makes doors. Well I am hear to tell you that doesn't work well. The hole collects snow, leaves, dead critters. I wanted to see what it looked like from the outside. All the jibber jabber about the views..well a new subdivision often loses its views in time.
---
| | | |
| --- | --- | --- |
| RE: sarah house | | |
"Over all I would say this was my least favorite of her houses. Too many misses. The dining room color was just to taste specific. It would never sell."
I'd be amazed if there wasn't a bidding war to buy that 'Sarah-decorated-house'. She has a huge fan-base in Canada as well as everywhere her shows air.
While I adore much of what Sarah does and she's one of the few designers I'd hire, I certainly don't love everything she does. Who could? IMO she tries for unique and that horse painting is an example. If I bought that house I'd hang that painting somewhere else. Not a subject I'd ever want in my DR - I've been up close to horses and the smell memory would get me every time I looked at that pic! LOL Not very appetizing.
---
| | | |
| --- | --- | --- |
| RE: sarah house | | |
Does anyone know if the details of the house are posted anywhere, specifically backsplash tile and countertop in kitchen?
---
| | | |
| --- | --- | --- |
| RE: sarah house | | |
I watched the MR episode this afternoon with especial interest as we're in the middle of the re-doing our MR as we speak. I think our bedroom would fit into the nook of that bedroom back by the closet, but what the heck. Did anyone notice that the mattress hung over the edges of the foundation? That was odd. I agree that the bench at the foot of the bed was a miss, but overall, the room came out really pretty. I think I'll skip the columns though, we'd have to squeeze by sideways to get to the bathroom.
---
| | | |
| --- | --- | --- |
| RE: sarah house | | |
msrose, look on Sarah's website for details of various episodes. I've posted a link to the kitchen show. It doesn't provide the name of the tile, however, it does give the store. I'm sure you could contact them. They have the tile from her summer house featured on their homepage.
Here is a link that might be useful: Sarah's kitchen
---
| | | |
| --- | --- | --- |
| RE: sarah house | | |
| | | |
| --- | --- | --- |
| RE: sarah house | | |
Ah, well, I hated that I missed the first Saturday of episodes. It makes me feel even more ticked that some of them weren't even shown.

I loved the columns in the bedroom...that's actually something I'd feel comfortable doing if I had a room that supported it. And I loved the bench--I thought it added a fresh vibe to the room. To each her own, though, right?

I agree Sarah teaches as she decorates in these shows. I learn from her...and she is the only TV decorator I'd hire. (If I had the budget!)

Her farmhouse series was my favorite. I still go back and watch those episodes online from time to time.
---
| | | |
| --- | --- | --- |
| RE: sarah house | | |
I taped all episodes and loved getting to watch them at my leisure.
Loved the foyer, living room.
The dining room didn't work at all for me.
I liked nothing in it.
The master bedr was ok. Didn't like the green color on the chairs. The bench fabric was a rug. I hated that fabric.

Sarah is my favorite of all designers and I love her eye
for fabrics! Mix and match. She is the champ in that area.

This house was my least favorite of all .
---
| | | |
| --- | --- | --- |
| RE: sarah house | | |
The dining room almost had a nautical vibe to it and I think that is why the horse picture seemed so jarring. That dining room would work on the Onassis yacht (or one like it).

The only complaint I had about the master BR/MB was that sometimes I think we can get too clever and while mixing and matching is great, there were a lot of different finishes in those two rooms and no real wood finishes that I sort of was craving. That is why I would have liked Tommy's choice of vanity better, it would have been the straight man against all the frivolity. Sometimes you need that, lol. I very much enjoyed the episodes and will visit her site thanks for posting that!
---
| | | |
| --- | --- | --- |
| RE: sarah house | | |
I'm not sure why I opened this thread, I guess to see who Sarah was and what happened to her house. I didn't see the show(s). I used to occasionally see her program years and years ago, when she wore a really cool, silver, junky ring. That's all I remember about the show. I did like her and should check out her show.

That horse picture in the DR is creepy. I wouldn't want to sit with my back to it and imagine it breathing down my neck nor would I want to sit looking at it. Even if I sat at the ends of the table with Mr. Ed in my peripheral vision, I wouldn't want to linger over coffee. It would be a 'eat and run' experience in the room.

After reading a comment above, I'd also be thinking about how horses smell.
---
| | | |
| --- | --- | --- |
| RE: sarah house | | |
I must be one of the only people who loves the DR. Do hate the horse, though.
---
| | | |
| --- | --- | --- |
| RE: sarah house | | |
That dining room is so far beneath Sarah's usual work it makes me wonder if she has lost an important member of her team.

The blues on the wall clash with each other and both of those blues clash with that otherwise beautiful settee.

The horse head makes me wonder if Sarah is having a breakdown of some sort, lol. Especially mixed on the wall with those "port hole" mirrors.

Seriously, NO ONE associated with the show saw this problem and brought it to her attention? Has she surrounded herself with "yes" people? smh
---
| | | |
| --- | --- | --- |
| RE: sarah house | | |
I hope we all enjoyed the Sarah's House episodes because this Saturday's lineup for the afternoon is Candace Olsen's Show. What the heck was HGTV thinking placing these much loved shows back-to-back?? Not that I love the Novagratz show, but HGTV showed a new episode of their show last Saturday at 7 PM (east coast).I just don't get it. Sigh.
---
| | | |
| --- | --- | --- |
| RE: sarah house | | |
Another reason I like her DR is that it reminds me of one of my favorite offices. I've never been a fan of the popular notion that your window treatments are supposed to blend with your wall color. I like more contrast.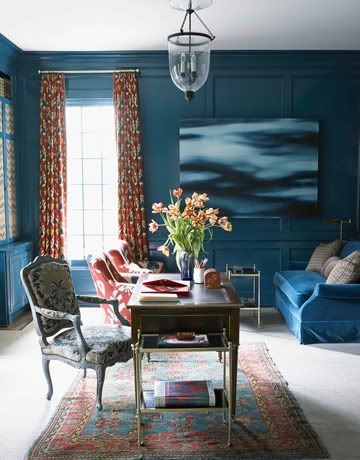 ---
| | | |
| --- | --- | --- |
| RE: sarah house | | |
I'm so irritated! I missed the DR, MBR and was there a girl's room? My DVR had duplicate descriptions and apparently they were wrong so my DVR didn't tape them as it is set to tape only 'New'. Aaaargghhhh!

I have to say that I am not a fan of the way Sarah mixes patterns about 1/2 to 3/4's of the time. Never have been all of the way back to her very 1st series. But I still love her eye and design! I get tons of ideas.

Her Farmhouse series is my fave by far. The Foyer repeat of the farmhouse is scheduled to tape in the next few wks.

If I recall correctly the 'In Town' home that she rehabbed sat on the market for awhile.

If I were buying a builder home and was able to be involved in the process, I think that this current series would be super helpful and beneficial. I think this is a really informative series that she's doing.
---
Post a Follow-Up
Please Note: Only registered members are able to post messages to this forum.
If you are a member, please log in.
If you aren't yet a member, join now!
---
Return to the Home Decorating & Design Forum
Information about Posting
You must be logged in to post a message. Once you are logged in, a posting window will appear at the bottom of the messages. If you are not a member, please register for an account.
Please review our Rules of Play before posting.
Posting is a two-step process. Once you have composed your message, you will be taken to the preview page. You will then have a chance to review your post, make changes and upload photos.
After posting your message, you may need to refresh the forum page in order to see it.
Before posting copyrighted material, please read about Copyright and Fair Use.
We have a strict no-advertising policy!
If you would like to practice posting or uploading photos, please visit our Test forum.
If you need assistance, please Contact Us and we will be happy to help.

Learn more about in-text links on this page here