Return to the Home Decorating & Design Forum
|
Post a Follow-Up
---
| | | |
| --- | --- | --- |
| Do subway tiles hold up? | | |
Posted by
lacebrandon
(
My Page
) on
Sun, Sep 2, 12 at 20:23
I am considering tiling my shower with subway tiles. If I decide to go with the subway tiles they will be the American Olean tiles from Lowes. I can only find the 3" x 6" size.

I love the look but am concerned. My dad has done general contracting for 20 years and he said "he has never put subway tiles in a shower, only kitchen back-splashes". But I have seen many bathrooms with showers tiled with subway tiles. I know due to the size it is very time consuming but I am prepared for that.

How well do subway tiles hold up?
We have well water does not seem hard or to have alot of iron. How do you clean subway tiles?

I know most people would go with a white grout but I have a 4 year old. I am considering a warm gray or silver grout.
The bathroom will have a slate looking floor. I have not decided on a paint color yet.

Any advice or direction?
---
Follow-Up Postings:
| | | |
| --- | --- | --- |
| RE: Do subway tiles hold up? | | |
Subway tiles only hold up as well as the quality of the tile ( denser tile doesn't chip and crack) and the installation and the backing.
I know a house that has subway tile in the shower and walls and it was good for easily 60 years...until the new owners decided to "up date" and replaced it with modern junk....laminate to be precise!!
---
| | | |
| --- | --- | --- |
| RE: Do subway tiles hold up? | | |
We just did ours. Why would the shape of the tile matter for their wear ability? They will hold up the same as any ceramic tile. Ceramic tile has been used in shower surrounds for decades. We considered colored grout too but white on white covers a world of sins. We did the shower and a wains cotting around the entire bathroom. They did not take all that long to install. Once you have your pattern, backer board in, reinforcement for future hand bars and niches laid out it goes quite fast. We are loving ours!!
---
| | | |
| --- | --- | --- |
| RE: Do subway tiles hold up? | | |
We have subway from lowes with white grout in our shower.They are holding up well and are easy to clean. We painted the cement board with Red guard before tiling for extra leakage security.

I had so many extra tiles I decided to use them in the kitchen but instead of white we used a gray grout so we could keep the shadow.Here are pics, can you see the difference? If not, I can take a better pic when i get home. In order to keep the shadow without too much pattern I thought a grout called silver shadow would be best but we ended up using delorean gray and keeping the line thin. Love it!

Although I prefer the look of the gray it would not have made a difference in keeping the wall clean. The floor is a different story, that white grout is now gray:(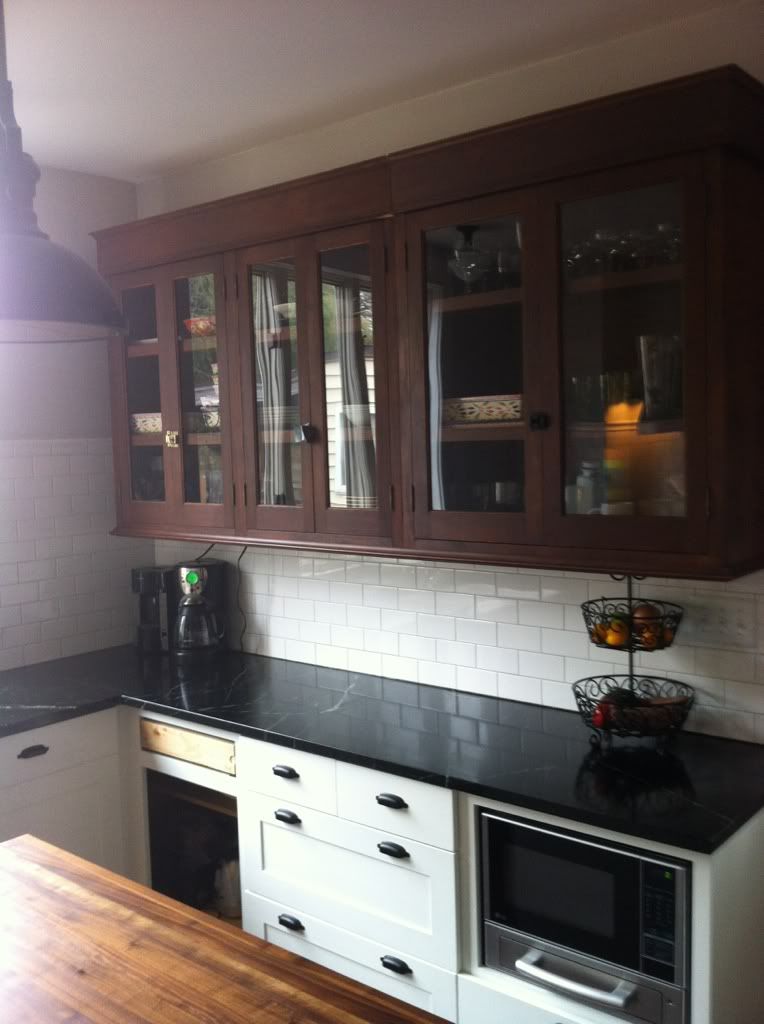 ---
| | | |
| --- | --- | --- |
| RE: Do subway tiles hold up? | | |
Agreed w/ th equality thing. My tiles are over 100yrs old and th eonly place that there is damage is where people drilled into them to hang stuff before we moved in. Guess they just couldn't move their towel bars up all of 6" to ABOVE the subway tile bullnose!

BTW - Great place Changingitup!
---
Post a Follow-Up
Please Note: Only registered members are able to post messages to this forum.
If you are a member, please log in.
If you aren't yet a member, join now!
---
Return to the Home Decorating & Design Forum
Information about Posting
You must be logged in to post a message. Once you are logged in, a posting window will appear at the bottom of the messages. If you are not a member, please register for an account.
Please review our Rules of Play before posting.
Posting is a two-step process. Once you have composed your message, you will be taken to the preview page. You will then have a chance to review your post, make changes and upload photos.
After posting your message, you may need to refresh the forum page in order to see it.
Before posting copyrighted material, please read about Copyright and Fair Use.
We have a strict no-advertising policy!
If you would like to practice posting or uploading photos, please visit our Test forum.
If you need assistance, please Contact Us and we will be happy to help.

Learn more about in-text links on this page here