Return to the Home Decorating Forum
|
Post a Follow-Up
---
| | | |
| --- | --- | --- |
| Best Upholstery/Fabric for Dogs? | | |
Posted by
ash6181
(
My Page
) on
Fri, Sep 5, 08 at 19:20
I've decided its time to buy a new sofa. I have two dogs, a beagle and a labrador retriever. They are both allowed onto the sofas. The beagle doesn't shed much, but the lab...not sure how he still has fur with all the shedding he does.

Our current couch is a woven, tweedy kind of fabric that I've grown to hate. It's super easy to pick and pull threads. Once the beagle discovered this, it became a favorite pasttime for him. :-) I bought slipcovers, which I now hate even more than the original fabric.

So, to get to the point, what fabric should I look for on the new couch that won't pick or run easily, and will be reasonably easy to remove dog hair from? The current fabric gets the hair woven into it, and vacuuming is not enough. I have to pick out each hair by hand- no fun.

I was thinking of a microfiber, because it seemed that the hair wouldn't get buried in the fabric. I also like chenilles, but am afraid they would snag. Suggestions?
---
Follow-Up Postings:
| | | |
| --- | --- | --- |
| RE: Best Upholstery/Fabric for Dogs? | | |
| | | |
| --- | --- | --- |
| RE: Best Upholstery/Fabric for Dogs? | | |
I second leather.

I have an 85 lb. yellow lab who thinks the love seat is hers. I quick wipe off with my hand or a damp cloth and it's clean. I recommend a color that somewhat matches your dogs, if possible.

As far as making it feel cozy, I just add a bunch of pillows (with washable slip covers, of course!)
---
| | | |
| --- | --- | --- |
| RE: Best Upholstery/Fabric for Dogs? | | |
I have 3 cats and a Pomeranian who prefers long nails.:) The sofa is done in the sueded microfiber (washable) and vinyl that looks like handtooled leather. The chair is leather. They both are easy to clean, the hair may land on the sofa, but a damp paper towel wipes it right off. The only comment oin the leather is that the cats jump up, in and across, and it does leave marks. I spent a little more for a leather that was died to the skin, not just a surface color, and a distressed finish, so that the scratches eventually blend in. But both clean up easily, you can't go wrong.

terry
---
| | | |
| --- | --- | --- |
| RE: Best Upholstery/Fabric for Dogs? | | |
I have two shedders-- one with black hair and one with blonde. I know your struggles!

I bought leather due to all the recommendations from dog friends and this forum. It is very easy to clean the dog hair and wipe down. The one thing I wish someone had shared with me is that you are better off getting a low to mid grade leather-- I upgraded my leather (in order to get a color I wanted) and it is very soft and supple--and it stretches. My sofa looks very lived in and it is only 3 months old.

Prior to leather, I had microfiber which is a good less expensive option. It is very strong so it won't get a hole from a stay claw and there's nothing to run. It just didn't have a long life. It was GREAT for 2-3 years.. but when it went bad, it went bad quickly. Hair removal can be a pain but not as bad as a woven fiber. I bought a shopvac and that worked much better than a regular vacuum.
---
| | | |
| --- | --- | --- |
| RE: Best Upholstery/Fabric for Dogs? | | |
| | | |
| --- | --- | --- |
| RE: Best Upholstery/Fabric for Dogs? | | |
Thanks for the input. Since the consensus is leather, my DH has informed me he does not want a leather sofa. :-) Such is my life.

So, if leather is out, what's second best?
---
| | | |
| --- | --- | --- |
| RE: Best Upholstery/Fabric for Dogs? | | |
Sorry, but I have had no better luck with leather with respect to appearance and stability than with anything else! I will qualify this statement with the fact that our Labrador Retriever is totally in control; I'm only the pooh-bag lady and my husband is the secondary Alpha that can share the Alpha chair. The chair does seem to retain the appearance of a good leather chair and is easier to clean than an upholstered chair or sofa. My take on this would be: Do not fall for a Labrador Retriever! You will be forever cleaning and wondering how you got into this mess in the first place-- and you will be forever happy that you did!
---
| | | |
| --- | --- | --- |
| RE: Best Upholstery/Fabric for Dogs? | | |
Annie1971, I hear what you're saying! I fought getting this big, dumb lab and now I love her to pieces and happily let her sleep on the loveseat so she can be comfy.

I'd love to get some chairs that aren't leather, just to mix things up a bit, but I'm terrified of anything that I couldn't toss in the washing machine. I'm interested, too, in other people's non-leather experiences.
---
| | | |
| --- | --- | --- |
| RE: Best Upholstery/Fabric for Dogs? | | |
Cast iron.
Okay, seriously. Leather. Hands down.
See my thread on this page and note where the dogs are hanging out.
They don't know dogs should stay on the floor. They shed enough hair that each morning the floor is carpeted in the stuff which drives me crazy! Hair doesn't cling to leather.. okay, SOME hair will cling to the leather, but not anywhere close to how it does to fabric. Leather can be wiped clean. Just keep track of the seams, as hair will find its way down between cushions and knit itself into the stitching, so using the crevass tool regularly helps. Leather doesn't hold doggy odours and doesnt need frequent steam cleaning (like the carpeted areas of my house seem to!).

Does your DH think leather is cold to sit on? If that is the reason, I used to think it would be but in fact it is cozy and warm. Apparently my dogs think so too.

I can only recommend that the leather be similar colour as the dogs,(light hair will show on dark leather) and keep their nails trimmed as it can scratch. If your dog throws up on the sofa (and at some point they will!), it's gross but it isn't a crisis. It can be wiped off and sanitized.

Microfibre could be another option? It shows hair, but hair will clean off nicely with the vacuum.
---
| | | |
| --- | --- | --- |
| RE: Best Upholstery/Fabric for Dogs? | | |
Dh doesn't want leather because he's afriad of cuts, etc. but also doesn't like how it feels in hot weather (sticky). We live in TN, so there's plenty of hot weather. He generally prefers upholstery. I have leather in my car and love how I can just wipe off the dog hair, but I guess its not in the cards for the living room.

I think I'm leaning towards microfiber since leather isn't an option for DH. I don't mind vacumming/brushing it, as long as it'll come off reasonably easily, without resorting to tweezers.
---
| | | |
| --- | --- | --- |
| RE: Best Upholstery/Fabric for Dogs? | | |
If someone developed a fabric that REPELLED pet hair and was soft and cozy, they'd be trillionaires!
---
| | | |
| --- | --- | --- |
| RE: Best Upholstery/Fabric for Dogs? | | |
| | | |
| --- | --- | --- |
| RE: Best Upholstery/Fabric for Dogs? | | |
I'm struggling with this same delemma right now. I've always bought sofas with a busy pattern to hide the dog hair, but I'm starting to want a solid colored sofa. I know that leather would probably be the best choice, but I'm not sure it would go with my decorating style. Here's what we currently have.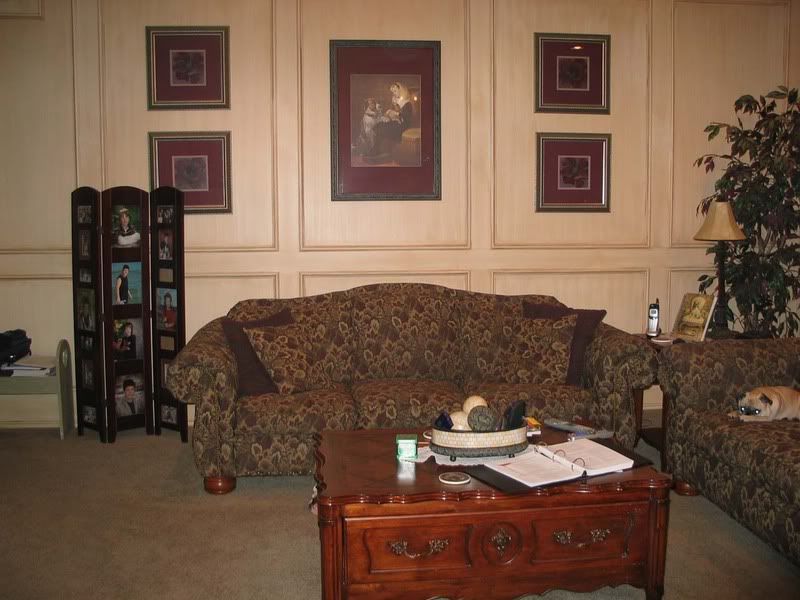 The solid burgundy pillow is the reason I'm afraid to buy a solid colored sofa. The dog hair sticks to it like a magnet and looks terrible.
Laurie
---
| | | |
| --- | --- | --- |
| RE: Best Upholstery/Fabric for Dogs? | | |
I have a sofa from Arhaus that held up very well to my lab. It is slipcovered brown tweed. He is getting old so he no longer gets up on the furniture.

My cat however, has managed to get his claws into the fabric on nearly everything in my house including leather.
---
| | | |
| --- | --- | --- |
| RE: Best Upholstery/Fabric for Dogs? | | |
You may want to look into Crypton fabrics. They are pretty amazing. Pricy, but amazing, and I have heard that they hold up extremely well. Not sure if manufacturers offer Crypton fabrics for their furniture items, though. It's worth checking them out. My local Joanns has a limited selection available for special order. Link is below.
Here is a link that might be useful: Crypton website
---
| | | |
| --- | --- | --- |
| RE: Best Upholstery/Fabric for Dogs? | | |
I also vote for leather, but seeing as that's not an option for you, check out the "leather" sofas that Penney's is selling. The description says: "long-wearing bonded leather, a unique blend of polyurethane, polyester/cotton and leather that gives you the buttery look and feel of leather, but resists wear and tear, sunlight and spills." It might not be as hot and sticky as leather.

I have a big furry dog and have found that her fur doesn't stick to my jeans. So maybe a denim, canvas, or twill sofa would work for you?
Here is a link that might be useful: Penney's leather-look sofa
---
| | | |
| --- | --- | --- |
| RE: Best Upholstery/Fabric for Dogs? | | |
Well, I say, let the dogs pick what they like the best.
While we have a leather recliner, it's really for the Man of the House. Dogs have to beg to be allowed up and in position on Man's lap. Sometimes they want to displace his Real Laptop and that poses a problem. So, for their enjoyment and comfort, we have a Flexsteel sofa covered in a beautiful corderoy looking fabric in a deep moss color. It has been in place for almost 7 years and looks as good as when I bought it. I considered a warm color to coordinate with Dachshund hair, but decided that a bit of contrast would just make the room!

They occasionally (anyone familiar with doxies????) like to scrape and paw their sofa, digging into the cushions to fluff them up a bit. Mom doesn't really allow this when she's home, (Stop that!!!) but who knows what evil lurks in the dachshund mind when all the people go off to work for 8 hours? I bought the Guardian fabric protector when I bought the sofa. The cute salesguy told me that if my sofa stayed with me for the California mandated life of a sofa, 7 years, my protection would only cost me like $13 per year. Well, my sofa is going strong, have kept it vacuumed (about 6 times per year) and have wiped off spills and whatnot when needed. Have never invoked the protection plan, since the fabric is tough as nails, soft to the touch, and seems to evade staining.
My son, who was 17 at the time I chose furniture, ix-nayed the tougher fabrics and INSISTED that a sofa needs to be soft. He said that's why it's called a "Soff-a". He says most people mis-pronounce. Anyway, I fell for his schtick and here we sit. Comfortably. Two dogs. Two people. And did I mention that for several months of 2005, we had my DD and her husband, plus two Golden Retrievers living on my sofa?

Red
---
| | | |
| --- | --- | --- |
| Photos | | |
Forgot my link. You can click on the thumbnails to the left to view my sofa. I wish I had a close up of the fabric. It has the ridges in it like corderoy. Really wears like iron.

Red
Here is a link that might be useful: Picturetrail link to sofa pictures
---
| | | |
| --- | --- | --- |
| RE: Best Upholstery/Fabric for Dogs? | | |
You live in Tennessee and you don't have air conditioning?
---
| | | |
| --- | --- | --- |
| RE: Best Upholstery/Fabric for Dogs? | | |
Funny!

On dog boards I frequent, leather is the most often recommended but I don't like leather personally!

I have rather busy (but I hope not obnoxious) Waverly flowered chitz on my family room furniture, specifically chosen to be vaguely compatable with my dogs'colors. It also goes with the cottage look in that room.

The fabric is teflon coated and vaccuums very easily. No-one has made a hole in it yet, but doggy nails are kept short and doggy feet wiped on entry. The fabric has lasted more than 5 years and still looks good.

Microfiber is very resiliant, but the solid fabics do show every single hair. Tweed is the worst. It seems to attract dog fur like a magnet and hold it for ever. Speaking from experience.

Our fur shedders are 2 white with black spots greyhounds and one brindle greyhound. Nothing compared to a lab, but greyhounds do shed contrary to popular belief!

Good luck on your decision!
---
| | | |
| --- | --- | --- |
| RE: Best Upholstery/Fabric for Dogs? | | |
I have a 6 year old Sherrill sofa in a nice, heavy cotton chenille. You can see that my 'kids' prefer to remove the protective sheets that I try to keep it covered with.

Like Red above, mine like to paw and dig and when they're really frisky, will toss not only the throw pillows, but the 2 back cushions on the floor. This particular chenille is easy to vacuum and the hair doesn't get embedded in it. It's worn extremely well, despite their onslaughts.

Even if the sheet stays on, Joey always manages to get under it.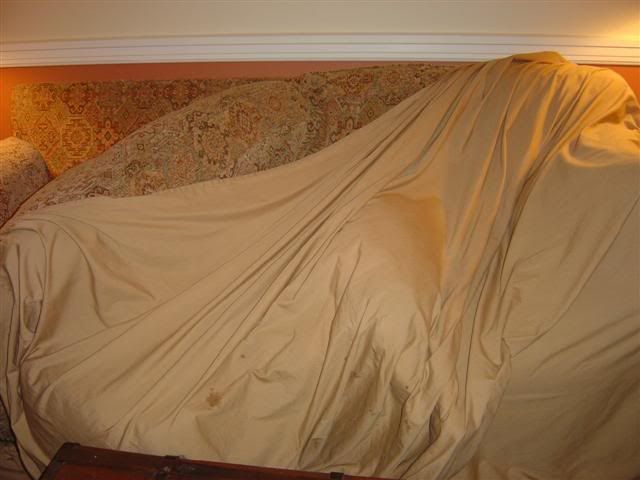 ---
| | | |
| --- | --- | --- |
| RE: Best Upholstery/Fabric for Dogs? | | |
Thanks for the continuing suggestions.

Graywings, we do have central heat and air. But that doesn't change DH's opinion on leather.
---
| | | |
| --- | --- | --- |
| RE: Best Upholstery/Fabric for Dogs? | | |
leather. I have 3 dogs totally about 250 lbs. distressed leather looks even better with nail marks. See my pics in a newer post.
---
| | | |
| --- | --- | --- |
| RE: Best Upholstery/Fabric for Dogs? | | |
Another way to go. Are you replacing your sofa because the style doesn't work for you or it's just plain clapped out or is it the fact that the dog hair and picking and pilling have finally taken it's toll? If the sofa frame is sound and you still like the shape, my rec. would be for you to seriously consider what I've done. Send the furniture out to be recovered with indoor/outdoor fabric! It's not just for patio furniture anymore and comes in hundreds of colors, patterns and textures just like regular upholstery fabric. No one but you will ever know the difference. You'll be amazed at what's available! Ask that the cushions be covered with removable zippered covers so that they can be washed in the washing machine and then be put back on again when the dog buildup gets to be more than you can deal with. Also great for spills and allergies. Mine look like new after five years, wear like iron and haven't a stain on them. Best decision in the world for us as we've been through two JRTs and a beagle-BIG damage, but we wouldn't dream of keeping them off the furniture with us. You can add trow pillows of your choice, ready made, custom or out of more I/O fabric. Get the dogs their very own coordinating polar fleece throws to go with your new very beautiful and much more durable and forgiving upholstery and you'll never worry about dog damage again.
---
| | | |
| --- | --- | --- |
| RE: Best Upholstery/Fabric for Dogs? | | |
My3dogs;

Thank you sooo much for that laugh! I thought I was the only one who "tried" to protect their furniture with sheets. Yeah, I have a teacup poodle, insane border collie (both are geezers but they have their moments) & 5 cats (2 young brothers that we found on the road. OY!!) It doesn't really work but you know...at least we try right? hahaha

Ash6181: I have the same problem. Oh wouldn't I love to live in a nice shi-shi-poo-poo home with silk & velvet. It's not going to happen until the pet kids are grown....only have one human child left. Who am I fooling, we'll always have pet kids. Anyway, I've decided to go with a micro fiber. It appears easiest in my home. I have a shirt made out of it, totally wonderful!! fur just brushes off if it even sticks!! I must have washed it 50 times, it still looks great!! No stains or anything! I am however going to get out the sewing machine (I swear I am this time!!) to make a kinda custom throw thingy go over the entire sofa for when we are all just here hanging out together alone.

Cheers all!

KAT
---
Post a Follow-Up
Please Note: Only registered members are able to post messages to this forum.
If you are a member, please log in.
If you aren't yet a member, join now!
---
Return to the Home Decorating Forum
Information about Posting
You must be logged in to post a message. Once you are logged in, a posting window will appear at the bottom of the messages. If you are not a member, please register for an account.
Please review our Rules of Play before posting.
Posting is a two-step process. Once you have composed your message, you will be taken to the preview page. You will then have a chance to review your post, make changes and upload photos.
After posting your message, you may need to refresh the forum page in order to see it.
Before posting copyrighted material, please read about Copyright and Fair Use.
We have a strict no-advertising policy!
If you would like to practice posting or uploading photos, please visit our Test forum.
If you need assistance, please Contact Us and we will be happy to help.

Learn more about in-text links on this page here