Return to the Home Decorating & Design Forum
|
Post a Follow-Up
---
| | | |
| --- | --- | --- |
| shutter color for brick house | | |
Posted by
saypoint
(
My Page
) on
Tue, Sep 11, 12 at 18:58
Hi everyone. I'm getting ready to repaint the shutters on my 1837 brick home. The last time we painted them, I went with a very dark green that basically looks black from a distance. Now that it's time to paint them again, I'm thinking of a lighter gray green, or grayed blue-green. These are a pain to paint, as they have moveable louvers, or at least they used to move, and are quite old and rickety. I'll be doing a lot of patching and repairs while they're off. I have a picture of the front from the last time they were taken off, and a picture of the dark green. Any suggestions for a soft color suitable for a historic home will be appreciated. Actually, I don't think the house would have had shutters when it was newer, and leaving them off might be an option as well. Also, there are two front doors because there used to be a wraparound porch added in the victorian era, which has been removed except for the two little side porches. Those tall windows used to be french doors, 5 of them! Must have been nice in summer. I currently have the doors painted that same as the shutters, but I think a different door color might be nice. Thanks.
Shutters off

Green shutters

---
Follow-Up Postings:
| | | |
| --- | --- | --- |
| RE: shutter color for brick house | | |
Oh, definitely shutters on!! Those are nice, correctly sized shutters, and I love how you have them on the side, too. Honestly, with the pretty reddish tone of your brick, I think a nice, shiny black *is* the best color! I like lighter, neutral shutters, but only if the brick has a taupey tone to it. Since I doubt you want to paint your brick (although I *love* painted brick and actually painted the brick on our new build *shock*, most people don't,) I really would do black.

I'll be interested to hear what others say! Your house is lovely and charming!
---
| | | |
| --- | --- | --- |
| RE: shutter color for brick house | | |
I would just leave the shutters off, take the home back to it's roots so to speak. Unless you need shutters and they actually shut?!?
---
| | | |
| --- | --- | --- |
| RE: shutter color for brick house | | |
Black is classic, I guess I'm a bit bored with them. They do actually shut, but only if I take off the wooden storm windows. I imagine they were actually used at some point.
---
| | | |
| --- | --- | --- |
| RE: shutter color for brick house | | |
Have you considered white shutters? Or, a pretty chocolate brown, or a slate color (dark gray with an undertone of dark blue).

Your house is lovely!
---
| | | |
| --- | --- | --- |
| RE: shutter color for brick house | | |
Love the house, love the shutters.

I think the black or dark colors look best

Not so much a fan of this look

This is okay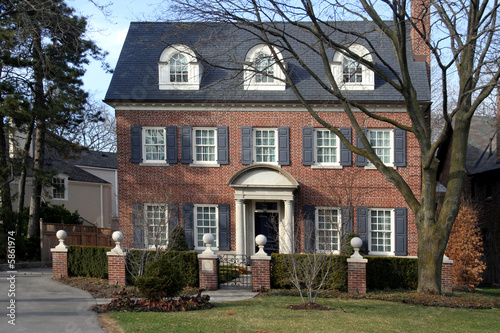 This blue is pretty with the white trim and brick.

---
| | | |
| --- | --- | --- |
| RE: shutter color for brick house | | |
I could see going a little lighter green, but I wouldn't want to go too light. The contrast is good. I was also thinking blue -- my front door is similar to the one above, a bit darker, and my shutters and columns are white.
---
| | | |
| --- | --- | --- |
| RE: shutter color for brick house | | |
Hampshire Gray by Ben Moore is a beautiful gray green and is a historical color. I love the color! By the way, you have a beautiful home.
---
| | | |
| --- | --- | --- |
| RE: shutter color for brick house | | |
Thanks for the compliments. I feel privileged (and often overwhelmed) to be entrusted with the care of this home. I have time to play around with color possibilities, we're still in the scraping stage. :o)
---
| | | |
| --- | --- | --- |
| RE: shutter color for brick house | | |
Maybe you would find the black more interesting if you used something other than white for fascia and trim? Our last house was brick, and we used various creamy and taupe colors for trim, fascia, muntins. Including the porch ceilings, we had five colors but you'd probably never guess it.

IMHO, the formality of brick means that shutters can only be black or white. Especially on an historic home.

When we took our shutters off last time, I wanted to keep them off. I thought it gave sort of a more federal, antique look. Personally, that would be my vote. I would have done it on my house but the realtor preferred shutters for staging.

I will add that a brick house in our old town had black shutters on the bottom, and white on top. The top ones were louvered and the bottom solid. I actually though that looked very cool.

PS I have Hampshire Grey on my front door of my new home, and on the DR windows. It is a super color.
---
| | | |
| --- | --- | --- |
| RE: shutter color for brick house | | |
Thanks for the input. I agree, the pure white is a bit stark against the aged brick, and I have been thinking about changing to a softer color. We don't have repainting all of the trim in the budget this year, and I don't have the energy to do it myself, so we're just repainting the white areas where it's peeling and replacing loose window putty. The shutters and front porches really take a beating, so those will be repainted. I may leave the shutters off for a while and see how it looks when I get used to it a bit. I can always put them in the shed and put them back up later if I change my mind.
The color of the brick on my monitor is pretty close to the actual color, and I came close with Ben Moore Georgian Brick HC-50, though of course there is a lot of variation in the color from one brick to the next. If you were to choose a creamier white for windows and other trim, which color would it be? As dark as Putnam Ivory HC-39? Darker? Or more like Navajo White? Or is it impossible to say without a closeup of the brick and mortar?
It's hard to find color combinations for brick homes, most of the paint companies put out combos for homes with painted siding. The porch ceilings are Yarmouth Blue HC-150.
---
| | | |
| --- | --- | --- |
| RE: shutter color for brick house | | |
Saypoint -

1. I vote for no shutters. You have such beautiful brick. Even though my house was 1902, I didn't like my brick because it looked too new. With brick like yours, I would not put up shutters. Think of it as a look, and when you tire of it put them backup!

2. Yes, it is hard to find paint schemes for brick. Personally I think it's because it only looks good w b/w, anyway. That said, one of the programs lets you photoshop a photo of your house, so you don't need to pretend it is HC 50

3 You can hire a consultant who specializes in exterior paint colors; we did once and it was like $250? Of course we didnt like what she did but that's another story

4. I recall that some historical societies had recommended color schemes you might find of use; google this

We painted our old house in 2010 I think ... the painter only used Sherwin Williams. I remember the black was inkwell, the other colors Id have to look up.

Here it is from far away:

And close up
I can try to look up the colors if you want, but I think you get the gist; a creamy color and a mustard color, pretty much!
---
Post a Follow-Up
Please Note: Only registered members are able to post messages to this forum.
If you are a member, please log in.
If you aren't yet a member, join now!
---
Return to the Home Decorating & Design Forum
Information about Posting
You must be logged in to post a message. Once you are logged in, a posting window will appear at the bottom of the messages. If you are not a member, please register for an account.
Please review our Rules of Play before posting.
Posting is a two-step process. Once you have composed your message, you will be taken to the preview page. You will then have a chance to review your post, make changes and upload photos.
After posting your message, you may need to refresh the forum page in order to see it.
Before posting copyrighted material, please read about Copyright and Fair Use.
We have a strict no-advertising policy!
If you would like to practice posting or uploading photos, please visit our Test forum.
If you need assistance, please Contact Us and we will be happy to help.

Learn more about in-text links on this page here