Return to the Home Decorating Forum
|
Post a Follow-Up
---
| | | |
| --- | --- | --- |
| cow rug: yes or no | | |
Posted by
yvette123
(
My Page
) on
Wed, Sep 17, 08 at 17:57
I have this cow rug on loaner until tomorrow to see if I like it in my house. What do you gals think?

---
Follow-Up Postings:
| | | |
| --- | --- | --- |
| RE: cow rug: yes or no | | |
It might be a little small for that area. You are supposed to be able to pull back the chairs to sit on and still have the entire chair on the area rug. Can you use this cow rug in front of the dofa? Plus I would hate to have to clean crumbs and spills off of that rug continuously. Plus the style is a bit rustic looking / western for your space.
---
| | | |
| --- | --- | --- |
| RE: cow rug: yes or no | | |
It fits your space nicely. BUT I'd have a hard time eating my hamburger while sitting at the table that sits on top of a cowskin. Maybe it's just me....
---
| | | |
| --- | --- | --- |
| RE: cow rug: yes or no | | |
I think it would look better to the right of the table closer to the plant and the back of the sofa. I think its a teensy small for under the table. But I think its a nice contrast on your floor with the leather.
---
| | | |
| --- | --- | --- |
| RE: cow rug: yes or no | | |
Here's another view:
It really is a big rug. I wanted an eclectic look - I just don't know if I am over doing it. I could get a round needlepoint rug but I wanted something different. I don't want it to look western that's for sure!
---
| | | |
| --- | --- | --- |
| RE: cow rug: yes or no | | |
I think with your beautiful table and chairs, and the painted chest with tassel to the right of the plant, that this rug is a bit too eclectic. I think a needlepoint as you mentioned would compliment your style of decor much better. (and I'm as eclectic as they come!)
---
| | | |
| --- | --- | --- |
| RE: cow rug: yes or no | | |
"I don't want it to look western that's for sure!"

Well, Western is ALL I think of when I see a skinned cow!
---
| | | |
| --- | --- | --- |
| RE: cow rug: yes or no | | |
No one liked my hamburger joke? ;(
---
| | | |
| --- | --- | --- |
| RE: cow rug: yes or no | | |
With this rug you would need to hang some animal heads with horns on the wall; maybe some Navaho rugs or wagon wheels or spurs or antique Winchester rifles or even a Texas Star. It's Western. Howdee partner, it's says.
---
| | | |
| --- | --- | --- |
| RE: cow rug: yes or no | | |
Maybe an animal, um, print, that's something more exotic and au Paree, like zebra or tiger? I would see it more skewed to the side of the sofa/entrance of the conversation area.
---
| | | |
| --- | --- | --- |
| RE: cow rug: yes or no | | |
I personally dislike animal rugs, but if you are worried about overdoing it with Western then you have to say NO to the rug. You actually have many themes going in there, I can count about 7 not including the art on the walls. If you are happy with mixing many styles then the rug is okay, but nothing in the room is cohesive to me. Basically, if you like it, go for it. You have to do what makes you happy.
---
| | | |
| --- | --- | --- |
| RE: cow rug: yes or no | | |
Caramia I liked it!! I forgot to say.
I do think it is electic but try moving it to the bare space to the right of the table. Or maybe in front of the sofa to anchor the seating area.
It can be fun.
---
| | | |
| --- | --- | --- |
| RE: cow rug: yes or no | | |
Not sure if it is just the rug, but I am still getting a big southwest vibe from your place. Maybe it is just the tile, leather, chunky end table, and dusty/bright accent wall.

It might be a big rug, but it is still too small to put under your dining set.

Pass on this one.

---
| | | |
| --- | --- | --- |
| RE: cow rug: yes or no | | |
I like it! Love your floors too! I'd be worried about the spillage, the chairs (and feet) wearing off the hair. Plus, if a hide is not "tanned" correctly, it will start to shed anyway. I don't think it has to say "western" in the least. I've seen shows on HGTV that showcased very contemporary rooms with splashes of cowhide and other animal skins. Asking here, you run the risk of ruffling the feathers of those that find animal skins VERY offensive so consider that when reading the replies.
They definitely wouldn't like the 6 or 7 deer head hanging on the den wall, the stuffed bobcat on the mantel, the antelope print carpet on the floor, an antelope skin on the coffee table, the cowhide (just like yours) hanging on the wall OR the cowhide/elk antler rocker. Guess it's no surprise that I like your rug :) But seriously, I'd be worried about how it would hold up under the table.
Monica
---
| | | |
| --- | --- | --- |
| RE: cow rug: yes or no | | |
Well first, those things are tough. You can walk on them, scrape chairs, etc., and they don't show wear. You can wash them with baby soap and water. They're great. I have one waiting for DS's safari room done in spots on tan. I also have one to throw into our room in the master suite or maybe in the closet, it's a gorgeous deep bronze/brown piece.

But, then we get to yours. It's too "Cow" for that space my dear :) I wouldn't mind seeing the tan/bronze one I have in there...since it's less spotted cow and more abstract, but even though mine is large, much like yours, it's not large enough for the table. I do believe they can be in mixed decor areas...I'd love to see you try it anchoring the couch area...but the one place I wouldn't put it in is near floral items, ie your chair covers and the pretty cabinet. It doesn't flow well in those tones, and again, it's just too small :) Even for a big cow :oP
---
| | | |
| --- | --- | --- |
| RE: cow rug: yes or no | | |
Ok - the rug is going back. But, now I feel my room looks like poop. I never thought my house was southwestern. The accent wall is rust. Ok - so how do I make my room more cohesive? Will a round needlepoint be better? It is what I have in all the other areas. An older pix showing rug: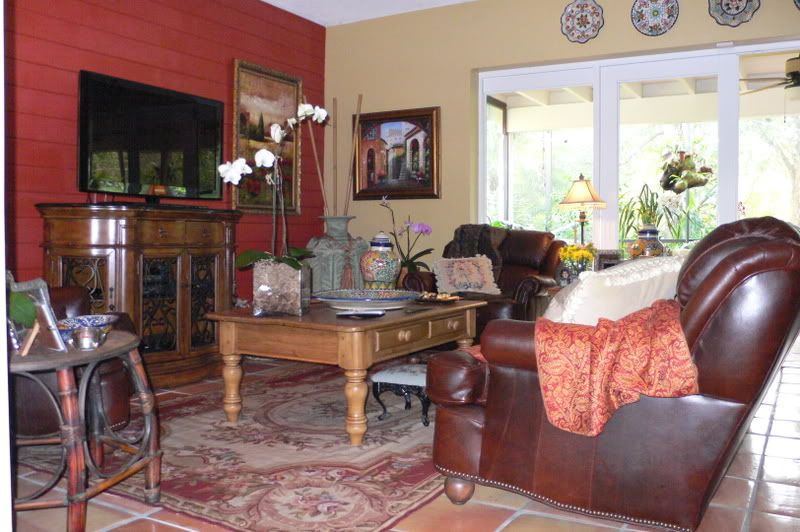 Yes - there are many styles going on - but that's what happens after living in the same house for 24 years. What should I get rid of to make things look better?
---
| | | |
| --- | --- | --- |
| RE: cow rug: yes or no | | |
Whew! I am glad that the cow rug is going. Other than that rug, I really like your room. Love the colors on the walls and the floor, love the furniture you've got going on in the family room - those leather chairs are great, and I like all of the wood furniture and the rug, too. I'm not feeling the dining area quite so much - the rest of your furniture appears grounded and really substantial, and somewhat timeless, while the dining room chairs and the wall shelf in the dining room have a completely different feel.
---
| | | |
| --- | --- | --- |
| RE: cow rug: yes or no | | |
Now, see, I liked that cow rug, and see it as perfect for the room. Especially with that last pic...why not swap out that rug to the dining table area, and the cow rug to the seating area?

I wouldn't go embroidered, too predictable IMHO. Do the splashy and quirky.
---
| | | |
| --- | --- | --- |
| RE: cow rug: yes or no | | |
Well what do you like? Asian? Southwest? Country? Is there a piece in that room that really sings to you? Is there anything in the room that you really hate but have been hanging on to? Do you have a budget for anything new? Are you for or against painting wood furniture?

Your home is neat and uncluttered. Everything look functional. A few changes could bring it all together.
---
| | | |
| --- | --- | --- |
| RE: cow rug: yes or no | | |
Do I have you confused with Chinchette again? I can't find her posts anywhere. I thought you were going for French Country. The large teal urn and chunky table and painting there look SW but I don't see your room as SW at all.

Please revisit and enjoy your living room post! linked : )
Here is a link that might be useful: Yvette's Living Room
---
| | | |
| --- | --- | --- |
| RE: cow rug: yes or no | | |
The dinette and wall shelf are 19 years old and ready to go out the door. It is from my "country" days. The big green vase was in the patio - I brought it in to fill the corner - it can go back out again. What else? I do prefer french country.
---
| | | |
| --- | --- | --- |
| RE: cow rug: yes or no | | |
Yes to offing the cow rug. I like the rest of the room. though!

The design element that I would consider replacing is the floral on the dining chairs. It seems too chintzy for the rest of the place. And do you really need a rug? I like the simplicity of the tile. Why don't you snap a pic w/o the rug and w/o the chair cushions and let us see if that moves the room in a better direction.
---
| | | |
| --- | --- | --- |
| REE: cow rug: yes or no | | |
They look FC. I meant the little chunky Spanish/Mexican table by the sliders, next to the teal urn.

Remove the new rug (and your cowboy hat and chaps for the day) and post another pic : )
---
| | | |
| --- | --- | --- |
| RE: cow rug: yes or no | | |
If you are ready to ditch those shelves then do. Trade one of the larger paintings on the side walls with the group of small pictures that is currently around the shelves. Two reasons: less clutter there will help you lose the cute country feel, PLUS right now looking toward your accent wall I see large painting, large painting, tv, large painting, large painting. I would love to see that broken up with a grouping of your smaller pictures.
---
| | | |
| --- | --- | --- |
| RE: cow rug: yes or no | | |
Paint chips has it right on, exactly what I thought when I first looked at the pic but didn't want to offend you since all you were asking about was the rug. The shelves and some of the pictures need to go, you can rotate your artwork so you always have something different every few months, but I think some of the pieces are too big for where you have them.

A simpler coffee table, a smaller vase in the corner, remove the urn altogether (you are blocking your beautiful outside, I didn't even notice it until I looked beyond the urn!) and less ironwork would give you a little room to breathe. Remember, if you really love these pieces, definitely keep them in storage, you can rotate them out with other pieces giving yourself a free makeover once in a while. This same advice works on bedrooms (change out your bedding and curtains), bathrooms (rugs and toiletry items), everywhere in your home. I do this about 2-3 times a year, so when I turn the corner there is a new piece of artwork where I had something else, and a table that was in the livingroom is now in the hall. Mini makeovers for cheaps!

As for a rug, I am not partial to rugs under tables. The table and your tile floor is nice enough to stand alone.

Keep us posted with new pics, your room has lots of potential, I am glad you have an open mind about decoration, many people here get offended when they don't get the approval they sought.
---
| | | |
| --- | --- | --- |
| RE: cow rug: yes or no | | |
I think that no rug under your table is the best thing to do, I love your table and chairs and floor tile.

A large mirror on that dinette wall could work well; or one of your larger paintings. I see your room as warm and inviting. I would remove certain artifacts and let your surfaces be less ornamentated , For example, on your coffee table, I would leave only the large plate; on your side table, remove the urn next to the lamp, etc...
---
| | | |
| --- | --- | --- |
| RE: cow rug: yes or no | | |
How about a zebra rug? :)
---
| | | |
| --- | --- | --- |
| RE: cow rug: yes or no | | |
I like the uniqueness of the rug but not under the kitchen table.....If you really like it, I think it would look better in the family room under the coffee table.
---
| | | |
| --- | --- | --- |
| RE: cow rug: yes or no | | |
I would love a zebra rug but they are too expensive and again maybe too small.
Editing is one of the hardest parts of decorating. Either you have too much (older folks like me) or not enough (young couples starting out). Balance is the key. Yes, I have too much stuff and have edited (believe me I had way more stuff before). I like cozy areas with things that remind me of my travels (hence the two large painting reminding me of Provence). Sometimes we need fresh eyes looking at a space objectively - and that's hard for me.
You get used to things and that's what happens.
So, should I look for a new dinette? Does the one I have scream COUNTRY? I did see one in Ballard that I liked. Oh my, it never ends.
---
| | | |
| --- | --- | --- |
| RE: cow rug: yes or no | | |
Yvette,

As another lover of all things French, I wouldn't think of getting rid of your table and chairs. I think they are beautiful and also love the cushions. When they wear out, just changing them could give you a new feel, also. A small red check for another take on French Country.

I'm so glad squirrel provided the link to your living room. I have a much better idea what you're all about. We, too, travel and have many things in our house to edit (comes with age, lol). The feeling I get, is that perhaps you worked on the gorgeous LR first, got that perfect, and then took what was left to do the family room. No offense meant, I've done it myself.

I didn't like the cow rug because you have too much going on as it is. That would be a piece to put somewhere, unexpected, not just to add because you have empty floor space.

If you have room on the right of the TV, you could take the two pictures down and put a corner bookcase/curio there to place some of the smaller things you collect. Small art looks good in them, also. The urn could go in your garden room or entry if you have room.

A hallway is a more forgiving space to put multiple pieces of art. Hang as many as you'd like.

If you have any more lovely plates like the ones above the door leading outside, you could place them in your hanging wall shelf.
---
Post a Follow-Up
Please Note: Only registered members are able to post messages to this forum.
If you are a member, please log in.
If you aren't yet a member, join now!
---
Return to the Home Decorating Forum
Information about Posting
You must be logged in to post a message. Once you are logged in, a posting window will appear at the bottom of the messages. If you are not a member, please register for an account.
Please review our Rules of Play before posting.
Posting is a two-step process. Once you have composed your message, you will be taken to the preview page. You will then have a chance to review your post, make changes and upload photos.
After posting your message, you may need to refresh the forum page in order to see it.
Before posting copyrighted material, please read about Copyright and Fair Use.
We have a strict no-advertising policy!
If you would like to practice posting or uploading photos, please visit our Test forum.
If you need assistance, please Contact Us and we will be happy to help.

Learn more about in-text links on this page here