Return to the Home Decorating & Design Forum
|
Post a Follow-Up
---
| | | |
| --- | --- | --- |
| Desperately in need of help - dining room | | |
Posted by
homersmom
(
My Page
) on
Sun, Sep 9, 12 at 17:36
I may have posted pics of this room in one of it's states of unfinishedness, but I am in dire need of some help with finishing this room. I am pretty traditional and conservative, but this room is even way too "vanilla" for me. I don't really want to paint the furniture, but the walls and flooring are fair game. We don't have any moldings in any of the other rooms or doorways, so I hesitate to add any crown here (plus there's not much space between the arches and the ceiling.) DH thinks we need fabric, and I agree, but there isn't much room at the window for panels. A cornice maybe? Is there something I can do to make this room a little more appealing? Thanks in advance for your help!

Sorry the pics are so big - I resized them in photobucket, but apparently I didn't do something right.

---
Follow-Up Postings:
| | | |
| --- | --- | --- |
| RE: Desperately in need of help - dining room | | |
Your room is such a wonderful size. Would you consider a window seat? I could see one there with some great fabric, maybe even some pillows And then when you have that big family dinner for 25 people, you could use the seating at the end of the table if you add another table to the room. The fabric could tie to whatever you do with the window, a cornice might be a good solution since there doesn't appear to be room on the sides of the windows for curtains.

You could also do a woven bamboo roman shade mounted up at the ceiling and have it so it rests just below the top woodwork. It would fool the eye into thinking the window was taller.

As far as color goes, I'd do a deep shade of whatever is looking good in your house now. Just make it richer. Could you do something fun with the tray ceiling? Like paint it a very sky blue?

Have you thought about adding a chair rail and some sort of moulding below it?
---
| | | |
| --- | --- | --- |
| RE: Desperately in need of help - dining room | | |
Your chandelier is very pretty . . .but I would change it. To me, it is fighting with the rest of your room. I feel like your ceiling sort of has a modern vibe, the furniture is more traditional with a French country feel . . .but the chandelier is very formal and ornate.

If you changed that to something more unusual . . .sort of sleek or just slightly less ornate (to bridge the gap between ceiling and furniture), it would be a great start. Then, I would look for artwork. I like the size and placement of the artwork, but could see something bolder there. And, just a personal preference, but since you said the floors were fair game, I would change to hardwood. If you wanted a rug as well, then I would pick a color for the walls based on that.

That said, I think your room is really lovely and a very welcoming spot for your guests, even without changing a thing.
---
| | | |
| --- | --- | --- |
| RE: Desperately in need of help - dining room | | |
Thanks for the suggestions bee & anele!

bee - would love a windowseat, but it's only 16" from the floor to the bottom of the window moulding. I suppose if it was just for show, it would be fine. I have thought about moulding and a chair rail, but wasn't sure how to place it on the wall with the entrance to the kitchen - I'll have to google some pics on that. I would really like to camouflage the ceiling - really dislike the double trey. Sky blue sounds fun!

anele - Hmmm, a different chandelier - any ideas? The flooring is going to be replaced with either new carpet or hardwood. We keep going back and forth on that one.
---
| | | |
| --- | --- | --- |
| RE: Desperately in need of help - dining room | | |
I think a rug would look nice in your room. The table seems to be floating in the middle.

Jennifer
---
| | | |
| --- | --- | --- |
| RE: Desperately in need of help - dining room | | |
I agree that hardwood floors and a large rug under the table would add some nice contrast in your room.
I seem that there is not much room for panels on that window-what about roman shades? I'm thinking either bamboo to add some texture or fabric to add some color/ pattern. I also agree that a simple pendant might look nice against your furntiture- good luck!
---
| | | |
| --- | --- | --- |
| RE: Desperately in need of help - dining room | | |
My first thought was also a window seat. Since you wouldn't want to be leaning up against the glass, how about a bench with a low back and a couple of pillows? Maybe something like this?


or this?
I would put in hardwood floors and an area rug to bring some more colors. I actually love your chandelier in your room.
---
| | | |
| --- | --- | --- |
| RE: Desperately in need of help - dining room | | |
Thanks for the suggestions Jennifer, LL and Oly. We've been going back and forth on the hardwood thing. My only concern with a rug is that the edge of it would most likely be right in the middle of the traffic pattern from the kitchen through to the stairs. It's not a big deal I suppose - I'll just have to train DH to walk around to the other entrance to the stairs! I like the benches posted - I had a wrought iron bench there, but it was too much iron in the room for my taste. Maybe a rush seat bench and a pillow or two?
---
| | | |
| --- | --- | --- |
| RE: Desperately in need of help - dining room | | |
Ballards has a lot of benches.

You could put a patterned rug like an oriental or whatever over your wall to the wall in the meantime. Just make sure it's large enough to fit under all the chairs without getting in the way when you move the chairs in and out.
Here is a link that might be useful: benches
---
| | | |
| --- | --- | --- |
| RE: Desperately in need of help - dining room | | |
A bench in front of the window, a valance with a fabric that picks up on the colors in the art work and a couple throw pillows in a coordinating fabric. If you're not happy with the wall color, pick a deeper color from out of the fabric you choose.

Calico corners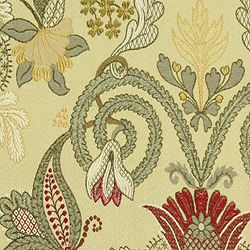 Waverly Swavelle/Millcreek Noblesse

I definitely would add crown to all levels, and I like the idea of painting the trays in a soft blue.
Wood or not, I'd get an area rug for under the table.
---
| | | |
| --- | --- | --- |
| RE: Desperately in need of help - dining room | | |
The hunt is on for an 8x10 rug. The rug in the foyer has a green base, so I think I'll need to be careful not to go with too much green in this one, yet still have some of it to help transition into this room.
---
| | | |
| --- | --- | --- |
| RE: Desperately in need of help - dining room | | |
The room has good bones. The windowed alcove is very fun, and it should be played up with an upholstered settee.

I might put shades on the light to soften it, since you do need some textiles and there is no obvious spot for them.

I would also consider reupholstering the chairs, which is super easy.

But first you need a starting point. Show us something, anything, you love. A fabric, a room in a magazine, an item, anything. Or are you keying off of the large painting?
---
| | | |
| --- | --- | --- |
| RE: Desperately in need of help - dining room | | |
My suggestion is two upholstered chairs for the ends of the table. This would add softness and color and you could use them for extra seating in the living/family room when needed.
---
| | | |
| --- | --- | --- |
| RE: Desperately in need of help - dining room | | |
A colorful rug.
Recover the chair seats in something vibrant.
How about a fabric covered roller shade and custom valance in the alcove.
A chair or loveseat in the alcove. If you use a chair, there's enough room for a table to hold a cup of coffee or tea.
More art on the walls, vibrant and bigger. Your smaller art has frames, the larger piece has none. Do one or the other. Get rid of the plates on the wall.
I like the idea of upholstered chairs at the dining table if you can afford that.
After the new rug and chairs, post pics and you will get paint color suggestions.
The dresser with the mirror and lamps looks like it belongs in a bedroom. If you want to keep it in the room, remove the lamps and make it look more like a buffet server piece.
I agree with the others on a new chandelier.
---
| | | |
| --- | --- | --- |
| RE: Desperately in need of help - dining room | | |
Just checking -- I can't tell the size of the table from the photo, but before you invest in an 8x10, be sure that's large enough so you can pull the chairs back, sit down, and scoot back in without going over the edge of the rug. You want to be able to do it easily, too, so people don't have to worry about it or work at it.
---
| | | |
| --- | --- | --- |
| RE: Desperately in need of help - dining room | | |
i think once you change the carpet it will look less 'vanilla'!
(i would go with hardwood and a rug. but, if you decide to recarpet, i would find a nice patterned carpet that would give the 'look' of a rug-there are some really beautiful patterned carpets with beautiful colors!
i think an upholstered bench would look very nice!
i agree that your server looks abit like a bedroom dresser/vanity with the small oval mirror! i think a larger rectangular mirror would look more appropriate over a server...
---
| | | |
| --- | --- | --- |
| RE: Desperately in need of help - dining room | | |
I agree with most of comments made... I'd choose a vibrant pattern for seat cushions, and then pull a paint color for the walls from the fabric. Probably a subtle variation of the wall color for the ceiling. And definitely a new light fixture.

Not sure this would help, but always good to consider options: I wonder whether your breakfront china cabinet could be split into two separate tall pieces? With the large artwork in between, you would have a great focal point -- ideally across from the window. Is there sufficient room to rotate your table 90-degrees?
---
| | | |
| --- | --- | --- |
| RE: Desperately in need of help - dining room | | |
I woud definitely add an area rug! Nothing adds instant color as quickly. And yes, you can use one on top of carpeting~i've been doing it for years. It's called layering. ;o)
---
| | | |
| --- | --- | --- |
| RE: Desperately in need of help - dining room | | |
Wow, alot of responses to ponder. Thanks!

A few folks have mentioned a new chandelier, but I haven't a clue as to what might work. Suggestions?

I want to keep some red in the room since the plate arrangement in the china cabinet is staying. They are my grandma's dishes and I like them. That said, I also want to add some apricot/rust and green since those colors are common throughout the rest of the house. I really like the idea of having upholstered chairs at the ends - was hoping to find a way to add a fabric back/front to the current armchairs...just thinkin' out loud.

Here's the china cabinet:

The room is 13'4" long (table direction) and 13'10" wide. There's not enough room to rotate the table since there is a walkway from the foyer to the kitchen. I'll see if I can find a swatch of fabric that I've been saving - see if y'all like it.
---
| | | |
| --- | --- | --- |
| RE: Desperately in need of help - dining room | | |
Saw this Apt Therapy photo, and remembered your post... Maybe skirted chairs as a way to bring more fabric into your room?
Here is a link that might be useful: skirted chairs
---
| | | |
| --- | --- | --- |
| RE: Desperately in need of help - dining room | | |
Re: chandelier . . .I have found a few for you, but when I played with your room using Paint (I am low tech), I found that with a richer color (I am thinking deep reds or blues . ..) your fixture might work.

I'd focus on:
-rug
-upholstery
-art
and then paint + fixture last. I think the rug is the hardest and determines the most if it has pattern (which I'd recommend), so it's best to get that set.

Post pics of rugs you LOVE. Let us see more of your taste!
---
| | | |
| --- | --- | --- |
| RE: Desperately in need of help - dining room | | |
Why can't you put a heavy (2 or 3 inch diameter) wood curtain rod right across the bay window and let the panels frame the bay? Take down the two prints to the left of the bay and you have plenty of room for full, lovely curtain panels on wooden rings. Select a wonderful curtain fabric and redo the seat upholstery on a companion fabric or a solid.

Your dining room has a lot of elements that, taken separately, are all great, but they are not consistent in terms of quality or style. I personally like the chandelier--- it dresses up your dining furniture in exactly the way French country is supposed to look. But the fabric upholstery doesn't add anything. IMO the two elements that are way off are the unframed canvas---not nice enough for the room, and the mirror, which looks sort of "olde worlde Tuscan".

Putting a bench in that window will block a lot of the light, and will not provide any really useful seating. Who would eat there at a tv tray or small table or with a plate in their lap when the others are seated at the table?

So, I would replace the mirror with something bigger and square or rectangular and gold leaf and fancy. Put beautiful curtains on the bay on a gorgeous gold painted or gold leaf fluted rod held up with brackets. Reupholster the chairs in a beautiful solid color. Take the two framed prints and put them where the canvas is now (and move the canvas to another room entirely).
---
| | | |
| --- | --- | --- |
| RE: Desperately in need of help - dining room | | |
mjlb - I like those skirted chairs. Thanks for thinking of me.

anele - Thanks for the "laundry list" - I appreciate the guidance.

kswl - Funny you should mention the canvas piece. It had already been moved to the newly finished basement. Regarding the curtains - you don't think a rod across and panels on the wall will look like a puppet show stage? I'm certainly willing to try a mock up. The chairs were covered in fabric that matched a wing chair in the living room, which is now upstairs in the bedroom, so the timing is right for recovering them. I do have a gold leaf rectangular mirror that I could use above the server. I can get to that this weekend. What fabric pattern would you suggest for the curtains?
---
| | | |
| --- | --- | --- |
| RE: Desperately in need of help - dining room | | |
You already have a lovely, traditional DR.
For some reason, it made me think of Camryn's top rated DR on Rate My Space. Perhaps you could examine and incorporate some of her pretty elements, especially the rug.
---
| | | |
| --- | --- | --- |
| RE: Desperately in need of help - dining room | | |
Homersmom, if French country is your thing you may want to consider curtains in a red and cream toile or a green and cream toile. You could use the same fabric on chair seats and curtains for a look that is monochromatic but not boring because the pattern is lively. Alternatively, you could use a large check on the chairs in the same colors as the toile, or the solid color of the toile. If you are set on a bench, one with no back and a rush seat with cushions would be in keeping with French country decor.

I don't think curtains across the bay would look like a puppet stage unless you held them back with tie backs, lol! Google "curtains across a bay window" images and you will see lots of examples. Also google toile dining rooms to get an idea of how it would look. Toile is available in a wide range of weights, fabric types and prices. I mentioned the colors of red or green because either would look great with your china. And there would be no need to take the plates off the walls :-)

I also would not purchase a rug if you're thinking about changing the flooring anyway. Make the other changes, then the flooring. You may not want or need a rug after all that.
---
| | | |
| --- | --- | --- |
| RE: Desperately in need of help - dining room | | |
I think your room is lovely! When I saw your last (darker) photo, I was struck by how much better I liked your chandelier .... because it looked like a darker finish. Wiping on a darker stain might give it a little bit of drama ....
---
| | | |
| --- | --- | --- |
| RE: Desperately in need of help - dining room | | |
loribee - That is the exact picture I have saved in my inspiration file! I tried to attach it to an earlier post but it said that it had been deleted. I do like everything about that room, except that I don't have the wainscoting and I don't have the patience for the wall treatment ;) I especially like the black chairs and the two-tone table.

kswl - There will be no bench. I had one there the last couple of days and it just collected dog slobber from my two labs. That area will stay unadorned for now.

hokypoky - Thanks for the compliment - a darker stain would be easy enough to add to the chandy if needed. I also have some red shades I may use.

I stopped at JoAnn Fabrics after school and picked up a couple of swatches. If I can get to it tonight, I'll post some pics and y'all can have at it.
Thanks again for all the opinions / advice!
---
Post a Follow-Up
Please Note: Only registered members are able to post messages to this forum.
If you are a member, please log in.
If you aren't yet a member, join now!
---
Return to the Home Decorating & Design Forum
Information about Posting
You must be logged in to post a message. Once you are logged in, a posting window will appear at the bottom of the messages. If you are not a member, please register for an account.
Please review our Rules of Play before posting.
Posting is a two-step process. Once you have composed your message, you will be taken to the preview page. You will then have a chance to review your post, make changes and upload photos.
After posting your message, you may need to refresh the forum page in order to see it.
Before posting copyrighted material, please read about Copyright and Fair Use.
We have a strict no-advertising policy!
If you would like to practice posting or uploading photos, please visit our Test forum.
If you need assistance, please Contact Us and we will be happy to help.

Learn more about in-text links on this page here