Return to the Home Decorating & Design Forum
|
Post a Follow-Up
---
| | | |
| --- | --- | --- |
| Opinions Please: Mahogany Dressers w/ RH Cherry Bed | | |
Posted by
pricklypearcactus
(
My Page
) on
Sat, Sep 22, 12 at 16:50
I recently purchased a used set of vintage (I think 1950s) traditional mahogany dressers. I need to buy a bed and would love to have your opinions on mixing the vintage dressers with a Restoration Hardware Marston Cherry Sleigh Bed.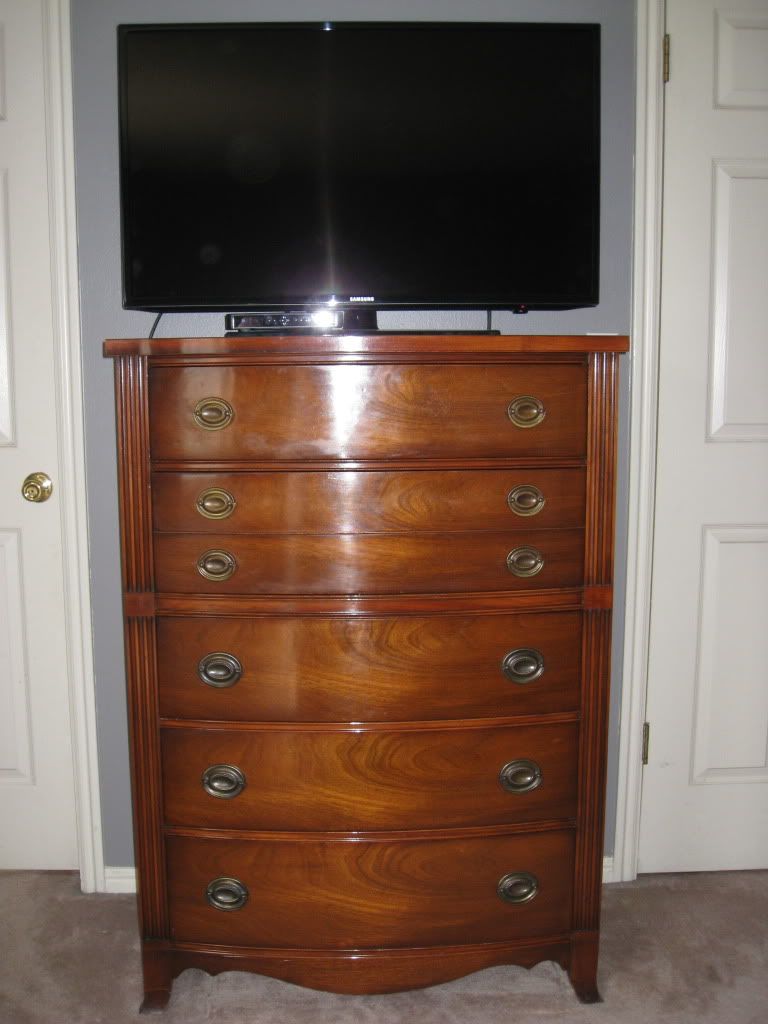 There is one tall dresser and one wide one with a mirror. Only the tall one is in the bedroom so far, but we'll be moving the wide one in soon as well. Unfortunately the bed that came with the set ended up being a full rather than a queen so I have been looking for a bed. I want a bed frame with legs and a headboard and I have found just a few that I really like. I want an actual frame and headboard as I strongly dislike bed skirts (which we have now) and I like legs to raise the bed off the floor at least a little. My significant other unfortunately dislikes any of the upholstered beds I've seen. We both really like the Restoration Hardware Marston Cherry Sleigh Bed and it is on final sale. Unfortunately they do not have any swatches available anymore, so I would be taking a risk whether the dressers will work with the bed. I have long wanted this bed, but until now have been reluctant to pay full price. I love cherry in a dark stain, as I also love mahogany in a dark stain. I think I saw the Marston collection in Restoration Hardware years ago and loved it, but since then our local RH has replaced all furniture with the new styles so I can't go see it and bring a dresser drawer for comparison.
In general, I like transitional, traditional, and contemporary. My significant other seems to prefer traditional and strongly prefers wood to upholstery. His "eww" response to any of the upholstered beds I liked pretty much sealed the deal that a wood bed will make both of us most happy. I love the idea of mixing the bedroom furniture rather than having a complete matching set, although it is important to me that they work together and don't clash. Our house has a mixture of mahogany, walnut, and maybe some cherry furniture pieces, many vintage or antiques. (Thanks to GW for the inspiration to buy local used furniture.) The bedroom has off-white trim, off-white painted fireplace mantle, and gray-blue walls (Behr Wet Cement). The color is a little darker than it appears in the background of the dresser picture. I have an off-white and black India Ink Anthropologie duvet cover. I would like the bedroom to be a mixture of dark wood against the gray-blue walls and off-white trim.
What do you think? Can I mix the vintage traditional mahogany dressers with the RH Marston sleigh bed in dark cherry?
---
Follow-Up Postings:
| | | |
| --- | --- | --- |
| RE: Opinions Please: Mahogany Dressers w/ RH Cherry Bed | | |
Of course....but it would be a lot cheaper and look better to have the old bed made to fit a queen mattress...there is only 6 inches difference in width....which is 3 inches on each side....likely the queen mattress is longer but that's the easy part. I have a friend who had an early mahogany cannon ball bed made larger for a king mattress...the extensions to the headboard were so well done you really have to look hard to see....but that was about a foot on each side. I wouldn't change the wood...just get extender brackets.
---
| | | |
| --- | --- | --- |
| RE: Opinions Please: Mahogany Dressers w/ RH Cherry Bed | | |
What a gorgeous chest! I don't mind mixing woods, but I would have to see them together in real life to feel comfortable making the decision. I know that's not very helpful, though.
---
| | | |
| --- | --- | --- |
| RE: Opinions Please: Mahogany Dressers w/ RH Cherry Bed | | |
Even if they aren't a perfect match, they would work well together. In fact, a slight mismatch might make them more interesting. And you can get rid of your bedskirts!
---
| | | |
| --- | --- | --- |
| RE: Opinions Please: Mahogany Dressers w/ RH Cherry Bed | | |
Thank you for the feedback!

I honestly don't love the bed that came with the set. It's slightly damaged and lower than I like. Though I am intending to use it in a guest bedroom which is too small for a queen sized bed.

Thanks, Fun2BHere. I really liked the style, so I'm glad to hear others like it as well.

Chibimimi, I'm glad to hear you think they would work well together. I hadn't thought about the slight mismatch making them more interesting, but that would be great if it does. I am extremely excited to get rid of my bed skirt.
---
| | | |
| --- | --- | --- |
| RE: Opinions Please: Mahogany Dressers w/ RH Cherry Bed | | |
Beautiful dresser and bed. I wouldn't worry about mixing the woods either. I think the two pieces look great together and the woods aren't that far apart.
---
| | | |
| --- | --- | --- |
| RE: Opinions Please: Mahogany Dressers w/ RH Cherry Bed | | |
I like the mix. They have similar curving lines, and they are both fine grained wood with quite a bit of figuring.

That's gorgeous veneer on the dressers - a micely sequential set of slices.
---
Post a Follow-Up
Please Note: Only registered members are able to post messages to this forum.
If you are a member, please log in.
If you aren't yet a member, join now!
---
Return to the Home Decorating & Design Forum
Information about Posting
You must be logged in to post a message. Once you are logged in, a posting window will appear at the bottom of the messages. If you are not a member, please register for an account.
Please review our Rules of Play before posting.
Posting is a two-step process. Once you have composed your message, you will be taken to the preview page. You will then have a chance to review your post, make changes and upload photos.
After posting your message, you may need to refresh the forum page in order to see it.
Before posting copyrighted material, please read about Copyright and Fair Use.
We have a strict no-advertising policy!
If you would like to practice posting or uploading photos, please visit our Test forum.
If you need assistance, please Contact Us and we will be happy to help.

Learn more about in-text links on this page here