Return to the Home Decorating Forum
|
Post a Follow-Up
---
| | | |
| --- | --- | --- |
| Decorative 'art' over flat screen TV | | |
Posted by
valinsv
(
My Page
) on
Tue, Sep 2, 08 at 16:37
I know this has been discussed before, but unfortunately I cannot find any old postings on the subject. We are considering moving our flat screen to a different location where it is much more visable than before. Here is the proposed new location:
One option would be to have the company that made our custom console make a hutch to house the TV. There are about 10" to either side which is a tad on the narrow side. This would assume the sides could be functional for some pull out DVD/CD storage, but the big TV is still visable.
Another option would be to do a wall mount and put some sort of decorative screen over it and open only for viewing. I know there was a thread on this awhile ago with great pics. If anyone can remember or can provide any links to companies that sell these screens/covers/?? I would appreciate it.
---
Follow-Up Postings:
| | | |
| --- | --- | --- |
| RE: Decorative 'art' over flat screen TV | | |
Horchow and Neiman's (owned by same company) carry media cabinets on their websites, but I think they are too small for your TV. Your best bet is to have something custom made.
Here is a link that might be useful: Horchow
---
| | | |
| --- | --- | --- |
| RE: Decorative 'art' over flat screen TV | | |
Just looked, I've seen those too... are you talking about recessing it in the wall and having a painting covering it? I've seen them where it opens up like a hatchback or trunk, and it goes up pricewise from there.

Have you considered a base unit with lift TV?

Otherwise I'd say have a SIMPLE hutch built on top of what you have, especially if it's already something you like. I say *simple* -- like a cabinet with doors, period. Those things always seem to get so complicated looking with windows and different levels. I like my TV hutch to just look like a piece of furniture.
---
| | | |
| --- | --- | --- |
| RE: Decorative 'art' over flat screen TV | | |
Since your console was custom made, I'd be very tempted to have tham make you a top piece to go with it. Something wide but shallow so you'd still have some countertop space on the base unit. And rather than squishing in storage space on the sides (if it doesn't fit well), I'd raise the TV a bit and have some DVD racks below the TV.

Just my two cents, but I think the screen covers I've seen look 'contrived'. A hutch top would have a real sense of purpose.
---
| | | |
| --- | --- | --- |
| RE: Decorative 'art' over flat screen TV | | |
My vote is to have a hutch made to finish the furniture piece. Make sure they brace the hutch to the console.

We had a three-piece unit for a projection screen TV when our projection TV died suddenly due to being mishandled by movers. This left us with an expensive piece of furniture designed for a type of TV they don't make anymore. When we bought our DLP, we had a custom cabinet maker design a base to blend with the existing unit. If you look too closely, you can tell the two pieces don't go together, but it solved the dilemna and gave us a very nice piece of furniture.

I prefer to have the TV encased in furniture rather than hidden behind a screen of some sort.

Here's ours before console was added:
after console was added (please excuse the toys everywhere):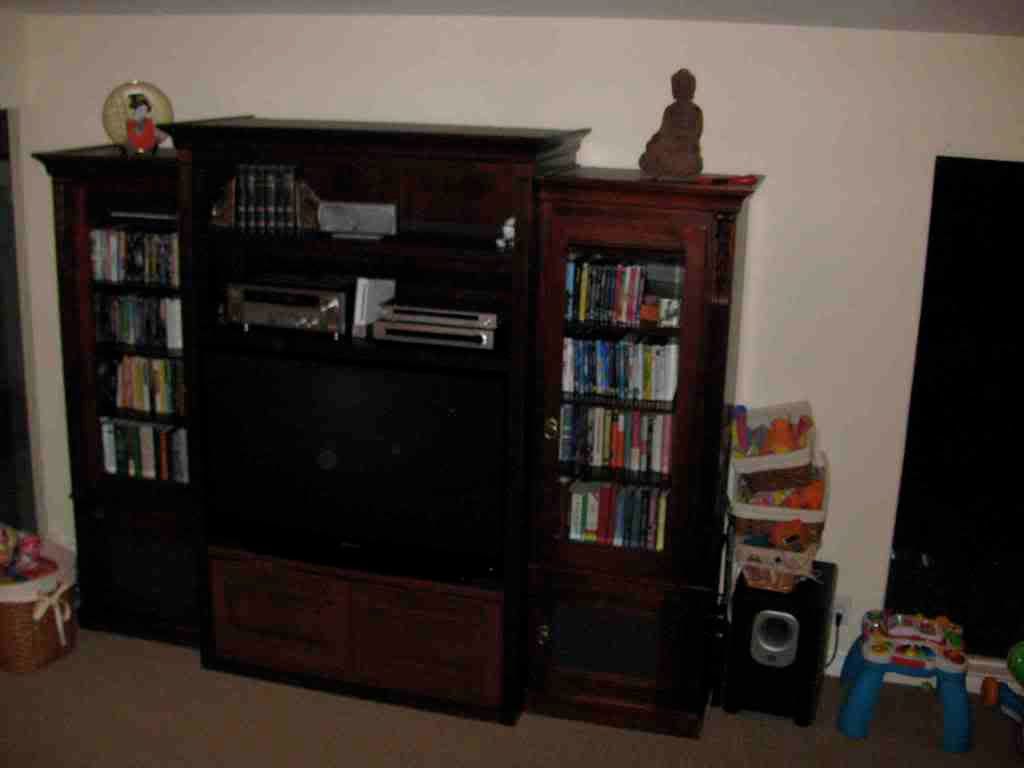 ---
| | | |
| --- | --- | --- |
| RE: Decorative 'art' over flat screen TV | | |
sarschlos, LOVE your red fireplace!
---
| | | |
| --- | --- | --- |
| RE: Decorative 'art' over flat screen TV | | |
allision: Thanks for the horchow link. I'll check it out. I did just want to show my DH some of the clever ideas that members had done. I'm hoping to keep the cabinet and just have a more integrated look for the TV.

sweeby: Thanks for the two cents. Most likely we'll go that route--esp. as Dh already feels the height is just right. That way if it's bolted to the back we could always take it off later if the TV size changes.

sarasclos_remodler: Very nice example. Thank you. I know what you mean about how these ent. centers get outdated when the technology changes. That was why we were sticking with just the base console, but now where it is I do want it encased in furniture, though the sides will need to be slimmer.

bigdoglover: I do like those lifts. I wonder do they have much storage?
---
| | | |
| --- | --- | --- |
| RE: Decorative 'art' over flat screen TV | | |
does anyone make a rolltop for flat screens? When viewing, rolls up, over and down the back of the tv-leaving the console top undisturbed for items in place.
---
| | | |
| --- | --- | --- |
| RE: Decorative 'art' over flat screen TV | | |
Just this morning I was watching Decorating Challenge, and a woman had her tv wall mounted, but also wanted it covered. An artist was hired to paint a picture on a regular roller shade, and it was mounted on the inside of a large frame. It was raised and lowered by remote control.

I thought it was one of the most original ideas I had ever seen for covering a tv. Personally, I keep mine in an armoire. ;o)
---
| | | |
| --- | --- | --- |
| RE: Decorative 'art' over flat screen TV | | |
I was answering the last part of your OP then forgot to address the first part - long day!

Your base is so nice though, I would have a top/hutch made. Something simple. Maybe have a few extra shelves made that could go where the TV would be for later on if you decide not to use it for the TV - could be used for books, etc.
---
| | | |
| --- | --- | --- |
| RE: Decorative 'art' over flat screen TV | | |
Allison: Thank you for the advice to go with a hutch top. Your opinion means a lot. We were matching the style as close as we could to the adjacent kitchen.
---
| | | |
| --- | --- | --- |
| RE: Decorative 'art' over flat screen TV | | |
Valinsv, A little off subject, I meant to ask you what your floor is? Species, brand, width, color? It looks so toasty, I love the color.
---
| | | |
| --- | --- | --- |
| RE: Decorative 'art' over flat screen TV | | |
My vote would be to leave it just as it is. It doesn't need a surround or a cover. It is what it is.

You have a lovely kitchen and I love the woodwork, but I wouldn't add any more wood to the area unless the piece were really necessary.
---
| | | |
| --- | --- | --- |
| RE: Decorative 'art' over flat screen TV | | |
I think it looks nice the way it is but if you're looking for more storage I'd probably have the same company make a hutch for it. Looking at pics like yours makes me wish I would've bought a slightly bigger TV and put it on a console, bigger just wouldn't fit in our stand. I do love the big wood entertainment stands.

I can't visualize the wall mount with the screen...

I love your kitchen!
---
| | | |
| --- | --- | --- |
| RE: Decorative 'art' over flat screen TV | | |
bigdoglover: The floors are 3" planks, 3/4" thick rift & quartersawn oak with a natural oil based stain (stain finish). The R&Q cut produces more of a straight grain with flecks. We love the look.

graywings: I see your point also about all the wood, but it does need something as the side view is completely visable from the kitchen.

I'm going to try to balance out all the wood look for a larger rug in the FR and a few more upholstered chairs. Usually the kitchen table is covered with a table cloth, but I had removed it for that picture.
shesharee: I think the current trend is going towards what we have now. It certainly gives much more flexibility with the TV to not completely encase in furniture. I see the big honkin' ent. centers being dumped on CL all the time.
Right now I'm trying to track down the paperwork for the console with the specs on it. Hopefully DH can find it.
---
Post a Follow-Up
Please Note: Only registered members are able to post messages to this forum.
If you are a member, please log in.
If you aren't yet a member, join now!
---
Return to the Home Decorating Forum
Information about Posting
You must be logged in to post a message. Once you are logged in, a posting window will appear at the bottom of the messages. If you are not a member, please register for an account.
Please review our Rules of Play before posting.
Posting is a two-step process. Once you have composed your message, you will be taken to the preview page. You will then have a chance to review your post, make changes and upload photos.
After posting your message, you may need to refresh the forum page in order to see it.
Before posting copyrighted material, please read about Copyright and Fair Use.
We have a strict no-advertising policy!
If you would like to practice posting or uploading photos, please visit our Test forum.
If you need assistance, please Contact Us and we will be happy to help.

Learn more about in-text links on this page here