Return to the Home Decorating & Design Forum
|
Post a Follow-Up
---
| | | |
| --- | --- | --- |
| Any Pics of BM White Sand, BM Muslin or BM Cream Fleece Walls? | | |
Posted by
lynn2006
(
My Page
) on
Mon, Sep 3, 12 at 15:54
Any Pics of BM White Sand, BM Muslin or BM Cream Fleece Walls?

I know I keep asking similar questions but I am ready to paint my Master Bathroom that has a slanted cathedral ceiling, bone colored (like a light tan) double sink, bone colored Jacuzzi, Bone Colored with taupe on the beige side tiles up the wall shower stool with glass doors, ivory tiles, and ivory vanity.

The baseboard trim is white and so are the two doors in the room. The walls are BM Navajo White mixed with Ralph Lauren Deep Cream streaking down my walls from the terrible painter a few years ago that put the Navajor White two coats on on top of each other (his helper put the paint directly on top of the other guy's painting to get the job done quickly rather than wait until the room was first painted) pulling the color off so that the wall needed to be painted again the next day.

I just can't paint the room myself so it is costly due to the Cathedral ceiling that also needs to be repainted that is white but has some of the wall paint on the ceiling. This time I should use a bath paint. The walls now are semi-gloss. The streaks happened the same day and the painter ignores my calls and then I got so busy in the hospital and life just had me become immobilized on what to do with the bathroom.

I have pictures framed (bronze and champagne frames) on the walls with a lot of Olive Green and an Olive Green rug and towels.

I want to keep the room neutral ane spa like but due to no windows, I want a light color that is rich and not too lemon like the walls are showing up now probably from the Deep Cream color that is more yellow than BM Linen White.
---
Follow-Up Postings:
| | | |
| --- | --- | --- |
| RE: Any Pics of BM White Sand, BM Muslin or BM Cream Fleece Walls | | |
Love BM Muslin! My BFF has it all over in her house. Looks much lighter in her place thn in ours. We used it in a downstairs bedroom. Not much natural light, so it appears darker in our house (still somewhat light, just not as light as in hers). We had it mixed up in Aura paint, matte finish.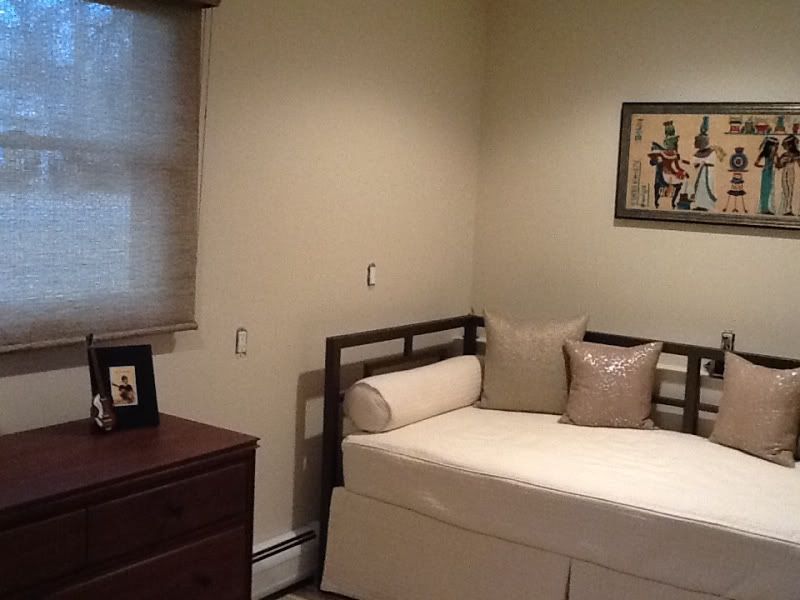 ---
| | | |
| --- | --- | --- |
| RE: Any Pics of BM White Sand, BM Muslin or BM Cream Fleece Walls | | |
Cat_Mom, I love the BM Muslin in that nice neutral room giving such a peaceful feeling. I really appreciate you for sharing. I love the Aura Matt finish paint that was used also.
---
| | | |
| --- | --- | --- |
| RE: Any Pics of BM White Sand, BM Muslin or BM Cream Fleece Walls | | |
You are so very welcome! :-)

We tested a "gajillion" colors for the FR (this room is off the FR) until we finally settled on Mascarpone (one of my first choices, BTW, but DH wasn't too keen on it at first). Somehow I just knew that the Muslin would be the winner in the Guest Bedroom from the get-go. I did look at a two or three darker colors in there as well, just to be 100% sure, but really wasn't ready to go darker in there. Muslin is a terrific neutral color.

We both absolutely love the Muslin. It looks a little creamier during the day, leans more toward khaki at night, but looks great either way. We are very happy with the Aura matte--have used it in every room we've painted over the past 5-6 years, incl ceilings (used matching colors to the wall colors in the satin finish on the baseboard molding in all rooms).
---
| | | |
| --- | --- | --- |
| RE: Any Pics of BM White Sand, BM Muslin or BM Cream Fleece Walls | | |
Cat-Mom, thank you for letting me know that you too tried so many paints out before settling on the Mascarpone for your Family Room. That was how I was with my whole house when I chose paints last time and I spent a fortune on samples as I was scared to go to dark as my home previous was all white. This time I taped so many paint chips to posters and narrowed down the colors before I will try out sample paints on boards or just paint directly on the wall or just paint already.

I wonder if the Aura Matt has a bath paint since I do like how it looks on your wall and Aura I am told does not really outgas. That is a good idea to use it on the ceiling also.

I still would love to see if anyone has real life picture of the paint colors in their rooms as magazines can make any color look great.
---
| | | |
| --- | --- | --- |
| RE: Any Pics of BM White Sand, BM Muslin or BM Cream Fleece Walls | | |
Yes--they do make a Bath and Spa Aura paint! I think it only comes in Matte??? We used it in 2 out of our 3 bathrooms (it wasn't available until just after we'd reno'd and painted the guest bathroom, so used regular Aura Matte on the walls and ceiling in there). We used regular Aura Satin finish on the base-molding, because the Aura Bath and Spa isn't available in that finish.

Wish me luck--we are reno'ing the Master Bedroom and the small adjacent room. I need to choose/lock-in paint colors for those two rooms before I can call it a day paint color-wise! LOL

Good luck to you lynn2006!!!
---
| | | |
| --- | --- | --- |
| Cat_mom- Any Pics of BM White Sand, BM Muslin or BM Cream Fleece | | |
Cat_mom, thanks for letting me know cat_mom about the Bath and Spa Aura Paint!

Good luck in renovating your Master Bedroom and the small adjacent room.
---
Post a Follow-Up
Please Note: Only registered members are able to post messages to this forum.
If you are a member, please log in.
If you aren't yet a member, join now!
---
Return to the Home Decorating & Design Forum
Information about Posting
You must be logged in to post a message. Once you are logged in, a posting window will appear at the bottom of the messages. If you are not a member, please register for an account.
Please review our Rules of Play before posting.
Posting is a two-step process. Once you have composed your message, you will be taken to the preview page. You will then have a chance to review your post, make changes and upload photos.
After posting your message, you may need to refresh the forum page in order to see it.
Before posting copyrighted material, please read about Copyright and Fair Use.
We have a strict no-advertising policy!
If you would like to practice posting or uploading photos, please visit our Test forum.
If you need assistance, please Contact Us and we will be happy to help.

Learn more about in-text links on this page here