Return to the Home Decorating & Design Forum
|
Post a Follow-Up
---
| | | |
| --- | --- | --- |
| Old Country Roses china | | |
Posted by
kelp
(
My Page
) on
Thu, Sep 27, 12 at 15:31
What color tablecloth would go best with Royal Albert "Old Country Roses" china? My dining room walls are a deep,rich, cranberry on top, with taupe on bottom,separated by a chair rail that looks white, but actually has a drop of pink in it. Thanks in advance.
---
Follow-Up Postings:
| | | |
| --- | --- | --- |
| RE: Old Country Roses china | | |
White.....white table cloths are always great with heavily patterened china....unless the china has an off white background.
A burgundy cloth would be nice....but not with your walls....you could use a sage green...a very soft sage....and even a pale ocher color...
But that is all if you can find those colors.
For now get white and when you run across the right color of ocher or sage green....grab it but meanwhile you will have a cloth to use.
Linda C
---
| | | |
| --- | --- | --- |
| RE: Old Country Roses china | | |
Since there is so much white already in this china pattern, I thought I would add a photo of it in case someone wanted to suggest some colors that would work for you.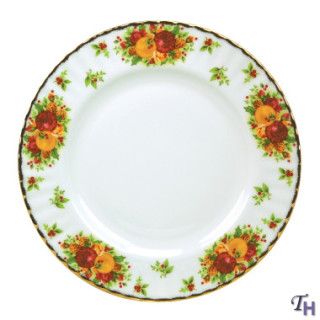 ---
| | | |
| --- | --- | --- |
| RE: Old Country Roses china | | |
Would a solid cranberry colored tablecloth work?
---
| | | |
| --- | --- | --- |
| RE: Old Country Roses china | | |
I think either gold or cranberry would be beautiful.
---
| | | |
| --- | --- | --- |
| RE: Old Country Roses china | | |
As much as I love color and have a lot of it in my house, I'd go with white, only because you don't want color overload.

The white tablecloth will "frame" the china. If you want other colors add a vase with some real/silk flowers.

If you'll be having a special dinner, add color with cloth napkins.
---
| | | |
| --- | --- | --- |
| RE: Old Country Roses china | | |
I wonder if chargers would be too much? say a metallic gold? Maybe not with the patterned china.
---
| | | |
| --- | --- | --- |
| RE: Old Country Roses china | | |
Nanny2a, thanks for the picture. The set you have pictured is similar to mine --you've posted the OCR Christmas set -- I have the original OCR (vintage) set; the colors are deeper, softer. (The greens are forest green, and sage green, the yellow roses are more of a gold.) I hadn't even thought about a sage tablecloth. Gold would coordinate with a picture I have over the buffet table. (An amber violin.) I love the idea of gold chargers, but they'd have to be really nice, as the plates are edged in gold. The solid cranberry would look great with the dishes, so long as it doesn't clash with the walls. White seems to make the dishes disappear. Decorating isn't easy, is it? Thanks for all of your suggestions.
---
| | | |
| --- | --- | --- |
| RE: Old Country Roses china | | |
Have you thought about placemats? There are some different and beautiful placemats. I have done a tablecloth with placemats. You could use the placemats instead of chargers. Or even use both. Pier one has some unusual chargers and placemats. Playing up the reds and greens in the "Roses" pattern would really look good at Christmas. Beautiful framed plates with lots of crystal. Low floral centerpiece with candles. Hmmm...I do love setting a table.

Take one of your plates to the store and do tablescapes. There are some cute fall bowls and salad plates that would give a kick to your very classic tableware. You would also be able to see what color tablecloth is the most pleasing to you.

One of my things for a dream home would be a plate storage room. Or maybe not. I would probably end up with all my disposable income tied up in table stuff.
---
| | | |
| --- | --- | --- |
| RE: Old Country Roses china | | |
I love your china and I love to set a pretty table, so I would want a gold for fall and Thanksgiving and a cranberry for Christmas (if you celebrate Christmas) and a green for spring.
---
Post a Follow-Up
Please Note: Only registered members are able to post messages to this forum.
If you are a member, please log in.
If you aren't yet a member, join now!
---
Return to the Home Decorating & Design Forum
Information about Posting
You must be logged in to post a message. Once you are logged in, a posting window will appear at the bottom of the messages. If you are not a member, please register for an account.
Please review our Rules of Play before posting.
Posting is a two-step process. Once you have composed your message, you will be taken to the preview page. You will then have a chance to review your post, make changes and upload photos.
After posting your message, you may need to refresh the forum page in order to see it.
Before posting copyrighted material, please read about Copyright and Fair Use.
We have a strict no-advertising policy!
If you would like to practice posting or uploading photos, please visit our Test forum.
If you need assistance, please Contact Us and we will be happy to help.

Learn more about in-text links on this page here