Return to the Home Decorating & Design Forum
|
Post a Follow-Up
---
| | | |
| --- | --- | --- |
| Looking for a curtain rod | | |
Posted by
graywings
(
My Page
) on
Thu, Sep 27, 12 at 15:10
I am looking for a curtain rod, about 44 inches wide, that curves into the wall, like this, but not extending out so far:

This rod extends out 5 inches, which is too much for the location I want it for. Is there some way to make something like that?
---
Follow-Up Postings:
| | | |
| --- | --- | --- |
| RE: Looking for a curtain rod | | |
Does it need to be decorative or functional?

I have used the pictured rod a number of times.

You could potentially modify this rod if you can do two things. The length of the return could be cut back with a hacksaw and then you would need to smooth the edges with a file.

Then there is a set screw that screws through a hole in the rod right near the bracket. The screw contacts a flat part of the bracket and holds the rod in place. Otherwise you will pull the rod off the brackets.

If you need something functional, you could use a basic utility rod or continental utility rod, which are available with various depth returns --like something from Kirsch
Here is a link that might be useful: Or there is this at Country Curtains.
---
| | | |
| --- | --- | --- |
| RE: Looking for a curtain rod | | |
Thanks, Pal. I am more than willing to take a hack saw to things, but didn't think it was possible with that one. That's good to know. But the CC one may be easier in the long run.
---
| | | |
| --- | --- | --- |
| RE: Looking for a curtain rod | | |
Several months ago, I used a Pottery Barn Essential Drape Rod (in Pewter finish). The distance behind the rod (from the wall to where the rod begins) measures 3-1/4" or maybe 3-1/8".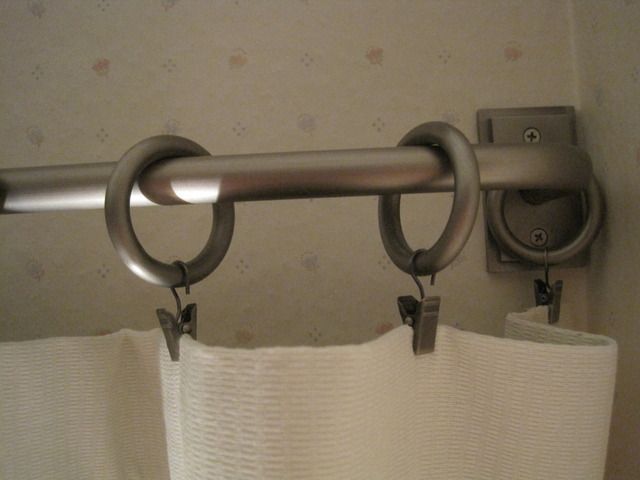 Here is a link that might be useful: PB Essential Drape Rod
---
Post a Follow-Up
Please Note: Only registered members are able to post messages to this forum.
If you are a member, please log in.
If you aren't yet a member, join now!
---
Return to the Home Decorating & Design Forum
Information about Posting
You must be logged in to post a message. Once you are logged in, a posting window will appear at the bottom of the messages. If you are not a member, please register for an account.
Please review our Rules of Play before posting.
Posting is a two-step process. Once you have composed your message, you will be taken to the preview page. You will then have a chance to review your post, make changes and upload photos.
After posting your message, you may need to refresh the forum page in order to see it.
Before posting copyrighted material, please read about Copyright and Fair Use.
We have a strict no-advertising policy!
If you would like to practice posting or uploading photos, please visit our Test forum.
If you need assistance, please Contact Us and we will be happy to help.

Learn more about in-text links on this page here