Return to the Home Decorating & Design Forum
|
Post a Follow-Up
---
| | | |
| --- | --- | --- |
| Painting this mirror, is it worthwhile? | | |
Posted by
gooster
(
My Page
) on
Sat, Sep 21, 13 at 13:52
I have a mirror currently hanging that goes with some occasional tables that I've replaced. The caramel color is fighting with the dining table. To top it off, I'm merging a traditional dining set with a more modern space (I did a thread on this earlier).

The picture below shows the mirror and the dining set. I was going to buy a new mirror and then I saw all the beautiful examples of painted furniture and realized that I had a good quality, carved wood mirror that perhaps could be transformed. There will be a new drum chandelier in the foreground (white linen with polished chrome). The captain's chairs are new and the original chairs are being recovered with a coordinating fabric. The rest of the new room (not done) includes some polished nickel furniture, a few black pieces, and a combination of taupe, black, white, olive and burnt orange. Continuing on the theme from the new kitchen, there is traditional with a touch of Hollywood Regency.

So should I paint the mirror or get a new one? I was thinking of silver or silver leaf on the caramel wood, with an antiquing glaze and the original black stained border. Or gloss black overall? Taupe to match the wood trim?
---
Follow-Up Postings:
| | | |
| --- | --- | --- |
| RE: Painting this mirror, is it worthwhile? | | |
Depends if you want it to stand out....,my first thought was orange or red like the piping on your chairs. Silver glazed would be good or even black. You have lots of choices.
---
| | | |
| --- | --- | --- |
| RE: Painting this mirror, is it worthwhile? | | |
It's a lovely mirror and I would keep it to use it elsewhere either in it's current finish or an alternate finish.

The scale of the mirror seems a bit small for a wall that has nothing else on it. See images. The wall could use a large painting, or a series of paintings or prints to add more texture and balance to the dining table and carved chairs. I suppose you could try adding prints on either side of the mirror, but I'm not sure the grouping wouldn't end up looking a bit fussy.
---
| | | |
| --- | --- | --- |
| RE: Painting this mirror, is it worthwhile? | | |
beverly: You are so right, the mirror is a bit underscaled relative to the wall. I realized that as I was taking the picture. I thought about sconces on the side. Or, better yet, I can move it to the wall at the short end of the table, over the sideboard. (Painted of course). A large piece of art or a series is a great suggestion. The mirror is in its original position, but it had a table and two club chairs on either side, and a large floor lamp in the corner.

grandmaof3: I'm learning towards the silver, just because there are some other red-oranges in the room. Even more so if I go with the larger art.

The mirror is 38" round. I saw some much larger mirrors out today while shopping, like a rectangular mirror that was 38x48.
---
| | | |
| --- | --- | --- |
| RE: Painting this mirror, is it worthwhile? | | |
Regardless of where you decide to move the mirror, I think your instincts to silver leaf it are great. I'd consider base coating it a deep red, then apply the silver leaf. I think that would really highlight the texture of the frame.
---
| | | |
| --- | --- | --- |
| RE: Painting this mirror, is it worthwhile? | | |
Reporting back with (mid) progress....

I took a partial step here did the carved wood portion of the mirror. Rather than true leaf which can be very shiny (which I've done before), I went with the Rub n Buff stuff (with several undercoats) and then added antiquing. I decided I wanted to try this look with the original black stained exterior.
I'm now uncertain if I want to silver the black portions or paint them a glossy black. As people warn, I'm trying changes in stages here. I don't think I'm liking it, so fire away with changes.
---
| | | |
| --- | --- | --- |
| RE: Painting this mirror, is it worthwhile? | | |
Actually I LOVE IT the way it is now!
---
| | | |
| --- | --- | --- |
| RE: Painting this mirror, is it worthwhile? | | |
| | | |
| --- | --- | --- |
| RE: Painting this mirror, is it worthwhile? | | |
| | | |
| --- | --- | --- |
| RE: Painting this mirror, is it worthwhile? | | |
I really like how it turned out. Can you put together a mood board with your new furniture, lights, floor and wall colors, so as to better be able to answer how it will fit in?

I painted a mirror a few years ago - and it turned out so badly that it's still in the basement. Nice, large mirror too!
---
| | | |
| --- | --- | --- |
| RE: Painting this mirror, is it worthwhile? | | |
Thanks so much for the feedback! I guess it is all so new that I have not had time to let it sink in.

Rather than posting the mood board, I'll just post a couple of pics of the new space. This is the new merged dining-living room, where I had a more moderne/deco/transitional space merging with a traditional dining room. I'm going along the same design brief as the newly finished kitchen.

dining room end

and the living room side

Already purchased but not yet installed is a new chandelier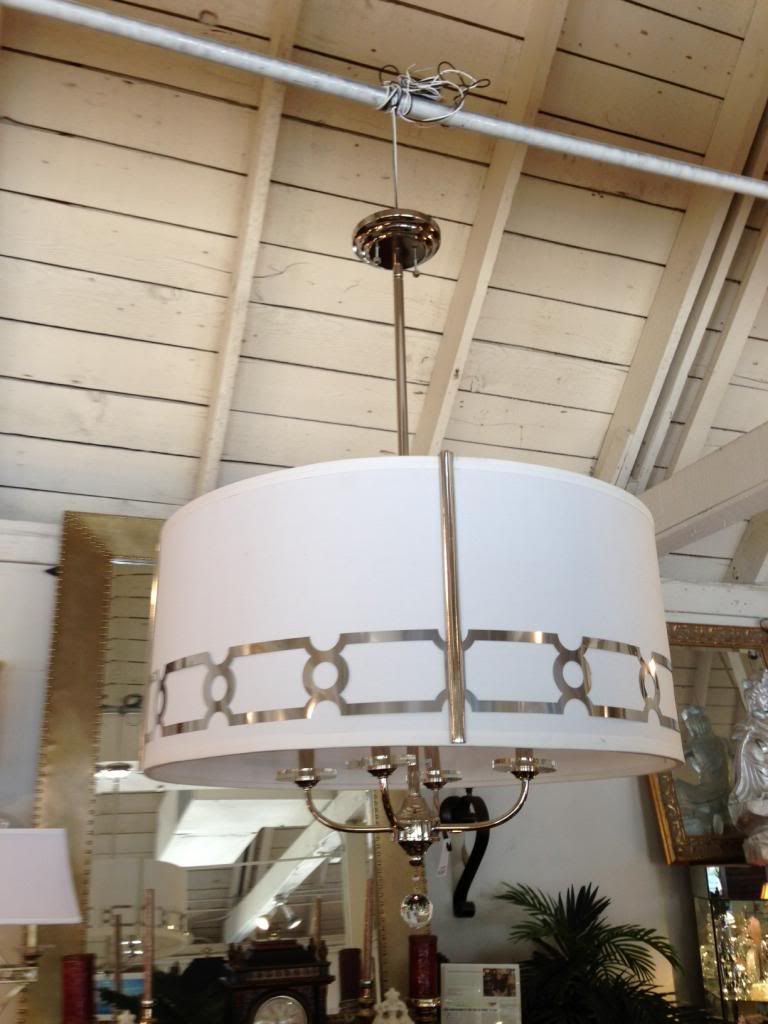 I've already ordered some new silk drapes in a tone a few shades darker than the trim. I'm stuck on ordering hw for the drapes; I am thinking polished nickel or black wood, with rings.
Mirror would go at the short end of the dr table, and the current location would be a new piece of art, with some bold rusty/orange colors.
Open to any and all suggestions.
---
| | | |
| --- | --- | --- |
| RE: Painting this mirror, is it worthwhile? | | |
Just reading the thread now, and I thought I liked the mirror painted silver as well. Then when I saw the drum shade with the metal details, I have to agree even more so ~ it's perfect. (and yes it is too small for the big wall all by itself so your plans to move it to the short wall makes perfect sense).
---
| | | |
| --- | --- | --- |
| RE: Painting this mirror, is it worthwhile? | | |
Love the mirror in silver and that you'll be moving it to the small wall. The light fixture is divine!
---
| | | |
| --- | --- | --- |
| RE: Painting this mirror, is it worthwhile? | | |
| | | |
| --- | --- | --- |
| RE: Painting this mirror, is it worthwhile? | | |
You really did a great job. I like the way it turned out. Would leave the original trim if in good condition, otherwise a bit of touch up. Hard to tell personally on my the computer what the black finish is.
---
| | | |
| --- | --- | --- |
| RE: Painting this mirror, is it worthwhile? | | |
oops, like the 3 prints or LARGE art more..unless u add some candle sconces to the mirror, it is large enough for that space. btw I love ur tiger chair!
---
| | | |
| --- | --- | --- |
| RE: Painting this mirror, is it worthwhile? | | |
Thanks all!

It definitely is too small for that space; I was lazy and have not moved the mounting hooks to the short end yet. I didn't want the commitment until I was certain I was going to keep it there.

oldbat2be: Sepia is a great idea. I thought about a tryptich as well, and was looking at some local artist's work. I might use sepia or b&w in a larger piece behind the sofa.

technicolor: it is an ebony stain on the wood portion; so you can see grain beneath that portion. .

vera11: the tiger chair is an old Thayer-Coggin piece, I think, that I pieced up as a floor sample a long time ago. Since it fit the new design style, I moved it in.
---
| | | |
| --- | --- | --- |
| RE: Painting this mirror, is it worthwhile? | | |
It looks great with the new silver finish! I agree it looks a bit too small on its own, but I really like the silver tone or maybe a black and white print if you end up with something larger.
---
| | | |
| --- | --- | --- |
| RE: Painting this mirror, is it worthwhile? | | |
Gooster - for some reason this (don't read any further Holly-Kay!) Ethan Allan picture reminded me of your dining room. Any progress?
---
| | | |
| --- | --- | --- |
| RE: Painting this mirror, is it worthwhile? | | |
Too funny OB. I still love Ethan Allen furniture just not their customer service.

Gooster, your room is looking terrific. It just exudes serenity. The tiger print chair makes me swoon. I love it! My DM always loved to use an animal print somewhere in her decor. She was ahead of the times.
---
| | | |
| --- | --- | --- |
| RE: Painting this mirror, is it worthwhile? | | |
Oldbat2be: Thanks for thinking of my latest project. THe picture is so similar, and those walls are fantastic. Way bolder than I think I'll be. I'm thinking a big work of art or three smaller ones.. At one point I though of papering the wall in a nice trellis print in the same monochromatic scheme. Or doing large scale panels with fabric, paint or wall paper framed by mouldings. I also thought about painting or paper the backs of the bookcases.
But the vibe overall right now is a bit calmer than that.

holly-kay: Thank you so much! I was thinking of hitting EA today.... the tiger print chair actually is an older Thayer Coggin piece that has been living in the BR. With the new scheme, it fits in. I had been leaning to livening things up, but things are blending fairly well.

Here's the progress: The chandy is up, the sconces are removed. This week, I get new drapery panels (silk, box pleat, on rings, in a color two tones darker than the trim). This weekend I'm hitting the art galleries. Countdown to T-day. Gotta scramble.

The mirror needs to move, and I'm not happy with the sideboard. I may just replace it. I was going to post to get some feedback on selections.

---
| | | |
| --- | --- | --- |
| RE: Painting this mirror, is it worthwhile? | | |
Just wanted to say it looks great! Love the chandy! Good luck finding art. We, too, are looking for art for our dining room. Not sure what we want. Time will tell...
---
| | | |
| --- | --- | --- |
| RE: Painting this mirror, is it worthwhile? | | |
How about hanging the mirror over the fireplace mantel for a bit of sparkle .....

And then hanging the artwork (now hanging over the mantel) over the dining room sideboard ....

Then add tall silver buffet lamps to the sideboard -- always nice to have lighting options .....
---
Post a Follow-Up
Please Note: Only registered members are able to post messages to this forum.
If you are a member, please log in.
If you aren't yet a member, join now!
---
Return to the Home Decorating & Design Forum
Information about Posting
You must be logged in to post a message. Once you are logged in, a posting window will appear at the bottom of the messages. If you are not a member, please register for an account.
Please review our Rules of Play before posting.
Posting is a two-step process. Once you have composed your message, you will be taken to the preview page. You will then have a chance to review your post, make changes and upload photos.
After posting your message, you may need to refresh the forum page in order to see it.
Before posting copyrighted material, please read about Copyright and Fair Use.
We have a strict no-advertising policy!
If you would like to practice posting or uploading photos, please visit our Test forum.
If you need assistance, please Contact Us and we will be happy to help.

Learn more about in-text links on this page here