Return to the Home Decorating & Design Forum
|
Post a Follow-Up
---
| | | |
| --- | --- | --- |
| My latest obsession: Labyrinth | | |
Posted by
AnnieDeighnaugh
(
My Page
) on
Fri, Sep 21, 12 at 13:38
We went on vacation to Cape Cod and went to the Heritage Museum and Gardens which was absolutely delightful. They had a labyrinth garden there which I walked. It was so incredibly peaceful and meditative. I could've spent hours there. Now I want one....I'm obsessing on where and how to build it and how permanent to make it. Also about what to put at the center...I'm thinking a toad stool might be nice...or perhaps a reflecting ball.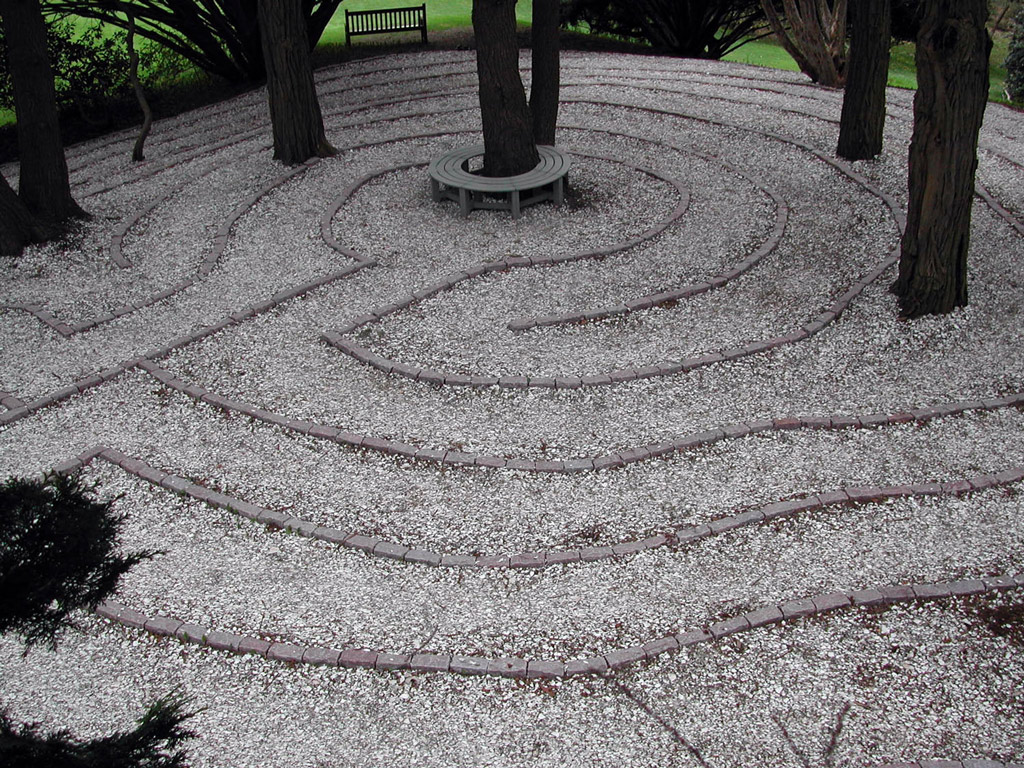 This is so odd for me as, while I understand the design principles are largely the same for interior and exterior, I'm usually unable and uninterested in doing the exterior, happy to let others handle it. But this is becoming a real obsession for me.
Anyone ever walk one? Build one?
---
Follow-Up Postings:
| | | |
| --- | --- | --- |
| RE: My latest obsession: Labyrinth | | |
I've walked two that I remember: One (exterior) in Bath, England; the other (interior) in Chartres Cathedral. It is a very contemplative experience.

I think you would want it to be in a somewhat secluded spot, so neighbors wouldn't be hailing you while you're meditating!
---
| | | |
| --- | --- | --- |
| RE: My latest obsession: Labyrinth | | |
| | | |
| --- | --- | --- |
| RE: My latest obsession: Labyrinth | | |
Annie please share more about your experience if you are willing. I've never walked a labyrinth and I'm curious about it. It's not easy for me to unplug my brain - part of me is intrigued by this and part is already thinking it would be hard to give in to it - but I don't know what the IT is!!
---
| | | |
| --- | --- | --- |
| RE: My latest obsession: Labyrinth | | |
I like the idea of a labyrinth,too. For the center, I'd prefer something more natural, i.e. a bigger rock, a shallow stone bowl with water, tree or even an old tree stump.
---
| | | |
| --- | --- | --- |
| RE: My latest obsession: Labyrinth | | |
I have walked a number of them .One that I especially liked had a rustic bowl with different pebbles in it in the center. You could take one from there and then when you came back, if you came back, you brought a pebble to exchange. I really liked the symbolism of that and it has stuck with me. Good luck on making one. A grand idea and certainly will be unique in your home setting. c
---
| | | |
| --- | --- | --- |
| RE: My latest obsession: Labyrinth | | |
Well, obsessed I truly am, so I gave into my obsession and started making one today....DH had mowed the back field, which we do only once a year, so using low hay rows, I started my labyrinth. I have to finish the next to the last loop and the final one and it will be done. I'll do that tomorrow, and try to take pictures. I can see that to do this more permanently, it would take a lot of materials. I've asked DH if we have a push mower that runs as I could always just mow the paths into the field and leave the stuff to grow long in between. We can see it from the deck and it looks very cool. I can see where a more permanent installation could be very attractive.

DLM, mindfulness meditation is not about emptying your mind as other forms of meditation recommend. Rather it is about becoming as aware as possible of the now...what you hear, smell, feel, etc. It becomes an opportunity to not relive the past or pre live the future. Sometimes we are too stressed to just meditate and need aids to help focus our attention. Walking meditation is one way. A labyrinth is like a maze, except there are no dead ends, just a long path that leads you to the center. The only way out is the way you came in. Walking that path is a way of calming your mind and focusing your attention on the now.
---
| | | |
| --- | --- | --- |
| RE: My latest obsession: Labyrinth | | |
There are many thoughts and descriptions about the power of the labyrinth. They can be interpreted in many different ways. They have been around for thousands of years. But like so many things, you get out of it what you put in. Here is one description. You can search in google if you want to learn more.
Here is a link that might be useful: Labyrinth walk
---
| | | |
| --- | --- | --- |
| RE: My latest obsession: Labyrinth | | |
Teacats, that's a fabulous link with lots of ideas. Thanks!
---
| | | |
| --- | --- | --- |
| RE: My latest obsession: Labyrinth | | |
This is kind of not what you want to hear, but I would get a sense of joy and fulfillment walking crossways over the thing! Now, a corn maze, that's a different carb altogether.
---
| | | |
| --- | --- | --- |
| RE: My latest obsession: Labyrinth | | |
Hah! As I was building the thing, DH started it and then ended up quitting and hopping over the edges, and then went back to mowing around the pond where he

1) bent housing on mower so blade was clattering....had to fix it and start mowing again

2) got the mower stuck and had to get the truck to tow it out of the hole

3) mower belt blew and now he had to quit mowing and has to replace the belt

All in less than an hour, so I wouldn't advise crossing the lines without intent or forethought!
:)
---
| | | |
| --- | --- | --- |
| RE: My latest obsession: Labyrinth | | |
No foe for me, Annie! That stuff doesn't intimidate or frighten me in the least.
---
| | | |
| --- | --- | --- |
| RE: My latest obsession: Labyrinth | | |
There is a lovely labyrinth at the Coastal Maine Botanical Garden made of beach stone, wonderful to walk barefoot on a summer's day.
---
| | | |
| --- | --- | --- |
| RE: My latest obsession: Labyrinth | | |
The local rehabilitation hospital has a small labyrinth between a couple of the buildings, for the patients and their families to use. My DH was there during January, so not a good time to be out walking after a knee replacement, but we did take a peek - a lovely idea.
---
| | | |
| --- | --- | --- |
| RE: My latest obsession: Labyrinth | | |
I love the way they look and would love to have one. But I have vertigo- not the height kind, but the inner ear dizzy kind- and the only time I walked a labyrinth I started to get dizzy and had to cross over and leave it immediately. I guess from looking down and walking slowly in a circle. Just a warning to other BPPV sufferers.
---
| | | |
| --- | --- | --- |
| RE: My latest obsession: Labyrinth | | |
We are frequent visitors of the Heritage Museum and Gardens during the summer, and I had to laugh while reading your post since my experience of the labyrinth is entirely different! I generally have my daughters (5 and 9) and at least one or two other children with me - and they RUN the entire labyrinth laughing, shouting, giggling, and high-fiving each other when they pass each other on their rounds. I had never even considered that the labyrinth could be meditative until I read your post. I will have to visit alone sometime! BTW, the Heritage is absolutely one of my favorite places to visit - it's magical.....
---
| | | |
| --- | --- | --- |
| RE: My latest obsession: Labyrinth | | |
Marinagal, it is a magical place and just brought delight....DH and I rode the carousel and hadn't been on one in 30 yrs! Fabulous!

When we were at the labyrinth a family came along with a little boy who ran the labyrinth as well...mom pushed a stroller, and dad walked the path. Despite the activity, the energy of fun, delight and smiles on everyone's faces made it wonderful, yet still meditative. As they say, every meditation is perfect...what happens was supposed to happen, otherwise it wouldn't have happened.
---
| | | |
| --- | --- | --- |
| RE: My latest obsession: Labyrinth | | |
have never been to a labyrinth garden, but sounds fun to make in your own backyard!!
(have played the game for many, many hours and walked many, many corn mazes over the years tho!)
---
| | | |
| --- | --- | --- |
| RE: My latest obsession: Labyrinth | | |
As I've been exploring more about these things, I came across a website that tells you where they are in your area. I found one at a nearby church that is open to the public. Others are actually private, but the owners will allow you to contact them and make an appointment to use their labyrinth. Amazing!
Here is a link that might be useful: Labyrinth locator
---
| | | |
| --- | --- | --- |
| RE: My latest obsession: Labyrinth | | |
I had all the grass removed from the backyard this summer, and am completely re-landscaping. Flagstone terracing was the first thing, then a flagstone semi-circle patio joined to the regular patio i'll have screened in next summer. Also a semi-circle terraced flagstone bed in front of the MB window that contains only roses. After 13 trees,7 bushes, 15 boxwood, 9 rose bushes, and too-numerous-to-mention perennials, there's still space to be filled. I have a stack of bricks in the garage and had been thinking about a labyrinth, but not one of great size. I don't know what I would use in the center of the brick~~any ideas?

Don't know for sure if i'll have enough brick, so am thinking it could be a combination of bricks and large river rock. I only know I wan to create this myself as a small meditation garden.
---
| | | |
| --- | --- | --- |
| RE: My latest obsession: Labyrinth | | |
As Cat Stevens put it,

"I don't want no god on my lawn
Just a flower I can help along
'Cause the soul of nobody knows
How a flower grows...."
---
| | | |
| --- | --- | --- |
| RE: My latest obsession: Labyrinth | | |
My labyrinth is done as much as it will be for now. As a temporary one, it works, though it's not the most attractive. We have to decide if we want to make it more permanent...a lawn thing only, or something more. DH thinks he can just weed whack the aisles as it grows in the spring and let the grass grow tall in between.

If I want to make it more permanent, I will have to change it....I understand how to lay it out better now, and I orignially wanted a right hand one, and ended up with a left hand one....not that that really matters.
Right now, the thing is about 50' in diameter. Not bad for a couple of afternoon's work. Thank goodness we had all the clippings. A more permanent installation will take a LOT of material!
---
| | | |
| --- | --- | --- |
| RE: My latest obsession: Labyrinth | | |
I had never heard of a labyrinth, but they are so beautiful.
---
| | | |
| --- | --- | --- |
| RE: My latest obsession: Labyrinth | | |
Annie, that is very cool and it's wonderful that you have space for your own. There is one at a church near me but I think I would feel kind of silly walking around and around. It's also near a busy intersection, so it would be hard to remain peaceful for long, but maybe I should give it a try. I'd love to have my own.
---
| | | |
| --- | --- | --- |
| RE: My latest obsession: Labyrinth | | |
dedtired, go try it anyway. Believe me, people are so wrapped up in their own lives these days that they barely see what's directly in front of them. No one will watch or mind. Or, if someone does notice, that may be the exact encouragement they need to try it themselves. Even a busy intersection can fade out of your awareness as you turn inward and focus on the now.

Or you could always wear a disguise!
;)
---
| | | |
| --- | --- | --- |
| RE: My latest obsession: Labyrinth | | |
In looking at the photograph at the top of the thread, I notice there is at least one tree that blocks the walk - the one left of the center tree. Wouldn't that throw off your meditation?
---
| | | |
| --- | --- | --- |
| RE: My latest obsession: Labyrinth | | |
Annie,

Thank you for posting this. I searched and found a few labyrinths near my house. I have never walked one before. Can't wait to try it.
---
| | | |
| --- | --- | --- |
| RE: My latest obsession: Labyrinth | | |
Annie, I think you all could easily do the labyrinth in the first picture.

First thing I'd do is spray round-up now on the whole area while it's still warm and sunny so the grass won't pop up in the spring.

Over winter you can do the outline in brick/rock, then add the pebbles later.

Is the tree on the left by itself or is it too close to others? That would make a perfect center with a bench under it.

I hope you decide to make a permanent one!
---
| | | |
| --- | --- | --- |
| RE: My latest obsession: Labyrinth | | |
A disguise. I have this vision of me in monk's robes, the hood pulled over my face and my arms tucked up in the sleeves. I suppose clothing like that would make it easier to shut out the world.

Next time I go by, I will pull in and have a look. There is a day care center at that church and I think the kids run around on the labyrinth, too.
---
| | | |
| --- | --- | --- |
| RE: My latest obsession: Labyrinth | | |
Graylings, the tree had a little space to get by it. It really doesn't throw off the meditation as its really about the here and now. You need to watch each step along the way and that's part of helping you stay in the moment.

There seems to be this sense of meditation as being absolute quiet, aloneness, non disturbance. But meditation is about effortlessness and just accepting what's happening now...letting whatever is, be. They have measured brain waves of Tibetan monks who are expert meditators even while an alarm suddenly goes off next to them, and their brain waves maintain that calm state.

So the power to go within and focus on the now is something that resides within you and can be attained at any time...in the grocery store...or on hold...or while washing the sink. Any time can be a time to increase your awareness of what you are doing, feeling, seeing... With practice it is easier to achieve, but aids like labyrinths or guided meditations are very helpful.

The proven benefits of mindfulness meditation are many....reduced pain, lower blood pressure, improved immune response, improved sleep, increased creativity, increased empathy, greater patience, and easier weight reduction. Best part is it costs nothing and the only side effects are beneficial. Far more than any doctor can offer us.
---
| | | |
| --- | --- | --- |
| RE: My latest obsession: Labyrinth | | |
Annie, I think it sounds so peaceful! Lovely idea!!
---
| | | |
| --- | --- | --- |
| RE: My latest obsession: Labyrinth | | |
DH is so good to me, tolerating my various madnesses...he weed whacked the paths yesterday and then I raked up the paths again, making the labyrinth much clearer.

I'm not sure about making it permanent. Right now it is encroaching on wetlands which our town is extremely fussy about. At 50' in diameter, it would need an extraordinary amount of material to make permanent. But part of me likes the impermanence of it. After all, everything man made is impermanent. And I found something meditative about creating it as well. In a few months, it will be covered with snow anyway...I suppose I could shovel one into the snow as well!

If you haven't seen the sand art (mandalas) of the buddhist monks, they are absolutely lovely, take days and many monks to execute and then when it's finished, they destroy it to symbolize the transitory nature of material life.
---
| | | |
| --- | --- | --- |
| RE: My latest obsession: Labyrinth | | |
AnnieD - thanks for the explanation. Fascinating thread!
---
| | | |
| --- | --- | --- |
| RE: My latest obsession: Labyrinth | | |
I've seen the monks making those mandalas. It is a meticulous and time consuming process.

As for encroaching on wetlands -- wetlands serve an important purpose not just for flood control but also for filtering water. Wetlands are, in a sense, the lungs of our water supply. Through the process of moving through the wetlands, our water is purified. Although it's easy to believe that one little encroachment isn't bothering anyone it's not really about bothering a person. It's about interfering with a natural process that is environmentally important. The value of this is well enough understood that this land is given the designation to protect it from interference. I think Pesky on this boards is in the environmental planning business and would know lots more than I do. From a local zoning standpoint, I believe it is actually a violation to build anything on wetlands, even just a temporary maze.

I would also tend NOT to use round up, certainly not in the quantities you would need to "weed" an area this large. Despite claims to the contrary, Round up does seep into the water and the earth. It does have pernicious and lasting toxic effects. It is not a harmless chemical at all. And I would certainly not use it in a designated wetland which is probably connected directly or draining directly into a nearby stream or river watershed. It would be a very bad practice indeed.
---
| | | |
| --- | --- | --- |
| RE: My latest obsession: Labyrinth | | |
Judithn, I'm well aware of the responsibilities associated with wetlands...that's why I'm not using round up. If I was to make it permanent, I'd move it up the hill some to be sure it is out of the wetlands. I'm not sure exactly where they begin on the far side...we have it marked off on the near side as required. For the most part, it isn't in the wetlands, but the lower edge may be close.

We are allowed to mow once a year, and the temporary one is made out of raked clippings from the mowing, so there is no added or subtracted material...only a rearrangement of existing material. So it is certainly not impacting the wetlands one way or the other.

We want to clean up the edges of our pond...not change the size or anything, but only do maintenance... and have decided to wait til next year as the paperwork is so onerous it will take us that long to figure it all out and notify all the agencies, and all the neighbors, not to mention the exorbitant permit fees! And at that, we don't know if we'll get approval.
---
| | | |
| --- | --- | --- |
| RE: My latest obsession: Labyrinth | | |
AnnieDeighnaugh, So glad to hear you're not using Round Up. The ease with which people use garden chemicals just irks me (I'm not saying this is you). Sorry if that all came out too strident.

Why do you have to get permits and pay permit fees to clean out your pond? That's a new one to me. Is it conservation easement land or something like that?

Incidentally, I am a big labrinth fan too. I've been to the one at Chartres France a few times. There is a beautiful one at the Botanical Gardens in (I think) Naples, FL. There is also a nice natural one like the one you're attempting in your yard at Kripalu, the retreat in the Berkshires.

If you want one for ready use do you know you can buy them painted on weather proof canvas that you can unroll on blacktop? I looked in to them at one point but they were too much $$$ for me. I don't see why you can't make one yourself on a dropcloth (or multiple dropclothes sewn or taped together.
---
| | | |
| --- | --- | --- |
| RE: My latest obsession: Labyrinth | | |
No, it's not a conservation easement. The town is very fussy about the wetlands so we are fundamentally unable to do anything without their approval...even pond maintenance. The wetlands people are the ones who told us we are unable to mow around the pond any more often than once a year.

Yes I saw the canvas ones or temporary ones, but I kind of like having something connected to the earth. I feel that is part of experiencing the labyrinth. And they are very expensive.

I'm finding out that there are a lot more labyrinths around than I thought....I had no idea there was such an interest in them.
---
Post a Follow-Up
Please Note: Only registered members are able to post messages to this forum.
If you are a member, please log in.
If you aren't yet a member, join now!
---
Return to the Home Decorating & Design Forum
---
Instructions