Return to the Home Decorating Forum
|
Post a Follow-Up
---
| | | |
| --- | --- | --- |
| Does anyone have high-gloss hardwood floors & regret the finish? | | |
Posted by
beths96
(
My Page
) on
Thu, Sep 11, 08 at 13:29
Hi everyone. We completely sanded and renished our original hardwood floors in 2001. We used a semi-gloss poly finish. I like it, but after 7 years, it's starting to wear down. We're thinking of putting on another coat, but I am considering a high-gloss finish this time.

First of all, will it work to put a high-gloss finish over semi-gloss, and second, do you think it's a good idea?

I will add here that I have to mop my floor every other day and there are constant messes, usually from milk dripping from sippy cups. I have an almost 4-ear-old and an 18-month old learning to feed himself. :)

Here is a pic of the dining room. Thanks for your opinions!
Beth
Here is a link that might be useful: dining room floors
---
Follow-Up Postings:
| | | |
| --- | --- | --- |
| RE: Does anyone have high-gloss hardwood floors & regret the fini | | |
Hi Beth,
The ONLY thing I regret about my Brazilian Cherry floors is the high gloss. We put them down about 7-8 years ago, and I just love them. But there is no question that the gloss adds to the upkeep. Smears, dust, everything shows much more. I will say that since I started using a steam mop I have much less issue with smears and streaks, but still if I had it to do over, I would definately go with a matte finish.
Lynn
---
| | | |
| --- | --- | --- |
| RE: Does anyone have high-gloss hardwood floors & regret the fini | | |
No, no, no, do not go with a high gloss finish. I, like the previous poster have Brazilian cherry floors and love the color etc. But EVERY bit of dust, smudges, cat hair etc. shows. I have a hardwood floor upstairs in my master bedroom that is much more of a matte finish and not much of anything shows on it. I like it much better.
---
| | | |
| --- | --- | --- |
| RE: Does anyone have high-gloss hardwood floors & regret the fini | | |
I have a cherry floor in my kitchen and it shows streaks like you wouldn't believe - I can't use a Swiffer Wet or a steam mop because it looks streaky when I'm done. That said, I don't know if it's the glossiness or the dark color that's the source of the problem. The other areas of my house have oak with semi-gloss and I don't have the streaking problem with them.
---
| | | |
| --- | --- | --- |
| RE: Does anyone have high-gloss hardwood floors & regret the fini | | |
I've always had high gloss finish on my red oak floors, and have not had any problems with smears, streaks, etc. Maybe it's the cherry wood that's the problem....I've read on the GW kitchen site that Brazilian Cherry is gorgeous, but shows everything. OP: What type of wood are your floors? PS: my kids and DH are very messy, too.
---
| | | |
| --- | --- | --- |
| RE: Does anyone have high-gloss hardwood floors & regret the fini | | |
I have high gloss oak... no streaks here either. But then I only use a damp cloth on them - plain water.

I LOVE the shine!
---
| | | |
| --- | --- | --- |
| RE: Does anyone have high-gloss hardwood floors & regret the fini | | |
I have high gloss oak also and love them. No streaks. Usually will wash with warm water, sometimes add a little vinegar if it's warranted
---
| | | |
| --- | --- | --- |
| RE: Does anyone have high-gloss hardwood floors & regret the fini | | |
Oh boy I hope I don't regret it LOL! I'm getting Bellawood Brazilian Cherry installed tomorrow, it is sort of high gloss but that's the prefinished floors!

My parents have high gloss light colored oak and they don't seem to show much. I think it is the dark color that shows more. For what it's worth (not having seen it first-hand), I saw a This Old House where they refinished a floor using a high gloss for first 2 coats for durability, then final coat was a semi-gloss or satin. They said the last coat gives you the look, but gloss is more durable. Hope that helps!
---
| | | |
| --- | --- | --- |
| RE: Does anyone have high-gloss hardwood floors & regret the fini | | |
Beth96,
Are you the poster who painted a room (a bedroom, I think) Dill Pickle?
I've been thinking about that post, lately. When I saw the strong color of your dining room, it made me think it was you?
Anyway, I loved it but the poster (you?) never did come back to say if they kept it. It was strong, for sure. But I remember that the room was empty and only had a bare bulb (overhead) for light.
I'd love to see the room if it 1. it's yours and 2. if you kept it.
Also what is the paint color in your dining room (is it raspberry truffle)? Whatever it is, I love it.

Thanks,
Silly
---
| | | |
| --- | --- | --- |
| RE: Does anyone have high-gloss hardwood floors & regret the fini | | |
Hmm, in our previous home we had floors stained dark walnut with a high-gloss finish, and we loved them! We also had two indoor cats and an infant who grew to early-toddler (he was a new two when we sold that house), and we never had a problem with them looking dirty or streaky. And I know this is not my memory playing tricks on me because being pregnant with a toddler and a house on the market you'd better bet I can remember keeping that house clean (and how much I resented it) and it wasn't the floors which were the problem!

previous house, high gloss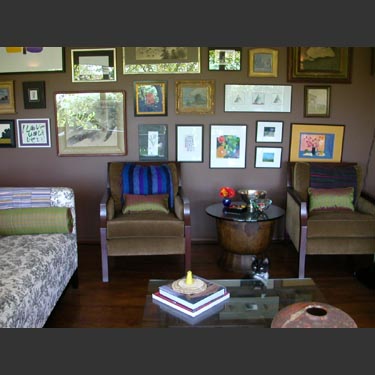 Fast forward to present-day, where we have floors stained ebony (super-duper dark) with a satin (matte) finish, and they always look horrible! Now we have a four year-old and a two year-old, three indoor cats and a dog, and even while I am cleaning them (and I mean literally washing them) they look streaky. I use a steam mop and have even gotten down on my hands and knees to wash the floors to see if that would ameliorate the streaking. Nope! That was a relief, of course, because I don't really want to wash the floors by hand ....
present day, satin

So I don't know what the moral of my story is. I guess just be prepared for the worst. And good luck!
PS -- Your dining room is beautiful!!!
---
| | | |
| --- | --- | --- |
| RE: Does anyone have high-gloss hardwood floors & regret the fini | | |
I'm another one with high gloss red oak floors in the kitchen and dining room. They've been beautiful since the day they were installed 8 years ago. Nothing but plain water once in a while for maintenance.

We used to have wide plank pine floors with a dark cherry finish that showed absolutely everything. They were gorgeous for about an hour after they were cleaned, but that's it. I'm so glad not to have those anymore.
---
| | | |
| --- | --- | --- |
| RE: Does anyone have high-gloss hardwood floors & regret the fini | | |
My original oak floors were stained with a natural color and I had a semi gloss poly on top. We sanded and recoated in a gloss and I like it much better. It doesn't show anything. I think too that the darker floors show more dust and streaks.
---
| | | |
| --- | --- | --- |
| RE: Does anyone have high-gloss hardwood floors & regret the fini | | |
I just wanted to thank you all for taking the time to answer me. Your responses really helped. The wood floors are all original oak, except for in the kitchen, where we think they are pine (and never meant to show, but we stripped them anyway!) I actually have high gloss finish in the kitchen, by accident. See, we did the LR and DR floors in 2001 and used semi-gloss and a medium stain. In 2003, we did the kitchen and stripped the floors and I bought high-gloss poly by mistake, and didn't realize it until it dried! I do like it, very much.

But I just wondered, in that big expanse of my LR and DR, would the high gloss finished be too much gloss, know what I mean? My instincts tell me to go for it, but I still have some doubts. We definitely need a new topcoat, though. I don't want to ruin the floors!

I did cover up the floors partially in the LR when my daughter started to walk. It's just a carpet remnant, no pad underneath, but I think I should keep it for the kids for now. I wasn't thinking how the hardwood floors would work out with babies!

Here are some updated pictures of the house. Since I took those pictures on the pbase site in 2004, we've done a few more updates - new fence, stripped/sanded/painted the front porch gray (and I'm still working on the trim, that's why there are no new pics of the front porch - but it looks so much better!), and totally finished the basement. WHEW! And two babies in that time, too. :)

Thank you all for your complements and opinions! I think I might try the high gloss.

Here is my site with the older/remodeling pics:
http://www.pbase.com/yellowduck

and here are the current house pictures, minus the front porch:
Here is a link that might be useful: The house
---
| | | |
| --- | --- | --- |
| Silly | | |
Silly - that wasn't me, I'm sorry! I do have a dark red master bedroom, and had a deep blue bedroom before I painted it yellow when my daughter was born - maybe that is what you were thinking of? I do love colors! Thank you! Oh, and the dining room and kitchen color is Barn, by Sherwin Williams. It was a Martha Stewart color when she was affiliated with them. I'm not sure if SW carries the color anymore, but it's definitely worth a try. I LOVE that color...it's reddish brown, no hint of orange or anything. It's perfect. Thank you!

rmkitchen - thank you for your input on how it was to have a baby and high gloss floors! I have a toddler who thinks it's hilarious to dribble milk out of his mouth for fun, so yeah, it's messy here. :)
---
| | | |
| --- | --- | --- |
| RE: Does anyone have high-gloss hardwood floors & regret the fini | | |
Beths
Congrats on your remodel/reno projects -
What you didn't mention is how the floors are being prepped prior to putting down more poly - what type of poly was orig put down (oil/water) base - are there any areas that have worn thru the finish, what products have been used on the floors in the past 7 yrs. If no oil based prod have been used & the floor is in good condition w/the finish intact, a buffing of old finish/poly can be done & new poly applied. If oil based prod have been used there will not be proper adherance & poly will separate. If there are worn/traffic areas these will look the same just w/new poly

Gloss type is a personal taste ? - I pers prefer satin/matte finish - I have old oak flooring throughout our home. In general the higher the gloss finish the more it will show scratches, smudges, dust bunnies - they are more slippery too

Good luck
---
Post a Follow-Up
Please Note: Only registered members are able to post messages to this forum.
If you are a member, please log in.
If you aren't yet a member, join now!
---
Return to the Home Decorating Forum
Information about Posting
You must be logged in to post a message. Once you are logged in, a posting window will appear at the bottom of the messages. If you are not a member, please register for an account.
Please review our Rules of Play before posting.
Posting is a two-step process. Once you have composed your message, you will be taken to the preview page. You will then have a chance to review your post, make changes and upload photos.
After posting your message, you may need to refresh the forum page in order to see it.
Before posting copyrighted material, please read about Copyright and Fair Use.
We have a strict no-advertising policy!
If you would like to practice posting or uploading photos, please visit our Test forum.
If you need assistance, please Contact Us and we will be happy to help.

Learn more about in-text links on this page here