Return to the Home Decorating & Design Forum
|
Post a Follow-Up
---
| | | |
| --- | --- | --- |
| Lighting question | | |
Posted by
AnnieDeighnaugh
(
My Page
) on
Sun, Sep 29, 13 at 13:18
GF is in the process of swapping her LR and DR. We've already figured out where to put the chandelier and the can lights in the DR.

In the LR, she is asking me if she should have can lights put in the living room too and what to do with the central light fixture where the chandelier used to be. I'm thinking no cans in there as there is plenty of opportunity for lamps. But the idea of a central fixture, even if a semi-flush mount, just bothers me....so many of them are ugly. Still, it seems there ought to be some light that comes on with a light switch by the door for safety and general lighting, but there are no switched outlets.

So should we add cans that operate with the wall switch just for general lighting when they need it and omit the central fiixture? Or keep the central fixture? If keep, then what kind should it be...it will have to be high enough so no one hits their head on it. (She has 8' ceilings and is going for a traditional look in the LR.) Definitely don't want any boob lights!

TIA!
---
Follow-Up Postings:
| | | |
| --- | --- | --- |
| RE: Lighting question | | |
I'd opt to have a couple of outlets linked to a wall switch over recessed. Is the current service Greenfield, Romex or conduit? If it's conduit, it's likely the wall switch or outlets are linked. If it's Romex or Greenfield you'd have to start from scratch.
---
| | | |
| --- | --- | --- |
| RE: Lighting question | | |
I prefer positioning directional can lights (eyeball style) to illuminate artwork and walls, not for general lighting. That can be accomplished with table and floor lamps.

As for a electrical box in the center of the living room with only 8ft. ceilings, I see no purpose for that unless a coffee table is positioned directly below it. Then some type of eye catching, ceiling hugging fixture could be used to set the mood for the space.
---
| | | |
| --- | --- | --- |
| RE: Lighting question | | |
Wow, beverly, those lights are dramatic!

dlm, I'm afraid I don't know how the house is powered...I have a feeling it will mean a lot of work and holes in walls to switch outlets...

With 8' ceilings, would something very traditional still work?
---
| | | |
| --- | --- | --- |
| RE: Lighting question | | |
Look around Houzz. There are many many LR's with center ceiling fixtures.
Of course there is the Ochre, an amazing light which is OTT but there are knock-off's out there. Even on Overstock.com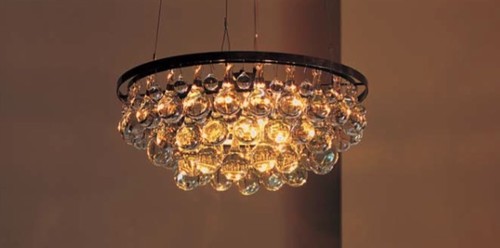 Then there are the drum lights, many of which can be flush mount also, and can go traditional or transitional


There are so many ideas, it's just a matter of finding a fixture that fits both the design aesthetic of the house and doesn't hang to low. That 8' ceiling height is going to be the limiting factor.
---
| | | |
| --- | --- | --- |
| RE: Lighting question | | |
Thank you mlweaving....I guess part of my problem is I don't like ceiling fixtures to start out with. Semi-flush are more tolerable than flush, but I'm just not sure what would be appropriate in the space.

I think she's decided to keep the central fixture as it operates with the light switch by the door, so for safety reasons alone, it's a good idea.

Now she's talking about adding a couple of cans to highlight the artwork that will be over the sofa and over the piano. But wondering if she's going to do that, should she just rip out the central fixture.

I really struggle here and can use whatever help I can get as I'm lousy at picking lighting...as I said, I just don't like a lot of ceiling fixtures.

The room is very traditional...bay window, wing chair, oriental rug....
---
| | | |
| --- | --- | --- |
| RE: Lighting question | | |
Depending on the electrical code in your area and how they remove the ceiling fixture, the code may not permit her to drywall over the center light. She would be left with a flat cap.

If it were my house, I would keep the ceiling fixture. I don't like a center ceiling fixture as a light source, but you should be able to find something that fits. I suppose a ceiling fan is not even being considered?
---
| | | |
| --- | --- | --- |
| RE: Lighting question | | |
Annie, this one is quite pretty and very inexpensive. It got great reviews on Lampsplus.
Here is a link that might be useful: crystal
---
| | | |
| --- | --- | --- |
| RE: Lighting question | | |
Here is a link that might be useful: another
---
| | | |
| --- | --- | --- |
| RE: Lighting question | | |
Yes, good point, under code she will be stuck with a disk there if she removes it.
---
| | | |
| --- | --- | --- |
| RE: Lighting question | | |
| | | |
| --- | --- | --- |
| RE: Lighting question | | |
Another lovely Schonbek. I didn't notice if you mentioned the size of the room so some of the fixtures I posted may be too small in scale.
Here is a link that might be useful: another
---
| | | |
| --- | --- | --- |
| RE: Lighting question | | |
I know ceiling fans are frowned upon. I personally don't care for them but DH insisted that we replace the previous owner's ceiling fan with another. I was so sick of looking at them that I picked up a cheapie at Lowe's but I have been looking relentlessly to find a nicer option. This is the nicest I have found so far.
Here is a link that might be useful: ceiling fan
---
| | | |
| --- | --- | --- |
| RE: Lighting question | | |
Thanks, Holly-kay...I like the bling of crystal, but I'm not sure she does...she didn't even like me leaning toward a fabric with a satin stripe....

Graywings and mtnrd, I'll make sure she checks with her electrician about if she'd be stuck with a cap or not...I think that would be true if they leave the junction box, but if they remove it, it may be ok.

I suspect that just for easiness sake, she will leave a central fixture and just probably not use it a lot. I'll have to make sure she has that option, if she wants cans to highlight art, that she doesn't have to turn on the ceiling fixture too. It casts such awful light.

I'm not a fan of ceiling fans anyway, they certainly don't look traditional to me, but, esp in a room with 8' ceilings, they always make me think of decapitation for some reason.
:-0
---
| | | |
| --- | --- | --- |
| RE: Lighting question | | |
Too funny Annie, that is exactly what I thought when DH hung the new ceiling fan. I would love to replace it with a chandelier but he has it in his mind that it will push the heat down to the floor during the heating season. We have cathedral ceilings in the living room. Personally I think our room is comfortable enough without it. I hope this heating season shows him there is no benefit. He never ran the other fan in the winter so I don't know what prompted this idea.
---
Post a Follow-Up
Please Note: Only registered members are able to post messages to this forum.
If you are a member, please log in.
If you aren't yet a member, join now!
---
Return to the Home Decorating & Design Forum
Information about Posting
You must be logged in to post a message. Once you are logged in, a posting window will appear at the bottom of the messages. If you are not a member, please register for an account.
Please review our Rules of Play before posting.
Posting is a two-step process. Once you have composed your message, you will be taken to the preview page. You will then have a chance to review your post, make changes and upload photos.
After posting your message, you may need to refresh the forum page in order to see it.
Before posting copyrighted material, please read about Copyright and Fair Use.
We have a strict no-advertising policy!
If you would like to practice posting or uploading photos, please visit our Test forum.
If you need assistance, please Contact Us and we will be happy to help.

Learn more about in-text links on this page here