Return to the Home Decorating & Design Forum
|
Post a Follow-Up
---
| | | |
| --- | --- | --- |
| Fabulous Privacy Window? | | |
Posted by
sweeby
(
My Page
) on
Mon, Sep 1, 14 at 12:51
Our on-again off-again on-again off-again master suite renovation is finally ON-AGAIN and this time it really looks like it's going to happen. But we've got a bit of an odd situation.

The way the space lays out best puts part of the master bathroom on the front wall of the house directly over the front door. That part of the bath really needs a window, and a window directly over the front door is a classic -- but of course, we'll want a lot of privacy for that window for obvious reasons ;-)

Has anyone seen any great-looking high-privacy windows? Or got any suggestions for window treatments that look great from the inside and outside?

In a perfect world, we'd let in lots of light. Though in reality, it's under a deep overhang, so that light will probably have to come from a bulb.

And our house is king of a Mountain-Craftsman with Asian accents style.

Would love your suggestions and photos --
---
Follow-Up Postings:
| | | |
| --- | --- | --- |
| RE: Fabulous Privacy Window? | | |
I don't know how fabulous it would look, but I have a window with patterned glass on the side of the house that faces the neighbors. It obscures the sight line while still letting in light. Of course, you can see silhouettes, especially if you stand near the glass. Mine is the rain glass pattern. I've posted a link to a random site that shows the glass.
http://www.doorandwindow.com/windows/glass-glazing-treatment/obscure-glass-windows-with-mystique.php
Here is a link that might be useful: Patterned glass
---
| | | |
| --- | --- | --- |
| RE: Fabulous Privacy Window? | | |
I had a custom stained glass window made for my bathroom. I now get lots of light and don't have to worry about privacy issues. Here it is posted on the bathroom forum.
Here is a link that might be useful: Bath Reveal
---
| | | |
| --- | --- | --- |
| RE: Fabulous Privacy Window? | | |
Will people be able to see in the top half of the window? When I put in a half bath in my basement, I used a regular double hung window, and lucked out by finding a vintage stained glass piece on Craigslist that provided the needed privacy from the outside. and was a perfect fit. You might choose to have something made that blends with your decor.

This pic shows it as I bought it, and I wanted more privacy.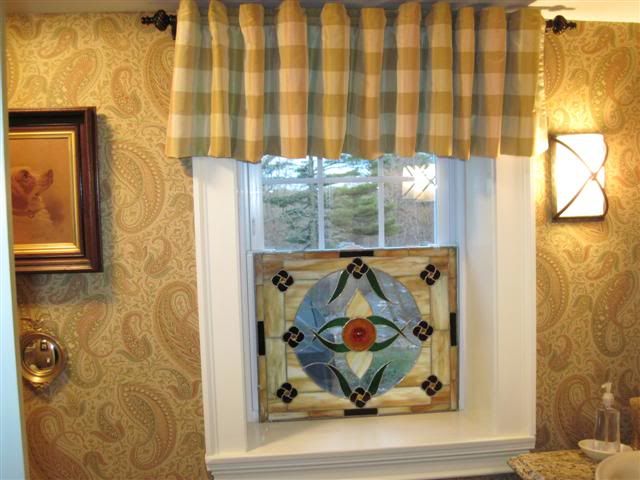 This one is after I put 'clear' contact paper on the parts that had clear glass. It gave it a frosted look and was very easy to do. You could buy one to your specs.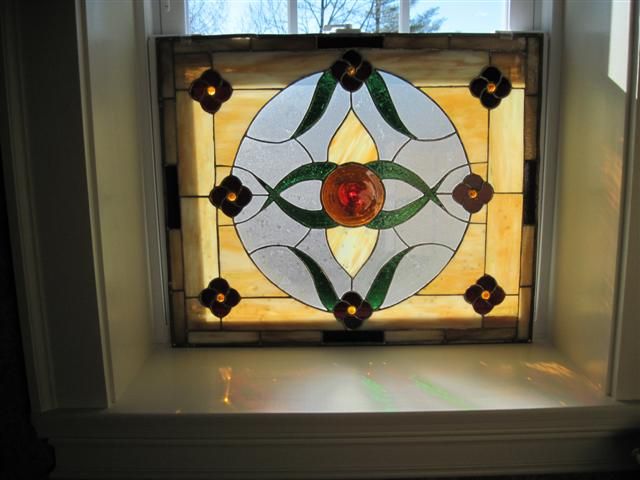 ---
| | | |
| --- | --- | --- |
| RE: Fabulous Privacy Window? | | |
Thanks for the ideas! Our situation will be very similar to Kew2006's -- 2nd floor 'statement' window in a stone wall. Different architectural flavor, but really - very similar.

Great bathroom Kew!
---
| | | |
| --- | --- | --- |
| RE: Fabulous Privacy Window? | | |
Custom shutters. Neighbors renovated and have quite the statement window in front. It is also a bathroom. She had shutters installed. It looks great from the outside and I am sure from the inside as well.
---
| | | |
| --- | --- | --- |
| RE: Fabulous Privacy Window? | | |
there are many window films available that provide various levels of privacy and can look quite good without blocking the light. Beyond that, there are many window treatments that provide privacy yet allow light, from sheers to top down, bottom up to cafe style.

Lots of ideas in the thread linked below
Here is a link that might be useful: window treatment ideas
---
| | | |
| --- | --- | --- |
| RE: Fabulous Privacy Window? | | |
I used a window film that obscures shapes without blocking light. Over this I have linen drape - so I do get some light and 100% privacy. This window is centered over my tub.

However I also have two sky lights - one over the toilet closet and the other over my shower. These are a a fabulous source of natural light. If your bathroom is on the upper level of the house, then you should be able to use skylights.
---
Post a Follow-Up
Please Note: Only registered members are able to post messages to this forum.
If you are a member, please log in.
If you aren't yet a member, join now!
---
Return to the Home Decorating & Design Forum
Information about Posting
You must be logged in to post a message. Once you are logged in, a posting window will appear at the bottom of the messages. If you are not a member, please register for an account.
Please review our Rules of Play before posting.
Posting is a two-step process. Once you have composed your message, you will be taken to the preview page. You will then have a chance to review your post, make changes and upload photos.
After posting your message, you may need to refresh the forum page in order to see it.
Before posting copyrighted material, please read about Copyright and Fair Use.
We have a strict no-advertising policy!
If you would like to practice posting or uploading photos, please visit our Test forum.
If you need assistance, please Contact Us and we will be happy to help.

Learn more about in-text links on this page here