Return to the Home Decorating & Design Forum
|
Post a Follow-Up
---
| | | |
| --- | --- | --- |
| How would you decorate my dining room? | | |
Posted by
karezz
(
My Page
) on
Sun, Sep 9, 12 at 12:42
I have a new vacation home in Florida and most of the decorating is complete except for the dining room. I can't seem to settle on a style of furniture. At first I was trying to find the dining room furniture in the model home (below) but it's discontinued and I cannot find something similar. What I liked about it was the round table and the caning on the chairs.

Model Home: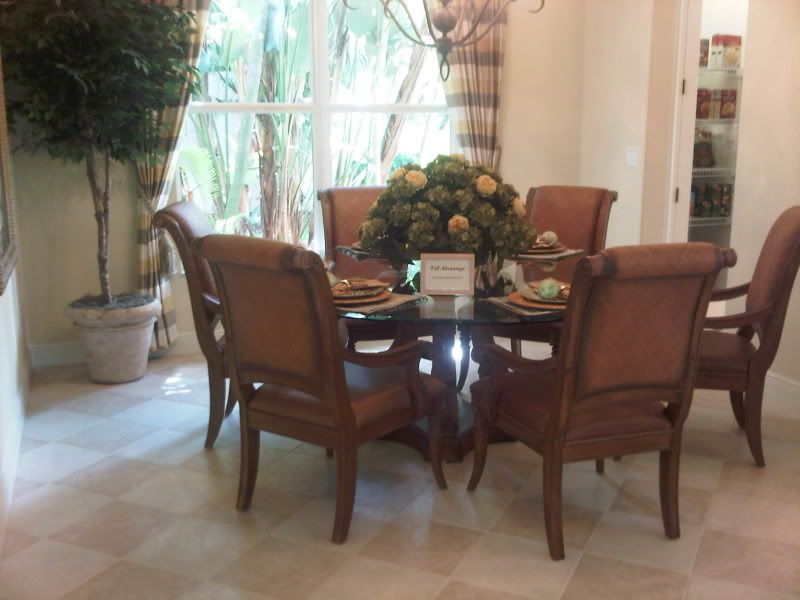 Thinking out of the box, I thought I'd try something different, lighter and bring in my accent color: lime green. Check out this table and chair:

Here is the chandelier in the room. It is traditional, but I am hoping that the combination of furniture in this room and the adjoining living room read more eclectic. And yes, the tray ceiling is painted light blue, walls are creamy beige.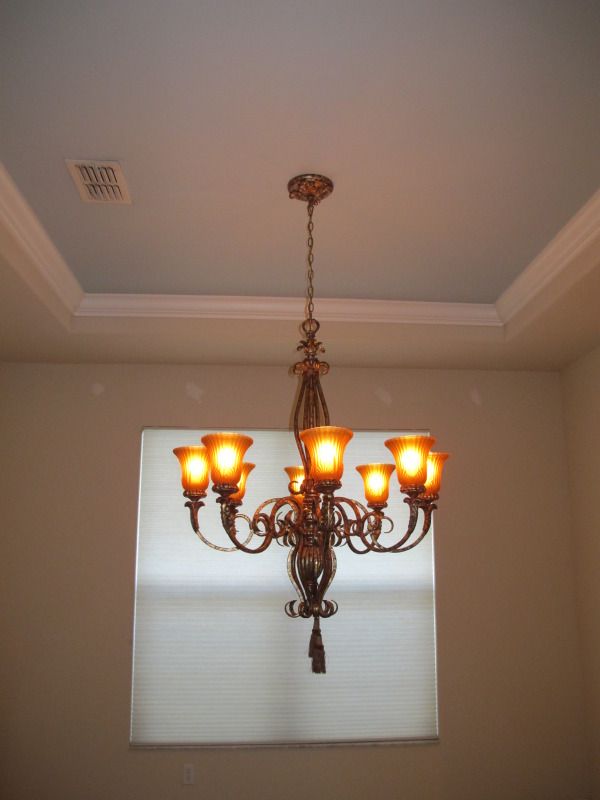 The rest of the house is very neutral except for the accent fabric.
Accent fabric on pillows and band on bottom of living room drapes: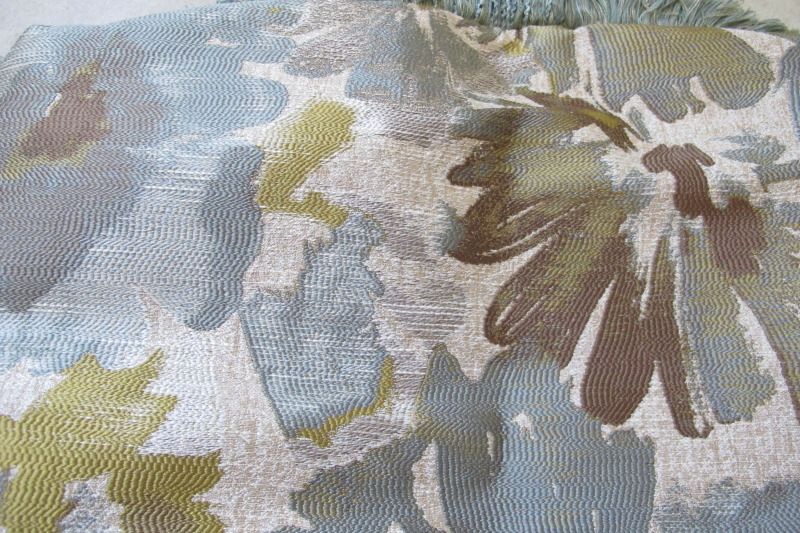 Living room that adjoins with dining room (very neutral and light except for wall unit; rug is blue, beige, brown):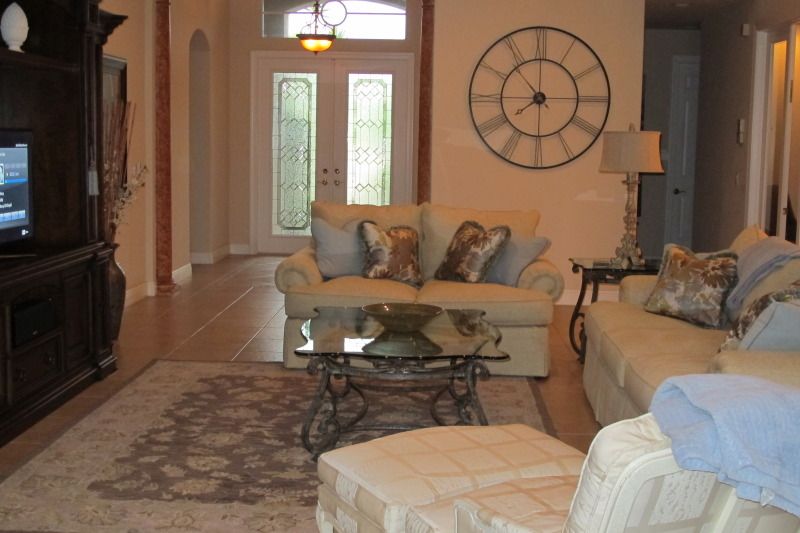 View of dining room from living room (before living room rug, etc were added):

So any thoughts on what type of dining room furniture I should look for? Also, given that the sofas are neutral, the accent pillows are floral, what type of drapes would you put in the dining room. I really want a pop of color in there!
Thanks!
---
Follow-Up Postings:
| | | |
| --- | --- | --- |
| RE: How would you decorate my dining room? | | |
I love your accent fabric. The chairs you have chosen are great. What about a round glass-topped table in the dining room? With it being so open to the rest of the living spaces, and wanting a bit more eclectic feel, it might be the perfect choice. Something weighty for the base, perhaps a bronze finish iron?
---
| | | |
| --- | --- | --- |
| RE: How would you decorate my dining room? | | |
I like both the table and the chairs, although the table might be a little heavy for the chairs -- you'd have to be the judge of that. However, the amber glass globes on the chandelier don't work with everything else. Can you trade them out for a frosted or white glass?
---
| | | |
| --- | --- | --- |
| RE: How would you decorate my dining room? | | |
So I think I need to stick with a more traditional look for the dining room furniture. But something that isn't too heavy. I would love a large round glass table with a beautiful base and chairs that have some caning on them. Any ideas for this or something traditional/not too heavy?
---
| | | |
| --- | --- | --- |
| RE: How would you decorate my dining room? | | |
I would look at something from Tommy Bahama, Stanley, or Lexington since it is your money and they all have gorgeous traditional sets that have a tropical vacation home feel.

The brand names on this page links to their catalog (FL btw and they are having a sale on these brands now)

http://www.annabellesfurniture.com/

The link below has chairs that are similar but a little less heavy than the model home
Here is a link that might be useful: lexington monterey sands chair
---
| | | |
| --- | --- | --- |
| RE: How would you decorate my dining room? | | |
I love the chairs, but agree that the table is too heavy and a glass top would be a better choice. The chandelier just doesn't work IMO. It seems too Mediterranean and the shades would be better in ivory. Actually, a lighter, simpler fixture would be my choice.
Diane
---
Post a Follow-Up
Please Note: Only registered members are able to post messages to this forum.
If you are a member, please log in.
If you aren't yet a member, join now!
---
Return to the Home Decorating & Design Forum
Information about Posting
You must be logged in to post a message. Once you are logged in, a posting window will appear at the bottom of the messages. If you are not a member, please register for an account.
Please review our Rules of Play before posting.
Posting is a two-step process. Once you have composed your message, you will be taken to the preview page. You will then have a chance to review your post, make changes and upload photos.
After posting your message, you may need to refresh the forum page in order to see it.
Before posting copyrighted material, please read about Copyright and Fair Use.
We have a strict no-advertising policy!
If you would like to practice posting or uploading photos, please visit our Test forum.
If you need assistance, please Contact Us and we will be happy to help.

Learn more about in-text links on this page here