Return to the Home Decorating & Design Forum
|
Post a Follow-Up
---
| | | |
| --- | --- | --- |
| New Chandelier! Now what? | | |
Posted by
tinker_2006
(
My Page
) on
Fri, Sep 7, 12 at 12:00
The Sideboard Makeover thread was about 100 post long, which turned into a picture/chandelier thread.. so since the sideboard is complete (just a few touch-ups) Someone suggested I wait to finalize the picture until the chandelier was in, so here I am once again trying to finalize what to do in regards to the picture over the sideboard AND the buffet lamps!

First - I love the chandelier, I think for this room it is perfect - light and airy, a bit vintage and cottage. I purchased it 3 weeks ago, got cold feet.. canceled the order, and came full circle back to it - reordered and glad I did!

I think the picture I end up using for now will be temporary - until I find "the one (picture or mirror)"

As suggested, I have darken and toned down the one gold picture... I like it better - but is it too small? The dark frame picture is larger, not sure I like the print, but I do like the blues in it.

Buffet lamps - they are "okay" cheap little lamps I picked up locally and plan to return. I don't care for the gold shades, DH really likes them a lot!

So here it is - updated pictures of the dining room with Chandelier!

(the outside star pendant is a little distracting..?


gold frame toned down


Larger, dark framed picture

---
Follow-Up Postings:
| | | |
| --- | --- | --- |
| RE: New Chandelier! Now what? | | |
Wow, tinker, what a fantastic room you've made! Really sharp looking with wonderful details.

Of the two, I prefer the first print as it blends in well, at least in the photos. The colors in the second one don't quite work, and the Tuscan scene doesn't seem right either (unless you're in California and you can claim the scene is really Napa or some such vineyard).
---
| | | |
| --- | --- | --- |
| RE: New Chandelier! Now what? | | |
Very nice. I think the 1st picture of the house entry with columns and surrounding trees looks very good with your space. The white of the columns repeat the white of the chandelier and surrounding trees repeat the tree look outside your your windows. i like the buffet lamps too. Successful makeover!!
---
| | | |
| --- | --- | --- |
| RE: New Chandelier! Now what? | | |
Are the shades too gold?

I too like the print of picture #1. Not sure if it would better to find a picture/mirror larger in size - like the tuscan print ( I could not recall "tuscan" so thank you awm03!
---
| | | |
| --- | --- | --- |
| RE: New Chandelier! Now what? | | |
I like the pic of the house entry....and I agree with your DH, I like the lamps.....but I remember those red lamps from your last house and how many times you returned those. Lol
---
| | | |
| --- | --- | --- |
| RE: New Chandelier! Now what? | | |
the chandelier is very pretty but I'm not sure how the prints/frames and lamps look with it. everything looks a little dark, then there's the white/aged chandelier. not that things have to match, but maybe something to tie everything together....
---
| | | |
| --- | --- | --- |
| RE: New Chandelier! Now what? | | |
arapaho, yes - I do see what you mean. Looking at the chandelier - it is pretty white (I didn't notice it last night while installing or this morning taking pictures).

Just for fun, I hung a light color mirror.. but it looks lost on the wall. So.. I'm thinking of using the brown wax to add a little brown to the chandelier to tone the white down. Also - maybe I should look for lighter buffet lamps...
---
| | | |
| --- | --- | --- |
| RE: New Chandelier! Now what? | | |
I love the chandelier in your room. Not sure about the pictures.
I like the lamps but I don't think they fit in your room. Do you have Home Goods near you? They have good prices on lamps. Also Tuesday Morning. What about tall glass lamps? I have a picture in my head but can't find an image online.
The room is gorgeous.
---
| | | |
| --- | --- | --- |
| RE: New Chandelier! Now what? | | |
Tinker, I'm such an over-analyzer! Right off the bat I liked picture #2 because it has more of a vintage look~i've seen #1 too many times~BUT, if you're going for what looks to be cottage, #1 would be the better choice, but only because of the use of white in the subject matter. Make sense? I see so much cottage w/the white runner, pitcher, and the largest item being the light fixture. When looked at from a distance, a darkness is seen on the wall with the sideboard, but then you see the table going in a lighter direction because of the pitcher/runner. White shades on the lamps would definitely bring more light to that side of the room.

I would like to see the white runner on the sideboard, please?
---
| | | |
| --- | --- | --- |
| RE: New Chandelier! Now what? | | |
Love the chandelier!!! I also like the white mirror. I'll be honest about the pictures you've hung on the wall.

Your room is not ordinary. It's unique and stunning. But the pictures you're putting up there are ordinary and belong in more of a formal room.

I still think something unique and simple, other than a picture or mirror would look better in your room. Something on the vintage side.
---
| | | |
| --- | --- | --- |
| RE: New Chandelier! Now what? | | |
I do have a homegoods - 1 mile away! I'm there all the time.. and have been looking and looking for the right lamps, but when you are looking - you can never find them. I even traveled to the next town's homegoods... nothing that hits me. I haven't stopped in Tuesday Mornings in a long time.. I could check them out.

I'm ruling out #2 prints, but what about the size and color of that frame compared to #1. #1 I like the print, don't love the frame as much... but I decided to keep #1 up until I find the prefect picture or mirror.. but should look for the larger size?

I already took the wax to the chandelier.. I like it much better!
---
| | | |
| --- | --- | --- |
| RE: New Chandelier! Now what? | | |
I was just standing by the front door entrance.. and really feel so great about this dining room in-progress!

Seriously - thank you everyone here. This room WAS once a screened porch when the house was built in 1937. SOmeone along the way, enclosed it, but left 2 windows in the room - it was awkward and weird. We bought the house over a year ago.. and I really had NO IDEA what to do with this room. Our kitchen is not an eat-in kitchen, and the original dining room was awkward too, as you HAD to pass through it to go into the kitchen area. A round table worked best in this area, but every time family came over for dinner, we had trouble seating everyone. Finally - I posted with an idea to make it into a dining room and every single reply encouraged me to do it! It not only is a great, functioning room, it's very much a room now that people see when they walk through the front door! It just improved our house - so much - so thank you!!
---
| | | |
| --- | --- | --- |
| RE: New Chandelier! Now what? | | |
oakleyok, I'm open for more suggestions! I think I'll move on.. finish my painting and other rooms I'm trying to put together and as I'm finally able to enjoy life a little - I'll be keeping my eye out for the perfect decore for this room.
---
| | | |
| --- | --- | --- |
| RE: New Chandelier! Now what? | | |
| | | |
| --- | --- | --- |
| RE: New Chandelier! Now what? | | |
tinker, sometimes taking a step away from everything you've been working so closely on helps. It is such a beautiful room in a fantastic home! The speed at which you work amazes me. I do love mirrors - they make a room sparkle.
---
| | | |
| --- | --- | --- |
| RE: New Chandelier! Now what? | | |
I agree w/oakleyok about the mirror and her comment re:the pictures not being unique enough for the room.

So you darkened up the chandy~I'm sure a little waxing didn't take away from it's beauty! ;o)
---
| | | |
| --- | --- | --- |
| RE: New Chandelier! Now what? | | |
I think with a large enough picture or mirror then the lamps just get in the way and take up a lot of room on your sideboard. Do you need the light over there? Do you need 2 lamps there?

Also love the chandelier!
---
| | | |
| --- | --- | --- |
| RE: New Chandelier! Now what? | | |
I think it is very nice and you have done a beautiful job transforming the room. The chandelier did surprise me as it looked like antiqued brass/gold in the original thread but the white still looks lovely. The lines are wonderful.
---
| | | |
| --- | --- | --- |
| RE: New Chandelier! Now what? | | |
would love to see the mirror with the waxed chandelier...
---
| | | |
| --- | --- | --- |
| RE: New Chandelier! Now what? | | |
Tinker
That DR is absolutly gorgeous. I love how the buffet came out and love your new hardware.
The chandy is perfect. I also like print # 1 and along with your husband like the lamps.
I agree move onto another room, this one is done. Perfect.
Oh almmost forgot I also love the rug.
---
| | | |
| --- | --- | --- |
| RE: New Chandelier! Now what? | | |
Wow, so unique. I love it. The prints don't have enough impact to warrant inclusion over that fantastic buffet.

Can you tell me how you darkened those frames?
---
| | | |
| --- | --- | --- |
| RE: New Chandelier! Now what? | | |
I like the mirror, too, but maybe a little higher or a larger one. Have you kept it up long enough to see how it looks (and reflects the chandelier) at night? I would imagine it would be lovely!

You really have created a wonderful room. I am clapping and cheering.
---
| | | |
| --- | --- | --- |
| RE: New Chandelier! Now what? | | |
Oh thanks everyone! No, I didn't keep the mirror up very long, just long enough to take a snap shot. the hanging wire is to high, and I just balanced it in place as I snapped the picture.

Lot's to think about...

Cindyloo, I just Annie Sloan dark wax, and waxed over the frame.
---
| | | |
| --- | --- | --- |
| RE: New Chandelier! Now what? | | |
You are making a beautiful room. I think the mirror would be the best choice, but only if the frame was finished to match the sideboard.

Thank you for sharing your progress.
---
| | | |
| --- | --- | --- |
| RE: New Chandelier! Now what? | | |
Thanks Tinker. I keep hearing about this wax, but I wonder if dust is more likely to stick to that wax. Or if when I clean the item, I'll be wiping the wax off? so many complications, lol.
---
| | | |
| --- | --- | --- |
| RE: New Chandelier! Now what? | | |
Tinker - I love the transformation of your room! It is airy and charming, very serene. I think the mirror is a nicer choice than the two framed art choices, but perhaps you could also consider finding an inexpensive vintage oil painting to put there. You might be able to find something on ebay or at an antique or flea market. I can see an oil painting with a really quiet/simple seaside scene, perhaps even leaving it unframed to keep it less fussy. Beautiful room - the chandelier and sideboard are great!!
---
| | | |
| --- | --- | --- |
| RE: New Chandelier! Now what? | | |
Very pretty room!! The chandelier is perfect. Have you considered a mirror in another shape such as round or octagonal? I do think whatever frame you choose would look best in something that will contrast against the white walls. Again, congratulations on pulling together such a pretty room; enjoy!!
---
| | | |
| --- | --- | --- |
| RE: New Chandelier! Now what? | | |
Tinker, where online can I buy the AS chalk paint? I've searched and searched and can't find it. I went to the website but I think it was in Pounds.

I also wanted to say you really helped my dining room! I also have a farm table but I have yet to find THE perfect centerpiece for it.

Since white is one of the main colors in my house, I ordered the pitcher below. Perfect size for the table. Thanks! lol
Here is a link that might be useful: Pitcher
---
| | | |
| --- | --- | --- |
| RE: New Chandelier! Now what? | | |
I know you're on to other things and will know what's right when you see it yourself, but I couldn't help myself from trying to figure out what I would do with your wall. The buffet, table and chandeliers are gorgeous and perfect. But there is something too flat or plain to my eye about all the choices so far. I know you want a certain look, but wonder if you could use more depth and texture or curves or??
Maybe a mirror that is neither round or square/rectangle but a little of both to mimic the curves in the chandelier?

I know this is too formal for what your goal is, but something about it worked with the light mirror. I finally noticed that it was because the top of the buffet is the same color as the mirror. I think it makes the pieces work better together than two totally different colors:


What I started out looking for was a mirror with more texture and depth..not this color, but maybe like this?


And lastly, I am not suggesting this at all, but maybe look for a more interesting mirror that would give some of the beachy look you want?

---
| | | |
| --- | --- | --- |
| RE: New Chandelier! Now what? | | |
oakleyok, prefect pitcher! I really just stumble on this pitcher at Home Goods! Picked it up, put it down, picked up, put it back down.. and finally thought to bring it home! I bouth the chaulk paint from RobinStoryDesigns . com Everyone seems to sell it at the exact same price, but she is like $2.00 less. She ships it out the same day I order, and because she too is in FL, I get it the next day!

olychick, #1 - love it! I have been thinking of something like this.. do you think it should be the same color as the sideboard? That's my struggle - dark like table, light like chandy or match the sideboard?
#2 - I actually saved this picture this morning!
#3 - like the mirror - again what color is best?
#4 - scary for me - I'm not that bold or brave! lol
---
| | | |
| --- | --- | --- |
| RE: New Chandelier! Now what? | | |
Well, from what I've seen so far, dark seems too much contrast with the wall and buffet and light or the same as buffet gets lost on the wall color and doesn't have any connection with the dark table.
I'm just throwing this out for you to consider...please don't throw anything at me! What would you think about staining the top of the buffet dark? That would tie it in with your table and also a darker frame on the wall. Or if you did the blue on a mirror, the darker top would still meld it with the table and provide some contrast so the mirror/buffet doesn't look too washed out. Or you could then use a dark piece and have it look like it goes with the buffet AND the table.

You can't see this top too well, but this is what I mean:
or
Maybe try a mock up (if you'd be willing to see how this looks) with some darker brown paper or fabric just on the top of the buffet and see how the hanging pieces you've tried look with it.
---
| | | |
| --- | --- | --- |
| RE: New Chandelier! Now what? | | |
olychick, I won't throw a can of paint at you! It's an idea.. except the top is damaged and can't be wood stained. It would be a MAJOR project to re-laminate it.

thinking.. thinking... (I should be sleeping, it's 4:20 AM!
---
| | | |
| --- | --- | --- |
| RE: New Chandelier! Now what? | | |
I have been watching your progress with the buffet and chandelier with a lot of interest. Love them both!
First a disclaimer, I am not a designer :-)

I think that the lamps on the buffet 'pinch' the space, and make the buffet feel too narrow. They stretch the piece in and up (I don't always have the right language to describe my thoughts). Would sconces appeal to you?
Then a large piece of art would not be crowded in to the space.

Beautiful room.
---
| | | |
| --- | --- | --- |
| RE: New Chandelier! Now what? | | |
Thanks, Tinker. Now if I can just decide on a color!

No. 2 picture is exactly what I imagined for your buffet. The prints around the mirror does the trick and takes the common look away from having just a picture or mirror there.

What a fun decision you have!
---
| | | |
| --- | --- | --- |
| RE: New Chandelier! Now what? | | |
| | | |
| --- | --- | --- |
| RE: New Chandelier! Now what? | | |
Here's a list and addresses by state.

I originally got mine from Classic Wall Finishes in NJ. Her prices were the best and her shipping was the most reasonable.

Since then, several retailers near me (near as in less than an hour away!) have begun carrying chalk paint and I get it there instead.

Just finished the basement stairs and need to go get some clear finish to protect them.
Here is a link that might be useful: chalk paint
---
| | | |
| --- | --- | --- |
| RE: New Chandelier! Now what? | | |
Well, not to belabor the idea, but when I googled painted buffet with wood top, I'm pretty sure some of them had wood look paint on the top instead of stain. I'll see if I can find them again. :)
---
| | | |
| --- | --- | --- |
| RE: New Chandelier! Now what? | | |
My unprofessional opinion :)

First, I would leave that chandelier alone! I love it just the way it is.

Second, I would stop looking for framed art and mirrors, and instead start looking for something wooden and vintage looking - like a sign or something similar.

I love your room and I think my suggestion would give it a more beachy/and or cottage feel depending on what you find.

Good luck!
---
| | | |
| --- | --- | --- |
| RE: New Chandelier! Now what? more | | |
Well the one pic I remembered looked like a glossy dark paint on a vanity...but the site says it's stained :(

I found lots of tutorials on making paint look like wood, but it's probably more work that you don't want! Especially when it looks so beautiful as is.
---
| | | |
| --- | --- | --- |
| RE: New Chandelier! Now what? | | |
First of all...I LOVE your room. The sideboard you re-did is beautiful & I love the chandelier you chose. I keep looking at your photos & here's my two-cents worth...

I also think, as someone posted, that the lamps squeeze things in too much on your buffet. If you need lighting over there, what about sconces to help widen that area out? I liked the photo with the mirror & four side pics, and more on the buffet, again, lengthening out that area. Maybe you need a more rectangular mirror in a darker finish to pick up the tones in your beautiful table. Ballard design has some cool mirrors that look more like windows. We have two of them, and while I have them hung vertically, surrounded by old family photos, they are equally beautiful hung horizontal. They would reflect your chancy, I imagine.

Do you like any of the signs (for lack of a better term) that are printed on linen-type fabric? I think one of those would look cool on the wall, too.

Keep your posts coming...I'm enjoying your process & share your design style, so it's fun for me!!
---
| | | |
| --- | --- | --- |
| RE: New Chandelier! Now what? | | |
I've got this cute little lamp that I didn't pay much for that I think would look cute on your buffet.

I got it at jcpenney. Your room looks cottagey to me--so cute.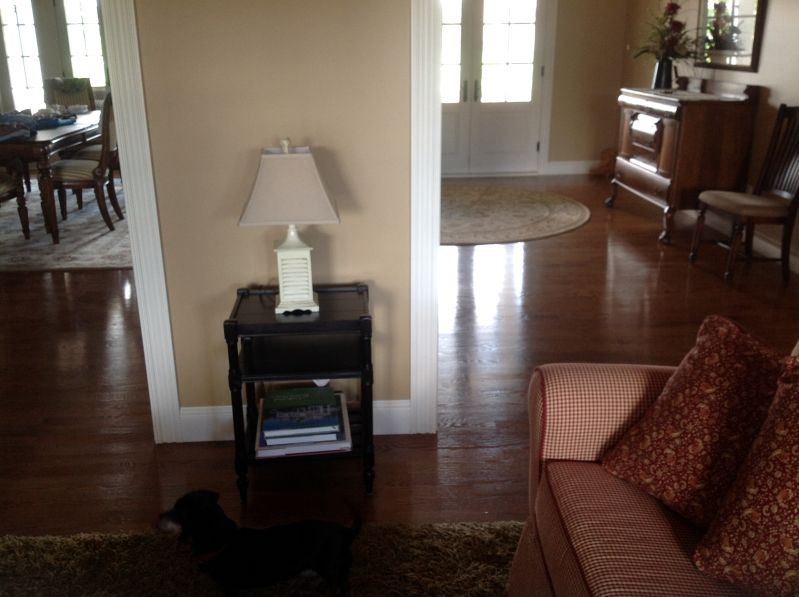 Here is a link that might be useful: Lamp
---
| | | |
| --- | --- | --- |
| RE: New Chandelier! Now what? | | |
I like the frame on your first painting, because it brings the dark of the wood furniture up higher in the room. And I like the lamps because they tie into it -- but yes, the shades are too gold. Instead of going with white shades, could you find some in an ice blue that would bring the color of the buffet up higher, too?
---
| | | |
| --- | --- | --- |
| RE: New Chandelier! Now what? | | |
I'm not sure whether my suggestion is consistent with the feel you're after, but it occurs to me that the greens in the paintings you've auditioned thus far are muted and dull. You might consider a painting with leafy greens; something more alive that zings in the light of your room and picks up the lush greenery outside the window. The brown-toned greens feel static and heavy in your beautiful room, to me.

If you can't find a single large scenic painting you like, a grouping of botanicals, birds, or vignettes could work. I also like the idea of a mirror.

(By the way, I tried to post this earlier but have no idea what happened. If it ended up on the wrong thread, I am so sorry!)

Not this painting, but maybe some of these colors:
Here is a link that might be useful: a painting with fresher greens
---
| | | |
| --- | --- | --- |
| RE: New Chandelier! Now what? | | |
Thought I posted this earlier, but don't see it!

olychick: I have often seen pics that had AS chalk paint color graphite used on the top of pieces. That's what I'm doing on a frenchy hutch I'm painting.
---
| | | |
| --- | --- | --- |
| RE: New Chandelier! Now what? | | |
I think olychick is on the right track. Paint the top in a wood tone to tie the table & buffet together. I think there are products out there that would work well--talk to someone knowledgeable in a paint store. You can always experiment on a board first.
---
| | | |
| --- | --- | --- |
| RE: New Chandelier! Now what? | | |
I much prefer the aged white framed mirror. I also think you need white or cream less formal shades on your two lamps. And I think you'd be better off with one large thing in the middle, rather than the things you've put on the surface, which look a little lost.

A big old rectangular wooden dough bowl would be great, and could hold seasonal things. In your well-edited room, I think simple is best.
---
| | | |
| --- | --- | --- |
| RE: New Chandelier! Now what? | | |
At work, on hold - just wanted to say that I love the fixture! Love it!
---
| | | |
| --- | --- | --- |
| RE: New Chandelier! Now what? | | |
Wow, very pretty! I tried to locate your chandelier at 1stoplighting. It lists the chandelier color as "pewter" but I see you refer to it as white. Do you know if you had to choose white or pewter...or does it truly come in only one color?
Also, I think the paintings are nice however I would choose a very ornate mirror for the space and start personalizing the space with a few small family photos.
Homegoods, if you have one near where you live, is a great place for accessories.
Melanie
---
| | | |
| --- | --- | --- |
| RE: New Chandelier! Now what? | | |
I liked the mirror and thought it was more in keeping with the room than the prints. The lamps seem less crowded with the mirror, but I also felt the height was competing with the chandelier, so I'd want to see a wider photo of the room with the mirror and the chandelier.

The accessories are personal choices. Some folks like groupings, but too much on a sideboard starts to say "This dining room is not used for dining. Look. Don't touch." I like visual interest and some balance, but not too much if you consider it a working surface (even part time) as opposed to a display piece.
---
| | | |
| --- | --- | --- |
| RE: New Chandelier! Now what? | | |
Thank you!

Here it is so far.. I painted a mirror which I like better than the picture. I'm going to keep this here - for at least a while. I have new buffet lamps, which I like better also. I still HAVE NO IDEA what to put on these walls...

The chandelier description is incorrect - there is only one color and it's not pewter. I was nervous when I ordered it, because it said pewter in the basket, but it is only manufactured with this white color, and I really like it. I bought a light for the breakfast room from the same light family.

breakfast room
---
Post a Follow-Up
Please Note: Only registered members are able to post messages to this forum.
If you are a member, please log in.
If you aren't yet a member, join now!
---
Return to the Home Decorating & Design Forum
Information about Posting
You must be logged in to post a message. Once you are logged in, a posting window will appear at the bottom of the messages. If you are not a member, please register for an account.
Please review our Rules of Play before posting.
Posting is a two-step process. Once you have composed your message, you will be taken to the preview page. You will then have a chance to review your post, make changes and upload photos.
After posting your message, you may need to refresh the forum page in order to see it.
Before posting copyrighted material, please read about Copyright and Fair Use.
We have a strict no-advertising policy!
If you would like to practice posting or uploading photos, please visit our Test forum.
If you need assistance, please Contact Us and we will be happy to help.

Learn more about in-text links on this page here