Return to the Home Decorating & Design Forum
|
Post a Follow-Up
---
| | | |
| --- | --- | --- |
| Help with overhead lighting of living room | | |
Posted by
mamattorney
(
My Page
) on
Tue, Sep 11, 12 at 11:57
Right now, our living room has one recessed overhead light. We never use it because it doesn't really "light" anything, but a circle of carpet. I'd like to change it out for something else that would look nicer and be more functional.

I've attached 2 pictures so you can see what the room looks like. It's a standard L shaped living/dining room combo. I didn't clean up, because with three little kids, the room looks like this more often than not, so I wanted you to have a REAL feel for the room. The ceilings are 8ft high and as you can see the light is not in the center of the room. It is in line with the dining room chandelier. The light is 6 ft. from the fireplace wall and we have the couch placed about 16ft from the fireplace wall.

Would a ceiling fan be a poor choice because of ceiling height? What would be a good choice?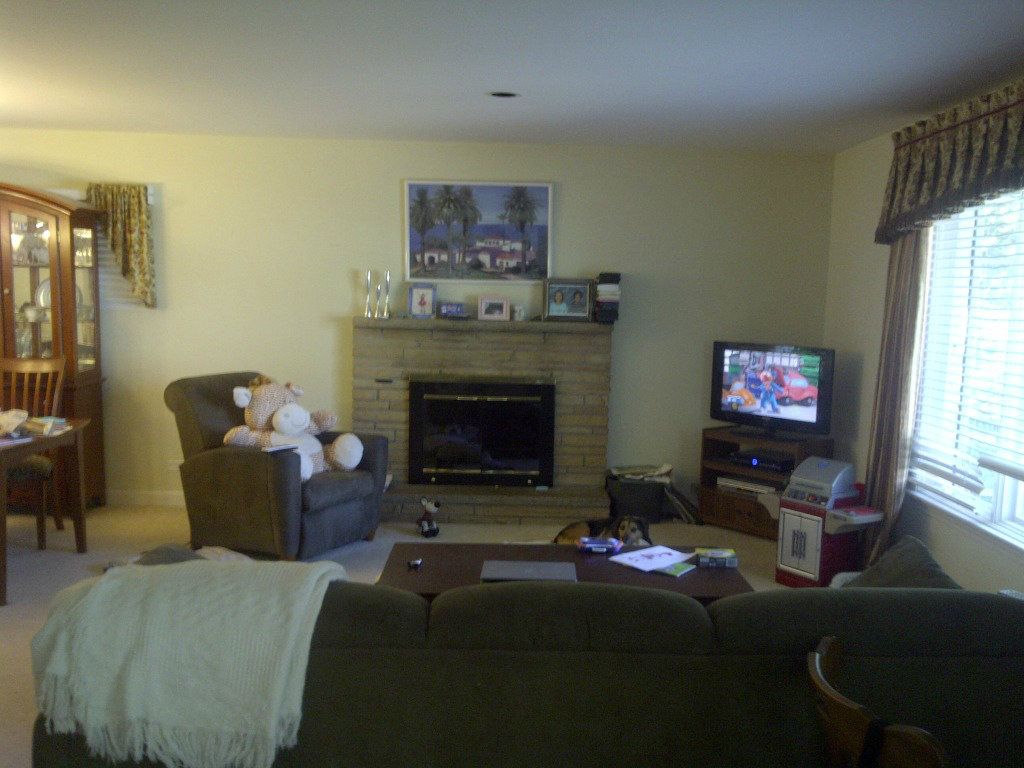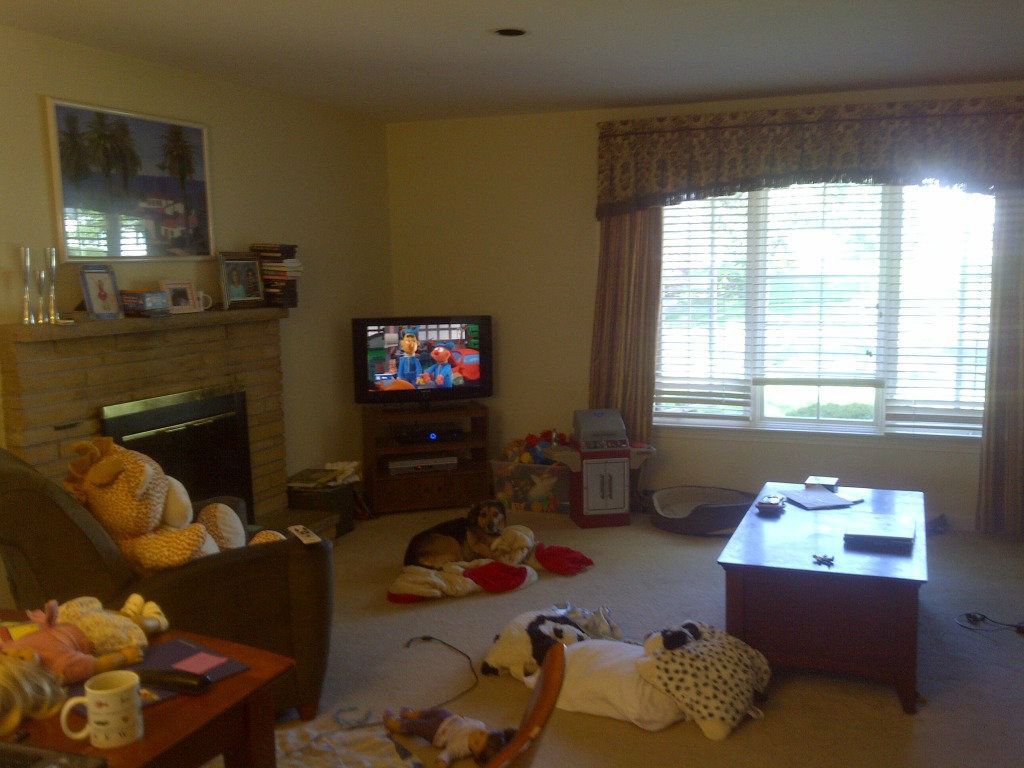 ---
Follow-Up Postings:
| | | |
| --- | --- | --- |
| RE: Help with overhead lighting of living room | | |
A single source still won't light a room like this properly because it will cast shadows and create glare. I actually usually plan living rooms with No overhead lighting as a personal preference, because I think it tends to look a bit commercial once you start putting in enough to light the room adequately.

I would invest in some floor lamps.
---
| | | |
| --- | --- | --- |
| RE: Help with overhead lighting of living room | | |
Can you configure the overhead light so that it casts a spot of light onto the artwork over your mantel? I too dislike overhead lighting and prefer to illuminate my rooms with floor and table lamps.
---
| | | |
| --- | --- | --- |
| RE: Help with overhead lighting of living room | | |
You can put a "hugger" ceiling fan in a room with an 8 foot ceiling. But do you need a ceiling fan or are you just looking for something to do with the fixture? You could replace what you have with a close-to-the-ceiling light fixture.

Whatever you do on the ceiling, however, you still need table lamps and a torchiere lamp in the room.
Here is a link that might be useful: Close to ceiling fixture
---
| | | |
| --- | --- | --- |
| RE: Help with overhead lighting of living room | | |
Make sure the bulb is a flood, not a spot and if it has a longer stem, it will make it less recessed, so the "spot of light" you get will be broader and more diffuse, which you'd use probably when you want to see generally for passing through the room or for cleaning and such. If you wanted to use it as a spotlight to highlight the art work over the fireplace, I think it's so far away from that that you'd have to replace the kit with something less attractive, but it will do the job...
Or you can convert the recessed fixture to one that can be used for track lighting that can be used to put spots of light around the room.
Not sure how far you want to take this....if you want to add recessed lighting around the room, that's one thing (holes in sheet rock, snaking wires, patching, painting). If you don't then the other solution is lamps...put a torchiere lamp in the corner by the TV for up lighting, put a sofa table with lamps on it behind the sofa, put a small end table by the single chair with a lamp on it or put a floor lamp by that chair for a reading light.
---
Post a Follow-Up
Please Note: Only registered members are able to post messages to this forum.
If you are a member, please log in.
If you aren't yet a member, join now!
---
Return to the Home Decorating & Design Forum
Information about Posting
You must be logged in to post a message. Once you are logged in, a posting window will appear at the bottom of the messages. If you are not a member, please register for an account.
Please review our Rules of Play before posting.
Posting is a two-step process. Once you have composed your message, you will be taken to the preview page. You will then have a chance to review your post, make changes and upload photos.
After posting your message, you may need to refresh the forum page in order to see it.
Before posting copyrighted material, please read about Copyright and Fair Use.
We have a strict no-advertising policy!
If you would like to practice posting or uploading photos, please visit our Test forum.
If you need assistance, please Contact Us and we will be happy to help.

Learn more about in-text links on this page here