Return to the Home Decorating Forum
|
Post a Follow-Up
---
| | | |
| --- | --- | --- |
| Help me figure out how to decorate my kitchen. | | |
Posted by
msrose
(
My Page
) on
Sat, Sep 18, 10 at 11:49
Now that I'm finishing up my bedroom, I'd like to start figuring out what to do with my kitchen. I honestly don't have a clue though. At least with my bedroom, I had an inspiration picture that I was working from which made it so much easier. I do have to say that a little part of me has enjoyed the emptiness of my kitchen, because my last kitchen was so cluttered. I decided that I didn't want a cansiter set just for looks in this house. In fact I bought a manual canopener to keep in the drawer instead of having one sit on my countertop. I love French Country, so I would love for my kitchen to show that. I don't know where to get one or where to put it, but I want an off-white ceramic rooster. The only thought I've had for decorating is using off-white accents, but would that be boring? I'm in this weird decorating place right now where I'm not really drawn to any particular color. I even bought off white dishes.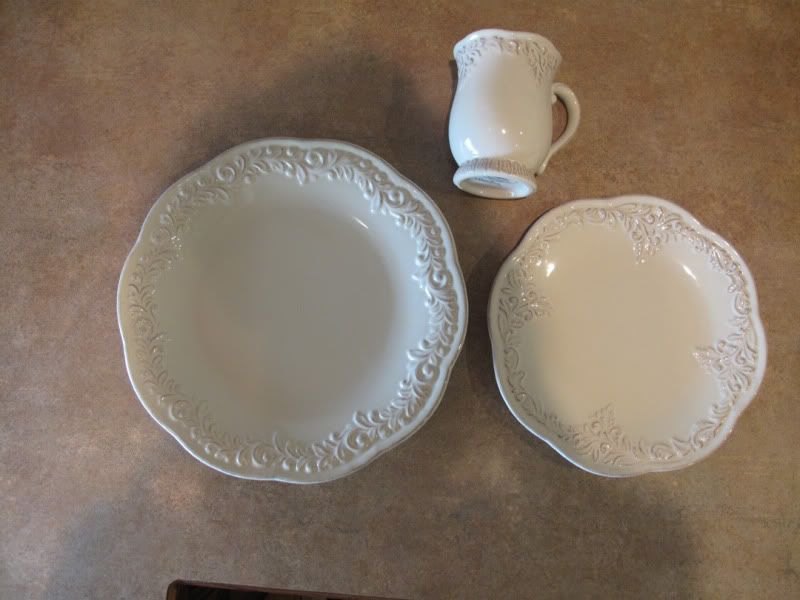 On the other hand, do I need some color to give me the warm feeling of a French Country Kitchen? At one time, I wanted a red and gold kitchen, but now I'm not sure. I love transferware, but I've never been crazy about the blue. I could actually see the blue with dark cabinets though. That's why I need to see or hear your vision for my kitchen.
Front door on left. Kitchen on right.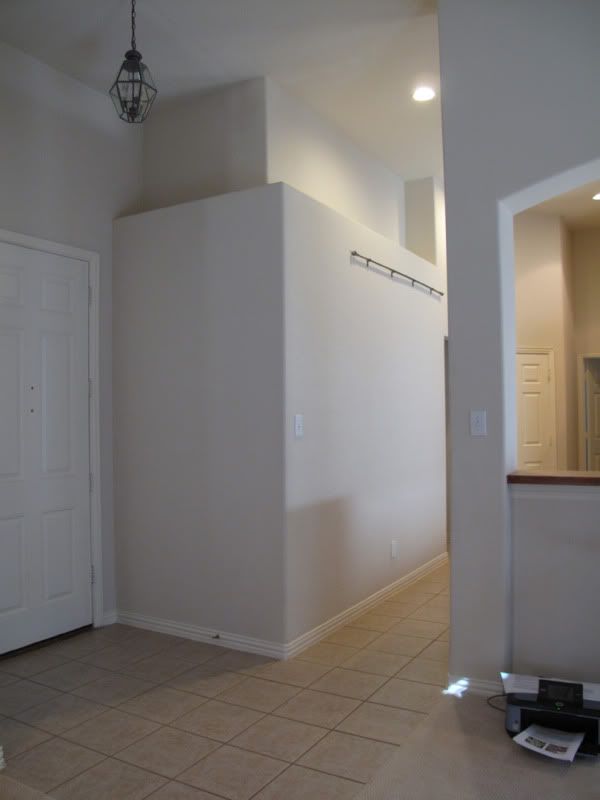 You'll have to ignore my messy "dining room". I've chosen for this room to be functional, not pretty, right now. Maybe once I have the rest of the house decorated, I'll tackle this area. The wall on the left is one of my big problem areas. As you can see it's a walkway to every part of the house, so I don't want any type of furniture up against that wall.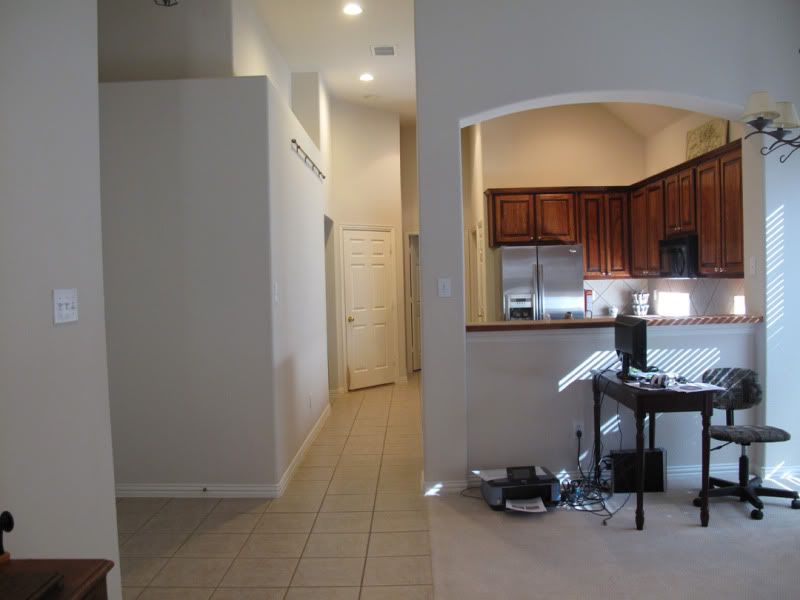 Here's a direct shot of the wall. Someone obviously had a tapestry on this wall at one time. I think that's a great idea, but I'm not a tapestry person. Would you put a couple of pictures or a whole wall of pictures? One big one in the middle surrounded by smaller ones? Anything besides pictures? Of course, I'm just as puzzled about the shelf above the wall.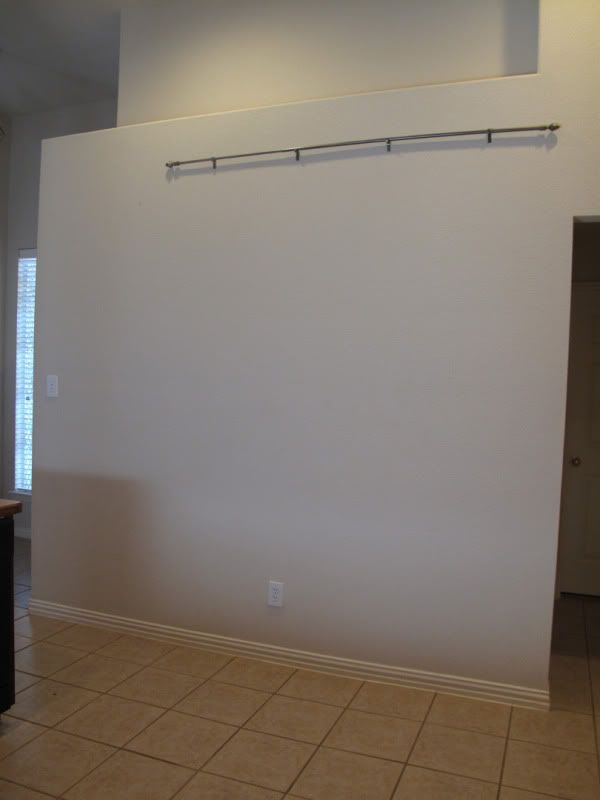 Just realized I have a picture of the when it was for sale. You can see he had a couple of pictures there.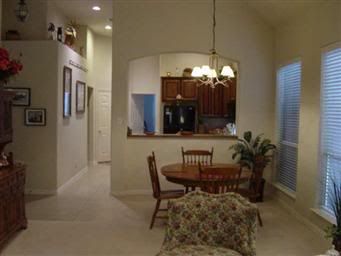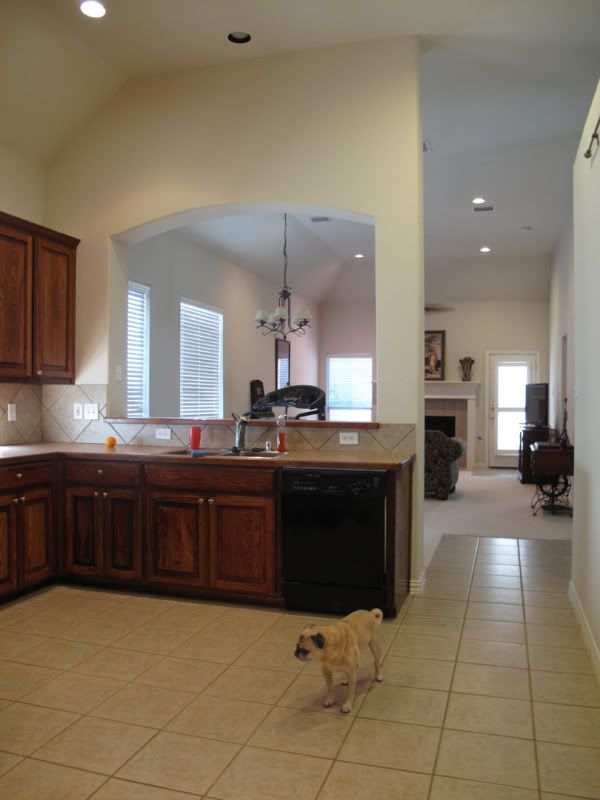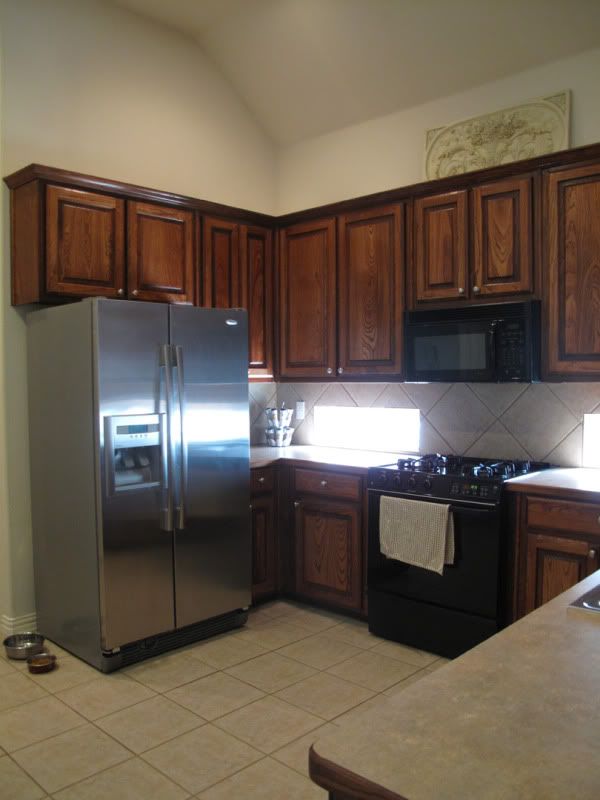 Laurie
---
Follow-Up Postings:
| | | |
| --- | --- | --- |
| RE: Help me figure out how to decorate my kitchen. | | |
I see a light mango to orange color for the walls with your cabs. The off white accessories would go nice with that color (think of a creamsicle, lol). I would not want too dark because they are already on the dark side and it could feel closed in or dreary.
You could also do a light shade of green or a taupe.
---
| | | |
| --- | --- | --- |
| RE: Help me figure out how to decorate my kitchen. | | |
I see the walls sort of tannish... the color you have as a background of the shot of the dishes...only a shade or 2 lighter. Let's call it a warm biege.
Then lots of off white....a rooster on top of the cupboards....a parade of white ironstone pitchers also on top and some brown and white transferwear.
Get some green plants in there....hang some botanical prints with wide just off white mats on the problem wall. Get a little lamp for the pass through or perhaps 3 to 5 large antique brass candlesticks...and you could change the candle color as you choose.
How about another old brass piece on top of the cupboards over the refrig? Not bright and shiny...but with some patina.
With the botanicals on the wall and a plant in a white pot on the shelf above, some green and white towels and perhaps a transferwear platter on the counter with fruit on it...I have a wire basket I often fill with fruits and veggies....some fake to fill it up and some real, so I use it up before it goes bad.
I love your dishes!!
Linda C
Here is a link that might be useful: Brown transferwear pitcher.
---
| | | |
| --- | --- | --- |
| RE: Help me figure out how to decorate my kitchen. | | |
Transferware comes in various colors. Have you shopped etsy? Linked a favorite store below.

Here's a good website I had bookmarked:

http://thetransferware.com/transferware-set
Here is a link that might be useful: etsy shop
---
| | | |
| --- | --- | --- |
| RE: Help me figure out how to decorate my kitchen. | | |
A lot of French kitchens use yellow and blue combinations along with white. For that wall where the tapestry may have hung, you can hang a wall of plates. Mount them individually in a pattern you like, or else get those shallow plate shelves so the plates can sit in a groove and you will be able to switch them around, or even use them.

Handkerchief weight linens for the window would look nice too. And a couple of wall lamps, some hanging baskets with your fruit and veggies in them. Wrought iron or natural baskets would go with your cabs very well.

I also like a Tuscan gold on the walls, especially if you have a rough finish on the walls already. Tuscany and Provence have a lot in common IMHO.

I'm a fan of white or off white as long as it has texture.
As for a ceramic rooster, find yourself a ceramic shop where they make things for people. Most towns of any size have them. I used to "do ceramics" back in my younger days, and someone there would be pleased as punch to do it for almost cost. You might find out that YOU enjoy it and could make your own. It is really simple to do with the proper instructions and someone to fire it for you.

Have fun. Kitchens just have a way of evolving decoratively speaking.

Also, I agree that the can opener goes in a drawer. Look for a crock to put your wooden spoons and other utinsels in beside the stove though. A provincial kitchen looks like it is a workplace.
---
| | | |
| --- | --- | --- |
| RE: Help me figure out how to decorate my kitchen. | | |
Just thought I would congratulate you on moving in to your new home. I remember when you were stuggling with the windows in the back splash.
I love white and beige. But if you are looking for a French look. you might have to decide on a color. Start looking through magazines to see if you can get inspired.
Cute pug, BTW!
---
| | | |
| --- | --- | --- |
| RE: Help me figure out how to decorate my kitchen. | | |
Okay, so I was really talking about decorations and not paint color, but since y'all brought it up....What about BM Wilmington Tan? The way my house is set up, I would have to paint the kitchen and family room the same color, so it needs to be a color that would good overall. Would WT look good with my cabinets though?

I definitely would like to put some transferware in here somewhere, I just can't decide on the color. My 1st thought was to do a display on the big blank wall, but I have teenage boys tromping through here all the time and I'm afraid one of them would break something. I may still do that one day when they're grown. Maybe I could sneak a few in between some pictures for a little protection.

Love the idea of a lamp. I hadn't thought about that and that definitely says french country to me.

Laurie
---
| | | |
| --- | --- | --- |
| RE: Help me figure out how to decorate my kitchen. | | |
I usually like a 'layered' look, but I'm loving the architectural simplicity of those bare walls. I think whatever you add to the large wall should be one big composition, not a scattering of items. It could be a plate collection on narrow (perhaps recessed) shelves, or even hanging copper pans, etc. But what I think would look really great would be to add a couple of large-scale glass and metal lanterns at both entry areas (see sketch below).

---
| | | |
| --- | --- | --- |
| RE: Help me figure out how to decorate my kitchen. | | |
Congratulations on your new home. I think your pug matches well with the colors you are aiming for...LOL. Love your dishes, I have a similar set and they are so elegant. Home Goods usually has French Country decor items, if you have one close by check them out. Great suggestions so far, so just going to post some pictures to help inspire you. I won't post pictures with white cabinets since I didn't see anywhere that you were planning on painting your cabinets.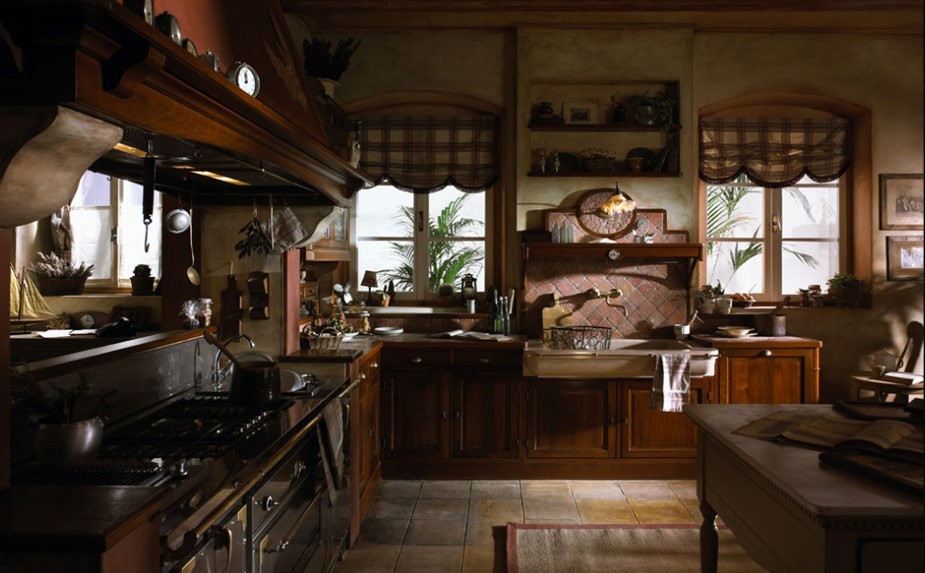 ---
| | | |
| --- | --- | --- |
| RE: Tapestry Pictures | | |
I know you said you weren't thinking of a tapestry, but if you had one you liked, it would look great on that wall and be flat and not impede traffic flow. Maybe a large tile display of an Italian scene would be nice too. You have tons of space above that wall and your cabinets for decor. Here are a few pictures of tapestries.
Here is a link that might be useful: Tuscan Decor
---
| | | |
| --- | --- | --- |
| RE: Help me figure out how to decorate my kitchen. | | |
Thanks for the inspiration pictures! I really like the feel of the kitchen in the 5th picture you posted, but I'm not sure how to give my kitchen that feel. It's hard when you don't have windows add curtains to or a place to put a table and chairs. Of course, I will eventually put a table and chair in the dining room and I love the style of the chairs in that 5th picture.

Laurie
---
| | | |
| --- | --- | --- |
| RE: Help me figure out how to decorate my kitchen. | | |
I would not add anything that sticks out much into the walkway on that long wall...people's shoulders will whack them going by!

And at the risk of horrifying everyone, I see no reason why you shouldn't paint the three walls of your kitchen a different shade from everything else, if you want to. A warm gold-toned tan would give a good backdrop to the things you want to use, and make the kitchen into a space of its own.

I would also pull the ledge off the pass-through and add a generous countertop supported by big iron brackets on the family room side where your family and friends could sit while you are in the kitchen, and that you could use as a serving surface or bar. That would solve your no-table problem in a simple way.

Since you don't have a window, your big wall is the ideal place for a really big mirror, the size of an actual window, which you could then surround with four prints that suit your style.

I agree that you shouldn't clutter things up...you don't have the luxury of a lot of counter space, so you will need to keep your counters pretty clear of things that are only decorative. You can put something nice in the corners, though...Ballard has a group of white urns that are purely decorative, but you might do well at antique shops and fleas, too, and find things you can actually use (these are purely decorative).

And I would hang that wonderful plaque on the larger wall over your fridge, so you can get it up higher and see it from the family room.
Here is a link that might be useful: Ballard urns
---
| | | |
| --- | --- | --- |
| RE: Help me figure out how to decorate my kitchen. | | |
Laurie....keep looking for inspirational pictures as they will help you in formulating your plan. No need to hurry, really research so you can get the look you want. If you have a Borders or Barnes and Noble book store or a library close by, go there and search through magazines and books. Do this several times till you start to get a feel of what you like and what would work in your space. Set yourself up a poster board or scrap book of pictures, fabric swatches, paint chips, etc. to help you formulate a plan. Or you can do it online, I use Power Point to build the plans for my room decor.

Don't know if you have ever thought of a fake window...they can really be done nicely. You can get an old window at a junk yard or even a new window at HD or Lowes and just hang it on the wall where you want a window. Place a picturesque poster behind it and you can hang a curtain rod for curtains or even put up shutters. This can be done over kitchen sinks or anywhere and they can even be backlit. Here's wishing you fun and success in decorating your home. :-)
---
| | | |
| --- | --- | --- |
| RE: Help me figure out how to decorate my kitchen. | | |
Just for the fun of it, here's two houses in my neighborhood that have a similar kitchen and the color they used on the walls. They may have decluttered for selling purposes, but they've decorated their kitchens about as much as I have.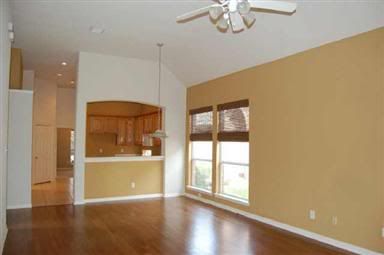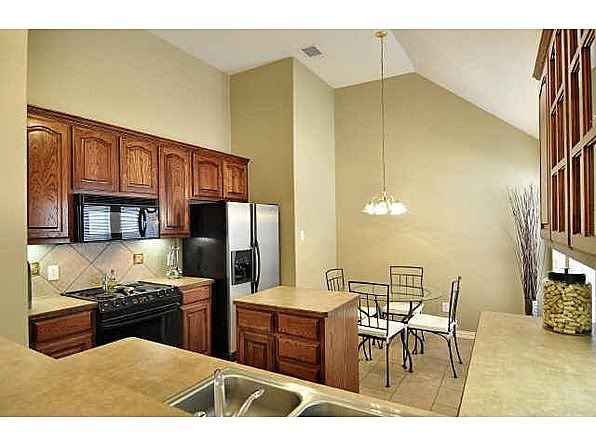 I love the idea of a fake window or mirror. I also thought of a big picture with a pretty scenery of a garden outside.
Laurie
---
| | | |
| --- | --- | --- |
| RE: Help me figure out how to decorate my kitchen. | | |
I agree with bronwynsmom about the passthrough...I was thinking the same thing, needs to be extended so you can have counter stools there to use that space. Like the idea of a mirror too as it will help to expand your space and your idea of a big outdoor garden scene sounds fun also.
---
| | | |
| --- | --- | --- |
| RE: Help me figure out how to decorate my kitchen. | | |
I'm eventually going to replace the countertops with granite, so I may consider extending the passthrough at that time.

I was afraid to put transferware on the blank wall for fear of it getting broken, but I found some picture where they placed the plates above the picture. I could do this and put the plates high enough that they couldn't be knocked off the wall. Would this arrangment look as good without the table underneath and the lamps to the side to balance it?
---
Post a Follow-Up
Please Note: Only registered members are able to post messages to this forum.
If you are a member, please log in.
If you aren't yet a member, join now!
---
Return to the Home Decorating Forum
Information about Posting
You must be logged in to post a message. Once you are logged in, a posting window will appear at the bottom of the messages. If you are not a member, please register for an account.
Please review our Rules of Play before posting.
Posting is a two-step process. Once you have composed your message, you will be taken to the preview page. You will then have a chance to review your post, make changes and upload photos.
After posting your message, you may need to refresh the forum page in order to see it.
Before posting copyrighted material, please read about Copyright and Fair Use.
We have a strict no-advertising policy!
If you would like to practice posting or uploading photos, please visit our Test forum.
If you need assistance, please Contact Us and we will be happy to help.

Learn more about in-text links on this page here