Return to the Home Decorating & Design Forum
|
Post a Follow-Up
---
| | | |
| --- | --- | --- |
| Admitting I need help! | | |
Posted by
Kali615
(
My Page
) on
Tue, Sep 25, 12 at 11:38
Hello.

I hang out in, well, every other forum. Right now, we are renovating an entire house and the only room actually finished is this bath. EXCEPT, I can't seem to finish it. I can't decide for the life of me what fabric to choose for the shower curtain and the window curtain.

The blank walls will have photographs of my husband's. Nature and bug photography. Lots of greens.

Question 1- how many prints and how would you arrange them? framed or frameless? I was going to have the prints done on metal so they can be hung either way and no need to worry about humidity in the bath. I am flip flopping between a bunch of smaller framed prints and a few larger unframed prints.

Question 2- What style of curtain? I can sew so if I can find the fabric I can make it. I was thinking inside the frame to show off the woodwork, is that odd?

Question 3 -What color would you use for window curtain, shower curtain, and towels? Same fabric for shower curtain as window?

I so should have picked my fabric then my paint, but we were no where near that part of the project yet. The paint is Magic Spell from Behr. My issue with every fabric seems to be the whites. Everything is off white and not white white. Or there is just too much white when I put something else white in there.

Any help would be greatly appreciated. I am starting to think I am much better at the putting up drywall than I am at decorating it.

I don't know why I don't have a shot of the other side of the room, but the bath/shower is white subway tile with a black pencil line border at the top.

Thanks in advance,
Kalindi
---
Follow-Up Postings:
| | | |
| --- | --- | --- |
| RE: Admitting I need help! | | |
Sorry, somehow the photos didn't get attached. I will add the links instead.

http://s1241.beta.photobucket.com/user/kali615/media/ecc2ba90.jpg.html?sort=3&o=1

http://s1241.beta.photobucket.com/user/kali615/media/5cee9fd6.jpg.html?sort=3&o=0
Here is a link that might be useful: Bath
---
| | | |
| --- | --- | --- |
| RE: Admitting I need help! | | |
Seeing your pretty blue and white scheme, and hearing about your husband's nature photographs, I immediately thought of a fresh green and white pattern - something like one of these, for a shower curtain and a soft Roman shade?

They are all from the Online Fabric Store, and I've put their stock names or numbers beneath each, if they interest you.

OnlineFabricStore ZUMKIW

OnlineFabricStore Waverly 675701

onlinefabricstoreWOVFER_3

onlinefabricstore Duralee21034-717
---
| | | |
| --- | --- | --- |
| RE: Admitting I need help! | | |
Ohh bronwynsmom, I love the first one! I was originally trying to find a nice green shade, but everything I order swatches of comes in too limey or too earthy. That looks really nice. I am going to order a sample. I am also going to go through that site. I have been shopping at Fabric.com and my local fabric stores. I had yet to find onlinefabricstore.

I had been toying with the idea of a roman shade. I hesitated only because I will be doing it myself and I have never made one before. But I am a pretty handy person and haven't let that stop me so I don't see why I can't make one. It is probably exactly what I need to keep the clean lines and show off the woodwork.

Thanks
Kalindi
---
| | | |
| --- | --- | --- |
| RE: Admitting I need help! | | |
This is Behr Magic Spell

---
| | | |
| --- | --- | --- |
| RE: Admitting I need help! | | |
Making a Roman shade requires precision, but once you understand the process, it's not hard at all!

I've made dozens. The key is that to look good and hang well, it has to be cut exactly on the grain, the rings have to be sewn on in the right spots, and it has to be hung level.

A lot of the construction is hand work, but it is really not at all difficult. If you can put in a hem, you can do it. Particularly if you only have to make one!

I made six of them for an office in my mother's old house, and I got a little tired of it, but for one or two, it's a snap.
---
| | | |
| --- | --- | --- |
| RE: Admitting I need help! | | |
I know it's done a lot, but that's because it's lovely together...I was thinking of yellow with the blue and white.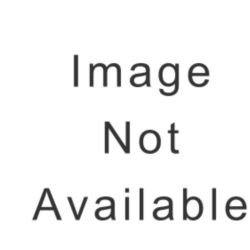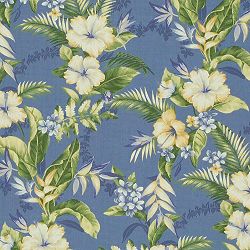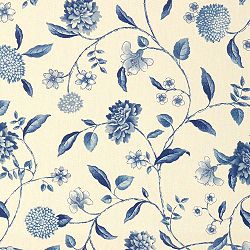 All of the above from calico corners
---
| | | |
| --- | --- | --- |
| RE: Admitting I need help! | | |
I agree with bronwynsmom....I've made roman shades too...and balloon shades and cloud shades. They are very easy to do as they are all straight sewing...no fancy curves or anything. I've sewn the rings in by hand, but they do make ring tape that will make the job a lot easier....just be sure to line the rings up exactly. Then for me the trickier part was getting DH to make the bracket they hang from with the eyes and a cleat in the wall. There are lots of on line instructions to get you started.
---
| | | |
| --- | --- | --- |
| RE: Admitting I need help! | | |
I also love the first fabric bronwynsmom posted. About 1 1/2 yrs ago I made some Roman shades with a pattern from a site someone here mentioned: http://www.make-roman-shades.com/. I'd made several years ago, but with the supplies and pattern from this site they look so much more professional and the hardware makes raising and lowering so much easier.
---
| | | |
| --- | --- | --- |
| RE: Admitting I need help! | | |
I think the key to an easy and professional looking Roman shade is to use white muslin if the fabric is very soft, or drapery lining if you want more body, to line them.

I don't use ring tape, because it sticks you with four seams up the face of your fabric. The very sheer light kind don't add a lot of weight, but you still have to stitch every seem perfectly with perfect equal machine tension. And then you have those seams on the front of your shade.

Here's what i do:

I cut the lining to the finished width and length of the shade, plus the inches required to land the top edge at the top edge of the fabric.

If I'm making a shade that folds up flat, I make channels for the dowels by cutting strips of lining fabric about an inch and a half wide, and as long as the width of the shade, press the long sides in to the middle, and machine stitch each of them across the lining at each interval where the rings will be attached. The dowels keep each pleat sharp.

If I want a loose fold, I make only one channel for one dowel, and stitch it across the lining just above the line where the top edge of the bottom hem will land.

And if I want a soft draped effect, I don't use a dowel, and I position the rings just inside the edge of the side hems - that will keep the shade from pulling in from the sides of the window when it's pulled up.

I cut the fabric three inches wider than the finished width, and plan for a bottom hem that is half the measurement between the rows of rings. (That distance between the horizontal pairs or rows of rings will be twice the depth you want your pleats to be.)

THen I lay the fabric face down on the table, lay the lining on it centered side to side, with the top edges matched, and baste them together across the top. I turn the side hems over the lining, pin them and press them, and gently whipstitch the hems to the lining from top to bottom. Much prettier and cleaner than machine stitching them.

Then I turn up and stitch the deep bottom hem. I like a fat hem - makes the whole business hang better.

Then I use a carpenter's square and a 48" metal ruler to mark the position of the rings right on the lining, taking care to make the placement precise, stick a pin in each to keep the whole business together, and hand sew them on. Good activity while watching TV...

Where there are dowel channels, I sew the rings to them. Best to put the dowels in while you do this, so you don't risk closing up the channel with a too-deep stitch. Makes it much easier. And I use my grandmother's trick of a needle with a big eye, and two lengths of thread, doubled, so that each stitch lays on four threads.

Finicky, but not hard at all.
---
| | | |
| --- | --- | --- |
| RE: Admitting I need help! | | |
Just wanted to chime in that all the fabrics are lovely but I was immediately drawn to the first one as well. (and being a bigtime blue lover, I adore the last 3 too, but I think I would stick with the first one).
---
| | | |
| --- | --- | --- |
| RE: Admitting I need help! | | |
In looking for something else, I found this, which is a shower curtain from Serina & Lily in fabric with similar colors to the one you loved, in case you don't want to make it yourself.
They have fabric, too, and though I haven't checked, you might be able to get enough yardages for your Roman shade in the same fabric.
Here is a link that might be useful: Serena & Lily shower curtain
---
| | | |
| --- | --- | --- |
| RE: Admitting I need help! | | |
bronwynsmom, you are my savior! I LOVE YOU!

Of course now I can't decide which I like better the first fabric or the already made shower curtain with available fabric. I am ordering swatches of both. My taste says I really, really love the first fabric, but my pocket book and the amount of time I can save having a pre-made shower curtain SCREAM Serena & Lily. The fact that you came up with two choices that I hadn't even found that I can't decide between leaves me wondering why I didn't post sooner and save myself months of torture.

Annie, I like the third selection you put up a lot. Unfortunately one thing I didn't mention is hubby absolutely forbade me to do anything floral. I am afraid the stripes would be too masculine for my taste (as the flowers are for his).

I am going to go over all the instructions on making the shade, get my samples, and check out the web site you suggested, Luv2look. I will get to work on the curtains and shade.

If anyone has thoughts on the pictures I would love to hear them.

I really, really appreciate the advice.

Thanks again, you all have been a life savor.
Kalindi
---
| | | |
| --- | --- | --- |
| RE: Admitting I need help! | | |
You are too sweet.
It's a great pleasure to help you find something you love.

If you decide you really like the first one best after seeing the swatches, I have made lots of shower curtains, too, and can tell you how I do it, if you like.

And we all torture ourselves about our own houses. You're not alone in that!
---
| | | |
| --- | --- | --- |
| RE: Admitting I need help! | | |
B, you certainly have a lot more patience than I to do all that hand sewing on a roman shade! I only barely tolerated sewing the rings on by hand....let alone the whole rest of it.

I typically will put the finished and the lining fabrics, right sides together and sew 3 sides, leaving the top open. Depending on how the fabrics lay, I will cut the main fabric wider than the lining and then sew the 2 sides so when you flip it inside out the lining pulls the finished fabric around so it won't show on the edges. I then hem the bottom, mitering the corner if necessary.
---
| | | |
| --- | --- | --- |
| RE: Admitting I need help! | | |
Annie, I think your way makes much more sense.
---
Post a Follow-Up
Please Note: Only registered members are able to post messages to this forum.
If you are a member, please log in.
If you aren't yet a member, join now!
---
Return to the Home Decorating & Design Forum
Information about Posting
You must be logged in to post a message. Once you are logged in, a posting window will appear at the bottom of the messages. If you are not a member, please register for an account.
Please review our Rules of Play before posting.
Posting is a two-step process. Once you have composed your message, you will be taken to the preview page. You will then have a chance to review your post, make changes and upload photos.
After posting your message, you may need to refresh the forum page in order to see it.
Before posting copyrighted material, please read about Copyright and Fair Use.
We have a strict no-advertising policy!
If you would like to practice posting or uploading photos, please visit our Test forum.
If you need assistance, please Contact Us and we will be happy to help.

Learn more about in-text links on this page here