Return to the Home Decorating & Design Forum
|
Post a Follow-Up
---
| | | |
| --- | --- | --- |
| My fabric swatches came! | | |
Posted by
mtnrdredux
(
My Page
) on
Tue, Sep 10, 13 at 10:55
I've been in love with Charlotte Moss's Water Garden Duck Egg chintz for over a year, back with beachhouse-1.

I got a sample of it in the mail today. I still love it, and what's more I think it has a nice airy feel to it, and yet fits the formality of the panelled LR. The background is a faded aqua and the fabric has bits of hot pink and orange in it, fun colors to pull out.

I will take it to the house this weekend but for now, played with it in my house. I put it against a dark armoire to simulate the woodwork. It goes perfectly with Fnb Teresa's Green (I know, I know, in the paint thread I said I was going happy not muddy). I also like it with sisal (which is in my BR and maybe even the needlepoint that is in the BR now ... possibility).

Here it is on a (messy) linen slipcovered chair. I don't think i'd want a whole sofa of it. But I would have to chose a deep sofa where I could make BIG pillows from it. How would you use it?
---
Follow-Up Postings:
| | | |
| --- | --- | --- |
| RE: My fabric swatches came! | | |
Verrrrrrrry pretty! Is it a coral or pink flower, or both? Big pillows and drapery panels? Will be striking with the dark wood. How fun to be decorating a completely different style home!
---
| | | |
| --- | --- | --- |
| RE: My fabric swatches came! | | |
It has both an orange rust color and hot pink. I am not sure about draperies, we don't need them for privacy. But they may be useful to help cover more of the wood.

Yes, it will be very different; have to check my reflexes! My DH calls it "channeling my inner Barbara Bush". He was the one who said the room calls for chintz, not ikat or suzani. I think he is right.
---
| | | |
| --- | --- | --- |
| RE: My fabric swatches came! | | |
If it helps at all, here's a room with robins egg, coral and lots of wood:

---
| | | |
| --- | --- | --- |
| RE: My fabric swatches came! | | |
Annie, How do you find these things! That is a similar palette. Sort of Howard Johnson's in a fog, LOL.
---
| | | |
| --- | --- | --- |
| RE: My fabric swatches came! | | |
I like it, but all I can think is what a pretty wallpaper it would make!
---
| | | |
| --- | --- | --- |
| RE: My fabric swatches came! | | |
Sandy,

OMG you are right, it does look like wallpaper! Maybe that is why i am having a hard time figuring out exactly HOW I want to use the fabric. For comfort we will probably have two sofas; cant imagine using it for all of that!

Maybe draperies but I have an aversion to them , don't need them for privacy or to control light, and can't figure out what kind.

PS the swatch from the website is awful, the fabric far more vibrant IRL
---
| | | |
| --- | --- | --- |
| RE: My fabric swatches came! | | |
How about doing just a chair, and then make matching pillows for the sofa? Then it wouldn't be too overwhelming. Just a suggestion,

I'm sure others will come up with some ideas also....
---
| | | |
| --- | --- | --- |
| RE: My fabric swatches came! | | |
Very pretty!
I think I would put it on a tufted ottoman, to be used in place of a coffee table.
---
| | | |
| --- | --- | --- |
| RE: My fabric swatches came! | | |
I saw an episode of Sarah's house recently and Tommy latched on to this very pink floral fabric and they decided to go with it for the living room....Yuck! Except it came out really nice. The fabric was used as inspiration for the color scheme and it only appears as a couple of throw pillows...you can see it on the single chair.
So you could do the same with your fabric....use it for an accent or two and as a source for colors for the other furniture pieces and paint....
---
| | | |
| --- | --- | --- |
| RE: My fabric swatches came! | | |
Kithc4me and Annie,

Thanks so much for the ottoman idea! Perfect. I wanted a nice big block of the fabric where you could really see the pattern, but I didn't want 2 sofas in it and even if I use it for drapes, you lose the pattern a bit when you do drapes. So a big ottoman is the perfect idea.

I think I will also do some throw pillows in it, and maybe the DR windowseat cushion. Then do washable off whiter linen slipcovered furniture, and camel color rug. A couple of fun accent pillows or throws in the coral orange color or the pink .... done.
---
| | | |
| --- | --- | --- |
| RE: My fabric swatches came! | | |
It sounds lovely. I like all the ideas but the ottoman. An ottoman that makes one decide regretfully not to put the feet up or to chase grubby children away from sitting on it while they relate their adventures just doesn't sound comfy. How about a casual skirted (pleated?) slipcover for it? The window seat cushion covers could also zip off.

I love the fabric, BTW. I was just thinking the other day that if I had to confine myself to variations of two colors for a house (say from very muted and sophisticated to crayon-bright), the two would be blue and orange. I think you should pick up the orange. :)
---
| | | |
| --- | --- | --- |
| RE: My fabric swatches came! | | |
| | | |
| --- | --- | --- |
| RE: My fabric swatches came! | | |
Or here..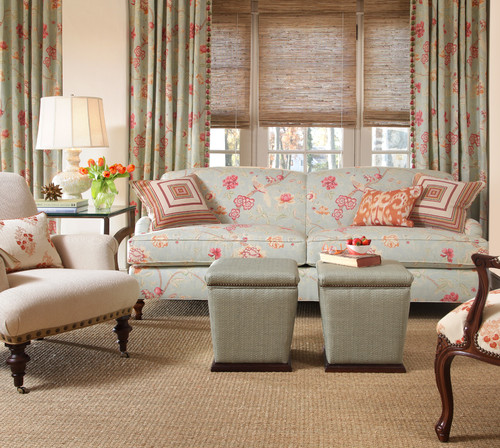 This post was edited by forboystoo on Wed, Sep 11, 13 at 15:23
---
| | | |
| --- | --- | --- |
| RE: My fabric swatches came! | | |
Thanks, Rosie, everything will be slipcovered and/or Scotchguarded. I still want to do the ottoman because I want a flat expanse where you can see the pattern (not tufted, but probably pleated and with legs.)

I do think orange would be fun and kind of unexpected.

Forboystoo,
Yes, those are from Calico Corners. Oddly, Lee has the same fabric but they call it something else. I have never liked and rarely used Calico Corners --- i think it's the goofy name --- but that's where I found this fabric. One thing I do like about them is you don't have to worry about falling in love with wildly expensive and impractical material (like a few years ago when I fell in love with a fabric imported from Brazil made from truck tarps, believe it or not). I also like having a smaller selection. I just cannot bear going through mountains and mountains of books. I used to think that was fun!

Has anyone bought furniture from them?

I might just go with slipcovered MGBW or PB, since I think the two sofas will be off white linen.
---
| | | |
| --- | --- | --- |
| RE: My fabric swatches came! | | |
Oh~ I wasn't suggesting that you buy the sofa.
Just wanted to give you a visual of that fabric in motion....
I'm like a man in the sense that I need a visual .
---
| | | |
| --- | --- | --- |
| RE: My fabric swatches came! | | |
That photo underscores that using the fabric for draperies would not be my choice for your beach house. I know you're not intending that anyway, but it is very helpful to have the visual.
---
| | | |
| --- | --- | --- |
| RE: My fabric swatches came! | | |
Our Calico Corners moved and the new store no longer has the bolts of fabric on the wall but is now only small samples on those little hangers. I loved being able to pull the bolts and see what an entire pattern looks like instead of just a small sample piece. When I went in I was the only customer there (old store always was busy) with 3 employees standing behind a central counter talking to each other. Never said a word to me. I'm now looking for a new fabric store to reupholster my dining room chairs.
---
| | | |
| --- | --- | --- |
| RE: My fabric swatches came! | | |
Actually, I was thinking of doing drapes. Thought i might cover more of the dark wood that way.

Of course, I am color and pattern neophyte. My favorite W/T have always been off white silks or linens in various forms and styles. So this is a leap!

Why wouldn't you use it on the windows? I think the look I am going for is the old-lady-summer-house-chintz feel, which to me is about using " too much" chintz. ... KWIM?
---
Post a Follow-Up
Please Note: Only registered members are able to post messages to this forum.
If you are a member, please log in.
If you aren't yet a member, join now!
---
Return to the Home Decorating & Design Forum
Information about Posting
You must be logged in to post a message. Once you are logged in, a posting window will appear at the bottom of the messages. If you are not a member, please register for an account.
Please review our Rules of Play before posting.
Posting is a two-step process. Once you have composed your message, you will be taken to the preview page. You will then have a chance to review your post, make changes and upload photos.
After posting your message, you may need to refresh the forum page in order to see it.
Before posting copyrighted material, please read about Copyright and Fair Use.
We have a strict no-advertising policy!
If you would like to practice posting or uploading photos, please visit our Test forum.
If you need assistance, please Contact Us and we will be happy to help.

Learn more about in-text links on this page here