Return to the Home Decorating Forum
|
Post a Follow-Up
---
| | | |
| --- | --- | --- |
| kmcg185 and all help with grayish blue color | | |
Posted by
mldao
(
My Page
) on
Fri, Sep 12, 08 at 2:34
I was all set (or so I thought) with paint colors for DS(14) bedroom and adjoining bathroom. Suddenly, my son who since turning 13 barely speaks in full sentences before noon has an opinion on paint choices?!?! What gives?!? He nixed the earthy beiges siting they reminded him of mud. He likes BM Oxford Gray 2128-40 and wants his entire BR painted this color. Do you think this is too dark? He has chair rail and a lot of lighting but I'm not sure about such a dark color. He also likes BM Thundercloud Gray 2124-40 but how should I incorporate these colors? We both like BM November Skies 2128-50, Winter Lake 2129-50 and Beacon Gray 2128-60. Is this too much grayish blue for a bedroom and bathroom? Should I try to mix in another shade? I told DS he could have voiced his opinion a month ago before I spent part of his college tuition on paint samples. LOL
---
Follow-Up Postings:
| | | |
| --- | --- | --- |
| RE: kmcg185 and all help with grayish blue color | | |
Hi mldao! Hey, I have several teenagers who barely speak at ALL, nevermind before noon, so I hear ya! I have the BM deck in front of me. The november sky and oxford gray colors have a lot of blue and they seem pretty dark. However, if you and your son like them a lot, then try using one of the dark colors as an accent wall, perhaps on the wall where the bed is. The rest of the room can be much lighter. Be careful of the lighter colors on that strip because they might read really light blue once painted instead of gray. On another thread I mentioned the Canadian House and Home dream home colors. You can take a virtual tour online. The entire house is in grays. Some nice colors, although probably too light for your son's liking. There are a few darker colors used in the 'kids' rooms and basement that seem like they might work. Also, keep in mind that you don't want the room to seem gloomy if too dark. In the link, click on 'virtual home tour'.
Here is a link that might be useful: grays
---
| | | |
| --- | --- | --- |
| Boothbay | | |
Also, take a look at BM Boothbay Gray HC-165. It's on the darker side. I also, reread your post and you mention a chair rail. You can always appease him and use the color he likes, just paint below the chair rail with the dark and go lighter on the top. Another thought as seen in the Canadian House and Home tour is to paint all the trim (doors too)in a dark gray, they used BM Amherst Gray. I like BM Kendall Charcoal. Then paint the walls in a light or white color. That always look sharp! Whatever you decide, paint poster board or foam core boards with the paint and see how you like it first. Good luck!
---
| | | |
| --- | --- | --- |
| RE: kmcg185 and all help with grayish blue color | | |
Ooo ooo, pick me! I have raised my hand. I fell in love with this bedroom on my rate my space, that fits the bill. Check it out....
Here is a link that might be useful: 18 year old's bedroom
---
| | | |
| --- | --- | --- |
| RE: kmcg185 and all help with grayish blue color | | |
What a cool space rob! Thanks for pointing in that direction. OK mldao, show THAT to your son and use the colors he loves! Don't you just love inspiration?!
---
| | | |
| --- | --- | --- |
| RE: kmcg185 and all help with grayish blue color | | |
So, out of all the colors you mentioned, does he like Oxford Gray the best? If he does, then I would get a sample and paint it on the wall just to make sure he's okay with the darkness. If he is, I would just go for it. Even though it's on the dark side, it looks like a really pretty color and if there's alot of light in the room, I think it will be fine. It definitely looks more blue than gray though. Hey, it could be worse. My son wanted to paint his walls black, but I had to nix that idea. I absolutely love the room rob333 posted. I originally wanted to do something like that in my son's room, but we have textured walls and I was afraid the lines wouldn't look straight.

Laurie
---
| | | |
| --- | --- | --- |
| Oxford Gray | | |
I don't know how accurate it is, but I found this picture of Oxford Gray.

Laurie
Here is a link that might be useful: Oxford Gray
---
| | | |
| --- | --- | --- |
| RE: kmcg185 and all help with grayish blue color | | |
I agree that using the chair rail to go lighter and darker is a great idea. You could use three shades...lower, upper and ceiling.

I do want to caution you about the Oxford Gray and others on that strip. It looks like it might go purple on you in a large space. All depends on that else is in that room, the lighting, etc. But once the color is on all the walls, DS probably doesn't want it to read lavender, right? I would probably use the Thundercloud array, just to be safe.

My teenager just had her room painted Van Deusen Blue....all the walls and the ceiling. You wanna talk about dark...it's like a cave. White trim, white bedding and white furniture should ameliorate the "problem" I hope. We'll see...
---
| | | |
| --- | --- | --- |
| RE: kmcg185 and all help with grayish blue color | | |
Any time, that's why we're here ;D Isn't it just fab?!
---
| | | |
| --- | --- | --- |
| RE: kmcg185 and all help with grayish blue color | | |
Here's another picture of the Oxford I found on the web. On the left wall.It does read blue. It is a pretty color. Hope this helps to get a better feel for the colors. Did you want to go to a truer gray and bring in the blue accents in quilt, pillows etc. That would look great as well.

---
| | | |
| --- | --- | --- |
| RE: kmcg185 and all help with grayish blue color | | |
kmcg85: I loved all the different shades of gray used on that home tour. It makes me want to throw out all my furnishing and start fresh. Thank you for the picture of Oxford Gray. It is very blue and that's why he likes it. I think it too much blue. He'd have dark blue walls and blue bedding, yuck. I like the idea of painting all the trim dark with light walls but I think it's much easier to paint walls and be done with it. How about the Oxford Gray below chair rail and a true lighter gray on top or vice versa?

rob333: What a great BR. I'm no where near talented enough to pull that off. I still draw stick figures.

msrose: I like the Oxford Gray in that nursery but it's much lighter becaused it was glazed. It's unanimous, we all like the BR on RSM. Lucky kid.

amysrq: I just looked up Van Deusen Blue and wow it is dark. Do you have a picture of her room? I think that could work with white trim, furniture and bedding. I didn't realize Oxford Gray had any purple undertones. DS definitely does not want a purple room. I personally like Thundercloud Gray the best. DS really likes the blues more. How about November Skies? Do you think that has purple undertones?
---
| | | |
| --- | --- | --- |
| RE: kmcg185 and all help with grayish blue color | | |
| | | |
| --- | --- | --- |
| RE: kmcg185 and all help with grayish blue color | | |
| | | |
| --- | --- | --- |
| RE: kmcg185 and all help with grayish blue color | | |
kmcg185: It must be the fact that I've inhaled way too many paint fumes trying to find the perfect color, but your DD's room looks nice. Not cave like at all. I think all white bedding, furniture and a lot of lighting will look very contemporary and modern.

DS & DD (both teens) are driving me crazy. I walk around the house telling myself "it's just a phase". I look at my DD (10) and wonder if I'll make to her teen years w/o being commited to The Betty Ford Center?!?!?

Just venting. Please do post a picture of her room when it's complete. I think we're going with a softer gray and I'm going to blame it on the painter. I went on a website another GW member recommended (newhomebuilder) and these color harmonies work well together.

1.
Beacon Gray 2128-60 (lightest, maybe bathroom)
New Hope Gray 2130-50
Sweatshirt Gray 2126-40 (darkest gray)

2.
Mt Rainier Gray 2129-60
Sweatshirt Gray 2126-40

3.
Bunny Gray 2124-50 (lightest and your suggestion)
Pilgrim Haze 2132-50
Sweatshirt Gray 2126-40

Sweatshirt Gray was a harmony for all three colors so I really hope it works. Do you or have you seen any of these colors in person?
---
| | | |
| --- | --- | --- |
| RE: kmcg185 and all help with grayish blue color | | |
Hello,

I have SW Steely Gray in an office, bedroom and bath. I love the color, but I do find it hard to work with. Is is blue or is it gray? When I try to use it as blue, it clashes and doesn't look right. When I use it as gray, it is so monotone and doesn't have any "color". In the office I had such a hard time selecting a curtain, I ended up with white. Blue didn't look right, neither did gray. I haven't done anything with it yet in the bedroom. In the bathroom I have added black and bright green. I'm not sure I like the way the green looks, because when I add green, the walls look blue! Maybe I should just use red as an accent color? Is it just me that has a hard time with these gray/blues??

In office (I don't like the way the blue chairs look with the walls):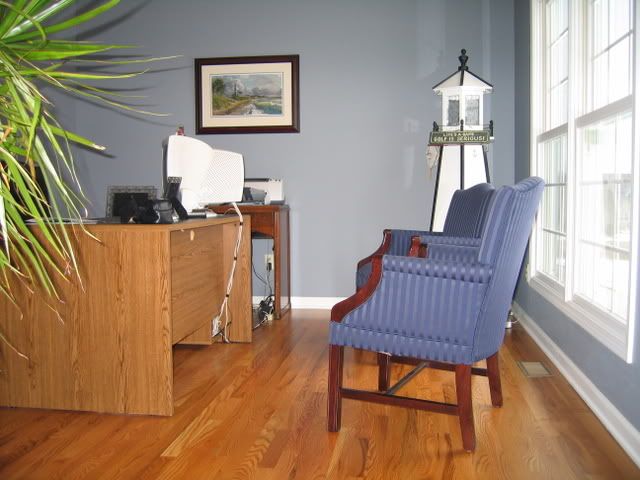 In bathroom: (bathroom not finished yet, house still in construction)

Elaine
---
| | | |
| --- | --- | --- |
| RE: kmcg185 and all help with grayish blue color | | |
Elaine: That's the exact problem I'm having with DS's room. He has blue striped bedding and he doesn't want beige or brown walls. He want a bluish gray color but when we sample them on his walls, the room looks like one blue cave. I'd be fine with a blue room but I'd have to change his bedding and white just doesn't cut it with a teenage boy. I just realized I was of no help and I'm just ranting on about my problem. Sorry. Maybe someone will read this and help us both out.
---
| | | |
| --- | --- | --- |
| RE: kmcg185 and all help with grayish blue color | | |
Maybe go for a reddish gray instead? See how nicely the red tones go with the blue-gray in mom2sethc's rooms? There are many nice colors in that area.
---
| | | |
| --- | --- | --- |
| RE: kmcg185 and all help with grayish blue color | | |
Well, I'm glad I'm not alone! LOL! I have found that shades of blue will not work with the blue/gray color. I've still got my spare bedroom to do and I'm avoiding it! I love color, so I can't go the gray/black/white route, I feel like something is missing. I'll post some pics of my sons bathroom that has the green accents. Again, I'm not sure that I really like it.

Elaine
---
| | | |
| --- | --- | --- |
| RE: kmcg185 and all help with grayish blue color | | |
We used BM Pigeon Gray in our kitchen, and it's really nice. Definitely Blue, but also definitely Gray.

Blue on this wall:

Gray on this wall:
We used this blue (it's a Dunn Edwards color) in our bedroom: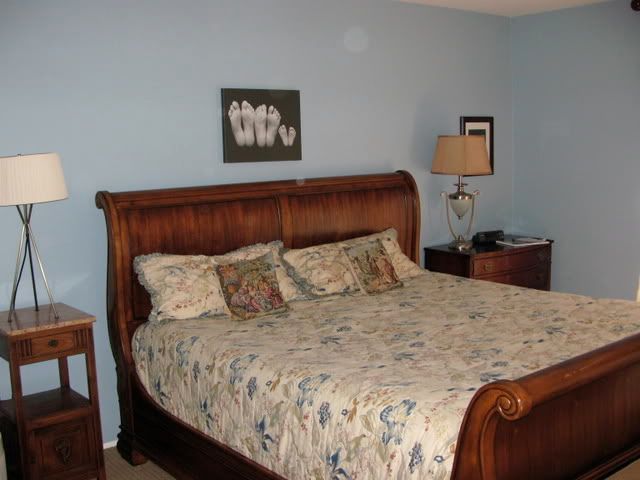 I also sampled several BM blue-grays that were darker and just GORGEOUS. I don't have my samples handy to list them, but make sure you take a good look at the grays in their fandeck.
---
Post a Follow-Up
Please Note: Only registered members are able to post messages to this forum.
If you are a member, please log in.
If you aren't yet a member, join now!
---
Return to the Home Decorating Forum
Information about Posting
You must be logged in to post a message. Once you are logged in, a posting window will appear at the bottom of the messages. If you are not a member, please register for an account.
Please review our Rules of Play before posting.
Posting is a two-step process. Once you have composed your message, you will be taken to the preview page. You will then have a chance to review your post, make changes and upload photos.
After posting your message, you may need to refresh the forum page in order to see it.
Before posting copyrighted material, please read about Copyright and Fair Use.
We have a strict no-advertising policy!
If you would like to practice posting or uploading photos, please visit our Test forum.
If you need assistance, please Contact Us and we will be happy to help.

Learn more about in-text links on this page here