Return to the Home Decorating & Design Forum
|
Post a Follow-Up
---
| | | |
| --- | --- | --- |
| Painted the outside, but... | | |
Posted by
jane__ny
(
My Page
) on
Thu, Sep 27, 12 at 0:37
need more help.

We recently moved to Florida from New York. I posted pics of our new house and asked for color advice. Thank you, thank you! We decided to paint it dark grey. House was painted a pale blue.

The entry (door, tile) drives me crazy each time I pull up in front. We can't afford to replace the door but wonder if the glass inserts could be changed out to something else. Right now they are 70's glass and so dated. The tile floor is broken and ugly. Called a tile man and am thinking of putting a dark grey, 20" tile which looks like slate.

I know the house needs curb appeal. Landscaping is a must but I need to figure out how to make the house entry more appealing.

Before: Blue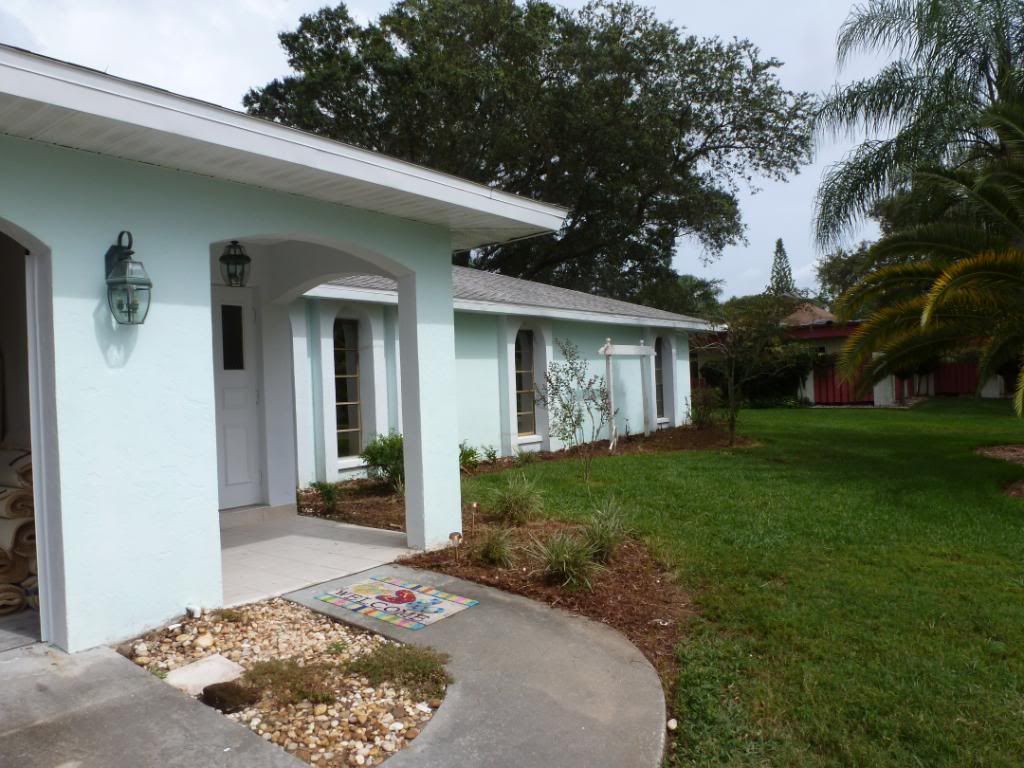 After: Grey

Entry Floor:

Door/tile floor

The house needs so much updating inside, cost has become a problem. I am trying to focus on what 'has to be done,' vs. what we can live with for now.
The entry needs work. I think a slate floor and glass inserts will help. Maybe I should paint the door?
I would appreciate your opinions. You were all so helpful with the paint color. I think the house looks so much better in grey/white, thanks to the advice given to me. Please help me do something with the entrance.
Thanks,
Jane
---
Follow-Up Postings:
| | | |
| --- | --- | --- |
| RE: Painted the outside, but... | | |
I think slate flooring would look awesome. Reminded me of a blog I've been reading lately, similar color gray house with slate walkway. Looked great.

BTW, new paint color looks WONDERFUL!
Here is a link that might be useful: slate walkway
---
| | | |
| --- | --- | --- |
| RE: Painted the outside, but... | | |
I absolutely love the gray-- excellent job!! I also think I like the white door for your location but I would definitely change the glass inserts.

Do the small things that will make you happy to come home... and until then, focus on the great paint color!
---
| | | |
| --- | --- | --- |
| RE: Painted the outside, but... | | |
I love the color of the house....very pretty.
Slate would be pretty, but not very "FL". Not sure how much it would cost as it is heavy to truck all that way....stamped concrete might be a less expensive alternative, esp as you say $$ is tight. Or I would look into other tile that has the gray tones in it.
---
| | | |
| --- | --- | --- |
| RE: Painted the outside, but... | | |
Beautiful! If it makes you feel any better, I actually like the front door as is. :)
---
| | | |
| --- | --- | --- |
| RE: Painted the outside, but... | | |
I think the white door is highlighted more now that the house is painted gray. (BTW, I like the gray-looks good). Would you consider painting the door black? Someone with some photoshop skills could do a mockup.
---
| | | |
| --- | --- | --- |
| RE: Painted the outside, but... | | |
The house is lovely in grey!! I agree with you, change out the glass, put on new hardware. Whatever you do on the the porch floor needs to run all the way to the driveway.

Nancy
---
| | | |
| --- | --- | --- |
| RE: Painted the outside, but... | | |
Keep in mind that you now live in Florida - colors and styles will be different from what you are used to. Walk around the neighborhood and see what others have done with their entryways.

From what I remember, white ceramic tile is common there. Once you decorate the porch with a bench and flower pots, the flooring will be less noticeable.

I don't recall seeing a lot of black doors in Florida. You want colors that will reflect heat, not absorb it. I'm not usually a fan of white doors, but these look nice. Replacing the glass shouldn't be too expensive. Depending on how it is installed, it might be a DIY job.

I would change the doorknobs to ones without curves. And paint the light pole gray.
---
| | | |
| --- | --- | --- |
| RE: Painted the outside, but... | | |
If your front porch gets any direct sun, slate will get very hot.

You may easily be able to change the door glass. It might be as easy as removing the (inside) moulding. Remove the glass, replace with something cut to fit, replace moulding and paint.

Your grey paint looks great! Welcome to Florida!

ML
---
| | | |
| --- | --- | --- |
| RE: Painted the outside, but... | | |
The cheapest, easiest, and most effective thing to do is go and get yourself two very big flower pots and put something in them. Maybe even hibiscus?

I love slate but it is the wrong vernacular. Start looking at entries every place you go. Choose something that is Floridian. Like the tile that is made from coral/shells. kwim? Or I'd rather see an aged, pale terracotta.
---
| | | |
| --- | --- | --- |
| RE: Painted the outside, but... | | |
Yes,I agree with the above posters to remember you are now in Florida. IMHO your entry is now acceptable. I woud take mtnrdredux's advise and just get some flower pots. The entry looks in good shape at least in your photos so I think an update can wait.
Use the money to tackle the inside.
Excellent advise to look around and see what others have done. With all the direct sunlight, fading is probably an issue there.
I also like the idea of what can be done with concrete. It can be made to look like terracotta tiles.
---
| | | |
| --- | --- | --- |
| RE: Painted the outside, but... | | |
Particularly since budget is an issue, I would leave the porch surface alone, or consider staining it a pale gray or terracotta color. There is nothing really the matter with it. Get a couple of big planters with some nice plants and change the door hardware. The current handles look a little...fragile or something. And maybe an accent color for the door. I don't even mind the glass, it seems to fit the house.
---
| | | |
| --- | --- | --- |
| RE: Painted the outside, but... | | |
I love the color you went with. It makes the house much more sophisticated and current. I agree the lamp pole should be painted but I would use the house color if you have any extra. I think the front door looks fine currently, but maybe a light/medium gray paint would distract YOU from them.

If you like stamped concrete, ideally they should redo your entry tile area AND that little concrete walkway. This would make that whole area more unified. That, or the whole section redone in pavers that have various gray tones in them. I know this means more money to do the path also, but I think the overall look would be much more finished.

Disclaimer: I live in the Pac NW and am not sure if stamped concrete and/or pavers are common in FL.
---
| | | |
| --- | --- | --- |
| RE: Painted the outside, but... | | |
I do love the gray -- very very elegant! :) (I just had a feeling that gray would work well .....)

And yes -- with costs well in mind -- do try to change the hardware on the doors BUT the doors do look very nice in white! And yes -- the glass work fine for now too!

And the entrance floor looks fine for now .... but add a good-sized half-moon welcome mat.

And simply clean the gravel -- add a flat paver stone to hold the new planter -- and then add some fresh pea gravel. Add a very tall gray clean-lined pot below the left-hand lamp. Plant a good-sized grass in it.
Here is a link that might be useful: target.com -- smith&hawken tall gray planter
---
| | | |
| --- | --- | --- |
| RE: 2 Painted the outside, but... | | |
Forgot to mention -- that one of the easiest and cheapest changes with big visual impact is to tidy up the present gardens -- then extend the gardens around the curve of the concrete walkway.

Add a couple more of the small spiky plants around the curved garden -- and then add fresh mulch.

You'll be amazed at the difference those changes will make to the front of the house! :)
---
| | | |
| --- | --- | --- |
| RE: 3 Painted the outside, but... | | |
Another thought .....

Perhaps if you added a tall white planter under the left-hand lamp PLUS another matching white planter (again -- add a concrete paver stone for a sturdy base) in the empty section between the right-hand windows.

Add the pale-colored grasses to each new planter.

Might show up very nicely against the new dark gray walls!
---
| | | |
| --- | --- | --- |
| RE: Painted the outside, but... | | |
This is a really poor version of showing my ideas as I took no care in making sure the stuff really went well with your house, just used first that popped up when searching for pics of potted plants, diamond outdoor rug, and double door handles.

I think just putting some potted plants, get an outdoor rug with a pattern that ties in the glass in the doors such as a diamond or the gentler curved ones, and replace the door hardware. This would probably be your cheapest option. I personally don't think it looks bad. Just bare.
---
| | | |
| --- | --- | --- |
| RE: Painted the outside, but... | | |
| | | |
| --- | --- | --- |
| RE: Planter | | |
| | | |
| --- | --- | --- |
| RE: Painted the outside, but... | | |
It does look very nice, but before you start messing with the doors, I would unfortunately consider you homeowner's insurance. Have you had an inspection for windstorm coverage? Messing with glass in doors can have an effect on your coverage, either good (replace with impact if they approve of the doors themselves) or bad (perceived as reducing the security of the envelope). This is especially true if you have Citizens for your hurricane coverage.
---
| | | |
| --- | --- | --- |
| RE: Painted the outside, but... | | |
I like what you've done, and posters' comments too. One minor thing that would drive me to distraction is the tilted light fixture next to garage door. And while not really necessary, I'd probably change the handing lantern at the front door just because I adore lanterns, and that one is too predictable. As others have commented, I'd add some bright color with bougainvilla, etc.
---
| | | |
| --- | --- | --- |
| RE: Painted the outside, but... | | |
I think it looks very nice, the grey is perfect! I would just add some planters as other suggested - urns or box types.
---
| | | |
| --- | --- | --- |
| RE: Painted the outside, but... | | |
Wow. That grey is beautiful!! Great job. Others have made lots of suggestions so nothing new to add to them. Just wanted to say how much I love the grey!
---
| | | |
| --- | --- | --- |
| RE: Painted the outside, but... | | |
I don't post often but wanted to say that I also love the grey! I wanted to suggest sprucing up the gardens will have a huge impact, perhaps extending the front - outside bed all the way to the driveway.

Then, grab a power washer and spray clean the walk way -- will really clean up the look.

It's looking lovely!
---
| | | |
| --- | --- | --- |
| RE: Painted the outside, but... | | |
I think your house looks great with its new paint.

I was thinking of sandblasting (and sealing if need be )the walkway and driveway to give it a fresh look. I have no idea how much that costs or if you can rent the equipment and have your husband do it. With that brightened up, all you need are some plants.
---
| | | |
| --- | --- | --- |
| RE: Painted the outside, but... | | |
I take that back. Sandblasting is NOT a good idea.
Here is a link that might be useful: no to sandblasting
---
| | | |
| --- | --- | --- |
| RE: Painted the outside, but... | | |
To clean the concrete walkway and driveway, cholrine/water mix in a bucket using a stiff outdoor push broom works well here in Florida.

ML
---
| | | |
| --- | --- | --- |
| RE: Painted the outside, but... | | |
Love the new color - what a big different and what a dramatic look you now have.
I like the idea of the pots and I do agree that changing out your glass would make a difference.
I like your white door - as it matches your trim and it pops against the grey.
In that little area witht he stones - I would probably do a little fountain - with some small liropes or something soft around the bottom. I think the sound of water when entering someone's home is relaxing and welcoming.
---
| | | |
| --- | --- | --- |
| RE: Painted the outside, but... | | |
Jane, I agree with those who suggest gettig more involved with the feel of Florida before making permanent decisions. Not superficial styles, and absolutely not whatever subdivision developers are using, but rather the style that comes from your new home's geography and climate. That deep roof overhang keeps a lot of direct sun out in a hot climate and allows you to keep the windows open while it rains.

Geography and climate. If you find something you like that is right for those, I don't think you can go wrong. Are there any slate quarries in your part of Florida? What are the natural materials that are built into the architectural history of the area? What did builders of nice old homes use before big box chains homogenized the nation?

In any case, maybe go a bit slow? Just in case by the time you are ready to change your name to Jane__Fl you have some different ideas about what would be best for that particular property than you do now. :)
---
| | | |
| --- | --- | --- |
| RE: Painted the outside, but... | | |
We moved back to Florida recently too. My first impression was that all that 'light' color was making me feel like a visitor and not at home. BUT after being here a couple of summers, I see that light colors reflect the heat instead of absorbing it. So, A/C bills go up.

The gray does look good, but one poster who mentioned that dark slate would get HOT is right. Keep your surfaces reflective so that the sun won't heat up the stone, tile or the front door (why we do not have black front doors here or dark colors on the South side)
You can go for a green, or light Terracotta or for front door depending on your flower of choice colors or to match the pots you place them in.

Welcome to Florida! Relax and try and let that 'vacation' feeling hit you! Slower pace, LESS stress!
---
| | | |
| --- | --- | --- |
| RE: Painted the outside, but... | | |
Rosie, I don't think there's any slate quarries in FL...certainly not the area I spent time in....it's a sand bar, and the only rock they have is shell rock. But there are beautiful tile options. I suggest you live there for awhile, I love the idea of an outdoor carpet to enhance the entry, and some planters will look great. Then put your budget toward other things...later you can revisit the porch floor after you've gotten better situated to the environment.
---
| | | |
| --- | --- | --- |
| RE: Painted the outside, but... | | |
I'm in FL and we have thin set pavers. Or like others suggested a color tile that has more gray in it. I would not put in outdoor carpet. The humidity will mold/mildew and it gets grungy looking. First impressions are at the front door I feel. I love your gray and mtnredux suggestion of the two plan pots a good one. I have that in a shaped boxwood and it is year round with no having to change need to change out flowers. Again your house color so nice.
---
| | | |
| --- | --- | --- |
| RE: Painted the outside, but... | | |
Am I the only one that likes the glass in the doors? :)

I think a good power washing of the tile/grout/concrete, and a wide doormat at the entry, will give the area a whole new look. Then all you need is some of the previous suggestions of pots and landscape.
---
| | | |
| --- | --- | --- |
| RE: Painted the outside, but... | | |
Painting the front doors a "florida-like" color would would take the focus off the things you are not happy with and can't replace right now. I've always loved yellow with gray but there are many colors that would look beautiful. You could coordinate some flowers with it as well.
---
| | | |
| --- | --- | --- |
| RE: Painted the outside, but... | | |
I love the grey. And I like the white doors. I'm neutral on the glass--I don't think it looks bad at all.

What I would recommend, though, is a more substantial door handle--something with a plate that adds a more substantial look to the door.
---
| | | |
| --- | --- | --- |
| RE: Painted the outside, but... | | |
I love the grey too (and actually don't mind the glass at all) - I think rather than changing hard surfaces, you will have more of a dramatic impact with plantings to get some softness and height and color around your entry. Especially the little area between the driveway and walkway - that is where I would start.

If it were me, I would get some gorgeous lush pots that provide some height and a pop of color once you are on the porch.

I would also train a big gorgeous flowering vine around that right column (gotta love FL where you can grow that sort of thing) :)

I think the floor is pretty neutral - I don't think that would be an early change for me - I would cover it with a big neutral outdoor friendly rug - Frontgate has tons and most are on sale right now. For that, I personally would focus on bringing texture and softness with the rug, and the let the landscaping bring the color.

It is a great house - enjoy!
---
Post a Follow-Up
Please Note: Only registered members are able to post messages to this forum.
If you are a member, please log in.
If you aren't yet a member, join now!
---
Return to the Home Decorating & Design Forum
Information about Posting
You must be logged in to post a message. Once you are logged in, a posting window will appear at the bottom of the messages. If you are not a member, please register for an account.
Please review our Rules of Play before posting.
Posting is a two-step process. Once you have composed your message, you will be taken to the preview page. You will then have a chance to review your post, make changes and upload photos.
After posting your message, you may need to refresh the forum page in order to see it.
Before posting copyrighted material, please read about Copyright and Fair Use.
We have a strict no-advertising policy!
If you would like to practice posting or uploading photos, please visit our Test forum.
If you need assistance, please Contact Us and we will be happy to help.

Learn more about in-text links on this page here