Return to the Home Decorating & Design Forum
|
Post a Follow-Up
---
| | | |
| --- | --- | --- |
| Boys in daughters old room? Will it work? | | |
Posted by
red_lover
(
My Page
) on
Wed, Sep 12, 12 at 0:13
This picture is old. This was my daughters room when we first built this house. She is out of college and moving on.

Really large room and plan to move twins (boys) in here. They have oak colored twin beds - Broyhill Attic Heirlooms.

I would love to be able to keep the custom valance and even the walls the way they are and just get new quilts.

Is this too feminine for boys? Truthfully.

Plan to replace silhouettes with room darkening shades to block south light as my boys are light sleepers. Daughter could sleep through tornado.

TIA.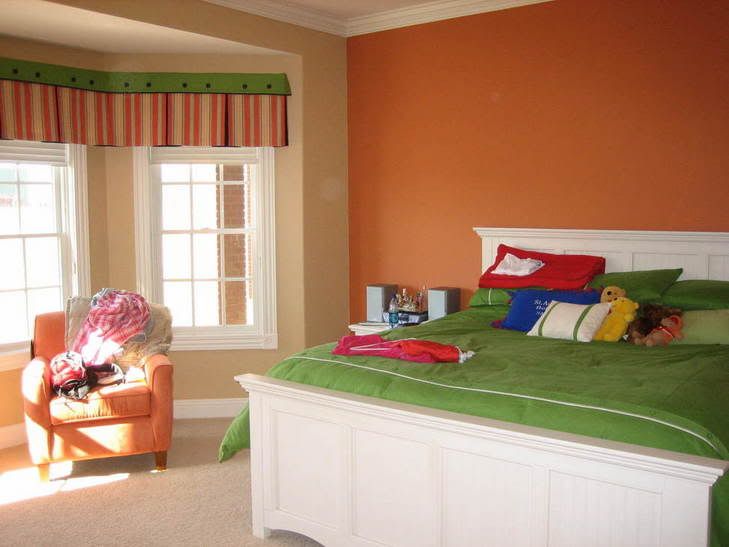 ---
Follow-Up Postings:
| | | |
| --- | --- | --- |
| RE: Boys in daughters old room? Will it work? | | |
Doesn't seem too feminine at all, and honestly, will the boys notice the valance? LOL The wall colors seem just fine.

Maybe see if you can get woven wood shades in the oak tones, or fabric ones with a burlap textured fabric in the beige color.

Don't know how old your boys are, or what their interests might be, but a quick look at JCP turned up this, that seems to work well color-wise:
---
| | | |
| --- | --- | --- |
| RE: Boys in daughters old room? Will it work? | | |
| | | |
| --- | --- | --- |
| RE: Boys in daughters old room? Will it work? | | |
Glad to see a boys room that is not blue - I think it will be perfect. Woven blinds that match the oak beds will add some masculinity to the windows.
---
| | | |
| --- | --- | --- |
| RE: Boys in daughters old room? Will it work? | | |
Wall colors work fine, but, for me, the green does not. For a more masculine look, I like the recommendations of a woven wood blind, in the wood tones to match the oak, and leave off the valance entirely, as that really is feminine looking to my eyes, especially with the polka dots.
---
| | | |
| --- | --- | --- |
| RE: Boys in daughters old room? Will it work? | | |
I have boys myself, and depending on their age, I find the valance way too girly. Unless they are kindergartners I would set them up with something more masculine. How about faux leather curtains or something rockstar-like? I do like the wall color, though, and think some nice masculine browns would go well.
---
| | | |
| --- | --- | --- |
| RE: Boys in daughters old room? Will it work? | | |
Another vote to remove the valance -- and add lined blinds.

The wall colors are fine -- just add new bedding, large bulletin boards (for easy change of "stuff")
---
| | | |
| --- | --- | --- |
| RE: Boys in daughters old room? Will it work? | | |
My son age 8 would veto the valance. He would care more about whats going in the room than what color the wall is.

My 13 yr old would probably take it down himself and insist on painting the room a different color.
---
| | | |
| --- | --- | --- |
| RE: Boys in daughters old room? Will it work? | | |
What do the boys think?

Orange and navy blue are common sports team colors, maybe go that way.
---
| | | |
| --- | --- | --- |
| RE: Boys in daughters old room? Will it work? | | |
Another vote for getting rid of th valance. I like kathy77's idea of adding navy with the orange. And going along with the sports theme, you can use those triangle team flags tacked up as a valance.
---
| | | |
| --- | --- | --- |
| RE: Boys in daughters old room? Will it work? | | |
One of my boys hung his old skateboard (without the wheels) right on his wall. They are pretty graphic and fun!
---
| | | |
| --- | --- | --- |
| RE: Boys in daughters old room? Will it work? | | |
Boy...that valance doesn't seem in any way femmy to me...looks almost like circus tent. It's straight, tailored and not pastels.
I wouldn't even suggest they may not like it! Just put the oak in there and get them new spreads...put some big gym shoes on the floor, toss a sweatshirt or 2 over the chair, add some computer games to the book case, pin a few rock band posters on the wall and they will love it.
---
| | | |
| --- | --- | --- |
| RE: Boys in daughters old room? Will it work? | | |
i think it is fine for boys--- i have all boys and they like color!!!
i don't think they would have cared that much one way or the other about the valance--probably wouldn't be what they would choose themselves, but i honestly don't think they would have cared about it being up as long as their stuff was in the room!! i'd leave it up (unless they really don't like it) and work on making it their room in all other ways!!
---
| | | |
| --- | --- | --- |
| RE: Boys in daughters old room? Will it work? | | |
On first look, I said remove the valance. To me, it does seem more feminine even though striped and pleated. Something about the pattern spacing, the way the contrasting band is like a sash on a pleated skirt, and especially, the button trim. I also know my guys would hate orange and green and would not love that in any color scheme, so my vote would be to give them their own room.

I thought you might make it work with surfboards or skateboards, but the more I look at it the more I want to say take it down. If you are missing your DD, keeping the valance won't make you miss her less but it might make the boys not feel they really have their own room. If they love the orange, keep it, but if not, let them pick a paint color or two (one for each) and make it something fresh for them. If they are in their teens, you want them to want to have their friends over, so a room they are comfortable in and proud of is a good starting place.

Mom of 2 boys (high school junior and college sophomore)
---
| | | |
| --- | --- | --- |
| RE: Boys in daughters old room? Will it work? | | |
I will look more closely at all the suggestions later after homework...They are 10 yrs old BTW. And they don't care what the room looks like, just glad to be getting the big room.

I am so excited about all the great pictures and suggestions!!! You guys are awesome.

Annie--I can't see your picture. Just a blue box. Can you repost it for me please.

Back later!
---
| | | |
| --- | --- | --- |
| RE: Boys in daughters old room? Will it work? | | |
Sorry, I can't seem to get the image to show, but you can follow the link
Here is a link that might be useful: PB boys room
---
| | | |
| --- | --- | --- |
| RE: Boys in daughters old room? Will it work? | | |
My son has had a denim duvet cover since he got out of crib 10 yrs ago. It always works --- heck they could take it to college. Team blankets, throw pillows, even some stuffed animals will add the color.

Id take the valance down ... it's not horribly girly but I think it will not go with the new direction you are taking the bedding.
---
| | | |
| --- | --- | --- |
| RE: Boys in daughters old room? Will it work? | | |
Here's another really cute room with your colors...and a few more. A link to this blog is below. There are a TON of great pictures! I like how they used the wainscoting.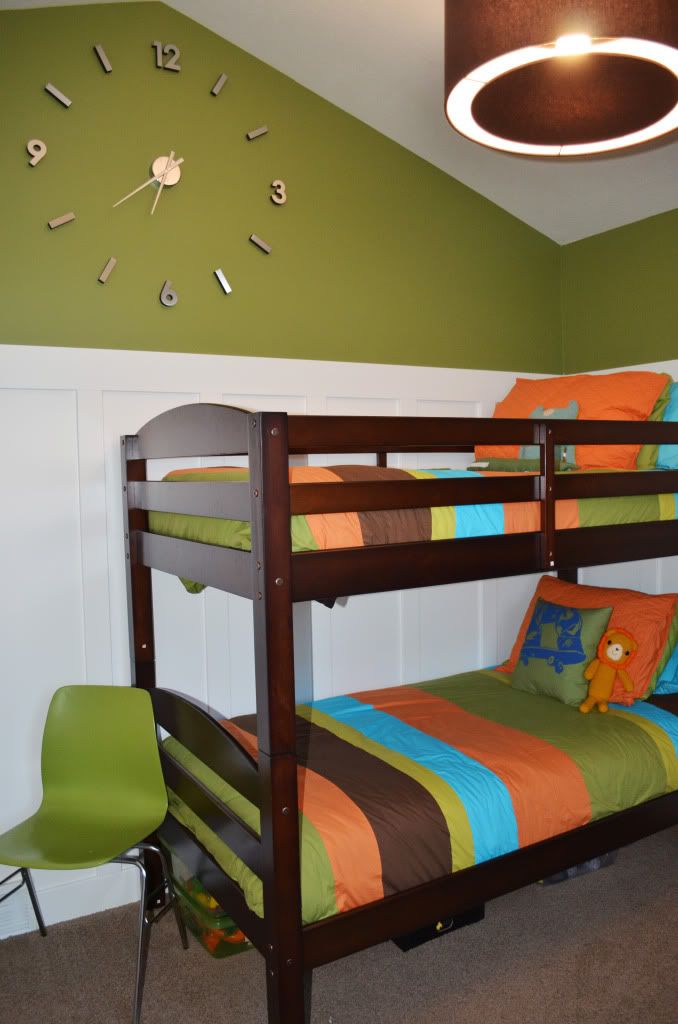 Here is a link that might be useful: BIG BOYS ROOM - BEFORE AND AFTER
---
| | | |
| --- | --- | --- |
| RE: Boys in daughters old room? Will it work? | | |
There is nothing girly about orange and green; however, a valance is girly in itself. (I'm sure people could come up with examples of that statement not applying, but to me it is a feminine touch.... nothing my husband or brothers would ever think to put up in their homes!)

If your boys don't care, then just leave everything as is. Eventually one of them might care and will request something else. If you still want to address things now, I'd just remove the valance altogether.
---
| | | |
| --- | --- | --- |
| RE: Boys in daughters old room? Will it work? | | |
Is that navy in the valance? IF it isk, I would bring out the navy and more green in your bed linens. And I think the "orange" wall is fine, but the "peach" wall is definitely girly.
---
| | | |
| --- | --- | --- |
| RE: Boys in daughters old room? Will it work? | | |
Good lord. It's not even close. Take the valance down or they will, if not now, then shortly. The wall color is fine unless they personally hate it.
---
| | | |
| --- | --- | --- |
| RE: Boys in daughters old room? Will it work? | | |
Lose the green top section of the valance. Maybe just put another strip right over that green to cover it. If you use denim coverlets, you could use use denim for the strip. The wall color is fine.

Right now the valance looks too designed/decorated for a couple 10 year old boys.
---
| | | |
| --- | --- | --- |
| RE: Boys in daughters old room? Will it work? | | |
Les--I love quilts and I love that skateboard quilt. My boys skateboard. One is great on his rip stick. That quilt would look good with my valance. It is old but it was so expensive--a little cheese with my wiiiine.

Addyson--such good pictures. I'm not kidding, that first picture with the airplanes on the quilts was their first room in this house (PB Kids) and the dust ruffle they used looks like the same fabric I used for the curtains. Thanks.

Tuesday--a vote to keep the valance. What kind of woven blinds do you mean? Is there anything that would darken the room? Thanks.

Annie--a no go on the valance from you. They are buttons, but I gotcha. Love the picture because something like that would create separation and a little more sense of each having their own space.

Same boat-- my boys are 10. Sounds like you aren't lovin the valance. Thank you. Love the skate board ideas.

Tea cats--love the idea of big bulletin boards. Their room now is tiny and the new will have room to have space for this kind of stuff.

Melly--my boys don't care, but up until now they have never really used their room for anything other than sleeping and making a mess. I will try to get them interested in helping.

Kathy-like I said, the boys don't care. Sports themes are something to think about too. Big sis and I actually graduated from big 10 orange and blue :-)

Ellen--another vote to lose the valance. Are you saying use he triangle team flags right on the top of the window? That might be cute.

Linda--ohh, your suggestions sound so tempting and so easy. I may just do that and if they want to change it....do that later on. Live with things awhile and see. I already have the big shoes and the T- shirts!

Busy bee--my boys like color too. One likes stuff and likes to put stuff on his wall and the other could care less. Thanks.

Lascatx--good insight about missing dd. It is hard to give them up. But, I really just wanted to keep the valance because I'm a tight wad :-) I really do want my boys to be proud of their room though so it may go.

Mtnrredux--love the idea of a denim duvet cover. Do you have it over a down comforter?

Lolauren--never thought about a valance being girlie, but I suppose you have a point. I would not have put this in my boys room from scratch. Have to think about that one.

Addyson--cute room. I love that clock. I love bunk beds. But I was afraid of them---seriously.

Bird lover--it is navy. Dd picked out the comforter first with dust ruffle (green and navy) and the decorator put together this valance using these colors with a little navy. The "peach" color is called SW Bagel. Looks more tan in person. Like the idea of playing up the navy.

Marcola-- tell us how you really feel :-) no, I really do appreciate your honest insight. Thank you.
---
| | | |
| --- | --- | --- |
| How to get 2 more beds.... | | |
This is my boys' room now. Excuse the mess. I am trying to teach them to clean their own room and it's going so so.

Anyway this is their furniture. They also have (in storage) another night stand, chest of drawers, and bookcase. In the new, larger room I thought I would use the following : the two twin beds, 2 bookcases, 2 nightstands, 1 chest of drawers. The new room has a huge walk in closet.

Here's my next question. When my boys have sleepovers (which is fairly often), it's usually one or two kids at a time for a total of 4 counting mine. I usually put them all in the playroom in sleeping bags. I would like for them all to have a bed in the new bedroom. I don't want bunk beds.

What do you think of a daybed with trundle in addition to my boys furniture? Futons are just nasty aren't they? And aren't they uncomfortable? Plus, that would only give me one more bed.

This furniture has been discontinued, so I can't get another twin with trundle. Thought about that.

Thanks yet again.

---
| | | |
| --- | --- | --- |
| RE: Boys in daughters old room? Will it work? | | |
I would get twin air mattresses for sleepovers. You could then use them wherever, we use multiples at holidays when we have as many as 8 extra teenagers.
---
| | | |
| --- | --- | --- |
| RE: Boys in daughters old room? Will it work? | | |
Will you have room for a sofa bed for extra sleeping room? They make so many now without the usual springs. Love the wall colors, and blue would accent it well. I agree...lose the valance. Maybe DD will have room for it in her new home?
---
| | | |
| --- | --- | --- |
| Hmmmm. Ideas | | |
Lebwhite--I let my boys sleep on an air mattress once in the playroom and the stinkers used it as a trampoline and ruined it. Had to pitch a 100 dollar air mattress. But it was a great idea. Must be fun at your house at holiday time. I mean that seriously.

Anitoma--I hadn't even considered a sofa bed. Yes, my boys new room would be big enough for one. The room is directly under the master in our lower level so it is almost as big as the master. Do they really make comfortable sofa beds?? I think you are on to something. Thanks.
---
| | | |
| --- | --- | --- |
| RE: Boys in daughters old room? Will it work? | | |
If the valance is old, you got your money's worth and it's okay to let it go.

As far as extra sleeping space, I would either do air mattresses or inexpensive foam mattresses (won't lose air during the night or be discovered to have a hole at midnight) and put them on a trundle if you can find one that will fit under the frame of your beds -- or maybe just on a platform. That could be as simple as a plywood deck you put some sliders on (like used for protecting floors or moving furniture) or some low wheels and maybe a piece of trim, rope handle and/or hardware pull to help pull them out.

Boys may not care about how their room looks -- until a friend comes over and says something.
---
| | | |
| --- | --- | --- |
| RE: Boys in daughters old room? Will it work? | | |
Yes, a down comforter. I think the duvet was from the Company Store?

As for futons being uncomfortable -- when you are 10, nothing is uncomfortable!

wouldnt any trundle fit underneath, tho?
---
| | | |
| --- | --- | --- |
| RE: Boys in daughters old room? Will it work? | | |
The valance definitely has to go for a boys' room. Plus, they will want the room to look different than it did when their sister lived there. They are only 10, but they still want their "own" space and not feel like they are living in their sister's room.

Keep the valance and you could always hang it back up if you ever use the room for another purpose in the future.

I'd do bamboo shades, and if you can't get room darkening ones, then at least get lined ones and use a dark brown room darkening curtain.

I think the bamboo and the brown would go very well with their furniture and it's neutral enough to go with any other color you put in there.
---
| | | |
| --- | --- | --- |
| RE: Boys in daughters old room? Will it work? | | |
sleepovers took place alot in our basement... we have extra mattresses they could pull out, couple of couches and a couple of comfy recliners... it always amazed me that boys would CHOOSE to sleep in the recliners- they swore they were comfy! it all depends on the piece!

the problem with a sofa bed is 'they' might not want to 'sleep with' someone...especially from maybe ages 12-16 or so... so you still might only have one on that queen mattress and one on the floor!
---
| | | |
| --- | --- | --- |
| RE: Boys in daughters old room? Will it work? | | |
But they do have sleeper sofa's in single chair size, too. Not sure of price or quality, but I thought I saw some at Ikea. It,s just foam that folds out to the floor.
---
| | | |
| --- | --- | --- |
| RE: Boys in daughters old room? Will it work? | | |
Like this...
http://www.ikea.com/us/en/catalog/products/S59840000/
Here is a link that might be useful: Sleeper chaiR
---
| | | |
| --- | --- | --- |
| RE: Boys in daughters old room? Will it work? | | |
There are sleeper chairs with pullout mattresses just like larger sofas. I saw one at Macy's recently but I know others have them too. Kids seem to like the fold out foam type just fine though and they are easy enough to open and close, even to move to another room, that they may use them for reading or watching TV as well as sleeping. They are less of a financial commitment too -- the sleepover stage will phase out quicker for guys than girls.

The problem with some trundle frames or some bed frames is that if they were not made to go together, the opening may not be large enough. It is more likely to be an issue with the bed frame and the size and spacing of the legs. The trundle frames may vary a bit, but the bed frame opening can vary. We looked at that with my son's bunk beds. After we took them down as bunks, they wanted a trundle. We could not fit a trundle frame, so we encased the mattress o protect it from dirt and wear and just slid it in under the bed. We didn't have the width or height for a frame. It worked for us.
---
| | | |
| --- | --- | --- |
| RE: Boys in daughters old room? Will it work? | | |
I agree with two sleeper chairs.
---
| | | |
| --- | --- | --- |
| RE: Boys in daughters old room? Will it work? | | |
The boys are ten and they told their mother they don't care about the valence. Most boys don't. If they can live with the valance, let them! In a couple years if it is important to them then they can have all the input they want. Don't sweat the small stuff.
---
| | | |
| --- | --- | --- |
| boys' room | | |
I don't know if I will ever be able to type well on this darn android.....

I meant to tell a story that may help you with the extra sleeping space for sleepovers. Earlier this summer my youngest dtr said she wanted to have a sleepover here with her four life-long friends. Why, how wonderful! The girls slept in the basement family room as they had done for years, two girls on the bed, one on each couch, and one/two on the floor. They had a wonderful time.

The thing is they are 27 and 28 years old! Two of them are married, one brought her one-year-old dtr. They are all professional women...a biologist, a social worker, a staffer in the American Embassy in Spain, and two teachers with masters degrees. Beds? Who needs 'em!
---
| | | |
| --- | --- | --- |
| RE: Boys in daughters old room? Will it work? | | |
When I first glanced a few days ago I thought the valances were feminine but I have changed my mind and definitely think they could work. Pulling out the blues and using some brown could do a lot.
I agree with the ideas of the sleeper chairs for sleepovers. Folded up they will be great for lounging and reading. I can also see them going to a college apt,etc.
My personal opinion....decorating is very personal and artistic/decorative tastes very, so to say that something "must" go is really uncalled for.
---
| | | |
| --- | --- | --- |
| RE: Boys in daughters old room? Will it work? | | |
The OP asked for our opinion. "Truthfully" she said. Truthfully, I wouldn't put them in a boys' room. But if the OP likes them and the kids don't care, then keep 'em in!
---
| | | |
| --- | --- | --- |
| RE: Boys in daughters old room? Will it work? | | |
I don't see any issue with the room. But then we avoid pigeon holing our kids into gender stereotypes. I would never suggest something be too girly for our son or too masculine for our girls.

The easiest way to see if it would work is to actually ask your sons if they like the room and if there is anything they would like to change. No need to suggest they might not like something because of gender.
---
| | | |
| --- | --- | --- |
| RE: Boys in daughters old room? Will it work? | | |
Sherrmann I love that story!
---
| | | |
| --- | --- | --- |
| RE: Boys in daughters old room? Will it work? | | |
You're right, jenangelcat. My son picked purple for the color of his dresser drawers and my daughter has a poster of Darth Vader in her room. I probably don't like the valences because I don't like valences in general. If it was for her daughter's room, I would have said take them out too. :-)

Anyway, I don't mean to keep up the debate (if there even is one!), but I wanted to clarify so no one thought I was being rude.
---
| | | |
| --- | --- | --- |
| RE: Boys in daughters old room? Will it work? | | |
Sherrmann, I had a sleepover here with all my married girlfriends and it was a blast! Until our husbands crashed the party..we quickly sent them home. lol

Red Lover, I have the same SW Bagel in my LR and I agree, it has no peach undertones.

I think for now you can get away with leaving the valance up. The valance has stripes on them which is a common touch in a boy's room.

They only look a bit girly because of the white blinds. If you add some dark tan or brown shades it will dramatically change the room to achieve a masculine feel.

Even though the boys are only 10 right now, they'll be 11, 12, and 13 before you know it, and trust me, they will let you know if the valance needs to go. :)
---
| | | |
| --- | --- | --- |
| RE: Boys in daughters old room? Will it work? | | |
Lascatx-- "If the valance is old, you got your money's worth and it's okay to let it go." I smiled when I read that. It reminded me of trying to get one of your kids to let go of their security blankie or Pooh. I remember how much fun Hannah and I had doing her room and I guess I do need to think about letting it go ;-)

Mtnrredux -- love Company Store. Looked for the denim duvet cover and only found the bed skirt. Do you think the duvet cover is discontinued? I love that look. I thought trundles always came with beds, I didn't realize you could purchase them separately till you pointed it out. I don't know if one would fit under our beds. Love the encapsulated mattress idea too.

Geokid--had never really looked into bamboo shades, because our old lake has has them in the kitchen and they don't darken. They came with the house. I just looked at them again online and was pleasantly surprised at the selections, colors, and that you can get them with an optional liner to darken the room. Thanks for the suggestion.

Busy bee-- when my dds were in high school and even older, we had girls all over our basement. Sprawled everywhere. Wouldn't have had it any other way :-) the night before oldest dd's wedding 2 yrs ago, I had 8 bridesmaids "sleep over" . They don't mind sharing, but you are right boys will not as time goes on.

Anitamo and Ellen-- love the sleeper chair, but couldn't find a picture of it opened up. Had no idea there was any such thing. 2 would fit nicely in their room.

Sherman--I loved your story. That your dd wanted to do that says something special about how she feels about "home".

Anne-- thank you for your opinion. We are moving them down there this afternoon and I'm leaving the valance just for now. So well see :-)

Geokid--I did ask for honest opinions and I appreciate yours.

Jennangelcat--my boys don't care. At least they say they don't. Which is surprising because they are so different. One is sweet and sensitive, the other is all boy. I should just make the room neutral...and let it evolve!

Oakleyoak--thanks. Your sleepover sounds fun. The white blinds are definitely going. That was one spendy thing I got for this house that I'm gradually replacing throughout. Bugs die inside them, no good way to clean them, etc. About the boys.... They are definitely different animals than my girls were.

Thanks all. Woke up with a little anxiety about not having my "babies" across the hall from me after 10 yrs . Guess I need to get over it and get to work. Stay tuned for pictures after move!
---
| | | |
| --- | --- | --- |
| RE: Boys in daughters old room? Will it work? | | |
Sorry this is a bit off the topic....but Geo, I apologize if I came across rudely.
I actually wasn't referencing you because yours came across as an opinion. I know we are all expressing opinions and I am probably a bit touchy.
I think I am used to posting in a couple politically charged forums where you have to state that this is only my opinion every five words! LOL. Again if I was offensive or rude to anyone I am sorry!!!
And I agree...ask the kids they will tell you EXACTLY what you think!
---
| | | |
| --- | --- | --- |
| RE: Boys in daughters old room? Will it work? | | |
Ann, no, I didn't think you were rude, I was only clarifying my statement in case others thought I was. Just like you just did. :). It's hard to communicate via writing only. That's why I overuse smiley faces. Usually, if I think anything might be misconstrued, I put one in. I'm not always that bubbly and smiley. :) There I go again!

Red, good luck with all the changes in your house! My baby just went off to kindergarten and I think I'm having a bit of a breakdown.
---
| | | |
| --- | --- | --- |
| RE: Boys in daughters old room? Will it work? | | |
Red, don't think that I don't understand. I'm a bit frugal and sometimes hang onto things too long because of it. Also, we moved my dad over the summer and I now have a house with both things I wanted to someday have and things I didn't plan on having plus all that I already had and am trying to sort out what stays, what goes and what is worth holding onto a couple/few years until the boys are out of college. For me, it is more furniture and photographs, but it's still too much stuff and hard to make some of the choices.
---
| | | |
| --- | --- | --- |
| RE: Boys in daughters old room? Will it work? | | |
Geokid--try to enjoy it...if you are like most of us you've worked hard and you deserve a little down time. It's hard to let go, especially girls. You'll get used to the quiet house and maybe even enjoy it. Give it time.

Lascatx-- I gotcha about the stuff of our parents. I'm at that stage of life also. Store the stuff if there is any doubt. Throw out the carp. If you can't ddecide, or if in doubt--keep it, and decide later. . Especially the furniture. You never know what your kids may want in 10 yrs. I hated this piece growing up. Hated it. Dad left it to me. Practical joke? Now it takes a place of honor in my foyer, and I smile every time I look at it. Oldest dd loved ultra modern, now all of a sudden she's eyeing a couple of my Terry Redlins. Feel for you. Do you have to do it alone?
---
| | | |
| --- | --- | --- |
| RE: Boys in daughters old room? Will it work? | | |
Is that a spam set above???

Anyway, I'm not doing it completely alone -- my brother and SIL came into town for the actual move and clean out of the house. They took a couple of rooms of furniture, rugs and other things. My sister took a sofa and large (dining table sized) coffee table and my dad took most of the rest. My biggest problem is just finding time. I was trying to cut back on other commitments this year and somehow stuff is coming at me like never before. I can't seem to get ahead and the holidays are starting to scare me. This may be the year I don't host everyone for Thanksgiving. I suspect the family will survive.
---
| | | |
| --- | --- | --- |
| RE: Boys in daughters old room? Will it work? | | |
I don't think the valance is too girly at all and if you want to introduce another color, paint the top part of the valance with fabric paint. It works great.
---
| | | |
| --- | --- | --- |
| RE: Boys in daughters old room? Will it work? | | |
To me, nothing in the picture screams "feminine". I do not have kids, but I think it would be fine as long as the boys don't hate those particular colors.
---
| | | |
| --- | --- | --- |
| RE: Boys in daughters old room? Will it work? | | |
Due to fears of cords possibly, or my sew it yourself nature, all my children ever had in their rooms were valences on top of roller shades. As my son grew up we made him new ones. Never once did he consider valances were "girly" or "boy". He could careless! He wanted his privacy and the proper lighting for sleeping late. His last one at 17 or so he picked out the fabric to match a quilt a girlfriend made for him, a fish scale design, and did insist the scales be swooping "the right" direction. Other than that he had no comment. The valance could go or stay he really did not care. I really doubt your boys will care and who other than other little boys will ever be in there?
---
| | | |
| --- | --- | --- |
| RE: Boys in daughters old room? Will it work? | | |
This site has awesome kids lighted wall art. Your boys can choose ones they like over each bed or something. Great night lights too because low energy L.E.D.
Here is a link that might be useful: hlcarvings
---
Post a Follow-Up
Please Note: Only registered members are able to post messages to this forum.
If you are a member, please log in.
If you aren't yet a member, join now!
---
Return to the Home Decorating & Design Forum
Information about Posting
You must be logged in to post a message. Once you are logged in, a posting window will appear at the bottom of the messages. If you are not a member, please register for an account.
Posting is a two-step process. Once you have composed your message, you will be taken to the preview page. You will then have a chance to review your post, make changes and upload photos.
After posting your message, you may need to refresh the forum page in order to see it.
Before posting copyrighted material, please read about Copyright and Fair Use.
We have a strict no-advertising policy!
If you would like to practice posting or uploading photos, please visit our Test forum.
If you need assistance, please Contact Us and we will be happy to help.

Learn more about in-text links on this page here