Return to the Home Decorating & Design Forum
|
Post a Follow-Up
---
| | | |
| --- | --- | --- |
| Hallway Lights - help! | | |
Posted by
sparkler39
(
My Page
) on
Wed, Aug 14, 13 at 23:42
I posted earlier in the lighting forum but there doesn't seem to be much activity over there.

I'm running into a brick wall with my hallway lights and am sincerely hoping that someone might have some insight. I have a hallway about 24' long and 40" wide. There are no windows in the hallway so it's pretty dark. First, I ordered these lights:

http://www.shadesoflight.com/metropolitan-square-flushmount-ceiliing-l ight.html

But when they were installed they were SO dim because the frosted glass was THICK. So they got returned.

Then I ordered these lights:

http://www.lumens.com/90-Square-Flushmount-by-Tech-Tiella/PAAAIAMBPGPM BPDH/Product?utm_source=google&utm_medium=cpc&utm_term=+tiella +90%2 0+square&utm_campaign=Tech_Lighting-BMM&gclid=CLmh057d_bgCFdKj4AodhQIA eA

But they're backordered and won't be here for at least two weeks and we're hoping to close in the next two weeks.

So I found these lights today:

http://www.z-lite.com/product/171-16b-c/

And they're in stock and ready to ship. But I have a few concerns. First off, there are several models of this light but I think I need the 3 bulb light (with the 4.5" mounting post) in order to put off enough light in the hallway. I really like the black shade but I'm wondering if it will be too dark in the hallway with just random "spot lights" at the bottom of the lamp. Then I'm wondering if a 18" wide drum is going to be too big and out of proportion for the 40" hallway...

So does anyone have any experience with either of the two lights and/or have any other suggestions?
Here is a link that might be useful: Home-Building Blog
---
Follow-Up Postings:
| | | |
| --- | --- | --- |
| RE: Hallway Lights - help! | | |
The ones that are back-ordered don't appear in the link. I get a message that says 'The product you requested is currently not available.'

I didn't see the height of your ceilings listed in your blog, but for myself, I can't picture a light fixture that is half the size of the hallway overhead. How many fixtures do you need?

To close, could you get something very inexpensive at one of the big box stores, and then install the ones we can't see when they arrive in stock?

Is the one I have linked below the one that is back-ordered?
I see that it says -

Large option utilizes two 40 Watt 120 Volt G9 Base Halogen lamps (included).
Small option utilizes one 40 Watt 120 Volt G9 Base Halogen lamp (included).

Which size were you getting?

I found this elsewhere -'The nominal lumens for a 60 watt incandescent A-lamp is 740. A similar bulb that is a 40 watt halogen is 900 lumens. So not a huge difference (around 20%), though the whiter output from the halogen can make it seem brighter to the human eye.'

Will that seem bright enough for you?
Here is a link that might be useful: 90 Square Flushmount by Tech-Tiella
---
| | | |
| --- | --- | --- |
| RE: Hallway Lights - help! | | |
If you need it in a hurry, just go to HD or lowes and get something...

the black shades are going to be way too dark, esp if you thought the glass shades were.

Get something that is light and bright and inexpensive. You seem to lean toward a more modern look, so how about this square one.
Here is a link that might be useful: semi flush mount light
---
| | | |
| --- | --- | --- |
| RE: Hallway Lights - help! | | |
I like AnnieDeighnaugh's suggested fixture because by using a fixture that hangs down and bounces the light up on to your ceiling, your ceiling then becomes the "light fixture". Indirect ambient light. You'll be able to keep your wattage low to save on energy and still have a comfortably lit hallway.
Here is a link that might be useful: Here's another option
---
| | | |
| --- | --- | --- |
| RE: Hallway Lights - help! | | |
Thanks for the tips! I definitely lean more towards modern and I love both the examples you all gave.

My3Dogs, that is the light fixture. And I actually called this morning and they told me that (even though they sent me an email yesterday saying the lights weren't going to ship for two weeks) that they actually shipped on Monday and will be here tomorrow. So I am going to ask the electrician to hopefully hang one of each in the hallway so that I can see which works better. (He's a very patient man).

Annie and Beverly, I wish Lowe's and HD carried lights like those in stock...at least around me, the 3 Lowe's and 1 HD have awful options available - that was actually the first place I went but couldn't find anything I liked.

I'm not a fan of the dreaded "boob" light and that's pretty much all the flush mount and semi-flush mounts they offered.
---
| | | |
| --- | --- | --- |
| RE: Hallway Lights - help! | | |
I wanted to thank everyone for their help in finding hallway lights! I ended up having my electrician install both lights so that I could see what they looked like in our house. I decided to purchase the Z-Lite drum shade pendants and I LOVE the way they look!

My main concern about these lights was that they'd be too big for our hallway but I actually really like the interest they bring to a boring ol' hallway! :)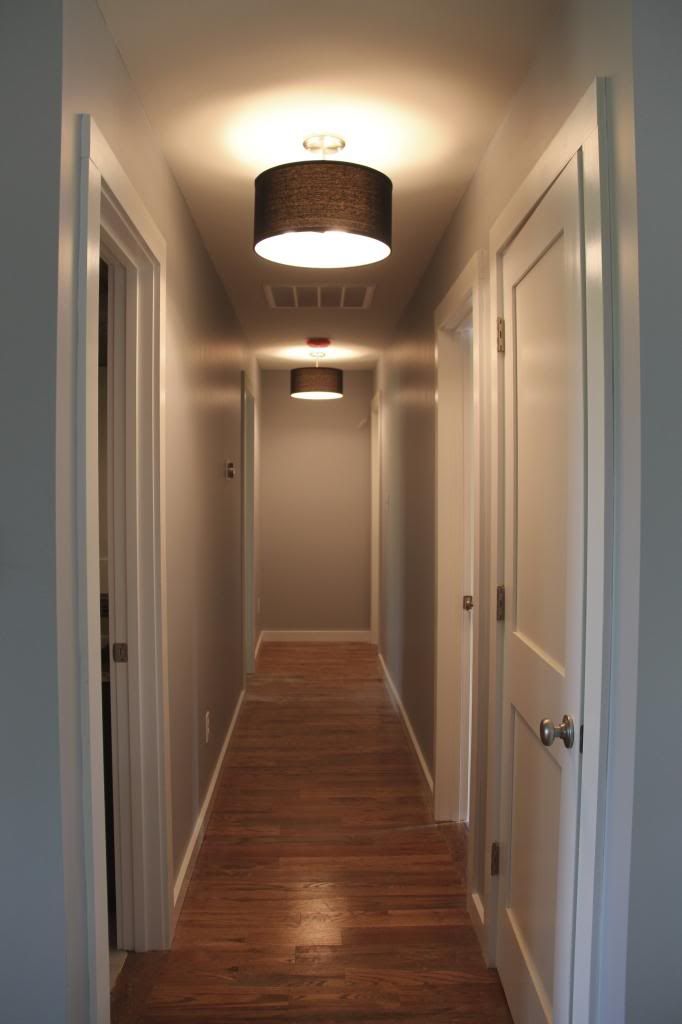 They're nice and bright. I haven't quite decided if I want to add in the linen diffuser that came with them. I kind of like the way the light bulbs look from below the light.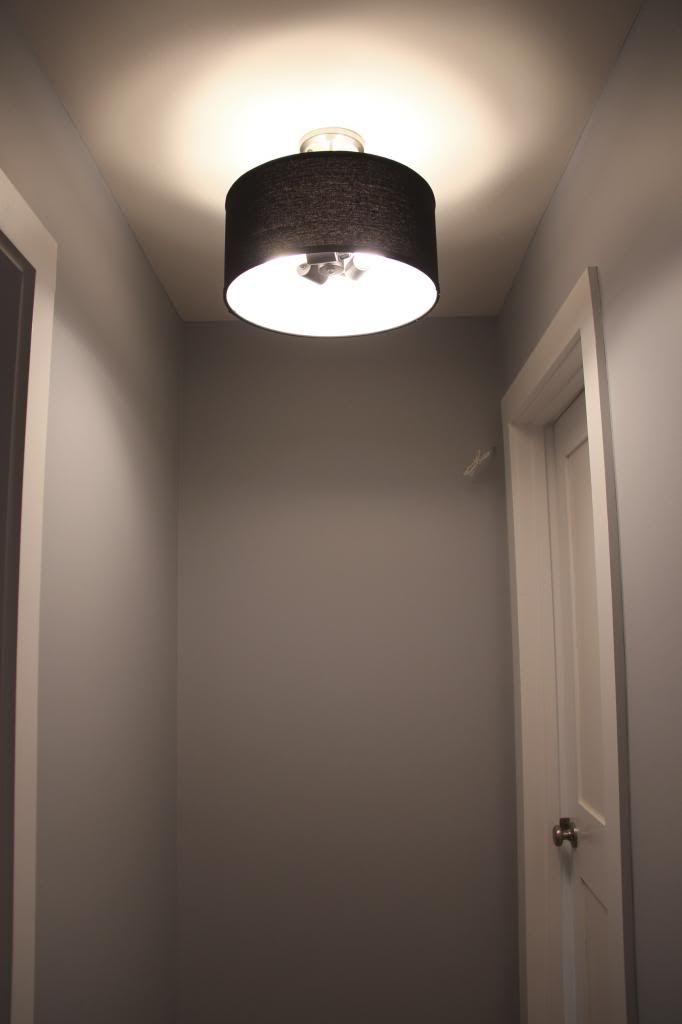 Anyway, thanks again!
Here is a link that might be useful: House-Building Blog
---
| | | |
| --- | --- | --- |
| RE: Hallway Lights - help! | | |
They look great- and having the 2 in the hallway really give it extra oomph. Enjoy!
---
| | | |
| --- | --- | --- |
| RE: Hallway Lights - help! | | |
Thanks for following up. I love seeing what happens after a question is posted. My hallway is similar to yours, and now I'm thinking in a whole new way.
---
| | | |
| --- | --- | --- |
| RE: Hallway Lights - help! | | |
Certainly brightens the hall. I'd add the diffuser as it finishes the fixture...better than bare bulbs.
---
| | | |
| --- | --- | --- |
| RE: Hallway Lights - help! | | |
They look great...wish I had thought of something like this before I replaced my hall lights....although I did NOT get boob lights!
---
| | | |
| --- | --- | --- |
| RE: Hallway Lights - help! | | |
I never would have thought to do that with drum lights but it looks terrific.
---
| | | |
| --- | --- | --- |
| RE: Hallway Lights - help! | | |
They look great! I'm so glad you came back to share. I have a shorter hallway that is very boring (just doorways, no space for art really). And I've thought about doing a semi-flush light to add some interest and wondered how it would look. This really helps me visualize. Thanks!
---
| | | |
| --- | --- | --- |
| RE: Hallway Lights - help! | | |
It looks lovely! I am so glad you posted this.
---
| | | |
| --- | --- | --- |
| RE: Hallway Lights - help! | | |
Thanks all! Light fixtures have definitely been my most frustrating decisions but I'm super excited about them! I just wanted to share my two other favorites! Our foyer chandelier:
And our mudroom/entry nook light fixture: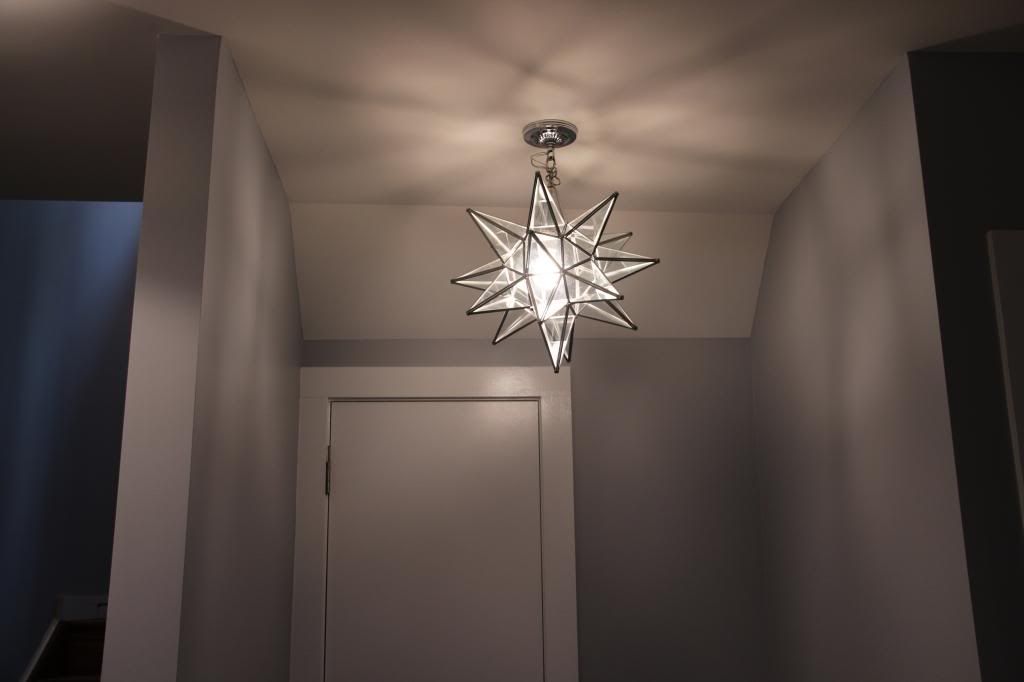 Here is a link that might be useful: House-Building Blog
---
| | | |
| --- | --- | --- |
| RE: Hallway Lights - help! | | |
Wow, your other light fixtures are great too! Want to come light fixture shopping with me? I could use the help.
---
| | | |
| --- | --- | --- |
| RE: Hallway Lights - help! | | |
Love love your light fixtures in the hallway. I have wanted this in my hallway with a beige or white shade for a while now. I have been hard pressed to find pictures with this type of light fixture in a narrow hallway and with 8 foot ceilings - which it looks like yours are. So thank-you for posting the pictures.

Just out of curiosity how tall are your ceilings? My ceilings are 8 feet, and I only 38 inch wide hallways. What are the exact dimensions of your light fixture?
Thanks so much!!
---
| | | |
| --- | --- | --- |
| RE: Hallway Lights - help! | | |
Always, thanks! The fixtures are from Z-Lite and it's their Albion collection. Mine is a 3 light pendant that is approximately 8"H and 16"W. It's listed as a foyer pendant but comes with two different rods for different lengths. We used the short rod which is 4.5" but there's also a longer rod that's actually attached to the fixture when it arrives and can be 18-36" long. Both rods are in the box, you just have to look for the shorter one!

We have 8 foot ceilings and our hallways are about the same as yours, 39." We do have pretty thick door trim though that sticks out so we're probably basically the same as your 38."

Prickly, whew, it took forever to pick lights. And whenever I thought I'd picked one, something went wrong (out of stock, wrong size, cracked shade, etc.) and I'd have to start over again! I'm so excited that I can sleep again! Good luck choosing yours! I hope you'll post your options!
---
Post a Follow-Up
Please Note: Only registered members are able to post messages to this forum.
If you are a member, please log in.
If you aren't yet a member, join now!
---
Return to the Home Decorating & Design Forum
Information about Posting
You must be logged in to post a message. Once you are logged in, a posting window will appear at the bottom of the messages. If you are not a member, please register for an account.
Please review our Rules of Play before posting.
Posting is a two-step process. Once you have composed your message, you will be taken to the preview page. You will then have a chance to review your post, make changes and upload photos.
After posting your message, you may need to refresh the forum page in order to see it.
Before posting copyrighted material, please read about Copyright and Fair Use.
We have a strict no-advertising policy!
If you would like to practice posting or uploading photos, please visit our Test forum.
If you need assistance, please Contact Us and we will be happy to help.

Learn more about in-text links on this page here