Return to the Home Decorating & Design Forum
|
Post a Follow-Up
---
| | | |
| --- | --- | --- |
| What do do with 'extra' fabric? | | |
Posted by
Selcier
(
My Page
) on
Thu, Aug 28, 14 at 23:37
My funds do not allow me to purchase yards of designer (Thaibaut, Canovas, etc.) I have been able to find sample sizes that are up for sale on etsy. They are normally about 26 x 26. What sorts of things can I use them for. I'll I've come up with is throw pillows and footstool upholstery. Any good ideas for home decor?
---
Follow-Up Postings:
| | | |
| --- | --- | --- |
| RE: What do do with 'extra' fabric? | | |
I use little strips to spice up my hanging pots and planters for my hoya hoard,...I mean, collection. I glue them onto the thicker plastic pots, and then seal with Mod Podge, making sure to avoid the top, bottom and inside. Wait for it to cure, and presto! You can also spruce up picture frames with fabric. And you can glue especially pretty pieces onto a piece of canvas, Mod Podge it, and presto! You have a small, but pretty accent that you can hang on a wall!
---
| | | |
| --- | --- | --- |
| RE: What do do with 'extra' fabric? | | |
Ooh frames is a good idea! Unfortunately, our house it where plants go to die. :(

I did actually find another idea: tissue box covers. If anyone was interested.
---
| | | |
| --- | --- | --- |
| RE: What do do with 'extra' fabric? | | |
If you have window treatments, you can use the fabric to make tie backs so you can bring the colors you want to solid color panels.

You can use that size to make place mats that mix 'n' match.

If you're into quilting at all then you can patchwork quilt the samples into a table runner.

You can cut the fabric and sew on towels to add trim to guest towels in the powder room.

Antimacassars

Chair pad

Table scarf...like a topper for a night stand or you can make a solid color skirt for a round table and use the decorative fabric as a scarf on top.

Depending on the weight of the fabric you can make napkins or use it to line bread baskets.

You can back the fabric with iron-on interfacing so it won't ravel and use it to make book covers for less attractive books in your book case.

If you need other storage say a box or basket in a bookcase or open storage in a laundry room, you can decorate the basket with the fabric.

Mother used to like to make the "tie on" hand towels...you cut the towel in half and then use decorative fabric and seam binding to make 2 tie-on towels.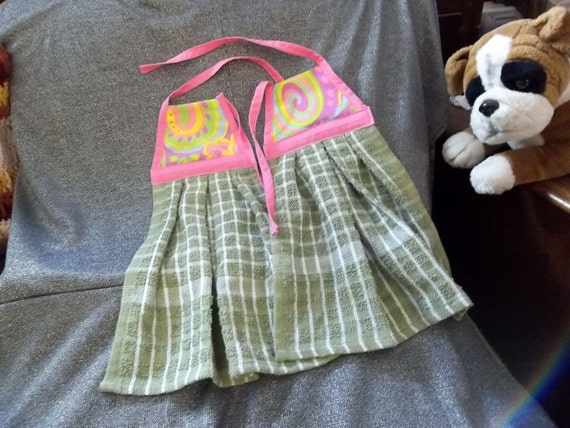 ---
| | | |
| --- | --- | --- |
| RE: What do do with 'extra' fabric? | | |
Most home dec fabrics can't be washed and dried so they're not really good candidates for use in the kitchen for any purpose. Frankly, I would be inclined to stick to applications like pillows, where you would normally find that type fabric, otherwise your house starts looking like a craft fair.

I also love the tie back idea, as that gives you a lot of impact for a small amount of fabric--- but only if you planned to use tie backs in the first place. (The size you describe may mean they are memo samples, provided by and to designers by the manufacturers / reps for short term use. I have always been sent envelopes to return them to the showrooms but only return the ones I pass on.)
---
| | | |
| --- | --- | --- |
| RE: What do do with 'extra' fabric? | | |
IF you get enough of one pattern, you could make cushions for your DR chairs. You would need to back them in a different color.
---
| | | |
| --- | --- | --- |
| RE: What do do with 'extra' fabric? | | |
Take the 26x26 square and applique it onto a larger background fabric and use it as part of the upholstery.

Sew them together and have a patchwork upholstered piece ... all or part of it.
---
| | | |
| --- | --- | --- |
| RE: What do do with 'extra' fabric? | | |
kswl, I disagree. While certainly there are home dec fabrics that wouldn't be good for washing like satins or velvets, many of the prints are 100% cotton or cotton blends that are washable and durable.
---
| | | |
| --- | --- | --- |
| RE: What do do with 'extra' fabric? | | |
I guess we can disagree, Annie :-) The cleaning instructions I have on upholstery and curtain fabrics generally say dry clean only, even cotton and cotton rich materials. They are usually too heavy for things like napkins anyway--- although I guess they would work for placemats in a pinch, but from what selcier is describing, each mat would be in a different fabric.
---
| | | |
| --- | --- | --- |
| RE: What do do with 'extra' fabric? | | |
Bar stool covers. basket liners, hot pads. Someone made my mom a beautiful beanbag/pillow about 4-5 inches and filled it with wonderful cinnamon, cloves and other Christmasy spices. You couldn't help touching it and then the smells. Yum! I think it was made of fancy ribbons, but would be just as nice in a rich fabric. Once I bought a table runner - 90% off at Pier one. They have glitzy ornaments and tassels on the end. Looked like dark green silk. I cut the decorated ends off and hung them on little wooden dowels pretty beads on the ends of the dowels and coordinating ribbon to hand them from. They made great Christmas wall hangings and I got so many compliments on them. $4 for both, plus some things I had on hand already. Have fun!
---
| | | |
| --- | --- | --- |
| RE: What do do with 'extra' fabric? | | |
Yes, she could get a country or bohemian look from various prints.

Curtains that are lined and such should be dry cleaned as the fabrics may shrink differently and can lose their finish. Additionally, header material like buckram may lose stiffness. However, when you are working with a single fabric that can be prewashed, they can continue to be washed.

But rather than presume what weight fabrics Selcier is purchasing, I'm just throwing out ideas for using small fabric squares.

edited to eliminate the freakin' ipad generated typos!!!
This post was edited by AnnieDeighnaugh on Sat, Aug 30, 14 at 7:51
---
Post a Follow-Up
Please Note: Only registered members are able to post messages to this forum.
If you are a member, please log in.
If you aren't yet a member, join now!
---
Return to the Home Decorating & Design Forum
Information about Posting
You must be logged in to post a message. Once you are logged in, a posting window will appear at the bottom of the messages. If you are not a member, please register for an account.
Please review our Rules of Play before posting.
Posting is a two-step process. Once you have composed your message, you will be taken to the preview page. You will then have a chance to review your post, make changes and upload photos.
After posting your message, you may need to refresh the forum page in order to see it.
Before posting copyrighted material, please read about Copyright and Fair Use.
We have a strict no-advertising policy!
If you would like to practice posting or uploading photos, please visit our Test forum.
If you need assistance, please Contact Us and we will be happy to help.

Learn more about in-text links on this page here