Return to the Home Decorating & Design Forum
|
Post a Follow-Up
---
| | | |
| --- | --- | --- |
| which mirror do you like best | | |
Posted by
zen4d
(
My Page
) on
Sun, Aug 26, 12 at 23:25
I'm redoing a bathroom and have eclectic taste with a strong leaning toward contemporary.

My vanity is martha stewart seal harbor, my floor tile is Porcelanosa grey, and the wall tile (surrounding tub) is Porcelanosa Yakarta Blanco. I will paint the walls (color to be determined).
Here is a picture of the 3: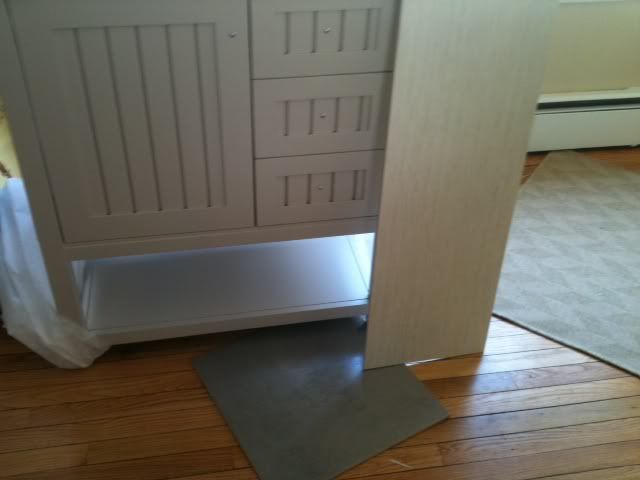 better picture of floor tile - the light grey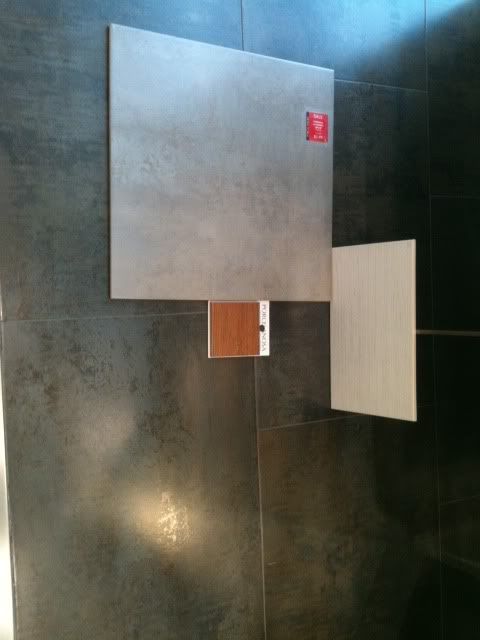 Which mirror do you like best?
#1

#2

#3

#4 (this is the one that matches vanity Martha Stewart - wood frame in same color as vanity.

Lighting yet to be done, depending on look of mirror.
---
Follow-Up Postings:
| | | |
| --- | --- | --- |
| RE: which mirror do you like best | | |
The MS vanity is very cottage in feeling, so I think if you are wanting a more contemporary look I would not go with the matching mirror. Of the other three you have posted, my preference would be #3. I like the finish, and the thinner frame with the intersecting pieces picks up on the narrow strips of the beadboard in the vanity.

The first one feels very traditional to me, and I just don't care for the second one.

You might consider finding something more oval or round, just to balance all the very strong angles you will have in the tile and cabinet.
---
| | | |
| --- | --- | --- |
| RE: which mirror do you like best | | |
I like number 2 because of the oval shape but I'm just not sure about the colour. What finish will your hardware and taps be? does the second mirror have grey in it? - if so I would only use it if the white of the vanity has a grey base to it.
---
| | | |
| --- | --- | --- |
| RE: which mirror do you like best | | |
thnaks, both. I felt the same way about 3, picking up on the beadboard.
There's only one vanity. I will take a look at some oval/round shapes. Hardware is polished nickel

.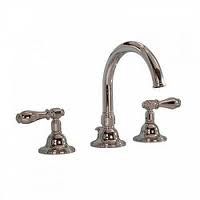 ---
| | | |
| --- | --- | --- |
| RE: which mirror do you like best | | |
i like #1 best... i like it's style and i prefer mirrors that are beveled...
my 2nd choice would be 3, but it just looks too plain...
---
| | | |
| --- | --- | --- |
| RE: which mirror do you like best | | |
Would you consider something like this? I think the beveled pieces on the edge echo the strips of the beadboard, but give you the softer feel of the oval.
---
| | | |
| --- | --- | --- |
| RE: which mirror do you like best | | |
les, you are so helpful. Thanks. I was looking at that. I didn't realize it would work with the beadboard though. Do you like that better than just a plain oval with beveled edge? Also, do you think oval is preferable to round?
---
| | | |
| --- | --- | --- |
| RE: which mirror do you like best | | |
I like the oval-shaped too. I think the shape would go better with your design, but am not sure about the color.
---
| | | |
| --- | --- | --- |
| RE: which mirror do you like best | | |
Ooh, I like the one Les linked to. The first one you posted is now my second favorite.

Lovely tile choices, BTW!
---
Post a Follow-Up
Please Note: Only registered members are able to post messages to this forum.
If you are a member, please log in.
If you aren't yet a member, join now!
---
Return to the Home Decorating & Design Forum
Information about Posting
You must be logged in to post a message. Once you are logged in, a posting window will appear at the bottom of the messages. If you are not a member, please register for an account.
Please review our Rules of Play before posting.
Posting is a two-step process. Once you have composed your message, you will be taken to the preview page. You will then have a chance to review your post, make changes and upload photos.
After posting your message, you may need to refresh the forum page in order to see it.
Before posting copyrighted material, please read about Copyright and Fair Use.
We have a strict no-advertising policy!
If you would like to practice posting or uploading photos, please visit our Test forum.
If you need assistance, please Contact Us and we will be happy to help.

Learn more about in-text links on this page here