Return to the Home Decorating Forum
|
Post a Follow-Up
---
| | | |
| --- | --- | --- |
| How shall I transform this pine armoire? | | |
Posted by
ideamom
(
My Page
) on
Sun, Aug 17, 08 at 23:15
I will be painting this armoire black but wondering if there is anything I can do to make this look more of british colonial style? Redecorating DD bedroom for her b-day & it is in a british colonial style. I looked at that texture wallpaper and considered putting it on the 4 flat panels before painting, but not sure if that would work for the style I'm after. Also wondering if a grasscloth wallpaper would add the texture I'm looking for. Any ideas??

---
Follow-Up Postings:
| | | |
| --- | --- | --- |
| RE: How shall I transform this pine armoire? | | |
I think the black paint should do that for you. I am not sure wallpaper on furniture adds a British colonial look. They had a lot of mahogany and even some painted black pieces. I think the wallpaper would lend an air of shabby chic or French to it and your bullseye trim on it gives it a more English look. The other woods they used were also very similar in color to your wood but not pine. They were local woods from the islands, I believe. Chippendale traveled a lot and I think the black integration in the furniture that he added was probably from China but he traveled both to the British occupied islands as well as to China. I believe he began to integrate the Honduran and flame mahoganies to come up with some of the inlaid looking patterns, but I forget my history so I stand corrected if that is wrong. I think most of his intricacy was in the rococo and cabriole legs that gave his "mark," to furniture although he never actually had a maker's mark. Now someone much better read and design correct me, but I think the piece will look more true british by just keeping it true but painting it black.
---
| | | |
| --- | --- | --- |
| What does the interior look like | | |
I would wallpaper the inside if anything because Brits certainly did that similar to our putting drawer lining paper from Crabtree & Evelyn in our chests but grass cloth would not adhere to that piece and would fall off. Also, grass cloth is quite hard to get to adhere even to prepped walls for long periods of time and needs to be adhere with a "metlesse" (I think is the name of it) glue which would destroy the integrity of your piece. But lining the interior would certainly be in keeping with it if you chose to do that, but make sure you prep it really well so the paper adheres.
---
| | | |
| --- | --- | --- |
| RE: How shall I transform this pine armoire? | | |
My idea of British colonial furniture has always been dark woods with ratan or other grassy woven areas added. Not painted. But then I tend to love the grain showing so I may have just overlooked the painted woods.
If you could find some rattan caning for the panels and use small nails and trim to hold it in place that would add not only dimension, but the BC look you are wanting.
You don't show the bottom of the armoire. Does it have feet? If not I would consider adding them. You can usually find great curtain rod finials that work great for BC looking feet. They are easy to add as I did in a redo of a inexpensive cabinet we bought to store software in.


I've also refinished our old living room tables for our daughter when she got her first apartment. Knotty pine didn't go with her style so we used a furniture refinisher (not stripper) and then used a water based stain to give it an exotic wood finish by using a light touch and different brush strokes. Since the waterbased stain didn't penetrate what was left of the original finish it allowed us to make our own grain. You can see the difference between the table after the refiniher was used and the finished piece setting on top of it.

---
| | | |
| --- | --- | --- |
| RE: How shall I transform this pine armoire? | | |
Thank you for those ideas. I know that they typically used Mahogany furniture but we decided it would be best to paint the pine furniture black instead of trying to stain all the furniture or replacing the furniture. So her room will be a bit of a twist on BC style but with certain BC elements. I do like the ideas of adding rattan to the panels and legs. Here is a photo someone here posted that used the textured wallpaper on a piece of furniture and I kept it for inspiration. I don't know if this would really give the look I want though but would give some texture to the armoire.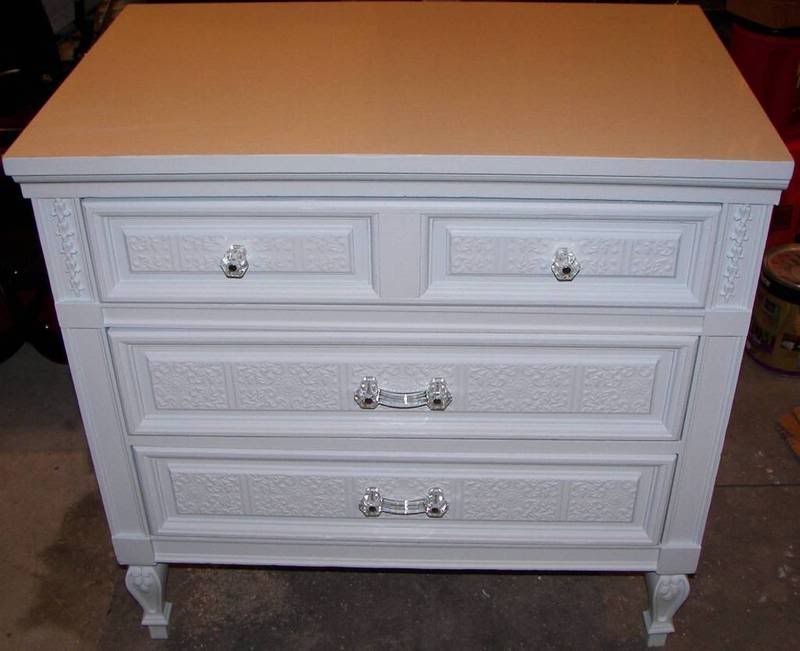 ---
| | | |
| --- | --- | --- |
| RE: How shall I transform this pine armoire? | | |
I think painted black with wallpaper inside will be smashing! Perhaps the knobs can be rattan or wicker. Maybe even the legs.
---
| | | |
| --- | --- | --- |
| RE: How shall I transform this pine armoire? | | |
justgotabeme,
You did a great job on that table.
Ideamom, Just remeber that those knots have to be primed or they will show thru faily quickly.
---
| | | |
| --- | --- | --- |
| RE: How shall I transform this pine armoire? | | |
Ideamom,you flatter me! That little ice blue dresser you posted as your inspiration is another item our daugher and I finished for her first apartment. It was given to her by my folks when she was a baby. We'd already repainted it once during her wild mid-teen days so the above picture was our second redo. She uses it now as a night table.
You might be able to find some textured woven look wallpaper at Lowes. I've gotten some from there for yet another project. Since you are painting it, it could be any color. Just prime first. I'm looking forward to seeing how your armoire turns out and your daugher's room as a whole too. I love decorating with our daughter as I did with my Mom. It's memories she'll keep forever. I have.

Lyban, thank you. We were really happy with how it turned out. I love wood and for a few years now have been into exotic woods. They are so very expensive I've decided to learn to faux paint them. I've just finished shelves for in our laundry room in Africa Padauk. Waiting for the poly to dry now. And recently did another piece with wall paper in the panels and the trim to look like wenge wood. I'm not sure if I posted it on this forum. I did on the organizing forum because I use the piece for keeping fabric organized.
This will also give a bit of an idea for IDEAMOM on how her armoire would look with wallpaper in the panels. Though mine were not painted to match the rest of the piece.

---
| | | |
| --- | --- | --- |
| RE: How shall I transform this pine armoire? | | |
Ideamom this paper from Lowes might work.....
Here is a link that might be useful: textured wallpaper
---
| | | |
| --- | --- | --- |
| RE.: How shall I transform this pine armoire? | | |
Post a Follow-Up
Please Note: Only registered members are able to post messages to this forum.
If you are a member, please log in.
If you aren't yet a member, join now!
---
Return to the Home Decorating Forum
Information about Posting
You must be logged in to post a message. Once you are logged in, a posting window will appear at the bottom of the messages. If you are not a member, please register for an account.
Please review our Rules of Play before posting.
Posting is a two-step process. Once you have composed your message, you will be taken to the preview page. You will then have a chance to review your post, make changes and upload photos.
After posting your message, you may need to refresh the forum page in order to see it.
Before posting copyrighted material, please read about Copyright and Fair Use.
We have a strict no-advertising policy!
If you would like to practice posting or uploading photos, please visit our Test forum.
If you need assistance, please Contact Us and we will be happy to help.

Learn more about in-text links on this page here