Return to the Home Decorating & Design Forum
|
Post a Follow-Up
---
| | | |
| --- | --- | --- |
| Do you agree with this decorator? | | |
Posted by
hayden2
(
My Page
) on
Sat, Aug 25, 12 at 23:01
We're redoing our upstairs bathroom now that the kids are out on their own. It's pretty small - about 7 x 8, plus the bathtub. We chose a Carrera marble vanity top with matching tile around the tub/shower and floor.

I had planned to do the walls in a blue gray and the vanity in white or cream. (I'm painting the old crummy oak vanity.)My friend is a decorator. She says white vanity will be lost and not ground the room properly. She's fine with the wall color (BM New Hope Gray, which reads blue/gray). But she suggested BM Steel Wool for the vanity.

What do you all think? It's so different from what I has in my mind and totally different groom what everyone else chooses. I really would like your thoughts. Thanks.
---
Follow-Up Postings:
| | | |
| --- | --- | --- |
| RE: Do you agree with this decorator? | | |
Her point makes sense to me ...
---
| | | |
| --- | --- | --- |
| RE: Do you agree with this decorator? | | |
The Steel Wool sounds pretty, but if you want the white on white look, that will work too. Look at all the pics on houzz of white on white. Maybe it will help to prime the dresser and then see what you think. It will be white then and maybe that will help you decide.

Here is more the look you were wanting...

Here is more the look she is suggesting...

---
| | | |
| --- | --- | --- |
| RE: Do you agree with this decorator? | | |
I think your decorator has made a great point. I think the darker color on the vanity will give the room some depth, but also let the vanity fade back a bit visually, so the marble and the wall color get to be the stars.

But here is a suggestion. Find a white sheet and using painter's tape, tape it to the front of the vanity.

Then do the same with a cheap piece of fabric you buy (or anything you have handy) that is close to the Steel Wool color, tape it the same way and study that there.

If you could wait until the Carrera is in, that would be best, but if not, you can at least see what the expanse of vanity in those colors might do to the space. Don't know what color the flooring is now, but maybe lay a white sheet on that as well if need be.

Finally, you could prime the vanity in white, get the marble in place, then decide if the final coats should be the white or the grey. The primer will give you a sense of the white, and you can do the fabric/tape thing for the grey.
---
| | | |
| --- | --- | --- |
| RE: Do you agree with this decorator? | | |
I think the gray vanity (BM Steel Wool) would set off the Carrera Marble countertop perfectly. Sounds wonderful!
---
| | | |
| --- | --- | --- |
| RE: Do you agree with this decorator? | | |
Potatoe Potatu, what do you like? Go with that.
---
| | | |
| --- | --- | --- |
| RE: Do you agree with this decorator? | | |
One thing to consider... doing white-on-white will create the illusion of more space. You said the room is small. Painting the vanity a darker color will create lines of visual contrast which will "stop the eye" and make the room seem smaller. It all depends on what you're trying to accomplish... and what you LIKE.
---
| | | |
| --- | --- | --- |
| RE: Do you agree with this decorator? | | |
Mine guest bath is small, I went with the white vanity, marble top, and white subway tiled shower wall.. I love it! (did the same in my master bath too) Even though she is a decorator, you have to go with what makes you happy, and "feels" right. I just had 3 chairs reupholstered, and the decorator at Calico corners kept leading me in a different direction (more bold) . It just isn't me.. I'm more soft colors.

Here is my bathroom -


masterbathroom
---
| | | |
| --- | --- | --- |
| RE: Do you agree with this decorator? | | |
White on white is a lot more difficult to pull off successfully. You need to focus on a lot more texture and shape differences in the white for it to be successful. And I don't think that the first pic is all that successful at doing it. There isn't enough shiny, or rough, or other shapes. And I don't think the second pic is any more successful with the single insert of color. It needs additional dark accessories in the room to integrate it better.

Although Tinker's bath wasn't done by a pro (You aren't a pro are you Tinker?) it's the most successful of those pictured because of the attention to texture and subtle pattern and contrast. The waffle texture of the shower curtain and the additional texture of the rug together with the subtle contrast of color on the walls keeps the white on white from being flat and lifeless, and that's a lesson that the first bath pictured could use. That floor pictured in the master is beyond fab and it adds a lot of character to the space as do the glass shelves and knobs and pulls. The darker walls work better as the instance of strong contrast here, but again, it's more successful because it's carried around the whole room. That's the lesson that the second bath could use.

Contrast of texture and repetition of design elements are VERY important when working with a mostly monochromatic color scheme, or even a high contrast dual color scheme.
---
| | | |
| --- | --- | --- |
| RE: Do you agree with this decorator? | | |
We put this Martha Stewart Home Depot vanity in my kid's all white bathroom. It looks really nice.
---
| | | |
| --- | --- | --- |
| RE: Do you agree with this decorator? | | |
I just finished a white on white bathroom. During the design process, I fought off several people who encouraged me to paint my cabinets dark gray (including one professional "designer" who saw the space) and told me "it's way too much white!!" I personally prefer a white vanity, especially with carrara counters. Go with your gut, and if your gut says white, stick with it.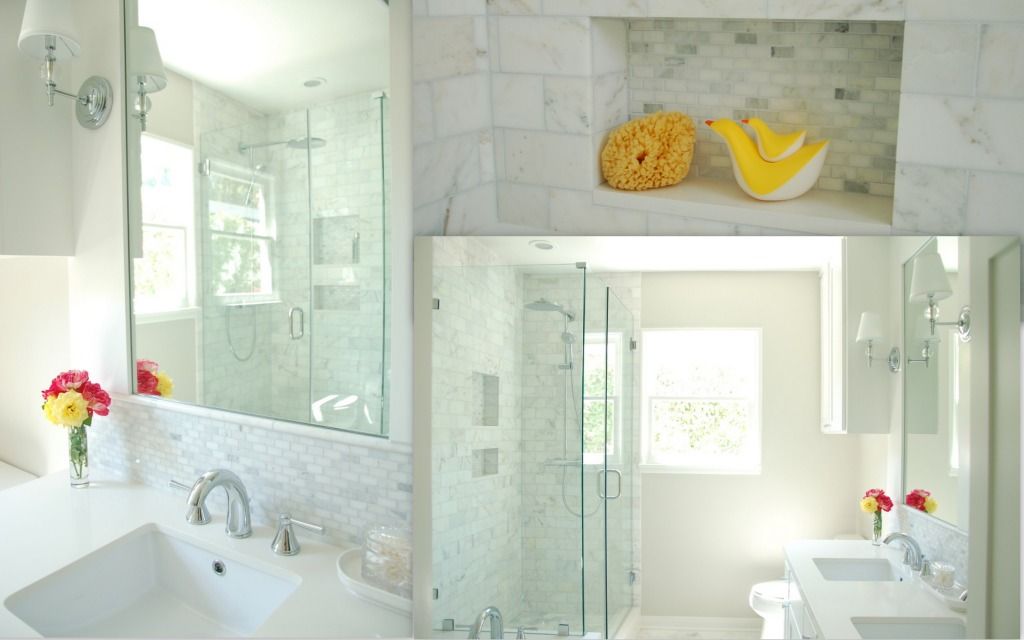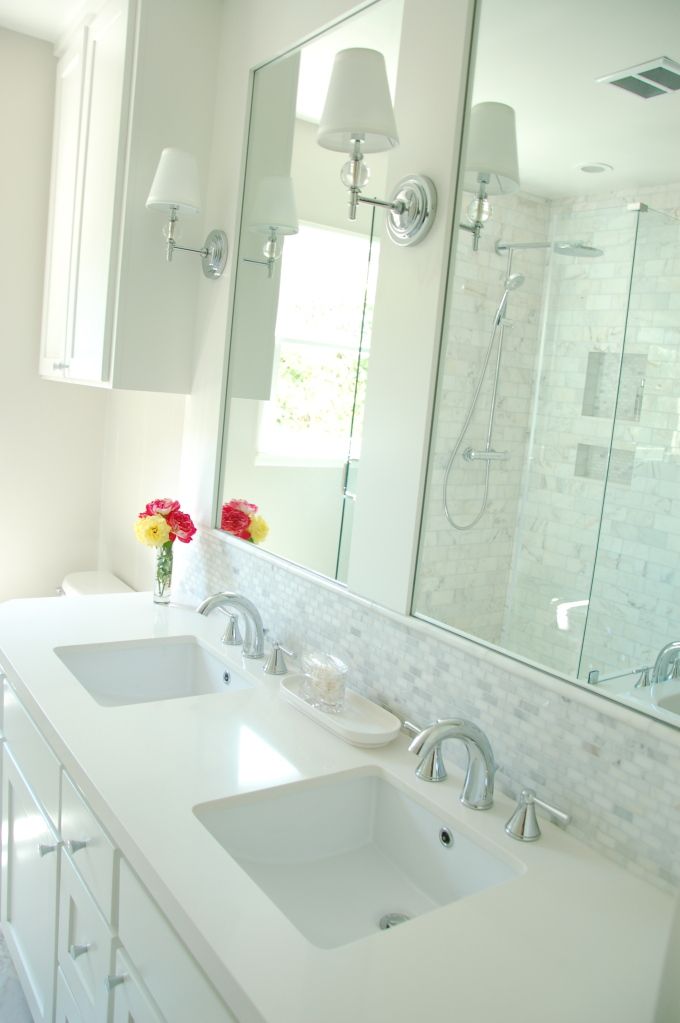 ---
Post a Follow-Up
Please Note: Only registered members are able to post messages to this forum.
If you are a member, please log in.
If you aren't yet a member, join now!
---
Return to the Home Decorating & Design Forum
Information about Posting
You must be logged in to post a message. Once you are logged in, a posting window will appear at the bottom of the messages. If you are not a member, please register for an account.
Please review our Rules of Play before posting.
Posting is a two-step process. Once you have composed your message, you will be taken to the preview page. You will then have a chance to review your post, make changes and upload photos.
After posting your message, you may need to refresh the forum page in order to see it.
Before posting copyrighted material, please read about Copyright and Fair Use.
We have a strict no-advertising policy!
If you would like to practice posting or uploading photos, please visit our Test forum.
If you need assistance, please Contact Us and we will be happy to help.

Learn more about in-text links on this page here