Return to the Home Decorating & Design Forum
|
Post a Follow-Up
---
| | | |
| --- | --- | --- |
| Determining Vase size for a large table | | |
Posted by
Betty-Jane
(
My Page
) on
Tue, Aug 12, 14 at 22:52
Hi, I have a 2.4m long oval dining table that seats 8. the chairs are high back as well. I am looking at having 2 vases with long silk orchids (90 cm) in them but cannot easily determine how tall the vase should be. How high above the tops of the chairs should the flowers be seen. I have attached a copy of the types of flowers I will be using, not in the same vases as shown Thanks
---
Follow-Up Postings:
| | | |
| --- | --- | --- |
| RE: Determining Vase size for a large table | | |
With your style being so bold and contemporary, I think you definitely can go larger on the vase, and I would reconsider whether those orchids are the right flower to use. Given the height that you have and no chandelier, you could go taller, more upright, so it can be seen clearly around th chair backs. If you want to use orchids, maybe something more like how they grow so the stems are taller.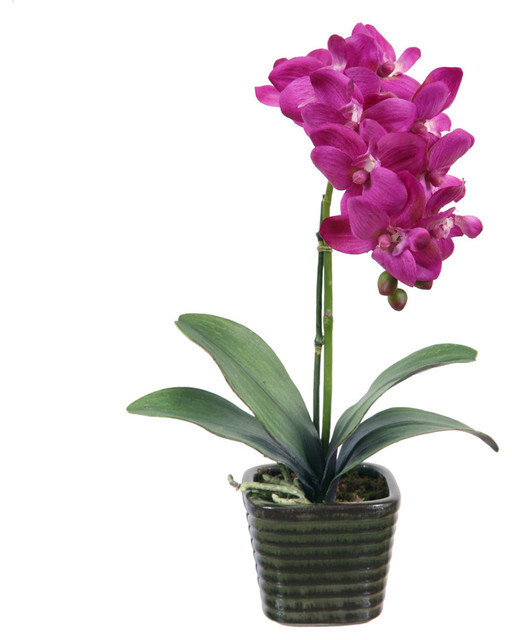 Or maybe something more contemporary looking like calla lilies

Or an arrangement of several different flowers that can give height and interest.

You didn't ask, but I'll comment anyway...looking at your room, I think I'd move the flanking pictures closer to the middle one to make more of a grouping as they coordinate nicely.
---
| | | |
| --- | --- | --- |
| RE: Determining Vase size for a large table | | |
Take a look at the arrangements in the link below. Since Orchid stems are tall, I wouldn't use a tall vase. Look at the 3rd picture, top row. I love how the container is short. I think it adds more of a punch to the arrangement.

Just because your chair's are high, even the smallest vase/container will be seen.

I definitely wouldn't arrange them like the picture above. For a more realistic look, the stems need to stand upright with a small bend at the top where the flowers drape down.

Three matching, medium size decorative containers (not vases) arranged in a circle sitting on a tray would look great!
Here is a link that might be useful: Silk Orchid arrangements
---
| | | |
| --- | --- | --- |
| RE: Determining Vase size for a large table | | |
Is this for a dinner party or just a decorative element for non-table-use times. If for a dinner party keep in mind the guests being able to see one another.
---
| | | |
| --- | --- | --- |
| RE: Determining Vase size for a large table | | |
Annie is right about the pictures--too far separated....
---
| | | |
| --- | --- | --- |
| RE: Determining Vase size for a large table | | |
I've always preferred a shorter vase/container, but maybe it's because I equate 'large' with hotel lobby, wedding table, more of a commercial look than residential. I've only used one tall vase, but it's because I've also used tall, heavy candlesticks on the same table. But again, it's what appeals to you.
---
Post a Follow-Up
Please Note: Only registered members are able to post messages to this forum.
If you are a member, please log in.
If you aren't yet a member, join now!
---
Return to the Home Decorating & Design Forum
Information about Posting
You must be logged in to post a message. Once you are logged in, a posting window will appear at the bottom of the messages. If you are not a member, please register for an account.
Please review our Rules of Play before posting.
Posting is a two-step process. Once you have composed your message, you will be taken to the preview page. You will then have a chance to review your post, make changes and upload photos.
After posting your message, you may need to refresh the forum page in order to see it.
Before posting copyrighted material, please read about Copyright and Fair Use.
We have a strict no-advertising policy!
If you would like to practice posting or uploading photos, please visit our Test forum.
If you need assistance, please Contact Us and we will be happy to help.

Learn more about in-text links on this page here