Return to the Home Decorating Forum
|
Post a Follow-Up
---
| | | |
| --- | --- | --- |
| Paint for kitchen w/ honey oak cabinets and terra cotta floor | | |
Posted by
EclecticMom
(
My Page
) on
Thu, Aug 11, 11 at 22:33
Hi everyone! I have been eager to join this forum for quite some time now. After lots of lurking, I've decided to create a new post for my current project -- it's becoming quite overwhelming.

My husband and I will be moving into a quaint little Florida house that is in much need of a face life. I feel pretty confident about our projects for the LR and DR but the kitchen seems to be the most challenging for me.

Because I'm usually a fan of darker woods with rich (yet vibrant) color, I'm in dire need of help finding paint for the kitchen. The cabinets are honey oak (I wish I had the money to replace or paint them, too, but it's not an option at this time) with a warm beige and terra cotta backsplash. The floor is a darker terra cotta, Spanish-style tile with dark grout.

I originally wanted to go with a neutral color that would play off the lighter tile in the backsplash. However, everything I'm coming up with leans toward yellow and looks awful. I've had some friends suggest sage green and although I'm not against the idea as I'm a huge fan of color, sage green has always been one of my least favorite colors.

What do you think? Please feel free to give me your best suggestion, even if it is green. :) Thanks in advance.

PS - Would you keep the island? I'm tempted to remove it in an effort to open the kitchen up a bit. My friends say I'll miss the counter space but I beg to differ. Less space = less clutter for me.

PPS - the appliances will be replaced within the next few months, so please discount them when making your suggestions.


Here are some photos...pardon the poor quality cell phone photos, they show shades of blue that are really not there (like at the entrance to the kitchen in the first photo). Also, this is currently my mother-in-law's kitchen with her belongings still in place. We will be walking into a clean slate on move-in day.
Thanks for helping!
---
Follow-Up Postings:
| | | |
| --- | --- | --- |
| RE: Paint for kitchen w/ honey oak cabinets and terra cotta floor | | |
What about the green in the dish towel?

Olive green looks great with oak too.
---
| | | |
| --- | --- | --- |
| RE: Paint for kitchen w/ honey oak cabinets and terra cotta floor | | |
I think your oak has a nice finish unlike the 80s orange that is in many kitchens, mine included. If you like darker woods would you concider restaining your cabs. Many people have used gel stain and it does not require the sanding that regular refinishing does...still time consuming but might give you more of the look you like. I refinished my 1980s orange oak with regular stain I sanded all doors and frames that was the hard part and then the rest was a breeze and it made such a difference and it was not to difficult just a few weeks long and a bit messy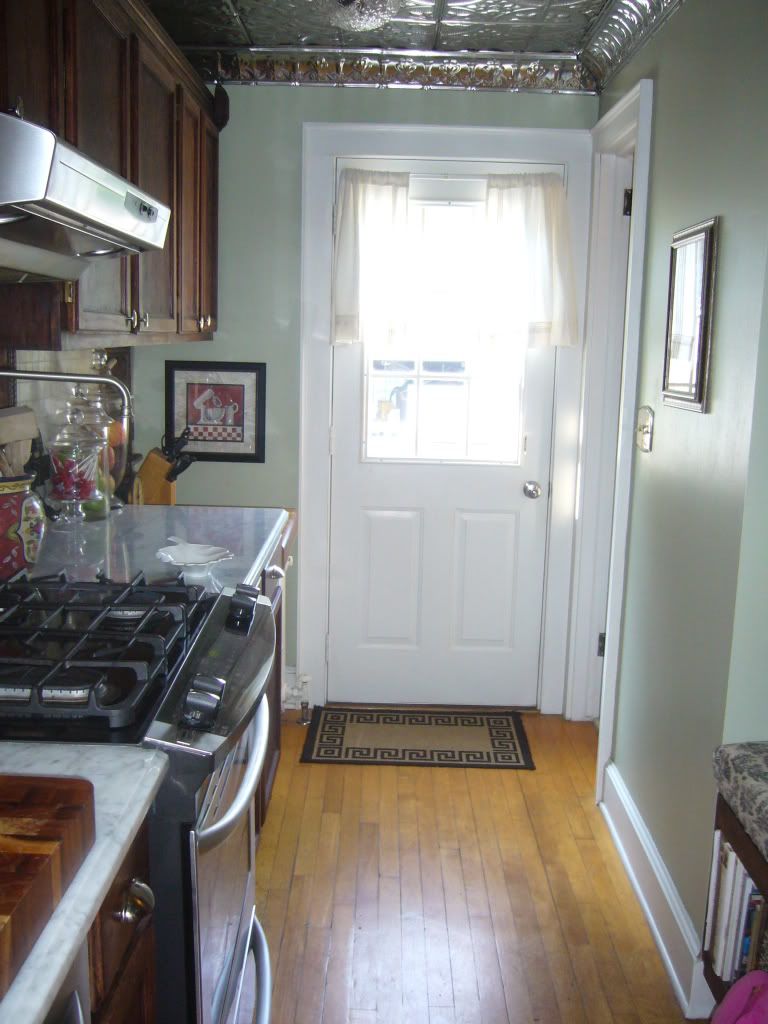 you have a large kitchen and i do not think the island hinders your space and might be handy as a landing for food, not mail and etc:) so I would be tempted to live with it a bit before removing it.
I wonder if a clay color for the walls might work with your current cabs too. Maybe a red or orange terracotta paint..Congrats on your new kitchen.
---
| | | |
| --- | --- | --- |
| RE: Paint for kitchen w/ honey oak cabinets and terra cotta floor | | |
If you had a picture standing at the 'fridge so we could see beyond the island perhaps it would be easier to tell if you should get rid of it/move it. From what I can see if you remove it you have lost much of your work space. I am not very trusting of painting cabinets but the gel stains have me intrigued. They seem like they stand up better to the beating kitchen cupboard take. Saying that I would give my eye teeth to have such beautiful cabinets. I would treat them as a neutral and worry about the counter tops/ backslash and flooring when picking a color to paint. Given the odd colors showing up in the pictures it is difficult to advise, but in the first picture the island has a green antique washed look. Possibly that is an option only a few shades lighter for my taste. The lightest color in your back splash would also be nice. The white is a bit too stark for me. Knobs would up date your look. If the micro wave cart and china cabinet beyond the 'fridge are going you will have some holes. What are your plans for those spaces?
---
| | | |
| --- | --- | --- |
| RE: Paint for kitchen w/ honey oak cabinets and terra cotta floor | | |
luann_in_pa, it's funny you mention the green towels because it wasn't until after I posted this thread that I realized my MIL has sage green accents in the kitchen. I have to agree, I do like the colors together.

roarah, thanks for your feedback. I will definitely consider staining the cabinets in the future. It's a project I've discussed with my husband and he's willing to let us take that project on. I didn't even know about the possibility before Garden Web. :) For now, I'm going to replace the ceiling fan, add some color to the walls, and freshen it up a bit cosmetically. Your cabs look beautiful! What color do you have on your walls? Thanks so much for your help!

Arcy, I will try to snap a photo for you today when I'm at the house with more paint samples. I went over last night with another sample and it looks awful, too. :( My SIL will be with us today so I'll see if she can bring her professional camera in an effort to capture more accurate photos. If you stand at the refrigerator and look out, you see the dining room. There is a little ledge that comes down from the ceiling that actually creates the effect of the kitchen being in its own "space" per se. It's not a large ledge by any means but enough to where it would be totally acceptable to use one color in the dining room and another in the kitchen. You raise a great point with treating the cabinets as a neutral. When picking paint colors, I find myself entirely carried away with trying to compliment the oak and in turn, my colors have been all wrong for the backsplash.

As for the island, it does appear more green and antique than it really is. Sorry for that. The microwave cart has the option to stay but the china cabinet belongs to my MIL's roommate and will be going with her during the move. I had the idea that a smaller island would look cute (if I remove the large one), or some shelves even. The closet you see in the very back of the kitchen is the washer & dryer hook up, not a pantry. Yikes, this is where I'm reminded that I definitely need space for storage.

Thanks for everyone's help thus far. Still on the lookout for wall paint ideas if anything comes to mind. :)
---
| | | |
| --- | --- | --- |
| RE: Paint for kitchen w/ honey oak cabinets and terra cotta floor | | |
Eclecticmom, the color is ryegrass by behr mixed in BM paint. It is a soft green not sagey either and plays like a neutral color in my home. Hth.
---
| | | |
| --- | --- | --- |
| RE: Paint for kitchen w/ honey oak cabinets and terra cotta floor | | |
Have to add this - I find the fridge/stove area so tight.
I would close up part of the doorway where china cabinet is and then move the fridge down and put a tall storage pantry or upper/lower cabinets & w/counter in the area closest to stove area.

Also if you lose the island - what's underneath? And do you have spare tile to patch if needed?
---
| | | |
| --- | --- | --- |
| RE: Paint for kitchen w/ honey oak cabinets and terra cotta floor | | |
roarah, thanks! I might snag a sample. I really like that shade of green. :)

chijim, great idea RE: the refrigerator/stove area. I, too, noticed the closeness. The more I study the kitchen, the more I want to do with it. My SIL has the same layout in her house and when she did a full kitchen overhaul, she ended out using the space where the refrigerator is for an oven and cabinets with a drop-in stove where my stove is currently located. It looks wonderful! The area to the right of the stove is where her refrigerator now sits. Then again, she did $90k worth of renovations. :/ That's not doable for us at this time as much as I wish it was. As far as the island goes, it's not attached to the floor in any way so the tile underneath is intact. Thanks for your help!
---
| | | |
| --- | --- | --- |
| RE: Paint for kitchen w/ honey oak cabinets and terra cotta floor | | |
Just a thought on the island: I would remove it and replace it with something longer and more narrow if you decide to replace it at all. The one that is there just doesn't seem to go with the rest of the room. I am with you on the clutter thing and I think you will be able to see your way more clearly once everything is cleaned out of the room.

Also, it would not be terribly expensive to put double wall ovens where the refrigerator is-all you need is to build the cabinet and that is pretty easy actually, as would be putting in a cooktop in place of the range (unless you want gas and don't have a gas line. Personally, I would go for induction!). Would you put the refrigerator where the cupboard is now (near the door)?

Also, what finish will you have on the new appliances? That could also have an impact on your color choices.
---
| | | |
| --- | --- | --- |
| RE: Paint for kitchen w/ honey oak cabinets and terra cotta floor | | |
How do you feel about the division between the kitchen and dining room? Would a peninsula be an option under the ceiling ledge? You could retain some storage and counter top and yet open up the center of the room a bit. From the pictures I am thinking it would cross the room about where the microwave is. It appears the wall across from it is a blank white wall, or is there a door there? Possibly the island could just be relocated. That would be CHEAP. Space is tough to tell in pictures, something thinner might be what is optimum.
---
| | | |
| --- | --- | --- |
| Island | | |
Another thought, If I left the island, I would remove the top and replace it w/something w/lesser overhang on sides--but extend top towards fridge as a place to sit at and do prep work.
---
| | | |
| --- | --- | --- |
| RE: Paint for kitchen w/ honey oak cabinets and terra cotta floor | | |
On my monitor the tile has a pinkish tint, but hopefully that's due to your camera.
Since you like vibrant colors look at a red tone that has more brown in it, such as Divine's Sangria or SW Copper Mountain. I've seen them both work well with oak cabinets but if it works in your kitchen will depend on the true color of your tile.

Depending on the color you choose for the walls, I'd probably paint the island either black or a creamy white.

Here is a link that might be useful: sample from another thread
---
| | | |
| --- | --- | --- |
| RE: Paint for kitchen w/ honey oak cabinets and terra cotta floor | | |
If this were my kitchen, I would do a gel stain on the cabinets - just involves a light sanding then glaze on to the darkness of color that you want. Play with it first to get a feel for it, perhaps on the inside door of one of the cabinets. I would flip the doors on the fridge so they open the opposite way. I would keep the cabinet but turn it one turn so it is more parallel to the kitchen, it's hard to tell from the pictures but it doesn't look like a uniform square. I would take down the window treatments and order some inexpensive roman woven blinds from Overstock. I did and am extremely pleased with them. As far as paint color, I'm not sure. It depends on what you do with the cabinets. I would wait if you are planning on doing anything at all and I would get lots of large paint chips and bring them home and hold them up. If you do not like green, do not do it. You're the one that has to look at it everyday and there are so many colors to choose from. Decluttering is going to do a world of good for that kitchen. You say you are gettin new appliances. What color will they be?
---
| | | |
| --- | --- | --- |
| RE: Paint for kitchen w/ honey oak cabinets and terra cotta floor | | |
Let's see:

For now:

1)Keep the island and paint it satin black

2)Stainless appliances -- including a stainless micro-hood above the stove -- much more up-to-date

3)Add black iron handles and knobs to the cabinets

4)Paint kitchen and adjoining spaces:

Benjamin Moore: Kingsport Gray HC-86
BM: Stone Harbor 2111-50
---
| | | |
| --- | --- | --- |
| RE: Paint for kitchen w/ honey oak cabinets and terra cotta floor | | |
I too like darker woods. I'd stain them. I also think you'll have more paint color options if you go darker.

Roarah - Would you mind telling me what brand and color of stain you used? Do you happen to have a better picture of the cabinets? Mine are also light and when the time comes, I believe I'll be staining vs. painting. Thanks!
---
| | | |
| --- | --- | --- |
| RE: Paint for kitchen w/ honey oak cabinets and terra cotta floor | | |
I would gel stain those cabinets if you like a rich, dark wood look. It will cost you the can of gel paint, the sealer, plastic gloves, and blue tape to tape off any areas that you don't want to stain. Search for celticmoon's step-by-step instructions. I've done a couple of vanities, currently working on a huge dresser. (When people see the vanities, their first reaction is, "oh, new vanity?"

It is very easy process. Much easier than painting the cabinets, especially if you would want to hide the grain.

Arcy, I'm not sure why you are leary of painting cabinets, I did mine and they are great. It just takes a lot of prep and patience and you can achieve a great finish. People don't even realize that we didn't replace our cabinets.

EclecticMom, I would also post this on the Kitchens forum. You will get a lot of great ideas over there too.

-Bee
---
| | | |
| --- | --- | --- |
| RE: Paint for kitchen w/ honey oak cabinets and terra cotta floor | | |
Oh wow, thank you, thank you, thank you to EVERYONE who has replied! My response is going to be quite disorganized because I have several thoughts that come to mind all at once.

I did not even think about how simple the gel staining would be. I will need to look into the cost of it in order to convince my husband that it's totally doable sooner than I imagined. I'd love to add a peninsula where the DR joins my kitchen but I don't think we'll have the funds for a little while. Unfortunately, we are struggling with a townhouse my husband bought that went belly up with a bankrupt HOA. We're caught up in some litigation over it so money is super tight.

Great suggestion on switching the fridge' door to opening on the opposite side. Genius! We have been scouting around for a nice used condition French door refrigerator. We've found a few we are interested in.

For everyone who has asked, my husband and I are stuck between going stainless or black on the appliances. Stainless was our first choice but now we're leaning towards black. What does everyone think? I've seen stainless suggested a few times already but the black catches our eye for its richness.

I love the idea of painting the island satin black! The thought had never occured to me. :)

About the wall next to the stove, it's actually the closet for the AC unit with a plain white door.

About the tiles having a pinkish tint, that's definitely the poor quality photos I posted. I'll try to follow up tonight with some accurate, clear photos to make this easier on everyone.

Than you for the last two Ben Moore paint suggestions - I will be picking them up in samples today.

Will be back today with some updates for everyone. Thanks again x a MILLION!
---
| | | |
| --- | --- | --- |
| RE: Paint for kitchen w/ honey oak cabinets and terra cotta floor | | |
How about chocolate brown? It would work with the pinks in the terra cotta colors & the caramels of the wood (hopefully it won't make you crave candy bars). You'd probably have to add some lights. Do you get good light from the sink window?
---
| | | |
| --- | --- | --- |
| RE: Paint for kitchen w/ honey oak cabinets and terra cotta floor | | |
Bee, thanks for breaking the gel staining down for me. It's not NEARLY as scary as I anticipated. Wow...I'm going to look into Celtic's as you rec'd.

awm, I didn't even think about chocolate brown but it actually works! This is why I needed to branch out and ask for help -- my mind was stuck on finding a beige that would compliment everything. I'm off to the paint store now, will see what I can find. As for the lighting, the kitchen window brings in some light but not a ton as the window opens to a back room overlooking the screened in pool.
---
| | | |
| --- | --- | --- |
| RE: Paint for kitchen w/ honey oak cabinets and terra cotta floor | | |
I love the chocolate with the other features!!!! But than i would do either white appliances or stainless.
sheesharee, I did old fashion regular miniwax red mahagony stain...It was 7years ago before i learned of gelstain, so my grain does show thru but I like grain even oak grain... here is a closer pic of the cabs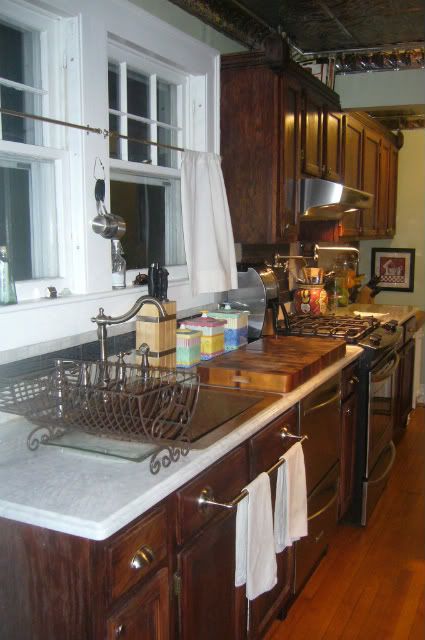 ---
| | | |
| --- | --- | --- |
| RE: Paint for kitchen w/ honey oak cabinets and terra cotta floor | | |
Love the chocolate brown enough that I could even leave the cabinets alone if I were you. I agree that if you go with chocolate brown walls, white appliances would look best!
---
| | | |
| --- | --- | --- |
| RE: Paint for kitchen w/ honey oak cabinets and terra cotta floor | | |
roarah, your cabinets are beautiful. Elegant yet earthy.

I'm starting to enjoy oak kitchens again, having grown tired of the ubiquitous cherry, maple, or white paint cabinets.
---
| | | |
| --- | --- | --- |
| RE: Paint for kitchen w/ honey oak cabinets and terra cotta floor | | |
Hi everyone! I'm back with an update...

My SIL and I spent a few hours in SW today and came up with a few ideas. We wanted to start with greens because they seemed to be the best fit, so we set out to find shades I liked. Turns out, I like more blue/greens than anything. We narrowed it down to two colors and bought some samples.

I am very happy with SW Restful, the bottom color. I know these photos are still poor quality, so forgive any slight variances in color. In real life, the cabinets and terra cotta really look great next to the paint. I did take some photos with my SIL's quality camera but she's out tonight and will not be able to email them to me until tomorrow. I will post them when I get home from work @ 9PM.

Below is an idea of the color, although it appears more blue in the photos than in real life. Please tell me what you think before I buy a few gallons and have a painting party...this will be quite the bold move if I use this color. Is it too green?
Here is a link that might be useful: Link to SW website: Restful
---
| | | |
| --- | --- | --- |
| RE: Paint for kitchen w/ honey oak cabinets and terra cotta floor | | |
I love green....BUT

I have seen some kitchens where the green makes the cabinets look very orange (because they are opposite on the color wheel). Just wanted to throw that out there.

I painted my cabinets white last summer.....I used really good paint and in the end it costed about $100. I am thrilled. It was not hard, just time consuming.
---
| | | |
| --- | --- | --- |
| RE: Paint for kitchen w/ honey oak cabinets and terra cotta floor | | |
well I really loved the idea of the chocolate that awm posted if I had seen that seven years ago I would have left my cabs sanded light...but anyhoo browns are not for everyone and if you are drawn to the blue green I think it is complimentary to your elements too and it has a turquoise look on my monitor which is a very happy color. In the first shot it reminds me of quiet moments which I really like too. Have fun with the process ooh new homes are so exciting!!!
---
| | | |
| --- | --- | --- |
| RE: Paint for kitchen w/ honey oak cabinets and terra cotta floor | | |
baileyandbella, I totally know what you mean RE: green making cabinets look orange. From the sample area we used, the green actually adds richness to the cabinets. I felt SO confident earlier and even told myself,"This is THE one!" but now that I'm home (and away from the kitchen), I'm wondering if maybe I should go with a true sage green like BM Baby Turtle. That shade of green is truly not what I want but I kind of feel backed into a corner here. I think I'd be OK with true sage if it weren't for the terra cotta. The terra cotta is what makes me feel like I can lean towards a more vibrant green with more blue. I opened a catalog at SW that had a color wheel in it and directly across from the terra cotta orange was this green we have here.

:/ I'm overthinking this and doubting myself.
---
| | | |
| --- | --- | --- |
| RE: Paint for kitchen w/ honey oak cabinets and terra cotta floor | | |
Wow, those greens look completely different in those two pics. It's a brighter color and will intensify once on all the walls so that's something to remember.

Sorry for the hijack, Eclecticmom....Roarah - Thank you! I really like them and also like grain. I thought Minwax's red mahagany was more red/purple like but it looks a rich, warm walnut brown to me. Did you do two coats and do you remember how long you left the stain on before wiping?
---
| | | |
| --- | --- | --- |
| RE: Paint for kitchen w/ honey oak cabinets and terra cotta floor | | |
Eclecticmom, do not do sage if you do not like it as a color it does not matter if it works with the room if it does not make you happy! Sleep on it and take your time choosing if you can. Also check out the finished kitchen blog maybe for inspirational pics. You will figure it out and it will be lovely!

Sheesharee, thankyou. I think it is atleast 2 coats maybe three it was a long time ago and i sanded all the orginal finish off first. I remember painting on the stain and than doing another door or two than wiping the first door off. After the sanding the staining seamed like a breeze. The sanding was not that bad really just very dusty!
---
| | | |
| --- | --- | --- |
| RE: Paint for kitchen w/ honey oak cabinets and terra cotta floor | | |
If you like them darker you should gel stain them. These are my bathrooms and my kitchen (you have to scroll all the way down to see my kitchen)
Here is a link that might be useful: gel stain
---
| | | |
| --- | --- | --- |
| RE: Paint for kitchen w/ honey oak cabinets and terra cotta floor | | |
roarah, I wanted to try the chocolate brown but when I got to the paint store, we headed straight for greens. It's not off the table just yet. I'll snag a paint chip and bring it over to my MIL's on Monday to see what I think. I became so overwhelmed at SW that I forgot about the brown! :/ I'm going to look around online for some inspiration pics. I think my only issue with sage green is the fact that I prefer vibrant color so I feel compelled to go with a richer green. I'll share photos tonight everyone can see the kitchen better. Thanks for the continued help! I appreciate it.

sheesharee, I SO SO wish I had the photos I took with my SIL's camera to share right this moment. You'd get the true idea if I had them to post tonight. I know the greens look different in the two photos, it's a mix between bad camera and different lighting. In the first photo, the paint samples are by the sink area with the window partially opened (this was at 6PM in Florida). In the second photo, the area was darkened more as it was by the refrigerator and stove and had the shadow cast on it from the stove's overhead light. Do you think I should add a second coat this weekend and re-evaluate its intensity?

I'll check this thread @ work via my cell phone. Will be back later today...
---
| | | |
| --- | --- | --- |
| RE: Paint for kitchen w/ honey oak cabinets and terra cotta floor | | |
I think first you need to decide if you want to change the cabinets or not, because then that changes everything regarding painting the walls, you know? :)
---
| | | |
| --- | --- | --- |
| RE: Paint for kitchen w/ honey oak cabinets and terra cotta floor | | |
baileyandbella, unfortunately I don't plan on staining the cabinets until some time next year or the year after. I'm only able to have the kitchen "out of commission" for a week later this month and we have a lot of projects going on during that time. After Googling the heck out of kitchens, I'm warmed up to the idea of a green kitchen now and even then, sage is growing on me. :) I definitely feel strongly that I need to lighten the green we used in the sample last night but I feel we're close to what I envision if I don't dive into sage (Baby Turtle and Svelte Sage come to mind).
---
| | | |
| --- | --- | --- |
| RE: Paint for kitchen w/ honey oak cabinets and terra cotta floor | | |
Is it possible then to reposition the island?
Something no one has mentioned, wall paper. I am not a huge fan but when you talk about green I have to think of my kitchen. We have a similar back splash, tile, set on the diamond as your new kitchen does. We went with a textured wall paper. It has a leaf fossil design in green. Over all the paper reads cream and tan, like our textured tile but there is this green raised edge. Just a touch of color. We were out to buy a textured wall paper just to add some interest. We intended to paint it. When we found this it was one less step. The great part was it didn't have a repeat or match to worry about and we could hang it on the soffet the long way.
---
| | | |
| --- | --- | --- |
| RE: Paint for kitchen w/ honey oak cabinets and terra cotta floor | | |
Here are my honey oak cabinets with what I think is Eden Green.
The area to the left of the oven is probably the truest representation of the color.

These are the same cabinets painted Linen White, with Restrained Gold on the walls:
---
| | | |
| --- | --- | --- |
| RE: Paint for kitchen w/ honey oak cabinets and terra cotta floor | | |
arcy, I can reposition the island. Funny you mentioned that because my mom hopped on the wagon to help me figure out what to do with the kitchen and she, too, suggested I reposition it. She also pointed out that the otherside of the island is much more attractive than the side that's exposed to the dining room. I will turn it next time I'm at the house and see what it's like. Thanks! Also, thanks for the wallpaper suggestion. I'll check out the collection at SW for ideas just in case. :)

annkathryn, your cabinets are GORGEOUS! Thank you for the inspiration photos. They are gentle reminders of ways I can live with what I've got for now until I'm able to do what you did with transforming them. Great job!

As promised, here are better photos of the kitchen:

Here you can see the two green samples as well as a TINY bit of the Toasted Cashew I tried to sample peeking through

Backsplash details (there is some splattering from cooking, that's not the tile)

Close up of the tile in the kitchen (the grout will be cleaned when we move in so it'll lighten up a bit, the tile that will be installed in the dining room and living room will be similar in color to the lighter tile in the dividing strip shown here)

Looking into the kitchen from the DR

Someone requested a photo of the view from the back of the kitchen looking out to the DR -- pardon my lovely SIL, she was rinsing paint from her hands and the mini rollers, and my hand wasn't very steady here
My mom suggested I take advantage of the side of the island shown in the above photo and turn it outward towards the DR. She also mentioned the idea of painting the island as some suggested here. I really like that idea!
Hope this helps you all more than the previous photos did.
---
| | | |
| --- | --- | --- |
| RE: Paint for kitchen w/ honey oak cabinets and terra cotta floor | | |
Try this link, a collection of Greens from the past 6 years!
Here is a link that might be useful: Green Paint Colors
---
| | | |
| --- | --- | --- |
| RE: Paint for kitchen w/ honey oak cabinets and terra cotta floor | | |
I like the idea of green with your kitchen, but I'd do a dark green and make sure to pair it with white appliances and bright white trim. It would give a similar effect as the photoshopped chocolate color, with some nice contrast. If you try 2 shades darker than what you have, that would be about what I am picturing. It would be bold, but also different and fresh. I'd make sure the trim was a full on white with it.

I think the biggest improvement will be de-cluttering. Once you have the kitchen stripped bare, it will be easier to work with and visualize....
---
Post a Follow-Up
Please Note: Only registered members are able to post messages to this forum.
If you are a member, please log in.
If you aren't yet a member, join now!
---
Return to the Home Decorating Forum
Information about Posting
You must be logged in to post a message. Once you are logged in, a posting window will appear at the bottom of the messages. If you are not a member, please register for an account.
Please review our Rules of Play before posting.
Posting is a two-step process. Once you have composed your message, you will be taken to the preview page. You will then have a chance to review your post, make changes and upload photos.
After posting your message, you may need to refresh the forum page in order to see it.
Before posting copyrighted material, please read about Copyright and Fair Use.
We have a strict no-advertising policy!
If you would like to practice posting or uploading photos, please visit our Test forum.
If you need assistance, please Contact Us and we will be happy to help.

Learn more about in-text links on this page here