Return to the Home Decorating Forum
|
Post a Follow-Up
---
| | | |
| --- | --- | --- |
| A Deep, Rich Ivory Wall Color | | |
Posted by
organic_smallhome
(
My Page
) on
Wed, Aug 27, 08 at 22:00
Any ideas? No peach or pink undertones, though. :)
---
Follow-Up Postings:
| | | |
| --- | --- | --- |
| RE: A Deep, Rich Ivory Wall Color | | |
Used Behrs Raffia Cream in my hallway and on 1 living room wall. Like you, I didn't want peach or pink undertones and this worked out perfect.
---
| | | |
| --- | --- | --- |
| RE: A Deep, Rich Ivory Wall Color | | |
lukkiirish: Do you happen to have a photo?
---
| | | |
| --- | --- | --- |
| RE: A Deep, Rich Ivory Wall Color | | |
I don't, but can a pic tomorrow. I just don't know how to download it into the forum message. Can you give me directions?

Have you done much with painting? Can offer some tips that I've learned during the past two years.
---
| | | |
| --- | --- | --- |
| RE: A Deep, Rich Ivory Wall Color | | |
Just make sure you don't use Reveals in that room...
---
| | | |
| --- | --- | --- |
| RE: A Deep, Rich Ivory Wall Color | | |
Organic, that Raffia Cream is really a beautiful, rich, but classy color. It reminds me of something you might find at Williamsburg or Charleston.
---
| | | |
| --- | --- | --- |
| RE: A Deep, Rich Ivory Wall Color | | |
lukkiirish: I have a photobucket account. On my mac, I just plug the camera into the computer. iphoto appears and I upload the pics from the camera into iphoto. Then I drag the photos onto my desktop and upload them onto photobucket. Once the photos are on my photobucket account, I click on the photo and then click on the third option (to the right of the page) and copy it onto the forum message. It's very simple--you can do it!

patricia: That's good to know. But I've never used Behr's paint. Can it be colormatched in BM paint?
---
| | | |
| --- | --- | --- |
| RE: A Deep, Rich Ivory Wall Color | | |
Yes, OSH, it can be matched by other companies. I like to do business with the Pratt & Lambert people who makes Behr paint but I also like the BM people and the SW people. You see, when you live in a small community for years, you know the owners or managers of all of them, so you try to spread your business around. :) The owner of P&L here attended school with my kids as did the owners of BM and the guy at SW (manager) is a neighbor.
---
| | | |
| --- | --- | --- |
| RE: A Deep, Rich Ivory Wall Color | | |
Ok, I will open a photobucket account. Thank you. I was trying to match a SW paint color for my guest room with the Behr folks and first try wasn't so good, but what I appreciated was they didn't just blow me off when I wasn't happy with it, they kept mixing, adding this or that until it was right.

Patricia43, thank you for the nice comment about my paint color. I love it, Raffia Cream is the nicest cream I've found yet and I've been through quite a few of them (have the cans in the basement to show for it! HA!)
---
| | | |
| --- | --- | --- |
| RE: A Deep, Rich Ivory Wall Color | | |
Hey OS..you probably already noticed this but just in case you missed it...Raffia Basket is listed in the Gallery. Beautiful, rich color.
---
| | | |
| --- | --- | --- |
| RE: A Deep, Rich Ivory Wall Color | | |
Thanks, lindy! It looks really peach-y on my monitor, though. Guess I'll just have to sample it, to know for sure. :)
---
| | | |
| --- | --- | --- |
| RE: A Deep, Rich Ivory Wall Color | | |
Ok, so it's raining and the lighting sucks but here is a picture of raffia cream. We're in the middle of hanging crown molding in the living room, so please ignore the uglies of the paint. It looks a little pinked but I promise it's just the lighting, I don't use any paint colors with a pink base to them. On the Behr site it actually looks a little brown. Thanks for the posting instructions!
---
| | | |
| --- | --- | --- |
| RE: A Deep, Rich Ivory Wall Color | | |
The raffia cream has no pink in it on my monitor and looks like a very nice creamy ivory.
---
| | | |
| --- | --- | --- |
| RE: A Deep, Rich Ivory Wall Color | | |
We used Pratt & Lambert's Bone White in my sons' bedrooms and Pratt & Lambert Meerschaum in one of the guest bedrooms and I almost get swoony thinking about them! They are such sophisticated, full-bodied colors, soothing colors.

Unfortunately, I am absolutely unable to take photographs which depict the depth and beauty of the colors.

Bone White

Meerschaum

In the upstairs hallways and the family room we used Aura Frappe: in the hallways it is like a true, light cafe au lait (with lots and lots of lait), but in the family room it almost looks like shell pink. I continue to have a hard time believing they are the same paint color, but they are!
So as much as I'm enjoying the Aura Frappe, I canNOT recommend it. Too much variation.
---
| | | |
| --- | --- | --- |
| RE: A Deep, Rich Ivory Wall Color | | |
What about White Down, Swiss Coffee and Mayonnaise.
---
| | | |
| --- | --- | --- |
| RE: A Deep, Rich Ivory Wall Color | | |
I don't have a photo, but in our last home I used
BM Antique Lace, (OC-104) in the Regal Matte Finish.

It was a deep rich ivory. (IMHO)
Sorry I don't have a photo to share.

Check out BM Off-White Color Palette.
Here is a link that might be useful: Benjamin Moore
---
| | | |
| --- | --- | --- |
| RE: A Deep, Rich Ivory Wall Color | | |
Wow. I love that Meerschaum color, rmkitchen. The Bone White, too. Is P&L paint the Ace Hardware paint? How is it to work with? Thank you so much sharing the visuals. :)

southern_vesta: Did you have it in a room with little or a lot of light? No pink or green undertones? Thanks for suggesting it.

patricia; I've never tried White Down. I have seen Swiss Coffee and Mayonnaise, and they're not really what I'm looking for. I'll have a look at the White Down, though.
---
| | | |
| --- | --- | --- |
| RE: A Deep, Rich Ivory Wall Color | | |
I'm currently in love with two lovely rich creamy whites, one darker than the other. Writers Parchment (Ralph Lauren) which is truely a rich creamy white, and then if you want to go just a tad bit deeper with your color Parchment (Ralph Lauren) is fabulous with it. Let's see...picures...

Parchment: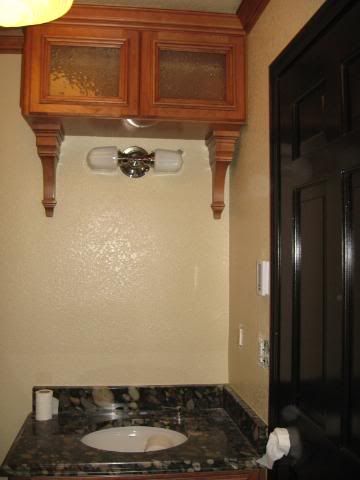 Writers Parchment (Ceiling): and don't judge me by the look of that medallion...it's not finished yet :)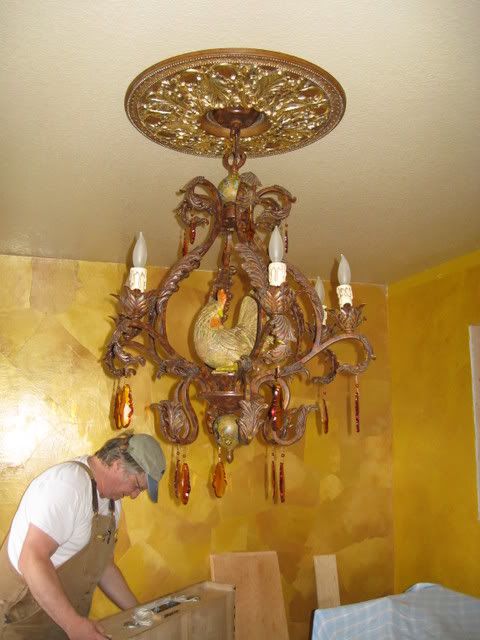 ---
| | | |
| --- | --- | --- |
| RE: A Deep, Rich Ivory Wall Color! | | |
Thanks, igloo! Wow: that is *some* chandelier!!! That's for your house, not the rental house, right? (heehee)

I really like the Writer's Parchment. The room is not that bright, so I need to go as light as possible and still have color and depth. I'll put it on my list, thanks. :)
---
| | | |
| --- | --- | --- |
| RE: A Deep, Rich Ivory Wall Color | | |
No pink or green undertones at all.

It was in my DR in a semi-open floor plan, with a
SW exposure. On a sunny day it was very mellow & at
night it always reminded me of candle light.
A very lovely color.
The Antique Lace was painted on the chair rail & below.
Above the chair rail was BM Acorn Yellow.

So sorry no pictures for you.
---
| | | |
| --- | --- | --- |
| RE: A Deep, Rich Ivory Wall Color | | |
LOL OS that's my whimsey in the formal dining room :) *in my auntie Veroqua's deepest sincere voice* "One must have whimsey in a well done decor" ;o)

LOL and no that's not the rental.

I used to be so sold on Ralph Lauren's Starched Apron. A gorgeous soft white, but it does have pink undertones. I've used that color on three homes worth of cabinets, as well as on the ceiling of my master bedroom here, but then I found Writers Parchment. It's soft, just a tad bit off of the whites, and has no pinks or peaches. It flows fabulously with greens and browns but I can also see it working well with soft blues (which starched apron didn't do). It's hard to photograph the color well given computer monitors and things, but I have to say, it flows fabulously with the bathroom moldings in my son's bathroom, as well as the travertine and then with the true golds of my dining room.

I get all goofy about colors on occasion, and apparently this is the color of the year for me :) It will be featured significantly in the rental as well (Just without the chicken chandelier) heh heh
---
| | | |
| --- | --- | --- |
| RE: A Deep, Rich Ivory Wall Color Parchment, Patience, Peanuts, P | | |
You know, I've been interviewing one other color called Patience (something I need a lot of) by Sherwin Williams.

I'm doing my laundry closets in it...it's a bit softer than writers parchment, and looks great with a soft butter (cabinet color). I'll photograph that tomorrow for you.
---
| | | |
| --- | --- | --- |
| RE: A Deep, Rich Ivory Wall Color | | |
I was cleaning out my nightstand and lo and behold...paintchips! They're everywhere! Anyway, I found RH Linen. From what I can tell it looks like a beautiful creamy color, although maybe lighter than you want but no undertones detected!
---
| | | |
| --- | --- | --- |
| RE: A Deep, Rich Ivory Wall Color | | |
Organic have you made any decisions yet?

I'm having a heck of a time finding the right color. We are putting our house on the market in the future so it has to be a neutral. My LR faces East with a wrap around porch, so not great light. I'm like you and don't want anything with a pink/peach undertone and I don't want any grey. I guess a warm neutral???
---
| | | |
| --- | --- | --- |
| RE: A Deep, Rich Ivory Wall Color | | |
Hi mammie. I'm leaning towards BM Elephant Tusk. I asked them today at the paint store if they could do a color-match of P&L Meerschaum and they said no. I do like how RL Writer's Parchment looks on igloo's ceiling, but I've heard that RL paints are difficult to work with.
---
| | | |
| --- | --- | --- |
| wait! I have good news! | | |
organic_smallhome -- wait! Don't cast off RL paints yet!

Last year, the man who was painting our house refused to work with RL paints because of their quality. He said the best application possible with RL paints is if you throw the open can on your wall -- literally throw it on the wall.

But that was LAST year! Evidently RL paints have been reformulated and are now a breeze to work with. I heard this both through the Paint Forum here on GW as well as through our painter (I asked him after I'd read about it).

Also, I had the Meerschaum matched into BM paint, so I can send you the formula. I promised my four year-old a game of Zingo!, so I can't go dig around in the garage this second (and in truth, I shouldn't even be on the computer but shh!, don't tell), but after he goes to sleep I'll go find it and post it here.

So I think I have good news on both fronts: RL paint quality is much improved and I can give you the BM formula for Meerschaum. I'll be back later!
---
| | | |
| --- | --- | --- |
| RE: A Deep, Rich Ivory Wall Color | | |
Hi OSH: no, they're not, not really. They used to be, but they've been reformulated.

I'm with Igloo on the Patience, which is a tiny bit grey in my dim MBR, but I really like it too. And I'm going to check out Writer's Parchment. Also, OSH, look at Ralph Lauren's Natural Cream -- very pretty.
---
| | | |
| --- | --- | --- |
| Meerschaum Formula in BM | | |
Okay, for one gallon:

Pastel Base

OY 1x 5.0000
BK 0x 1.5000
MA 0x 1.0000
GY 0x 4.0000

I like igloochic's Parchment -- that looks creamy and a shade or so lighter than the Meerschaum. And truthfully, I wonder if it (based on her photograph as seen through my monitor and as filtered through my understanding of what you're after) mightn't be a better choice for you.

I LOVE Meerschaum and it is absolutely the perfect color for me, so I'm not trying to sell it short. But again with all those caveats, I wonder if Parchment is a closer match to "deep, rich ivory."

I just held up the Elephant Tusk sample and the Meerschaum has much more yellow in it: next to it, the Elephant Tusk appeared to almost have a green base. Keep in mind, I only have the the chip in the color book of the Elephant Tusk so who knows what it's really like! But I wanted to give you a point of reference.

Happy hunting!
---
| | | |
| --- | --- | --- |
| RE: A Deep, Rich Ivory Wall Color | | |
I'm suprised to hear anything bad about RL paints. I've been using them for years...they're the only paints I buy at the big box store. Honestly, I've purchased tens of gallons, after having used them on ceilings in three homes, as well as cabinets. And I'm using them on the new place as well, and I can't say as I've noticed any change in their formation. They go on rich and smooth, both with a brush and roller. They're thick, with a high level of solids, but that's what you want in a good paint.

I'd call Writers Parchment a true match to deep, rich ivory myself. Parchment is one step deeper in tone. I'd call it a very soft tan, but definately a tan, next to the parchment which is ivory. I had Parchment on the dining room ceiling and it was just one step too far into tan to keep up, which is why I switched out to the writers parchment (the walls are washed with gold and buff, so the softness of the ceiling light is essential for the room to work).

I just made my ceiling color sound like a science project gone bad :oP "Essential for the room to work" LOL I'm starting to think I'm a decorator :oP
---
| | | |
| --- | --- | --- |
| RE: A Deep, Rich Ivory Wall Color | | |
I went with Sherwin Williams Dover White in my DDs room. I like it so much I'm going to do my living room and sitting room downstairs in it also. It is a soft warm white, it does not have any pink, orange, or green undertones in my house. How funny, Elephant tusk (and linen white) were the BM colors I wanted to try also for the same look, but the BM store in my town went out of business and I never got to try them. I'm happy with the SW paint.

---
| | | |
| --- | --- | --- |
| RE: A Deep, Rich Ivory Wall Color | | |
We just bought a dark old townhome. I'm thinking about doing ivory wallcolors and painting the kitchen cabinets. My molding is like Jenny from the block only very dark. I'm thinking about painting the moldings white and the doors too. This unit is so depressing but the best for our pocketbook. What does everyone think about painting the moldings and doors??? Any help would be appreciated.
---
| | | |
| --- | --- | --- |
| RE: A Deep, Rich Ivory Wall Color | | |
If the wood trim and doors are of lower quality like pine paint them but if they are solid oak or maple do not paint them.
---
| | | |
| --- | --- | --- |
| RE: A Deep, Rich Ivory Wall Color | | |
Igloochic, I just saved those two pics you sent in since those are the wall colors I had been aiming for in my Master Bedroom and home office and I wish I saw these pics almost 2 years ago. Thanks for sharing. Maybe I will repaint my home office the RL Writer's parchment when the furniture is out of the room.
---
| | | |
| --- | --- | --- |
| RE: A Deep, Rich Ivory Wall Color | | |
I loved Eddie Bauer Alabaster. Always decadently rich and never an undertone of anything but ivory although I can guarantee that it will show pink or peach on the monitor. Worth checking out and testing. I've been burned numerous times by undertones and this is the only one that I've never regretted and always enjoyed.
---
| | | |
| --- | --- | --- |
| RE: A Deep, Rich Ivory Wall Color | | |
ttodd, I love the Eddie Bauer Alabaster color a lot! On my monitor it is a rich ivory color with no undertones. Thanks for sharing. I saved your picture under favorite ivory colors.
---
| | | |
| --- | --- | --- |
| RE: A Deep, Rich Ivory Wall Color | | |
>> If the wood trim and doors are of lower quality like pine paint them but if they are solid oak or maple do not paint them. <<

Keep in mind that this is just her opinion and personal preference. There is no technical reason why you can/should paint pine or other lesser quality woods but can't/shouldn't
paint oak or maple.
Oak? For cryin' out loud! If I wasn't so overwhelmed by the huge PIA factor in painting my oak kitchen cabinets.. it would be the very first thing I would not hesitate to paint! Ugh! Do I hate them! I did paint my all my oak trim, doors and windows and it made a huge difference... All I can tell you, is PRIME, prime, prime first!
There are plenty of folks that think wood is off limits. Me? I wouldn't care what kind of wood it was. If I wanted to paint it, I would. Even more so for the reason you are wanting (needing) to.

Silly
---
| | | |
| --- | --- | --- |
| RE: A Deep, Rich Ivory Wall Color | | |
I've been looking for a deep rich ivory that doesn't read yellow and hasn't even the slightest whiff of pink. My painter uses both Benj. Moore and Kelly Moore. If I find a Ralph Lauren paint I like (e.g., Writer's Parchment), is it likely either of those two stores can make me some up in their brand?
---
Post a Follow-Up
Please Note: Only registered members are able to post messages to this forum.
If you are a member, please log in.
If you aren't yet a member, join now!
---
Return to the Home Decorating Forum
Information about Posting
You must be logged in to post a message. Once you are logged in, a posting window will appear at the bottom of the messages. If you are not a member, please register for an account.
Please review our Rules of Play before posting.
Posting is a two-step process. Once you have composed your message, you will be taken to the preview page. You will then have a chance to review your post, make changes and upload photos.
After posting your message, you may need to refresh the forum page in order to see it.
Before posting copyrighted material, please read about Copyright and Fair Use.
We have a strict no-advertising policy!
If you would like to practice posting or uploading photos, please visit our Test forum.
If you need assistance, please Contact Us and we will be happy to help.

Learn more about in-text links on this page here