Return to the Home Decorating & Design Forum
|
Post a Follow-Up
---
| | | |
| --- | --- | --- |
| Another paint or don't paint question... | | |
Posted by
cheryleb
(
My Page
) on
Sun, Aug 18, 13 at 21:58
I have always been averse to painting furniture, especially if it has a beautiful patina and wood grain. Having said that, I want to create a soft and pretty bedroom and think the dark wood might not work.

I am having the walls painted this week in CIL Wexford Fog. It is the color shown in the last picture. I am also using the night tables and upholstered headboard. I have floor length drapery panels in a soft green with a gold pattern. I am thinking about painting this dresser in a creamy white. The nightstands are a deeper taupe and the headboard is cream.
I am thinking about using this mirror over the dresser. It is 32" x 52" and the dresser is 55" wide.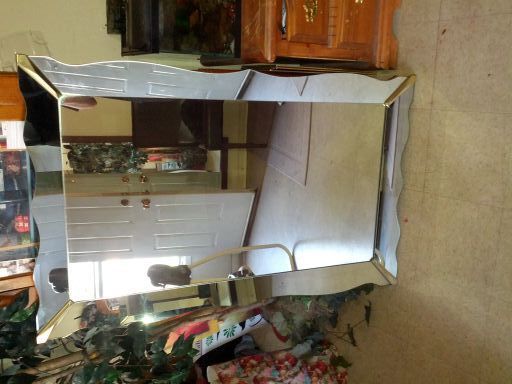 I also have a mirrored jewellery armoire in the room.
Do you think I should paint this dresser or leave it in its natural state? Would my plan work as well without painting?
---
Follow-Up Postings:
| | | |
| --- | --- | --- |
| RE: Another paint or don't paint question... | | |
I think the dark piece works well in your inspiration picture.
---
| | | |
| --- | --- | --- |
| RE: Another paint or don't paint question... | | |
Personally, I couldn't paint your piece, I love the beautiful finish. However, it's yours to enjoy, and you should do what makes you happy.

I agree with Pal, the inspiration picture is a good example that stained wood is gorgeous with that style decor, and would play well off your other furniture.

I'd at least live with it in there for a while, before you decide, and see how you feel. :)

---
| | | |
| --- | --- | --- |
| RE: Another paint or don't paint question... | | |
I'm not opposed to painting furniture, but that piece is really lovely, I would leave it natural.
---
| | | |
| --- | --- | --- |
| RE: Another paint or don't paint question... | | |
You have me convinced. It has a few scratches but I bought it because it had great character and lines. Looking at the picture of my room in the last house reminded me of how nice the wood did look with the creamy neutrals.

I bought some picture frames today and had a few photos printed and thought they would look really nice on a white dresser but they will probably look very good on a wood one too.

Thank you all very much.
---
Post a Follow-Up
Please Note: Only registered members are able to post messages to this forum.
If you are a member, please log in.
If you aren't yet a member, join now!
---
Return to the Home Decorating & Design Forum
Information about Posting
You must be logged in to post a message. Once you are logged in, a posting window will appear at the bottom of the messages. If you are not a member, please register for an account.
Please review our Rules of Play before posting.
Posting is a two-step process. Once you have composed your message, you will be taken to the preview page. You will then have a chance to review your post, make changes and upload photos.
After posting your message, you may need to refresh the forum page in order to see it.
Before posting copyrighted material, please read about Copyright and Fair Use.
We have a strict no-advertising policy!
If you would like to practice posting or uploading photos, please visit our Test forum.
If you need assistance, please Contact Us and we will be happy to help.

Learn more about in-text links on this page here