Return to the Home Decorating & Design Forum
|
Post a Follow-Up
---
| | | |
| --- | --- | --- |
| Lighting input please | | |
Posted by
sochi
(
My Page
) on
Tue, Aug 12, 14 at 21:57
The kitchen/LR/DR & stairwell space in my cottage will only have hanging lighting in one location, over the kitchen peninsula, nothing over the dining room table or in the stairwell (as it would interfere with sight lines out the windows).

I had found a white oak German light I really liked, and was set to order it, but it is a bit too big. I need pendants not much more than 6-7" wide:
Then found a great Italian light (two in fact), right size, white oak again and the designer seems like a lovely man who is happy to ship it to me directly. Downside is that they won't actually give off much light (really just task lighting I expect).
Then I decided I should really make an effort to find something made closer to home, at least in North America. Virtually a bust. I do like these pendants, but they are only available in walnut. Do you think walnut is a bad choice given my white oak floors? North Americans don't seem to be working with much white oak yet.
Other possible North American options, unclear what type of wood it is: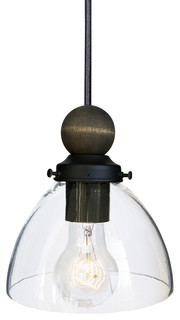 ---
Follow-Up Postings:
| | | |
| --- | --- | --- |
| RE: Lighting input please | | |
I really love the fourth light you posted. I would love the details on it. And, I sent you an email via your page with a related comment.
---
| | | |
| --- | --- | --- |
| RE: Lighting input please | | |
localeater - I've pasted a link to the fourth light fixture. It is made my Cerno.

Thanks for the message, I think I've addressed the issue!
Here is a link that might be useful: pendant
---
| | | |
| --- | --- | --- |
| RE: Lighting input please | | |
Sochi, thanks for posting the link.
Thinking about your space, your original choice, which is ruled out because it is too large, has a certain softness that I dont really get from other of the other selections.
I posted a link of something interesting, the small is 6.5" cant embed pictures as I am at work-sorry
Here is a link that might be useful: caravaggio opal
---
| | | |
| --- | --- | --- |
| RE: Lighting input please | | |
localeater, the caravaggio opal is lovely, I will consider that. I see what you mean about the softness of the first light, I will keep that in mind as I continue to search.
---
| | | |
| --- | --- | --- |
| RE: Lighting input please | | |
How much recessed lighting do you have? Is that enough to light the space essentially on it's own? If not, it should be. You don't want to rely on pendants, of any wattage really, to provide the primary lighting in any part of a kitchen.

In fact, in many commercial spaces the pendant lighting *looks* like it lights the room but it is just there for a little bit of sparkle lighting, infill lighting, and visual interest. Very even lighting through recessed lighting is too "flat" for many scenarios.

I also want to address "blocking" the view with fixtures. Sure a certain type of large or opaque fixture, or a fixture in the wrong spot can block views, but sometimes a hanging fixture helps frame a view and/or put it into some sort of perspective.

I would look at Niche Modern lighting because they are essentially transparent fixtures
Here is a link that might be useful: Niche Modern
---
| | | |
| --- | --- | --- |
| RE: Lighting input please | | |
I love the Italian ones. And their pendants too,
---
| | | |
| --- | --- | --- |
| RE: Lighting input please | | |
| | | |
| --- | --- | --- |
| RE: Lighting input please | | |
ravencajun, that is lovely and could certainly work. Looks like it is only available in Australia though, which makes Italy seem rather close.

Pal, I looked at Niche and really like most of them. This one could work, but I thought it might be a bit too refined, not casual enough given our casual, wooded location? Am I over thinking this? This one pictured below looks a bit like an old lantern though.
Hmm, perhaps we made a mistake and have insufficient lighting in the kitchen, probably my fault as I think that there are always too many pots and I deleted a few from the original plan. Here is the revised lighting plan, many, many recessed lights all over the DR and hall, none in the kitchen. Remember that the kitchen is very small. There is under counter lighting on the cooking run, and the three pendants over the peninsula, essentially for task lighting, which is hopefully fine given the number of lights near the kitchen.
I originally planned for a hanging light in the stairwell, but once the walls and windows were up and I saw the view of the trees out the windows I changed my mind. It isn't that a light would so much block the view, but obscure or interfere unnecessarily. Ditto for over the DR table. When you walk into the main living space from the hall your eyes immediately go up and out the windows to the tree canopies. I didn't want to interfere, but your notion of using lighting to enhance the view intrigues me. My architect is all for minimalism in the extreme, so he readily agreed to no hanging lighting. The pendants over the peninsula don't interfere with major sight lines at all.
---
| | | |
| --- | --- | --- |
| RE: Lighting input please | | |
I would probably put two recessed cans in the aisle of the kitchen one lining up with the center set, one lining up with the right hand set, or perhaps closer to the window with that one, as alignment in that particular corner may not be crucial. (Both lined up with the can in the hallway outside near the fridge). (I tend to like perfect grids of lighting because I think they "show" less by turning into a pattern)

I probably would have lit this house differently but that's because I don't like recessed cans in living spaces, I may have tried some kind of hidden soffit lighting, or recessed wall lighting, but that's neither here nor there. I've looked at some of these sorts of fixtures for my place and get the feeling they would increase the lighting budget about 8 to ten fold.

I think what I am talking about with using a pendant to put a view in perspective only works in this sort of house with something like the Niche Modern fixtures, which are transparent, so you would look through them and it would add some subtle color and distortion to the view, which could be interesting especially in winter. In summer they might disappear more because of the stronger outdoor colors.
---
| | | |
| --- | --- | --- |
| RE: Lighting input please | | |
Pal, in the Niche Crystalline series, would you recommend clear only? I quite like the smoked, don't love the brighter colours for this application. No indigo available sadly. The Axia, Delinia and Calla could all work size-wise. One of each?

It may be too late to easily install additional recessed lights, but I will inquire, thanks for the advice.

Budget is an issue. I really wanted to not make this a mega budget project for several reasons and we had to keep the lighting simple. I'm not sure if we compromised in the right places though. We didn't end up doing museum reveals and dry wall return type doors (only the windows). I already regret this.
---
| | | |
| --- | --- | --- |
| RE: Lighting input please | | |
I would pick one and stick with that. They don't have to be clear, I like the smoked ones.

I think Delina is too complex. Calla is what I would pick in that series.

What about Pod? Bella? or something from that series. They come in the blue.

I don't think you will regret not doing the drywall returned doors in the long run. I always look carefully at this sort of stuff and often they don't seem to have held up very well. Realistically a narrow trim, or a periscope jamb with the drywall dying into it on the wall (not a cheap detail but not like a kerfed or drywall door return)--holds up better.

I've been thinking about this a lot because I want to do at least recessed baseboards and drywall window returns and I am vacillating about the door detail. Luckily there is only the front door downstairs (The basement door is being jibbed and the others are sliders). But I ruled out a plaster or drywall corner at the doors.
---
| | | |
| --- | --- | --- |
| RE: Lighting input please | | |
For the money I'd choose the Pharos in that series I think, works with my architect's boat theme for the house. I've been lusting for the Encalmo-Stamen for years. Real budget buster that one, but gorgeous, great colours.

Thanks for making me feel better about the drywall returns. I should have asked about recessed baseboards, but I'm sure I'll get over the disappointment.

btw, I'm not loving the white cabs in the kitchen, but will wait for the whole thing to be finished and live with it for some time before doing anything drastic...
---
| | | |
| --- | --- | --- |
| RE: Lighting input please | | |
I did one small area of Museum reveal on some cabinetry and it was billed by the inch.

I don't think the floors are flat enough in my house to get away with an actual museum reveal because everything would have to dip or undulate to keep that small gap even. But I may be able to have a similar gap a few inches up over a piece of baseboard.

Also this is more durable too. You have to be careful not to hit the wall with the vacuum cleaner with a museum reveal.

I agree that you would wait until you've lived in it to see about the white cabinets. You are looking at things kind of "empty" right now. But for some reason I had thought there was a color involved.

I didn't even look at the Niche Modern pricing. They just seemed like the obvious candidate.
---
| | | |
| --- | --- | --- |
| RE: Lighting input please | | |
No colour in the cabs, possible still for the back painted glass backsplash. I haven't taken a backsplash decision yet as I wanted to see if I could live with the cabinets first.

Here are some pictures. Love the oak floors that you can just barely see, the veneer on the open shelves coordinates reasonably well too I think. The floors are knotty with a slight pickle to them, the shelves don't have the knots.
---
| | | |
| --- | --- | --- |
| RE: Lighting input please | | |
Hi Sochi,

It is looking great! I cant wait to see more pics! I like the second light the best.

I have recessed lighting and Pamplisest is right on. I never use my pendants. But I like how they look up there anyway.
---
| | | |
| --- | --- | --- |
| RE: Lighting input please | | |
Schi, I love your oak floors! I can't wait to see more of them. I like the 2nd lamp with your floors and cabinets. What counter and backsplash are you going with?
---
Post a Follow-Up
Please Note: Only registered members are able to post messages to this forum.
If you are a member, please log in.
If you aren't yet a member, join now!
---
Return to the Home Decorating & Design Forum
Information about Posting
You must be logged in to post a message. Once you are logged in, a posting window will appear at the bottom of the messages. If you are not a member, please register for an account.
Please review our Rules of Play before posting.
Posting is a two-step process. Once you have composed your message, you will be taken to the preview page. You will then have a chance to review your post, make changes and upload photos.
After posting your message, you may need to refresh the forum page in order to see it.
Before posting copyrighted material, please read about Copyright and Fair Use.
We have a strict no-advertising policy!
If you would like to practice posting or uploading photos, please visit our Test forum.
If you need assistance, please Contact Us and we will be happy to help.

Learn more about in-text links on this page here