Return to the Home Decorating & Design Forum
|
Post a Follow-Up
---
| | | |
| --- | --- | --- |
| Paint/strip door hinge? | | |
Posted by
stuvwxyz99
(
My Page
) on
Thu, Aug 2, 12 at 21:44
I have some steel door frames (from which the hinge cannot be removed). The current state of these hinges looks like the example below, having been left this way by the previous owners.

I figure it would look better completely painted or completely stripped. Any advice on the best way to achieve either?

Hinge: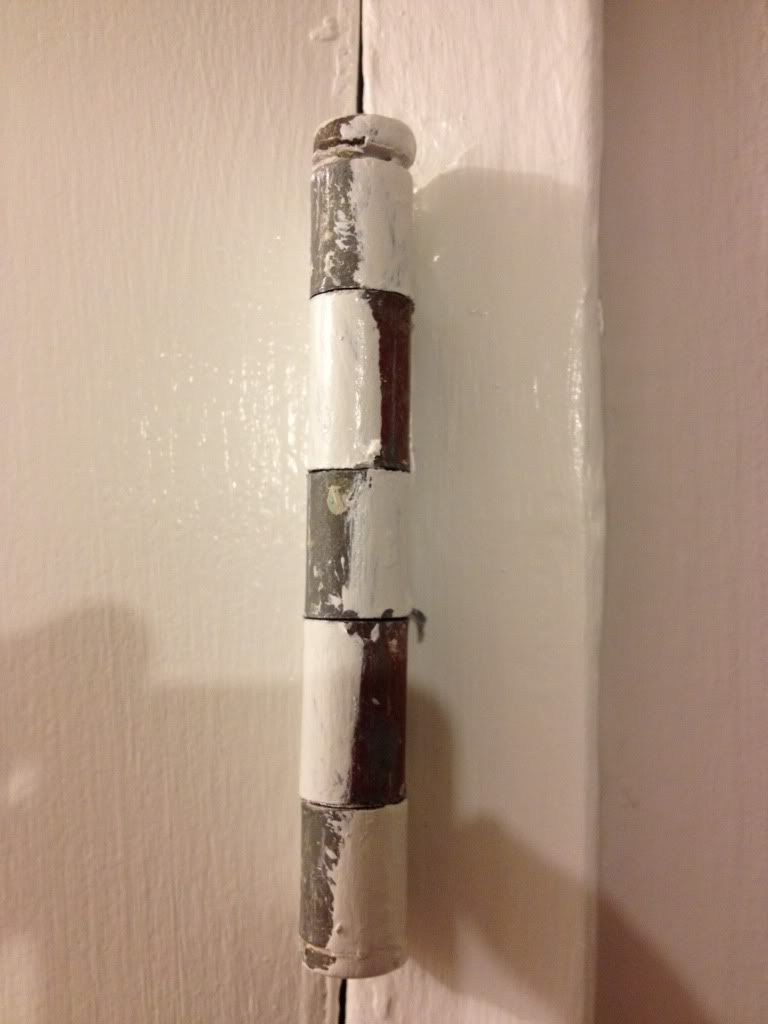 ---
Follow-Up Postings:
| | | |
| --- | --- | --- |
| RE: Paint/strip door hinge? | | |
If the paint is latex, you should be able to clean it off with goof off. Previous owners here did about the same thing, except our doors are wood. I managed to get it all off. On the flat part, I did use a razor blade, because some areas were very thick. Good Luck.
---
| | | |
| --- | --- | --- |
| RE: Paint/strip door hinge? | | |
strip, don't paint. We stripped all of ours at the old house which were painted...looked just like yours...but we removed them from the doors first...it was a challenge but doable.
---
| | | |
| --- | --- | --- |
| RE: Paint/strip door hinge? | | |
They don't look like they are very old, so either I would replace them with new, or strip them (please don't paint them!).

If you decide to strip them, goof off will be hard work, and very time consuming. For all our old hardware, I read a trick, which I tried... and it works perfect. Either on a pot or a crock pot (I used a crock pot) place your hardware, cover with water & add liquid laundry detergent. Cook for several house, and the paint will just fall off.
---
| | | |
| --- | --- | --- |
| RE: Paint/strip door hinge? | | |
Unfortunately, the hinges cannot be removed (for replacement or for the crock-pot trick). They are an integral part of the steel door frame (either welded or riveted, not sure which).

I will give the goof-off a try.
---
Post a Follow-Up
Please Note: Only registered members are able to post messages to this forum.
If you are a member, please log in.
If you aren't yet a member, join now!
---
Return to the Home Decorating & Design Forum
Information about Posting
You must be logged in to post a message. Once you are logged in, a posting window will appear at the bottom of the messages. If you are not a member, please register for an account.
Please review our Rules of Play before posting.
Posting is a two-step process. Once you have composed your message, you will be taken to the preview page. You will then have a chance to review your post, make changes and upload photos.
After posting your message, you may need to refresh the forum page in order to see it.
Before posting copyrighted material, please read about Copyright and Fair Use.
We have a strict no-advertising policy!
If you would like to practice posting or uploading photos, please visit our Test forum.
If you need assistance, please Contact Us and we will be happy to help.

Learn more about in-text links on this page here