Return to the Home Decorating & Design Forum
|
Post a Follow-Up
---
| | | |
| --- | --- | --- |
| Help my entry area (so my kitchen can be finished!) | | |
Posted by
smalloldhouse
(
My Page
) on
Sun, Aug 3, 14 at 20:52
We recently redid our small galley kitchen - the project included opening up a load-bearing wall and moving the gas and plumbing so that the kitchen would flow into an attached breakfast room. That room is actually at the front of our house (it was probably the living or dining room of the house before previous owners expanded it).

We still have a few things to do in the kitchen proper but I really need to rejigger the entry way furnishings. I want to find some kind of piece to sit just next to the front door that would have storage: at least one small drawer for charging cords and headphones; shelves for a small collection of my late mother's cookbooks; some kind of perch space for a small TV monitor or computer screen; and ideally some space to stash some shoes as well. I'm thinking perhaps a hutch? or a console table? or some kind of buffet?

The space where this piece should go is currently occupied by an old secretary desk that somehow has never been useful for housing anything except old phone books, so it will go.

View of entry from kitchen: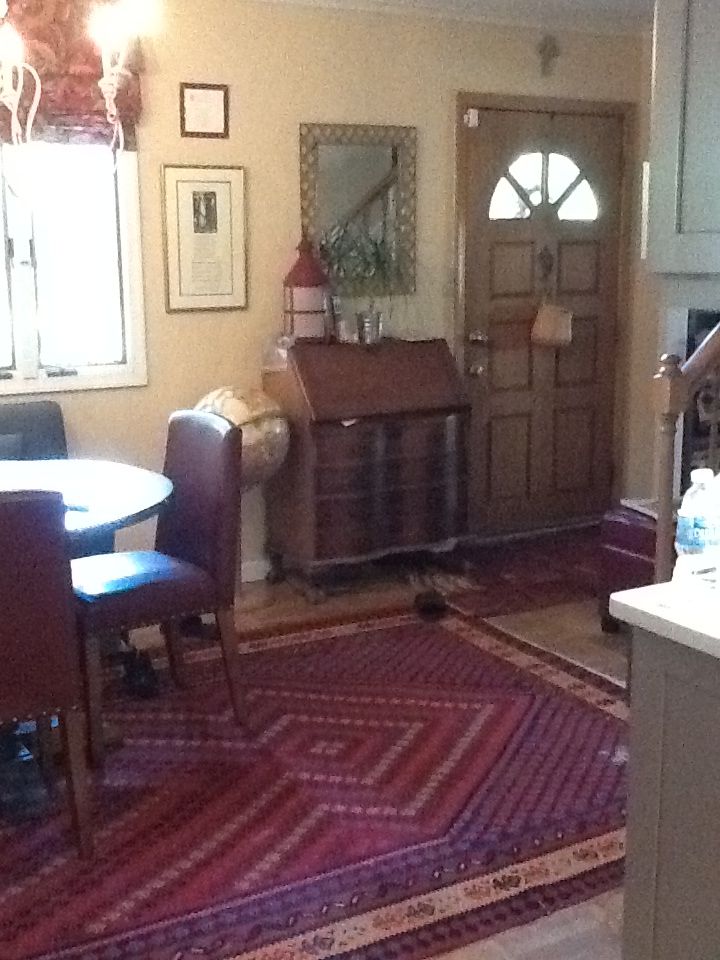 View of eat-in part of the kitchen from entry:

Right at the entry, I currently have a small bench and an etagere with baskets for shoes. Don't love either one, and they are not as useful as they should be. But what should replace them, given that the staircase is right there? (This is a pre-reno photo; the wall separating the kitchen is now gone as is the awful wooden cabinet.)
To the left as you enter is a den/playroom and office. I have a set of hooks there for kiddo backpacks and coats; adult stuff goes in a coat closet in the breakfast room. There are no hallways in this house as you'll see from our pre-kitchen reno layout.
Sorry for the long complicated description leading up to my question: I would love ideas on how to reconfigure this. Any ideas on a good storage piece for the breakfast room? And what should I put right at the entry - bench (no one sits on it)? another console table? nothing at all?
Thanks for any ideas!!
---
Follow-Up Postings:
| | | |
| --- | --- | --- |
| RE: Help my entry area (so my kitchen can be finished!) | | |
The best thing I did for our small but well used front hall space was to buy an old but sturdy dresser with 5 drawers. We are four, so we each got a drawer (mitts, hats, shoes all fit) and the top one is for stashing all those whatevers. Chargers go on top in a nice tray. I painted it a warm black and it looks as good as it functions.

Love what I can see of your new kitchen. Would love to see more pics.
---
| | | |
| --- | --- | --- |
| RE: Help my entry area (so my kitchen can be finished!) | | |
I'm confused by the computer monitor...do you want this to be like a desk you can sit at and work on the computer? A chair to push in that can be sat upon for putting on shoes, and then shelves above for cookbooks and display?

For the staircase storage, you can look at step chests...
Here is a link that might be useful: step chests
---
| | | |
| --- | --- | --- |
| RE: Help my entry area (so my kitchen can be finished!) | | |
I think the entry desk and ottoman and visually cluttering the space. The desk is gorgeous, maybe you can place it somewhere else in the house.

Lovely space and from what I can see of your kitchen its beautiful!
---
| | | |
| --- | --- | --- |
| RE: Help my entry area (so my kitchen can be finished!) | | |
| | | |
| --- | --- | --- |
| RE: Help my entry area (so my kitchen can be finished!) | | |
How about putting the white shelves with the baskets where the desk is (desk to another room...maybe dining room) and center the red bench on the stair wall? Too much furniture makes it looked cluttered to me.
---
| | | |
| --- | --- | --- |
| RE: Help my entry area (so my kitchen can be finished!) | | |
Thanks everyone.

@aktillery & @grandmaof3, you hit the nail on the head - it's all too cluttered. Most of the money for our kitchen reno basically went to buy an extra 12" of width for that room, now I realize just how big an improvement it is to have more space and less stuff.

We don't do shoes in the house mostly, and we've experimented with various schemes over the years to corral them. Stuffing the shoes in bins has worked okay until recently but my kids are crazy tall - the 10yo now wears men's sized shoes - and they're getting harder to jam in the bins. I don't love the look of the Ikea shoe cabinets but I'd be tempted to get one simply for the function, except it just doesn't work with the descending staircase wall. The step chests that @Annie posted are an interesting option to explore, hmm...

I've been hunting for some shallow sideboard/console/buffet/hutch for that space between the door and the banquette. Then I'd probably dump the bench/shelves at the entry entirely. But I feel like it might look a little weird to have nothing there at all.

@Annie, I don't need desk space - both kids have desks in their rooms that still go unused (early elementary, homework tends to be done at the kitchen table.) But I would like some kind of screen; sometimes it's the best way to lure them out of the living room where most of the TV watching goes on. And when we have friends over we tend to put the kids at the banquette and have adults in the dining room. Rationalization, but we have not managed screen-free parenting unfortunately!

@Tibbrix, I've been stalking CL but I'm also sort of gunshy about the whole thing. And I can't decide whether I want something painted (and if so, what color) or stained. And of course I've been hunting around all the usual suspect stores/sites from PB onward. @daisychain, I've seen a few old chests used as sideboards, I need to explore this option more.

Thanks for all your help. I'm going to keep hunting and maybe post some possibilities here...
---
Post a Follow-Up
Please Note: Only registered members are able to post messages to this forum.
If you are a member, please log in.
If you aren't yet a member, join now!
---
Return to the Home Decorating & Design Forum
Information about Posting
You must be logged in to post a message. Once you are logged in, a posting window will appear at the bottom of the messages. If you are not a member, please register for an account.
Please review our Rules of Play before posting.
Posting is a two-step process. Once you have composed your message, you will be taken to the preview page. You will then have a chance to review your post, make changes and upload photos.
After posting your message, you may need to refresh the forum page in order to see it.
Before posting copyrighted material, please read about Copyright and Fair Use.
We have a strict no-advertising policy!
If you would like to practice posting or uploading photos, please visit our Test forum.
If you need assistance, please Contact Us and we will be happy to help.

Learn more about in-text links on this page here