Return to the Home Decorating & Design Forum
|
Post a Follow-Up
---
| | | |
| --- | --- | --- |
| A story about a dog and a dresser.... | | |
Posted by
beeps
(
My Page
) on
Sat, Aug 18, 12 at 20:44
So, I have a matching bedroom set - dated but it works for me. I still like the lines, although not so much the footboard. It consists of a queen size bed, nightstand, dresser, and tall chest.

One day, while at work....

this lovely dog (yes, three legs - affectionately known as a tripawd - he has bone cancer =( - and is embarrassed I chose to wrap a chemo wound in pink rather than a more manly color)...
chose to eat this dresser...
So I now throw a scarf over it to hide the scars.
The bed, nightstand, and chest (not shown) didn't appeal to his lust for wood that day, apparently, and escaped unscathed. (Little brother is naughty, but he was cleared of all suspicion).
So, I'm building a new home and would like to either fix this dresser or toss it and get something else. Or get a whole new matching set! :) I'm not a "scarves on the dresser" person.
I'm having difficulty with the not too matchy-matchy but not too different thing when working with a bedroom set. What would work in it's place? Or does the not too matchy-matchy rule not apply to bedroom sets? Things I see are almost-but-not-quite the same, or what-the-heck-is-that-doing-in-here different.
WWYD? Thanks in advance for advice, suggestions, etc.
---
Follow-Up Postings:
| | | |
| --- | --- | --- |
| RE: A story about a dog and a dresser.... | | |
Personally, I love the set. I tend to be matchy matchy where my MB is concerned. I'd find some flat clear pine trim and run it like molding around the top of the dresser. You might (I can't tell from the picture) be able to use wood filler and stain it the color of the furniture. At worst, a piece of 1/8 inch furniture grade plywood cut to fit as an insert to the molding all stained to match.
---
| | | |
| --- | --- | --- |
| RE: A story about a dog and a dresser.... | | |
Outside corner molding. What a great idea! Why didn't I think of that! I think that's what I'll do. Thanks. =) (Can't use wood filler on that big area... he took some major wood off there.)
---
| | | |
| --- | --- | --- |
| RE: A story about a dog and a dresser.... | | |
So sorry your dog has cancer. What is his name? He looks like a sweetheart.
---
| | | |
| --- | --- | --- |
| RE: A story about a dog and a dresser.... | | |
Awww.. thanks. He's a very sweet boy - his name is Duke. He's a retired racing greyhound who just turned 7, and was diagnosed at the end of March this year with osteosarcoma. Life span after diagnosis tends to be very short, unfortunately. So I'm just loving him and letting him enjoy the time he has, however long that is.
---
| | | |
| --- | --- | --- |
| RE: A story about a dog and a dresser.... | | |
You could do what I do - embrace the canine decorations. I do try to prevent them but they can happen quickly - especially with puppies. I've come to value similar toothy decorations on various pieces of furniture because they remind me of much beloved dogs who have gone on and of the puppyhood of current dogs. I'd lemon oil (or what ever is appropriate to blend the damage a bit) and probably sand the corner a bit and live with it. Some of my 'decorations' are more than 20 years old and bring back good memories. The set is lovely and IMHO still appealing with the lacy tooth marks.

Duke, with his pink 'banner' looks content. He is lucky to have you. The way he is lying in the picture makes me want to reach out and pet him. Little Brother sure is cute.
---
| | | |
| --- | --- | --- |
| RE: A story about a dog and a dresser.... | | |
I like the bed and the mirror. Love the square lines of it. The dog is soooo cute as well. I hope you have more time than you expect with him.
---
| | | |
| --- | --- | --- |
| RE: A story about a dog and a dresser.... | | |
Such sweet doggies. So sorry to hear of Duke's cancer. Hope his days on this Earth are filled with love.

This is a little outside the box, but I really like that set and I'd try it if it were mine...remove the existing top and replace with a slab of stone, not too thick, because it'd be heavy, but it'd look cool. Or, less heavy, replace it with a 1/2" plywood and add slate, granite or marble tile and add wood molding trim.
---
| | | |
| --- | --- | --- |
| RE: A story about a dog and a dresser.... | | |
May every dog be surrounded by love (and tasty furniture) as yours are. After life as a racing dog, Duke is so lucky to have found a safe and protective haven with you.

I like the set very much and think jaysmom's suggestion is excellent. We have a chewed footboard, but it wasn't as imperative that we repair it seamlessly since the piece was somewhat distressed to begin with. Now it's even more distressed.
---
| | | |
| --- | --- | --- |
| RE: A story about a dog and a dresser.... | | |
Healing thoughts being sent Duke's way, and yours. I, too, have chew marks in various places on furniture (and woodwork).
It's a nice looking set. If you love the dresser, maybe you could look into having a professional furniture repair person look at it. I took a broken pedestal side table to a furniture restorer recently and he did a great job for a reasonable sum.
---
| | | |
| --- | --- | --- |
| RE: A story about a dog and a dresser.... | | |
I love the photo of Duke, I think greyhounds look sort of like deer and I would love to have one (DH vetoes, I have 1 dog and that's enough to him).

I second the suggestion to have a furniture restorer or woodworker look at it. They could maybe fix it for a smallish sum ($100?) and it would be a lot less than replacing it.
---
| | | |
| --- | --- | --- |
| RE: A story about a dog and a dresser.... | | |
You could replace the top with a new wood top from a good woodworker. Hang on to the old top for shelves or another use.

I'm sad for your guy. He is so blessed having you. When mine was sick, she ate everything of weirdness and was never an issue before. Didn't get into the furniture, but I too said whatever she wants it is her time. She was on pain meds and I think when the pain got bad was when she would chew.

Big hug for your guy.
---
| | | |
| --- | --- | --- |
| RE: A story about a dog and a dresser.... | | |
I'd also like to offer sympathy for Duke, who looks so sweet. It's sad to know he's only 7 and has this dx. It's wonderful of you to care for him so lovingly. I also let you know that you are not alone in furniture eating.

I was working in my office one day recently during a mild thunderstorm. Riley was under the antique pine table in the back of the LR, being perfectly quiet. A few days later when I went to dust it and water a plant...
The do-er, looking innocent? He has a brother and sister who wouldn't dream of doing something like this.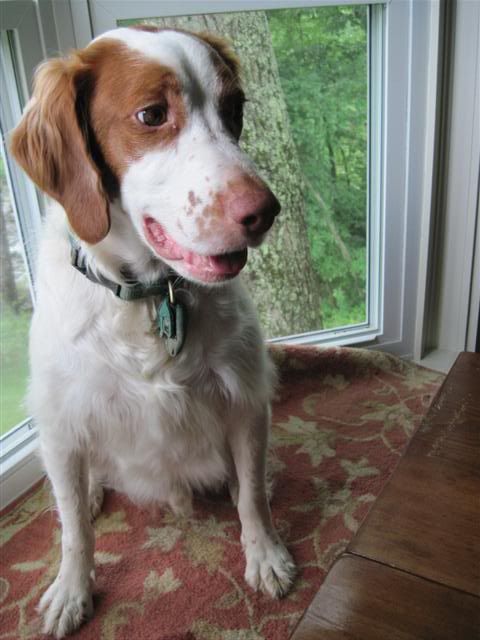 ---
| | | |
| --- | --- | --- |
| RE: A story about a dog and a dresser.... | | |
Depending on how the piece was built, the top may come off easily or it may not. Possible you could take it off and rotate it so the damage is to the back.

Poor Duke. I fostered a tripod Golden for her final months of life. I was richer for the experience.
---
| | | |
| --- | --- | --- |
| RE: A story about a dog and a dresser.... | | |
I love the set and would try to get it repaired by a professional. It would be a whole lot cheaper than buying new. So sorry about your doggie, it must be hard.
---
| | | |
| --- | --- | --- |
| RE: A story about a dog and a dresser.... | | |
Thanks for the compliments on my bedroom set. And thanks also for the great ideas! I like out of the box, and the slab idea sounds pretty awesome. I looked and prefab pieces are too big but maybe I can get one cut down. Ikea has some not too huge, but nothing too exciting. Still, I'll be there tomorrow so will take a look.

And thanks so much for the kind thoughts and words about my handsome Duke. Poor guy got dealt a rough hand in life - I guess that's what happens when you are born on a Friday the 13th! ;o) He has an amazing attitude, spirit, and will to live, however. Sounds like I'm in the company of a lot of fellow dog lovers on this board.

And poor Riley, thunderstorms can be so scary! (Sorry about your table, however. Ouch!)

Graywings - hats off to you for fostering a dog knowing she had very limited time. I'm not sure my heart could take it.
---
| | | |
| --- | --- | --- |
| RE: A story about a dog and a dresser.... | | |
i am in the memory camp.our lovely archway into the dining room has wooden hammer dents in it from when my little DS stood on his Cozy Coop and hammered the archway. My camel leather cashmere lined gloves that I adore and wear- have a bite out of the wrist from Cooper.
I would sand a bit and stain the ripped wood, maybe the bite marks and call it done. To me those are precious family memories. perfection!
---
| | | |
| --- | --- | --- |
| RE: A story about a dog and a dresser.... | | |
I love the bedroom set (and all of the pups). Matching wood might be a little tricky so try something entirely different like soapstone or tiles of some sort. I think a soapstone top would look great with the style of the bedroom set.

Jodi-
---
| | | |
| --- | --- | --- |
| RE: A story about a dog and a dresser.... | | |
Or... You could rebuild the corner with wood-filler (or wood putty), and then paint the entire top black. That might look cool.

Especially if you also painted the tops of the night-stands and got black pulls.
---
| | | |
| --- | --- | --- |
| RE: A story about a dog and a dresser.... | | |
ah, Duke looks like such a sweet guy! little brother does too. Hugs to both of them!

yep, I have a good number of tooth prints and chewed things that i've grown to love over the yrs. After the initial shock and tears. I've come to the point that the things just aren't as important to me anymore as my furbabies. I'm not telling the puppy that tho.

It's like mega yrs ago with Jackie doing a guided tour of the WH - "These are engraved claw marks from a bone 'dig'. And over here is where Sir Pup enjoyed a corner of the Washington oriental rug. It was priceless. And then over there is Abe's favorite chair. It originally had an arm on each side of it..."
---
Post a Follow-Up
Please Note: Only registered members are able to post messages to this forum.
If you are a member, please log in.
If you aren't yet a member, join now!
---
Return to the Home Decorating & Design Forum
Information about Posting
You must be logged in to post a message. Once you are logged in, a posting window will appear at the bottom of the messages. If you are not a member, please register for an account.
Please review our Rules of Play before posting.
Posting is a two-step process. Once you have composed your message, you will be taken to the preview page. You will then have a chance to review your post, make changes and upload photos.
After posting your message, you may need to refresh the forum page in order to see it.
Before posting copyrighted material, please read about Copyright and Fair Use.
We have a strict no-advertising policy!
If you would like to practice posting or uploading photos, please visit our Test forum.
If you need assistance, please Contact Us and we will be happy to help.

Learn more about in-text links on this page here