Return to the Home Decorating Forum
|
Post a Follow-Up
---
| | | |
| --- | --- | --- |
| Favorite 'brown' paint colors? | | |
Posted by
bird_lover6
(
My Page
) on
Tue, Aug 24, 10 at 19:18
I'm looking for a nice brownish color to paint my office, which is adjacent to Behr Pale Wheat in foyer (a very soft, creamy tannish gold) and SW Harmonic Tan (which looks greenish in my kitchen).

Brown or greenish brown would do nicely in my office, I think, but nothing too grey.

Any suggestions? I've tried a couple so far, but one looks like - well - it belongs in the toilet. I'm sure this has more to do with lighting than anything else.

I have PB ember drapes (Peyton, I think). It's a bright orange-ish, rust-ish color.

Thanks for any suggestions!
---
Follow-Up Postings:
| | | |
| --- | --- | --- |
| RE: Favorite 'brown' paint colors? | | |
I have SW Camelback in several areas. It's a great medium to light brown, depending on light. I used a few lighter shades from the same strip in my last house and opted to go the darker route this time. Wish I'd gone darker still. :)

Rust/burnt orange is my favorite color and I use it in almost every room -- the walls go great with it. I use a lot of greens and creams as well, and have adjoining rooms that are painted an earthy green.
---
| | | |
| --- | --- | --- |
| RE: Favorite 'brown' paint colors? | | |
Thanks! I'll look for that one. :)
---
| | | |
| --- | --- | --- |
| RE: Favorite 'brown' paint colors? | | |
I have BM kingsport gray in my bedroom and love it!
---
| | | |
| --- | --- | --- |
| RE: Favorite 'brown' paint colors? | | |
We have Behr Winter Wheat in our den and our dining room... we love it! It just may be a complement to your Behr Pale Wheat. Good luck!
---
| | | |
| --- | --- | --- |
| RE: Favorite 'brown' paint colors? | | |
I have Camelback also. It's a pretty color with a touch of green tint when under incandescent lighting. I also have Behr Toffee Bar which is a beautiful brown. I get lots of compliments on it and it's perfect for an office, imo.
---
| | | |
| --- | --- | --- |
| RE: Favorite 'brown' paint colors? | | |
PPS - I'd love to see a pic of the Kingsport Gray!

I really like Cabot Trail by BM. Always reminded me of a tall cool glass of chocolate milk!
---
| | | |
| --- | --- | --- |
| RE: Favorite 'brown' paint colors? | | |
Okay, here they are, but please don't judge. we just moved in last week, our bed hasn't arrived yet, we're missing light fixtures and need to find a rug and put up artwork.

In the evening: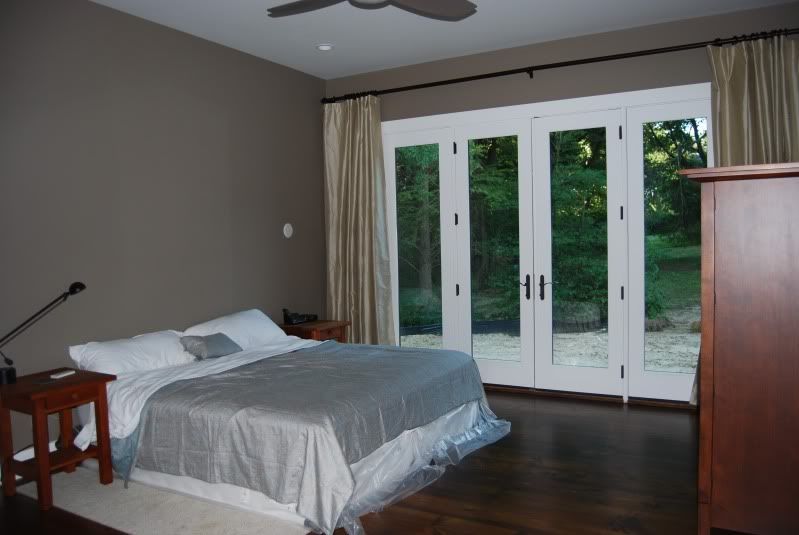 During the day in bright sunlight: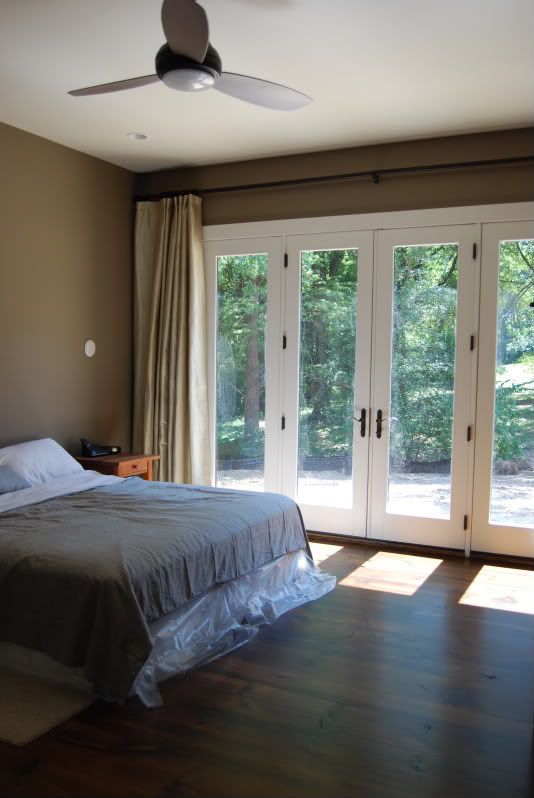 ---
| | | |
| --- | --- | --- |
| RE: Favorite 'brown' paint colors? | | |
Thanks, everyone! I really like that Kingsport Gray.
---
| | | |
| --- | --- | --- |
| RE: Favorite 'brown' paint colors? | | |
SW Macadamia. It's a great nutty brown that comes out just perfect. It was our main living space color for a long time and people would compliment us on the color a lot. I almost thought it was odd for such a neutral shade to get so many compliments! But it was a nice shade!
---
Post a Follow-Up
Please Note: Only registered members are able to post messages to this forum.
If you are a member, please log in.
If you aren't yet a member, join now!
---
Return to the Home Decorating Forum
Information about Posting
You must be logged in to post a message. Once you are logged in, a posting window will appear at the bottom of the messages. If you are not a member, please register for an account.
Please review our Rules of Play before posting.
Posting is a two-step process. Once you have composed your message, you will be taken to the preview page. You will then have a chance to review your post, make changes and upload photos.
After posting your message, you may need to refresh the forum page in order to see it.
Before posting copyrighted material, please read about Copyright and Fair Use.
We have a strict no-advertising policy!
If you would like to practice posting or uploading photos, please visit our Test forum.
If you need assistance, please Contact Us and we will be happy to help.

Learn more about in-text links on this page here