Return to the Home Decorating Forum
|
Post a Follow-Up
---
| | | |
| --- | --- | --- |
| Poll; Beds | | |
Posted by
imsmilng
(
My Page
) on
Sat, Aug 30, 08 at 18:58
I haven't purchased a bed yet; however, I have found three that I would finally like to make a decision on. We have decided to go with a king bed in our 13x14 room even though we know the room will be tight; we will get smaller nightstands. Please tell me which bed you like the best. In addition, does anyone else have a king bed in a room this size?

Thanks :) Have a great weekend!
---
Follow-Up Postings:
| | | |
| --- | --- | --- |
| RE: Poll; Beds | | |
I like the wooden bed best but in a small room I think a footless bed would work better.
---
| | | |
| --- | --- | --- |
| RE: Poll; Beds | | |
We had a king in a similar sized room. It worked - but our bed did not have a footboard. I think that made all the difference. I def. vote headboard only!
---
| | | |
| --- | --- | --- |
| RE: Poll; Beds | | |
I'd also vote for headboard only, and one with a shallow profile at that.
---
| | | |
| --- | --- | --- |
| RE: Poll; Beds | | |
I agree with the prior statement, a footboard will only add bulk to the bed and shrink the room more. Do you live in an area that offers California Kings? I ask because we had a CalKing in a room that size in our prior place and it fit better than a reg king. The reason is because their length is longer by 4 inches, but their width is 4 inches smaller on each side than a standard king. Also, with as beautiful as those beds are, have you considered a platform bed with an apolstered headboard? The lower height will also help to keep the room larger and our platform has drawers under it for storage, a hugh plus!
---
| | | |
| --- | --- | --- |
| RE: Poll; Beds | | |
DIL had a bed similar to the one in your first pic and her room was about the size of yours. It made the room feel smaller since the curve of the headboard and footboard took up more floorspace than a typical straight headboard and the curve prevented her placing the bed against the wall.
DIL couldn't remove her footboard since it held the sides together!
---
| | | |
| --- | --- | --- |
| RE: Poll; Beds | | |
Once I had my four poster king sized bed in a bedroom 12x12 and I had to put the bed against one wall to be able to access the closet on the other. It was too much bed for too little room, but as others said, I think if you choose one with a headboard only, or the platform with upholstered headboard.

All beautiful choices you have posted.

Susan
---
| | | |
| --- | --- | --- |
| RE: Poll; Beds | | |
I prefer the third one : ) It also seems to have less bulk and curve at the back, and the footboard isn't as pronounced and high as some of the others you've looked at. Would seem like a good mix of masculine and feminine as well.
---
| | | |
| --- | --- | --- |
| RE: Poll; Beds | | |
I think the first and last beds are lovely, but I'd probably steer away from the middle one. Those tufted areas are going to be real dust-collectors!
---
| | | |
| --- | --- | --- |
| RE: Poll; Beds | | |
We've got a king size bed in our MB, which is the same size-actually maybe even a bit smaller; I think it is about 13x13. I've only got a headboard and because the only place the bed can go is in front of a window I went with an open style (white metal). No footboard, as others have said that size room really isn't large enough for a statement bed.

Ann
---
| | | |
| --- | --- | --- |
| RE: Poll; Beds | | |
All your choices are attractive. My first thought when I saw this thread last night was to go with an open-iron headboard like RIP just said if you are worried about dwarfing the room with the bed. But I don't know if that's your style...
---
| | | |
| --- | --- | --- |
| RE: Poll; Beds | | |
Thanks for the feedback! We want something that we can be comfortable while reading but I guess we can prop up again pillows. I will look at some other choices or find something that I can use only a headboard.

Thanks :)
---
| | | |
| --- | --- | --- |
| RE: Poll; Beds | | |
My room is smaller also. Having a footboard really takes up a lot of space, even one that is the level with the mattress. I agree with othe posters on finding a headboard only. One that is not too tall and an open design if possible. Your choice may also depend upon window/door size and their locations in your room.

With the above opinion, there have been many who used some beautiful large beds in smaller rooms. Have you looked at the Gallery side? Great pics of how they have accomplished doing this well.
---
| | | |
| --- | --- | --- |
| RE: Poll; Beds | | |
I, too, vote for no footboard. Even better would be if you could find a headboard that hangs on the wall.
---
| | | |
| --- | --- | --- |
| RE: Poll; Beds | | |
I don't know about size but I think that third bed is beautiful. If the room can handle it, I think a footboard really finishes the look and makes a bed look a lot better. I had never had one until about 2 years ago when I finally bought a bed. I got an iron sleigh bed so it is open but if the size works, that third one is awesome.
---
| | | |
| --- | --- | --- |
| RE: Poll; Beds | | |
My bedroom is about 13 x 15 and we have plenty of space for both the headboard and footboard. Hope this picture isn't too big.
Trying to show how much room left at end of bed.
---
| | | |
| --- | --- | --- |
| RE: Poll; Beds | | |
I am so thankful for the feedback! Pagram, the visual helps so much; I definitely think we are going to move forward with a king size. In thinking about finding something lighter for the room, what do you think of this?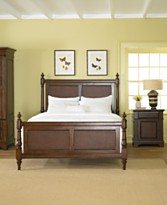 ---
| | | |
| --- | --- | --- |
| RE: Poll; Beds | | |
I agree with those who like the wood beds, but it is really your own personal choice. I am not a fan of footboards, and I think without it your room would look larger.
---
| | | |
| --- | --- | --- |
| RE: Poll; Beds | | |
I always fold back the bedspread/comforter to the foot of the bed - before I had a footboard the coverings were always half off or on the floor. I had to put a cedar chest at the foot to keep the covers from falling so ended up with less space than the actual footboard. I like the last bed you showed - doesn't look as big as the sleigh bed style.
---
| | | |
| --- | --- | --- |
| RE: Poll; Beds | | |
I like the idea of the curves in there : )
---
| | | |
| --- | --- | --- |
| RE: Poll; Beds | | |
Ok, although I love the first and third beds above in the original post, I realize that they may be too big for my room if I am going with a king. Therefore, I think I have narrowed down the choices to the one above, in the later post but will post again to eliminate confusion, and the one below. What do you think?
---
| | | |
| --- | --- | --- |
| RE: Poll; Beds | | |
I like both those, however the first will stick out from the wall a lot. I would choose the 2nd as you get the footboard for the same space as the first.
---
| | | |
| --- | --- | --- |
| RE: Poll; Beds | | |
How much wall space do you have for the headboard and chests?

My bed and chests take up 11 feet. Too-small side tables will look out of proportion, and if you push them right up against the side of the bed you can't get in and out or make the bed easily.

Today's beds don't need footboards; they were necessary in the past to support bed rails.

A much-used item in our BR is the bench at the foot of the bed. It holds the folded-back bedspread/comforter and provides seating when the bed is made. That adds 18" to 24" to the 78" length of the mattress. So...you're using a rectangle 11 X 8.5 in your 14 X 13 room. (We don't know where doors and windows figure into this.)

I think you would enjoy sleeping in a King, but it will overpower the room if you don't try to minimize the effect. I like the idea of the headboard that attaches to the wall above the bed's surface, saving you 4-6". You can buy an upholstered headboard of any shape or size in fabric of your choice for very little, then hang it. They aren't heavy and they make comfy backrests.

You could attach sheves on each side of the bed and mount sconces above them. I wouldn't do a platform unless your mattress choice requires that. (Stubbed toes if it extends full size; mattress sag at the edges if is recessed.)

On day when you have a larger bedroom, you can buy a big ole bedset if you want one, and not feel bad discarding this inexpensive setup. Big bedrooms usually have walk-in closets, so if that's in your future I wouldn't sink a lot of money into big dressers that go in bedrooms.
---
Post a Follow-Up
Please Note: Only registered members are able to post messages to this forum.
If you are a member, please log in.
If you aren't yet a member, join now!
---
Return to the Home Decorating Forum
Information about Posting
You must be logged in to post a message. Once you are logged in, a posting window will appear at the bottom of the messages. If you are not a member, please register for an account.
Please review our Rules of Play before posting.
Posting is a two-step process. Once you have composed your message, you will be taken to the preview page. You will then have a chance to review your post, make changes and upload photos.
After posting your message, you may need to refresh the forum page in order to see it.
Before posting copyrighted material, please read about Copyright and Fair Use.
We have a strict no-advertising policy!
If you would like to practice posting or uploading photos, please visit our Test forum.
If you need assistance, please Contact Us and we will be happy to help.

Learn more about in-text links on this page here