Return to the Home Decorating & Design Forum
|
Post a Follow-Up
---
| | | |
| --- | --- | --- |
| Mantel help, please??? | | |
Posted by
jackson2348
(
My Page
) on
Wed, Aug 13, 14 at 18:16
So now we've come to the part of decorating in the new house that I'm terrible at- accessorizing, fluffing, zushing, etc. I have no idea how! I'm starting with the mantel, because it's the smallest area and therefore the least scary. We'll move on to the bookshelves later.

So WWHDDFD? For an idea of scale, the mantel is 7' long and 5'4" high. Ceiling is 12'. I'm going to hang the painting, I'm thinking the bottom should be about 6" off the mantel. Correct? Then add.....what? Symmetrical or no? Bookshelves aren't. What accessories should I be looking for? Height? Size? Color? I'm lost! Please help me!!!
---
Follow-Up Postings:
| | | |
| --- | --- | --- |
| RE: Mantel help, please??? | | |
I think the painting is fine where it is. If you raise it up at all it will be obstructed by the chandelier.

Making your mantel decoration symetrical and even-height is a more traditional route. Look up "garnitures" for inspiration.

Making your mantel asymetrtical and all different heights in less traditional but still beautiful. The key is to have variying textures and levels of 'formality' in your decortions.

This is from In With the Old ( a great book!!):

"[Tablescapes] A collection should be grouped en masse. Take a small collection of object that you have, like sterling silver powder compacts, and place them on a table. Because compacts lie practically flat against the table's surface, you will need to create some depth to your tablescape by introducing a lamp, an obelisk or two, or a porcelain [decorative pot] all of which are good choicef or adding height and dimensions to this arrangement. Think about the finish of your compacts. Their polished shine needs to be balanced by something textural which could be a coarse linen tablecloth or a piece of rough-cut marble. Because sterling silver can look a little fancy, place something in the mix that has an unassuming charm, like a small vase of wildflowers or perhaps a chipped piece of antique Delftware. And there you have it. A tablescape in which the table's whole is truly greater than the sum of its parts."

May advise would be to start with things you already have and go from there.
Here is a link that might be useful: A bridge unites a tablescape and wall decor
---
| | | |
| --- | --- | --- |
| RE: Mantel help, please??? | | |
| | | |
| --- | --- | --- |
| RE: Mantel help, please??? | | |
Jackson That's a beautiful room! Don't hang the artwork. It looks cool just sitting there. I would do something asymmetrical because the beams on the ceiling don't line up evenly. Something taller to the right side seems a bit more pleasing to me. I like that urn on top of the bookcase for the left side. If you just push the painting over to the right and add the urn to the left with a few books with cool bookends...or maybe the urn on top of some stacked books.
Do you have personal items you currently own, that you love? Start there. No need to rush out buying accessories.
I love that rug BTW
---
| | | |
| --- | --- | --- |
| RE: Mantel help, please??? | | |
I have no ideas, because I stink at these things, too. But I did want to say that you have a very pretty room :)
---
| | | |
| --- | --- | --- |
| RE: Mantel help, please??? | | |
I'm not sure I would add anything to the mantel area other than the picture as you will have lots of pattern and interest from the bookshelves on that wall. I would style the bookshelves first, then see if accessories are needed for the mantel.
---
| | | |
| --- | --- | --- |
| RE: Mantel help, please??? | | |
Love your room! Personally I don't like setting pictures instead of hanging them as it always looks to me like a work in progress. I think you do need something on either side of the mantel. Also can you tell me where you got the pillows on your couch? (the ones with the flowers). They are exactly what I've been looking for.
---
| | | |
| --- | --- | --- |
| RE: Mantel help, please??? | | |
Gorgeous room! I like the painting leaning, just as it is now. I love the color and simplicity. (And agree I would wait to do anything more until filling out your bookcases.) Sometimes I think mantel decor looks too contrived, but one leaning painting does not. Care to post additional views of the room?
---
| | | |
| --- | --- | --- |
| RE: Mantel help, please??? | | |
OP, I love your room! I would definitely hang the art as you envisioned. You'll be able to see it while seated just fine. The little bit of space on either side of it does need something, to my eye. On my mantel, I have a boxwood topiary on either side. Since you have green as an accent color, I can see that coordinating well for you, too. I'm linking to the first photo I found of something similar, but there is a member on here (nini804) who has a beautiful example: Nini's living room pic.
Here is a link that might be useful: http://cdn.decorpad.com/photos/2013/06/25/51482d064c5f.jpg
---
| | | |
| --- | --- | --- |
| RE: Mantel help, please??? | | |
Thank y'all for all the kind words about our space...I've poured my heart into building it! Selcier, thank you for the links as well, I like the simplicity of his explanations.

I like the idea of a topiary. Do y'all think I could do one or would it need 2? I've only seen 2. And I adore Nini's house too!

I think in this instance the painting has to hang; is 6" above the mantel too high? Should I shoot for 3-4"?

I have a few accessories that I love, and lots of filler stuff. The urn up top is a favorite, but it's huge- it's sitting about 8" down in a hole. The carpenters have to get a top put on the bookcases so I can display up top.

I think I'll get the painting hung, then start playing around with what I have. I'll post back with progress pics and ask for more help.

As for additional pics, we are absolutely not quite ready for prime time here. I'll post a long view, that shows the French doors and windows. Just ignore all the boxes and stuff on every available horizontal surface.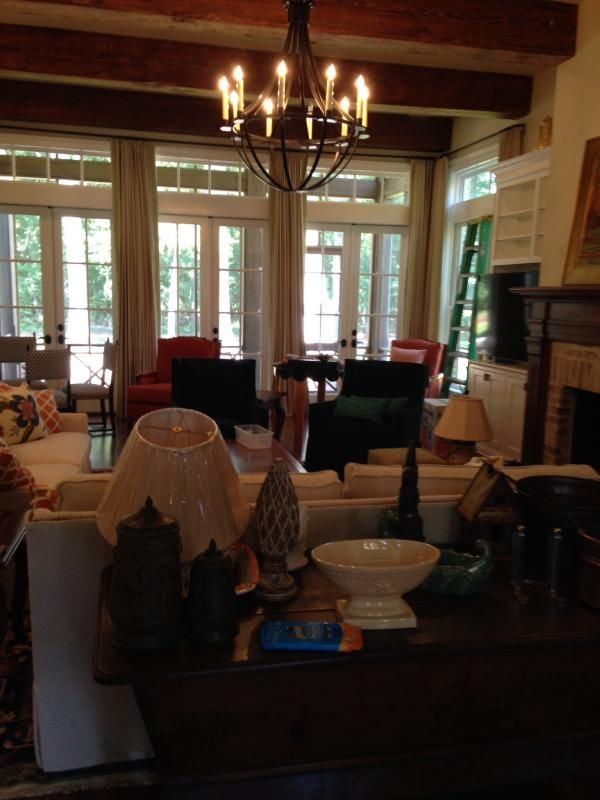 We did manage to get the drapes hung without anyone being injured. The back rod is 18'6" long.

Louislinus, I had them made. We used Schumacher's HotHouse Flowers fabric. I had my seamstress center a different flower on each pillow. I'm sure if you search hothouse flowers on etsy you'll find some, it's a popular fabric.

---
| | | |
| --- | --- | --- |
| RE: Mantel help, please??? | | |
Some input on the painting: I like it leaning. However, if you want to hang it, I would start at the lowest point (I'd start with 4 inches above mantle) and work up from there--so any mishap nail holes won't show (common sense--but I learned the hard way. ;-)

I would avoid having it hang evenly between the bottom of the beam, and the top of the mantle. Let it sit lower.
---
| | | |
| --- | --- | --- |
| RE: Mantel help, please??? | | |
Def hang the painting, and I would do 6" above the mantel. Leaning stuff is a look too many people use without a reason to do so, IMO.

Love how the pillows use all the colors in the room, as does the rug! Can't wait to see more photos when you've unpacked :-)
---
| | | |
| --- | --- | --- |
| RE: Mantel help, please??? | | |
Err on the side of too low I say. I just did the mantel at my new house and hung the mirror too high (6"), but I am not doing it again! So a little too high it stays.
---
Post a Follow-Up
Please Note: Only registered members are able to post messages to this forum.
If you are a member, please log in.
If you aren't yet a member, join now!
---
Return to the Home Decorating & Design Forum
Information about Posting
You must be logged in to post a message. Once you are logged in, a posting window will appear at the bottom of the messages. If you are not a member, please register for an account.
Please review our Rules of Play before posting.
Posting is a two-step process. Once you have composed your message, you will be taken to the preview page. You will then have a chance to review your post, make changes and upload photos.
After posting your message, you may need to refresh the forum page in order to see it.
Before posting copyrighted material, please read about Copyright and Fair Use.
We have a strict no-advertising policy!
If you would like to practice posting or uploading photos, please visit our Test forum.
If you need assistance, please Contact Us and we will be happy to help.

Learn more about in-text links on this page here