Return to the Home Decorating Forum
|
Post a Follow-Up
---
| | | |
| --- | --- | --- |
| entryway 'transition' ideas? (Pic) | | |
Posted by
kitchennovice44
(
My Page
) on
Wed, Aug 3, 11 at 18:08
Would love to create a softer transition between entrance and dining area at right:

Regular paneled room dividers and bookcases seem too clunky/cluttered for such a small spot. But still: needs something, don't you think? A rectangular-shaped floor lamp? Narrow silk tree? Hoping for something around 5-6 ft high, to visually separate dining room, but narrow, so it fits comfortably vs crammed into spot.
Would love any thoughts/ideas on what you think might look best as a subtle room divider for this tiny space...
---
Follow-Up Postings:
| | | |
| --- | --- | --- |
| RE: entryway 'transition' ideas? (Pic) | | |
I think these are cool.
Here is a link that might be useful: Parametre divider
---
| | | |
| --- | --- | --- |
| RE: entryway 'transition' ideas? (Pic) | | |
What about a couple of floor to ceiling columns?
---
| | | |
| --- | --- | --- |
| RE: entryway 'transition' ideas? (Pic) | | |
Deedee99...thanks for dividers pic. They feel a bit ultra-modern, almost office-like to me at 1st glance, but will check them out. Marti8a: would love floor to ceiling columns, but think it's out of my budget...ceilings are vaulted - the slope and angle would require custom work. Hoping to figure out something that doesn't need installers or permits! :)
---
| | | |
| --- | --- | --- |
| RE: entryway 'transition' ideas? (Pic) | | |
Your picture is so small that it is hard to tell, but I think the easiest thing would be to paint the walls in the entry area a different color, and get a larger rectangular rug to define the entry floor space.
---
| | | |
| --- | --- | --- |
| RE: entryway 'transition' ideas? (Pic) | | |
I know you said no bookcases, but what about something like this from Target $199? and you could make it any color you want(red? wall color?)...it's 32'w x 13" deep.
Or maybe an Ikea fabric panel, suspended from the ceiling? $10 plus hardware.
or from Ikea Hackers a lamp/divider:
Here is a link that might be useful: room divider lamp
---
| | | |
| --- | --- | --- |
| RE: entryway 'transition' ideas? (Pic) | | |
Is there any way you could post a bigger pic?
---
| | | |
| --- | --- | --- |
| RE: entryway 'transition' ideas? (Pic) | | |
(Hope new pic is bigger...can't tell from preview screen.) les917/olychick: thanks for suggestions.(Olychick: like Ikea lamp, but they no longer carry in U.S./Canada.)Please keep any/all ideas coming - this is driving me nuts! Anyone see a narrow, long silk tree/planter or lamp working there? Hanging dividers are cool, but ceiling escalates up vaulted style vs straight/even. Not sure it would hang right.
Have 40" length; 8-10" width to play with: hoping for at least 60-72" height.
---
| | | |
| --- | --- | --- |
| RE: entryway 'transition' ideas? (Pic) | | |
Now that you have posted a bigger pix, I am wondering if we could get a pix or two of the rest of the area. It is really hard to judge what to do in a space in isolation.

For example, I am wondering if you could turn your dining table another direction - it looks like it might be running parallel to the window, so the rug is really crowding in to the entry area. But I can't tell if that is the case, or what else to suggest, because we can't see what else is around that area.

Honestly, tho, the entry area is pretty narrow - I would be hesitant to block it off in any way and make it harder for people to move in and out comfortably.
---
| | | |
| --- | --- | --- |
| RE: entryway 'transition' ideas? (Pic) | | |
Yes, I think more pictures would really help!

My sofa does limit our space (our LR is teeny, and we need a lot of seating) but I do not really mind. Narrow path when you come in. Since our door is in our LR (which I really wanted to avoid when buying a house, but it was our best option), it makes it cozier to have it sort of blocked.
---
| | | |
| --- | --- | --- |
| RE: entryway 'transition' ideas? (Pic) | | |
Not a decorator here, in fact I'm pretty "challenged" in that department. Thought I'd throw in my two cents. I can't see putting up any barrier or divider. How about painting the wall the table is on a contrasting color, using a rug to identify the area, and a pretty pendant or chandelier?
---
| | | |
| --- | --- | --- |
| RE: entryway 'transition' ideas? (Pic) | | |
Definitely more pix. One thing you might do to play around right now while you're working on a real, definitive solution would be to put that dining rug in the entry to see whether that might help define that as an actual space.

Right now the diagonal tile lines are *insisting* it's not a place at all, either separate or part of the living area, and are telling visitors to keep moving as soon as they step in. They also seem to be also guiding the view back directly into the corner between the nicely cool and calm, but totally ignorable door and side table. (BTW, what are they pointing at in the other direction?)

After adding the rug, maybe continue experimenting by bringing in a box of cereal to see what effect grabbing attention to the table would have? Or maybe hanging your favorite large picture where the mirror is? Hanging a red tablecloth over the door to see what that does? Buy some removable stained glass decals for the window flanking the door?

I really think an answer might lie not entirely in trying to play it up as a separate space but rather in giving it its due as part of your active living area. Visitors' first impression from the doorway will always sweep right on to the rest of the living area--this corner is only really noticeable by people in other areas of the room. ??
---
| | | |
| --- | --- | --- |
| RE: entryway 'transition' ideas? (Pic) | | |
Hi all: please see pics below now showing DR, LR. Very interesting ideas/comments-thank you everyone for sharing! Rosie: understand what you're saying about entry as part of house, but honestly, my whole house is basically 1 big room - especially with 15-20 ft vaulted ceilings. I long for some visual separation between entry and dining area, so DR feels more intimate, romantic...a little cove unto itself. (Will be switching DR chandy for more dramatic 6-light chandy w/black art deco drum shade and clear crystals.) Les: had table exactly as you suggested until last yr -then purchased 8 x 10 area rug. Won't work to flip other way: rug cuts across path to kitchen...plus I lose "niche" feel I was trying to create. Thanks again everyone: see what you think after viewing below.

View from entranceway to LR: more spacious/set back than it looks:

Dining Room (just to right of entrance - sorry about flash glare in mirror..should have snapped at a better angle.)

Tall wall opposite LR (shelving for now till budget allows me to do something else...maybe a bar there)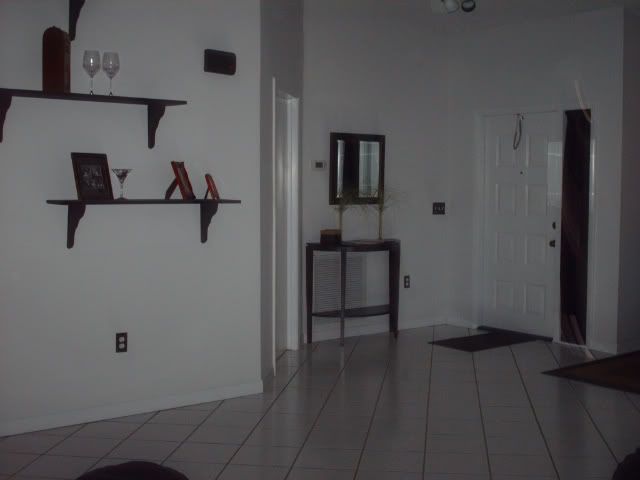 Living Room pass-through to Kitchen

---
| | | |
| --- | --- | --- |
| RE: entryway 'transition' ideas? (Pic) | | |
I think once you decide to try color you will see a total difference! People are afraid to use color and then wonder why their home looks sterile and cold.
---
| | | |
| --- | --- | --- |
| RE: entryway 'transition' ideas? (Pic) | | |
I certainly understand longing. :) And I really like the foyer we built in our new home.

Something on that tall wall, like the bar, a relatively dark mass balancing what's happening in the dining area, should go a long way toward setting off the entry as a separate space. Until you can afford what you really want, how about cruising Craig's list? A LOT of people are getting rid of dark masses that no longer fit. :)

In the meantime, although it might actually be more expensive, how about a plant at the corner to the right of the door, benefiting from all those windows? Seems like even 4' tall (as tall as the chair backs or more) would be a charming but defining mass there.
---
| | | |
| --- | --- | --- |
| RE: entryway 'transition' ideas? (Pic) | | |
Thanks Rosie: was originally thinking about putting a narrow plant there. (Would bamboo look weird - too asian-themed w/rest of house? Seen some simple Bamboo plants that are very slim...would fit well space-wise in that 8-10" spot w/o blocking window.) Great pt re: CL for bar: never occurred to me that a stronger presence against that tall wall could define entry better. That's why I come here...love this forum!
---
| | | |
| --- | --- | --- |
| RE: entryway 'transition' ideas? (Pic) | | |
Think this could work or too diff a style? Matches space needs exactly: the 40" would end right where edge of carpet does; the narrow width (6.5") is an easy fit in the 10" space between window and where DR begins. Dark brown color matches table and mirror. Plus all open, so not as much a closed-in/clunky feeling like bookcase or regular divider. What do you think?
http://www.overstock.com/Home-Garden/Laura-Ashley-78-inch-Bamboo-Tree-Screen/5599211/product.html?rcmndsrc=2
---
| | | |
| --- | --- | --- |
| RE: entryway 'transition' ideas? (Pic) | | |
I think a more interesting and bigger piece of furniture in the entry would add to a feel of separate space. I see what you are going for with he dining niche, but the rug sticks out into what is your entry space. The rug looks too big to be under your table. How wuld it look if you removed the rug, and put a rug in the entry? So, when you step in, it defines the area. Also, your dark curtain on your door is not welcoming. How about some kind of frosting there?
I see you have a beige color on one side of the room. A coordinating color would also help define the entry hall space. The white is too startk a contrast and looks unfininshed, like you started painting one side of the room and then just stopped.
I would not put a divider, it will look out of place and close the area in.
---
| | | |
| --- | --- | --- |
| RE: entryway 'transition' ideas? (Pic) | | |
The right size rug situated the right way at the foyer may be all you need.

Remove the rug from the dining room and experiment with it as a foyer rug. Fold it in half (or 1/3 under) and try positioning it in various ways to be an entryway rug. Then you will know what size and shape entry rug you need.

If you want to do something immediately, put the dining room rug in the living room and use the living room rug at the entryway.
---
| | | |
| --- | --- | --- |
| RE: entryway 'transition' ideas? (Pic) | | |
I don't think it looks bad as it is.

For tweaking, I'd get an oval rug for the dining area and put a piece of furniture under the shelving. If you don't have anything else, the table under the mirror could move there.
I'd like to see more paint in the foyer (along the wall that continues under the shelves). It does not even have to be bold, just something with some contrast with the trim and floor. Right now, it is too much white on white for the style of it all. If you had ultra modern, then the white on white would fit in better.
---
| | | |
| --- | --- | --- |
| RE: entryway 'transition' ideas? (Pic) | | |
Such wise suggestions. Thank you. Will be re-reading thread several times and giving them all serious thought.

I don't disagree w/logic of removing dining room rug, as several suggested: it's just that I bought this rug 3-4 months ago specifically for DR because I really love how it looks there. The whole space feels much warmer and more intimate to me - can't wait to add the chandelier w/black drum and crystals to complete it. I spend a ton of time in DR...an inviting ambiance there is impt to me. Size-wise, the rug is just big enough to allow all 4 chairs to be pushed back and stay on it...as that would bug me otherwise. (Okay...I admit the rug there is more an emotional than a logical decorating decision!)

Will definitely consider livening up with paint: I HATE HATE HATE choosing paint colors...it's agonizing for me and my husband is zero help. I'll probably procrastinate for now, as I just went through paint choices for several other rooms and need a break from paint chips for a few months. But will definitely revisit. (If anyone has color suggestions, feel free to make them.)

Easiest fix for now is changing out that entry rug! I'm also looking on CL for a large curved bar to put against that tall wall, with mirror, wine glasses, etc displayed behind it to help define the space a bit more. (Can you believe I've lived here 17 years and the house looks this empty?)

I really love a spare, un-cluttered look. Just added the table and mirror to entryway...didn't have anything there before. So I'm making SOME progress! Used to have a much more modern style when I first moved here in '90s...hence white walls/white tile, which was very popular combo. Practical too, since this is Fla and tile stays nice and cool! I still kinda like the look...but totally understand what you are saying about sterile, cold, etc. That's why I'm here....to get objective opinions and advice...and I appreciate all of it.
---
| | | |
| --- | --- | --- |
| RE: entryway 'transition' ideas? (Pic) | | |
I know you responded in an earlier post that you have cathedral ceilings and columns would not be a DIY for you.

Here is a photo of the bridge dividing our LR/DR. Our ceilings are 12' and the top of this bridge is approximately 9.5'. It really does nicely separate the areas without obstruction and I believe something like this would look good not going to your ceilings.
---
| | | |
| --- | --- | --- |
| RE: entryway 'transition' ideas? (Pic) | | |
this knee wall and bridge, columns etc. seperates my foyer and dining room:

taken from foyer, niche below in knee wall:

---
| | | |
| --- | --- | --- |
| RE: entryway 'transition' ideas? (Pic) | | |
interesting solution, fnmroberts. (Love your chandelier by the way.) Susieq07...what a pretty home you have...does it always look that neat/perfect? (If so, I'm jealous!) I was thinking about a knee wall too at one point, just constructed completely of glass block w/lighting instead of a regular wall. The materials actually aren't bad price-wise, but labor would be a bit pricey for me right now...probably about 400-600. Since I've already remodeled kitchen, bought new furniture and redid bedroom, pulling back on any other big items. Especially with what's going on economically right now.
---
| | | |
| --- | --- | --- |
| RE: entryway 'transition' ideas? (Pic) | | |
Do you live in Florida? We've been looking at houses and many have similar entrances. Here's two I copied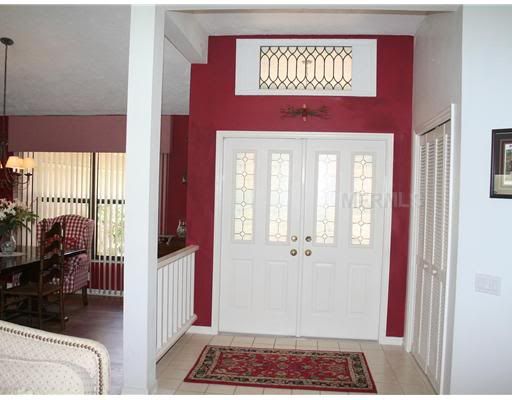 Florida style is different. Notice the different flooring. Wonder what could be done with that.
Jane
---
| | | |
| --- | --- | --- |
| RE: entryway 'transition' ideas? (Pic) | | |
I saw an HGTV show once where they had a similar set up and needed to separate spaces. I can't remember what they used as their medium but there are lots of things that could be used in this application, plexiglass, old shutters, or even lattice. They installed hooks and wiring or small linked chain in the ceiling and hung it. Here are some samples of a more contemporary nature but at least it gives you the idea.
Here is a link that might be useful: Hanging room divider
---
| | | |
| --- | --- | --- |
| RE: entryway 'transition' ideas? (Pic) | | |
Before you put up a divider, consider getting furniture in and out of the front door, unless you have another door to do such things.

For me it's not that the entrance is open, I find it lacking in warmth because of no color. I would get a colorful rug by the door and lay it lengthwise, and I'd replace the mirror with a picture/painting in the same colors as the rug.

If you added a colorful area rug to the sofa area, it would take the eye off the entryway.
---
| | | |
| --- | --- | --- |
| RE: entryway 'transition' ideas? (Pic) | | |
What about using an IKEA Expedit bookcase, similar to the one in this link but way more affordable. There are tons of add-ons available for them: baskets, doors etc. to give you a killer "launch-pad" to hold mail, keys, dog leashes, library books to return... You could cover the side that faces the diningroom pretty easily with a good grade sheet of ply if you didn't want a see-through look.
Here is a link that might be useful: Bookcase Divider
---
| | | |
| --- | --- | --- |
| RE: entryway 'transition' ideas? (Pic) | | |
jane__ny: you nailed it...Fla home. White tile, white walls and open layout is very popular here. Like your pics...is that first one built-in or an after-market add-on?

lukkiirish: like those hanging dividers, but my ceiling is steeply sloped...won't really hang right.

oakleyok: funny: several people suggested switching mirror for art. (After I just bought mirror last month on the advice of many to put a mirror there!) :) I do have very colorful artwork on other walls, but maybe a bigger, more colorful entry rug as you suggest, w/accessory on table to match? Have a very vibrant multi-colored rug in LR. Couldn't find one I loved in 8 x 10, so it's only 5 x8...which is why you can't see it. Doesn't extend past furniture.

Also played with idea of tall, slim wine rack...Overstock has nice wood ones that are 60-70" high: would go well w/wine art in DR.
---
| | | |
| --- | --- | --- |
| RE: entryway 'transition' ideas? (Pic) | | |
For a hanging divider in a sloped ceiling you'll put hooks on the ceiling and use different length chains to suspend it from so it its level.
---
| | | |
| --- | --- | --- |
| RE: entryway 'transition' ideas? (Pic) | | |
Yeah, like lyfia said, the slope is irrelevant because the wiring or chain can be adjusted accordingly. It is an inexpensive fix with a lot of flexibility with what you can do.
---
| | | |
| --- | --- | --- |
| RE: entryway 'transition' ideas? (Pic) | | |
kitchennovice, I have no idea. We are in NY and our Realtor sends listings and so many have these entries. I have already emailed him that I wanted a house with a 'normal foyer.' I didn't like having the entry in the living room.

Seems to be a Florida design. I'm interested in your final solution because I might face the same dilemma. Then I would have to deal with the flooring issues.

Jane
---
| | | |
| --- | --- | --- |
| RE: entryway 'transition' ideas? (Pic) | | |
Just put a plant in front of the window to the door, and as someone else said, get rid of the curtain there. Frost it if needed. If you want a tall thin plant, get Mother-in-law tongue at Home Depot.
---
| | | |
| --- | --- | --- |
| RE: entryway 'transition' ideas? (Pic) | | |
Many Fl builders are big on sight lines and not creating intimate dining spaces. Not as commonly done elsewhere, but it is what it is. We solved that by removing the columns and adding a full wall and cove lighting on the DR side, but our foyer is larger and the ceilings aren't sloped.

If this were my home, I'd build a separation by hinging and framing out 3 old leaded glass transoms, but hung vertically. This would provide the visual barrier you need and be beautiful with candlelight sparkling through when entertaining. Slim, easy to install with two chains from the ceiling and could be very glamorous. The transom moldings could be painted in your trim color or stained to match whatever wood you prefer. The transoms don't have to match but should be about the same size, although the middle one could be longer.

An alternative would be to make a non-folding 6' tall screen with the DR side burnished gold/copper lattice over mirror and the entry side covered with painted or grasscloth papered luan. I'd hang a welcoming print(s) by the door. Luan is nearly impossible to attach anything to, but you could have a piece of art on a decorative hanger attached to the top of the screen frame. This screen could have small feet for stability and be anchored to the 10" wall for support.

I'd look for a 3 x 5 rug, run horizontally. I'd warm up the space with a creamier paint to complement the golden accent walls and add film to the side lite. Since you may want to keep an area clear for visibility you can play around with stencils over the film before applying. Or your could add wood grills or metal scroll work to the lite depending on which screening system you prefer. I'd lower the DR mirror a few inches so it doesn't just reflect the chandelier but your guests and candlelight.

Okay, since I don't live in your home, you'll likely have a whole different take on things, but HTH!
---
| | | |
| --- | --- | --- |
| RE: entryway 'transition' ideas? (Pic) | | |
Another BIG vote for tall thin Ikea open shelving unit!!

Maybe add some wonderful thin silky gold-and-red Asian-inspired fabric stapled onto the hallway side -- and then add some colored glass vases or bowls on the dining room side.

Add a long thin dark cabinet under the open wall shelves. Add one tall dark iron buffet lamp.

Add a matching buffet lamp to the current hallway table -- and a lush dark green silk fern in a dark woven basket under it.
---
| | | |
| --- | --- | --- |
| RE: entryway 'transition' ideas? (Pic) | | |
More creative ideas...thank you. I don't want to hog the front page forum space any longer, as I know many others have questions/need help, so I'll officially close out the thread and thank everyone again. You've certainly given me some suggestions I wouldn't have thought of and I'm bookmarking this thread to refer to repeatedly. I love some of the "craftier" ideas, but sadly, my DH and I aren't handy at all...so as intriguing as they sound, we're probably safer staying with something we can buy at a store vs make or build! (I am always jealous of couples who can do these home improvement projects together and have fun with it...we'd be divorced by now!) I'll have to figure out what makes sense given my budget and lack of DIY dexterity. But there are plenty of doable ideas here. Thank you again for your time and your brainstorming! :o)
---
Post a Follow-Up
Please Note: Only registered members are able to post messages to this forum.
If you are a member, please log in.
If you aren't yet a member, join now!
---
Return to the Home Decorating Forum
Information about Posting
You must be logged in to post a message. Once you are logged in, a posting window will appear at the bottom of the messages. If you are not a member, please register for an account.
Please review our Rules of Play before posting.
Posting is a two-step process. Once you have composed your message, you will be taken to the preview page. You will then have a chance to review your post, make changes and upload photos.
After posting your message, you may need to refresh the forum page in order to see it.
Before posting copyrighted material, please read about Copyright and Fair Use.
We have a strict no-advertising policy!
If you would like to practice posting or uploading photos, please visit our Test forum.
If you need assistance, please Contact Us and we will be happy to help.

Learn more about in-text links on this page here