Return to the Home Decorating & Design Forum
|
Post a Follow-Up
---
| | | |
| --- | --- | --- |
| Painting over mantle | | |
Posted by
ellendi
(
My Page
) on
Fri, Aug 3, 12 at 17:51
Is there a formula for how big a picture should be in relation to the size of the mantle and the height to the ceiling.
Right now I have a picture there that I know is too small. My daughter just gave us a small picture which I had framed and put on a small wall. I like her taste and asked her to think about picking something for over my fireplace mantle.
So, if the mantle is 74 inches across, and 49 inches from the top of the mantle to the ceiling molding, what size picture should we be looking at?
Or, if anyone has a creative idea for an arrangement of pictures within these proportions, let me know too! TIA
---
Follow-Up Postings:
| | | |
| --- | --- | --- |
| RE: Painting over mantle | | |
My proportions are just a bit larger than yours. The painting over my fireplace is 36x36. A larger painting would work, but I love this artist. It's flanked by a pair of vintage hurricane lamps (both family pieces) and a pair of cylindrical vases that I keep filled with fruit or seasonal decor. I can post a picture if you'd like.
---
| | | |
| --- | --- | --- |
| RE: Painting over mantle | | |
ellendi, can you post a picture of your mantel wall - the whole thing, from across the room?
---
| | | |
| --- | --- | --- |
| RE: Painting over mantle | | |
| | | |
| --- | --- | --- |
| RE: Painting over mantle | | |
Yes, it's too small for the way it is hung, and the things on your mantel shelf are lost as well.

I'd recommend one of two things.

First idea: Reframe the picture with a creamy white mat twice its current width, and a frame that is similar to the one it's in. Hang it only six or eight inches higher than the shelf, and hang a pair of fairly substantial candle sconces on either side.

Second: Find a very large mirror to hang over the mantel, and move the picture to the wall beside your china cabinet. Arrange the mantel with something more substantial on both sides. You don't need a lot of things, but you want to pay attention to scale and the whole composition.

I find it can help to print the photo you just took, black and white, draft, and then draw in some shapes and sizes to get the feel of it.

Here's our living room mantel - it's not the same shape as yours, and it's not a particularly attractive mantelpiece by itself, but it's an example of how a big mirror and just a few things can pull it together a bit.
---
| | | |
| --- | --- | --- |
| RE: Painting over mantle | | |
I knew I wanted to my dd's oil portrait above the mantle in our new house, but the overmantle was too wide for the portrait to stand alone. I have never been a fan of a bunch of stuff on my mantle, but have found that a pair of tall topiaries flanking the portrait provides the right amount "filler." I agree with pp, if you decide to keep it on your mantle, frame and mat it bigger and go with a pair of something on either side,

Here is a photo...this was a pro pic taken not long after we moved in and the room was not decorated completely yet!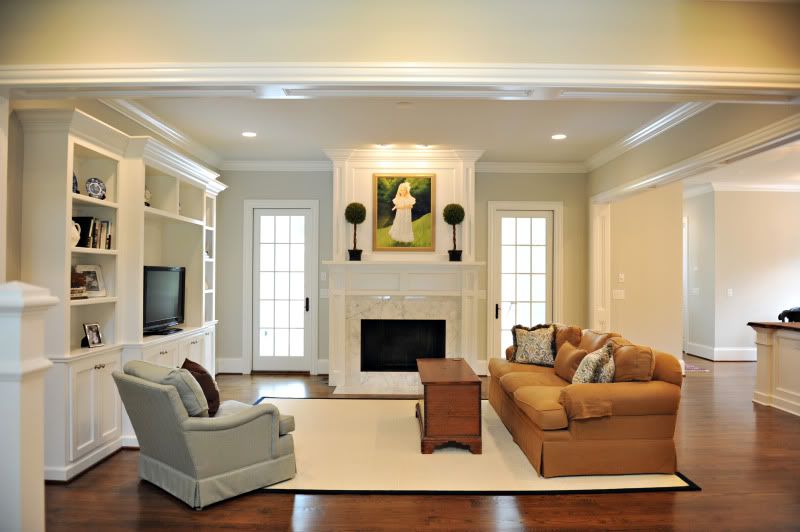 ---
| | | |
| --- | --- | --- |
| RE: Painting over mantle | | |
Beautiful fireplace in a beautiful room, Ellendi.

I don't think the problem lies with the size of the painting... I think what bothers me is that the painting is the only thing on that wall. It looks a bit bare.

Not sure what to advise. Sconces?
---
| | | |
| --- | --- | --- |
| RE: Painting over mantle | | |
Thanks for the advise so far.
Bron, I already have a mirror on a wall to the right of my entry in the living room.
This current picture is actually almost 100 years old and I want to keep the original frame. I bought it because it reminded me of a view I used to have upstate. I only wanted this as a temporary solution but oif course now it is years later.
My DD2 seems interested in picking something out for this space. So I need to give her specifics on what size to look at. I will move the current picture to another wall.
I agree that my mantel could use work and once I get another picture that will be next up!
---
| | | |
| --- | --- | --- |
| RE: Painting over mantle | | |
Pull your picture down and to one side....then get something fairly massive, heavy bulky looking to balance it out....a clock, a group of weighty candles ticks, a group of vases...perhaps even a plant. But the others are right, it's too small to be centered up there alone.
---
| | | |
| --- | --- | --- |
| RE: Painting over mantle | | |
Yes I know. This picture was never meant to be permanent. It was better than nothing!
As I stated above, my daghter wants to select a picture for me. She likes going to art fairs where she lives and it will be fun to display something that she has picked out for us.
So, my orginal question is, is there a formula for how large to go in relation to the length of the mantel(74inches) and the height up to the molding.(49 inches)
---
| | | |
| --- | --- | --- |
| RE: Painting over mantle | | |
I haven't heard of a formula, but if you want the painting to stand alone, IMO it should fill as much of the space as possible. Perhaps a small amount of wall space around it to sort of "frame" it. Bigger is always better to me.
---
| | | |
| --- | --- | --- |
| RE: Painting over mantle | | |
Visually, if you want to do one large piece and not a lot on the mantel, you would want something wider than the firebox opening. Then the height should be in proportion to the width of the piece. You don't want something the same width as the firebox, so that you end up with two identical rectangles stacked over one another.

If you are willing to add things to the mantel for balance, then the piece could also be narrower than the firebox- say the width it is now, but a taller piece. Then you could add balance with things placed on the mantel, such as candles, topiary, etc.

What you don't want to do is get 'stuck' with buying a piece of art solely because it fits the space. If you can't find (or your daughter can't find) something that you love in the right size, then don't settle for a piece because it physically fits. Reconsider and then go for a grouping of art pieces, or a sculptural piece, etc.

You can also do something to check the proportions of art that might appeal. Take newspaper or brown grocery bags, tape them together to create the size you think you need, and use painter's tape to tack up on the wall to see how the size works.

One thing that you might also do is see about adding a thicker mantel. It appears your fireplace and mantel are painted the same color, and so the very narrow trim kind of disappears. Another idea would be to paint the wall space above the fireplace in the same white, and trim it out so that you create an overmantel effect, which would give the whole fireplace a better proportion in the room. Then hang your art.

One thing that is hard to tell in the pix, but is of concern to me, is the big gap between the end of the couch/end table, and the fireplace wall. It looks as if something should be there, and is missing. I wonder if we could see other pix of the space to see what the whole room feels like?

Your space feels warm and sunny - a welcoming spot for anyone!
---
| | | |
| --- | --- | --- |
| RE: Painting over mantle | | |
Les917, thanks for the guidelines. I won't buy something just for the sake of buying somethng. I am excited that I like my daughter's taste and this is a new way we can bond.
The space you are talking about is usually empty but it is where we put the Christmas tree. I don't mind open walls and spaces but perhaps after I figure out the mantel, I will tackle other corners.
I also need an area rug. Had to remove our rug after my elderly dog passed away. So that will be another thread. We like the plain wood in the summer, but it does look unfinished to me.
---
| | | |
| --- | --- | --- |
| RE: Painting over mantle | | |
Perhaps if you added a larger pair of brass candlesticks -- maybe with dark green tall candles? That would add a "frame" to the arrangement.

Then simply add a dark green ceramic or glass bowl to the coffee table -- to "move" the color around the room.

Your room decor would really suit a basic sisal rug -- check around the stores (like Target) -- many have those rugs in the outdoor section.
---
| | | |
| --- | --- | --- |
| RE: 2 Painting over mantle | | |
Another classic to add to the arrangement -- hang a couple of simple white or cream or dark green dishes on each side of the artwork.

Perhaps look for a thin long white dish that could hold some small-leaf dark green silk ivy -- to sit in the middle of the mantel and hang over the side -- just for the warmer months?

Just a couple more thoughts -- hope you don't mind!
---
| | | |
| --- | --- | --- |
| RE: Painting over mantle | | |
| | | |
| --- | --- | --- |
| RE: Painting over mantle | | |
Your size painting is a good example of what Les mentioned about the piture being larger than the firebox. BTW I like your painting!
---
| | | |
| --- | --- | --- |
| RE: Painting over mantle | | |
I like it too! Bumblebeez, is that one of your paintings?
---
| | | |
| --- | --- | --- |
| RE: Painting over mantle | | |
Actually, that would look great over my mantel as well :)
---
| | | |
| --- | --- | --- |
| RE: Painting over mantle | | |
Thanks y'all! Yes, that is one of mine, taken from the paths around our house, but it not one of my best by any means (or indicative of my style) so I wasn't going to mention it. One day I'll do something else for that area. I had it in the master bath for years.
---
| | | |
| --- | --- | --- |
| RE: Painting over mantle | | |
Bumblebeez -- thats a wonderful artwork!! Really nice use of color and great visual balance and lines! :)
---
| | | |
| --- | --- | --- |
| RE: Painting over mantle | | |
| | | |
| --- | --- | --- |
| RE: Painting over mantle | | |
We did not go as wide as the firebox, but that's because we had sconces installed to help fill the space. And we wanted pastel of DH's grandfather there as he was the guy who bought the property we are living on...

Eventually I want to frame and add pics of our grandparents to our mantle as I have wedding photos of all of them in the lovely sepia tones...
---
Post a Follow-Up
Please Note: Only registered members are able to post messages to this forum.
If you are a member, please log in.
If you aren't yet a member, join now!
---
Return to the Home Decorating & Design Forum
Information about Posting
You must be logged in to post a message. Once you are logged in, a posting window will appear at the bottom of the messages. If you are not a member, please register for an account.
Please review our Rules of Play before posting.
Posting is a two-step process. Once you have composed your message, you will be taken to the preview page. You will then have a chance to review your post, make changes and upload photos.
After posting your message, you may need to refresh the forum page in order to see it.
Before posting copyrighted material, please read about Copyright and Fair Use.
We have a strict no-advertising policy!
If you would like to practice posting or uploading photos, please visit our Test forum.
If you need assistance, please Contact Us and we will be happy to help.

Learn more about in-text links on this page here