Return to the Home Decorating & Design Forum
|
Post a Follow-Up
---
| | | |
| --- | --- | --- |
| Brilliant ideas needed for window treatment | | |
Posted by
dedtired
(
My Page
) on
Sun, Aug 18, 13 at 17:49
Here's a picture of the window in my den. It's in an alcove.

The room tends to be dark and I would like to cut the outside shrubbery to allow in more light. However, the shrubs provide privacy from neighbors walking by, who could literally wave to me while sitting on my sofa.

I'd like to find a window treatment that will allow light in while blocking the view of those walking by. The cellular blinds I have there are the top-down-bottom-up style, but with the blinds pulled up from the bottom to cover the lower row of panes, it is still too dark.

My only idea is sheer or semi sheer cafe curtains, a look I do not love. I can't think of anything else. Any brilliant ideas for me?
---
Follow-Up Postings:
| | | |
| --- | --- | --- |
| RE: Brilliant ideas needed for window treatment | | |
A couple well-placed lamps? Some rooms are just dark. I don't think trimming the hedges at the bottom of the window would significantly increase the light level: light comes in at the top.
---
| | | |
| --- | --- | --- |
| RE: Brilliant ideas needed for window treatment | | |
Do you need nighttime privacy as well as daytime privacy? Because there are some things that will provide daytime privacy, but not nighttime privacy.

My SIL used sheer curtains the exact length of the window with two tension rods--one through the rod pocket and one through the bottom hem. With both rods in place, light gets through and no one can see in during the daytime.

When she wants to see out or let more light in, she moves one of the tension rods--moves the bottom one up if she needs to keep track of the kids in the yard; moves the top one down if she just wants more light in the room.

But the sheers don't provide privacy at night, so she has curtains that she can close over the sheers.

Have you considered a window film to block the view but still let light through?
---
| | | |
| --- | --- | --- |
| RE: Brilliant ideas needed for window treatment | | |
A bottom tier of lace curtains are not only beautiful but they keep people from seeing inside the house and let a lot of light in at the same time.You can put almost any kind of window covering there along with the lace curtains.
---
| | | |
| --- | --- | --- |
| RE: Brilliant ideas needed for window treatment | | |
Actually, I had trimmed back the shrubbery once before and it made a significant difference in light in the room.

I haven't been able to find tension rods that would work. It is 92 inches across, so I would need supports. I hadn't thught about tension rods top and bottom. I'd still be ab;e to loser the cellular blinds at night fro privacy, which I definitely need.

There are two recessed lights in the ceiling above the windows, as well as two lamps in the room, so there is adequate artificial light, I'd just love to have more sunlight.

Thanks for your thoughts.
---
| | | |
| --- | --- | --- |
| RE: Brilliant ideas needed for window treatment | | |
Ha -- more than a few typos above! What I meant was

I hadn't thought about tension rods top and bottom. I'd still be able to lower the cellular blinds at night for privacy, which I definitely need.

Lace is pretty and I'll consider that although they may not go with the room. There's a sofa in the same style as the chair on the left and a Pottery Barn Logan media unit. Kind of transitional.
---
| | | |
| --- | --- | --- |
| RE: Brilliant ideas needed for window treatment | | |
How about those shades that close from the bottom up? Light could come in through the top during the day but you'd have your privacy at the bottom.
---
| | | |
| --- | --- | --- |
| RE: Brilliant ideas needed for window treatment | | |
| | | |
| --- | --- | --- |
| RE: Brilliant ideas needed for window treatment | | |
I think I would try replacing at least one of the art pieces with a good sized mirror and see if it reflects some light into the space. Have you tried that? And I love the wall color, but maybe something with more lightness in the alcove would brighten it?
---
| | | |
| --- | --- | --- |
| RE: Brilliant ideas needed for window treatment | | |
The color is MAB Lemongrass, although I think MAB was bought by Sherwin Williams. I didn't use a flash on the picture, so it looks darker in the picture than IRL.

The other problem with the shrubbery is that it looks very overgrown from the outside, so I would love to get it lower than the sill.

Oly, funny you should mention a mirror. I have an old mirror that I was planning on selling. It's been in my closet for years. Maybe I'll try it in that spot.
---
| | | |
| --- | --- | --- |
| RE: Brilliant ideas needed for window treatment | | |
What I did in my bathroom at the old house (how I wish I had pictures of the place to show you) was to create my own "tension rod" using small L hooks and cording, top and bottom mounted to the window itself, and then gathered a lace panel onto it for privacy. So the lace panel went up and down as the window went up and down. It allowed full view through the top, and filtered light and privacy through the bottom. It was a small window though so the cording worked fine. They also make slender rods that you can use instead of the cording.

In case of the center window, it looks like there is enough trim to use a spring-loaded tension rod, top and bottom, which is available up to 90" long (amazon, bed bath beyond, etc.)

In terms of the lace panel, for a lot of privacy, get it 2 1/2 to 3 times as wide as the window so it gathers fairly densely.

You could also use sheers instead of lace for a different look...it probably wouldn't need to be as densely gathered. Or here they used a light weight coordinating fabric.

For other ideas, you could use window film that provides privacy, (frosted, stained glass, etc.). You could look into using a beaded curtain a la hippy days...in glass or bamboo. You could look into a wooden screen and depending on how handy you or someone you know is, could mount it to the lower part of the window...maybe get a larger one that can be cut and fit to size....

or it looks like you have room to put a raised planter box there and fill it with live or "everlasting" greenery to provide the privacy on the inside instead of the hedges on the outside.
Here is a link that might be useful: curtain rods
---
| | | |
| --- | --- | --- |
| RE: Brilliant ideas needed for window treatment | | |
Part of the problem is the room design. The light comes in the alcove in a straight line and is not going to reach the areas of the room that are not in line with the alcove. The shadowy areas make the room seem even darker because of the contrast.

It is sometimes possible to install a solar tube down to the first floor of a house.

I call two lamps in a room a good start. :)
---
| | | |
| --- | --- | --- |
| RE: Brilliant ideas needed for window treatment | | |
Is there enough room to use a small diameter rod in each window? If lace isn't the right look for your room, you could use an unlined fabric (something that doesn't really have a backside). I recently used a cotton/linen embroidered fabric for a kitchen and pantry. The small diameter rod has socket brackets to be mounted inside and using rings, you can open and close the curtain.
---
| | | |
| --- | --- | --- |
| RE: Brilliant ideas needed for window treatment | | |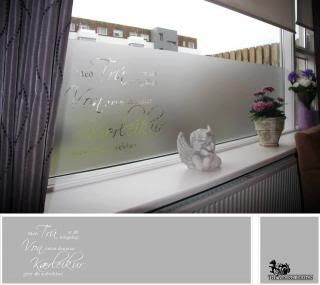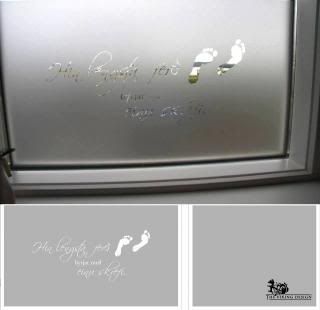 This is the way we do it in my world. That is a film that we have all kinds of texts printed on and cut out. We tend to have windows covered up as little as possible, so this is extreamly popular .
This post was edited by ice1 on Mon, Aug 19, 13 at 12:17
---
| | | |
| --- | --- | --- |
| RE: Brilliant ideas needed for window treatment | | |
The top/bottom tension rod is a great idea~I speak from experience. I have this treatment on my four almost-to-the-floor windows. Also had the same in my last home where the LR was in the front. I wanted panels, but since the LR was in the front, wanted privacy also. I installed the top rod about 3/4 up the window, leaving about 3 1/2 feet to look out, giving enough privacy as well,as light. It's a good solution.
---
| | | |
| --- | --- | --- |
| RE: Brilliant ideas needed for window treatment | | |
Don't know that it could work in your situation, but just in case:

I discovered by accident that if I raise the umbrella on my deck table, I get MUCH more light in my living room. Apparently the white/pale blue umbrella bounces more light into the room. I think it acts similarly to a "light shelf" that architects sometimes suggest.
---
Post a Follow-Up
Please Note: Only registered members are able to post messages to this forum.
If you are a member, please log in.
If you aren't yet a member, join now!
---
Return to the Home Decorating & Design Forum
Information about Posting
You must be logged in to post a message. Once you are logged in, a posting window will appear at the bottom of the messages. If you are not a member, please register for an account.
Please review our Rules of Play before posting.
Posting is a two-step process. Once you have composed your message, you will be taken to the preview page. You will then have a chance to review your post, make changes and upload photos.
After posting your message, you may need to refresh the forum page in order to see it.
Before posting copyrighted material, please read about Copyright and Fair Use.
We have a strict no-advertising policy!
If you would like to practice posting or uploading photos, please visit our Test forum.
If you need assistance, please Contact Us and we will be happy to help.

Learn more about in-text links on this page here